BA SCORE
83
good
10
Reviews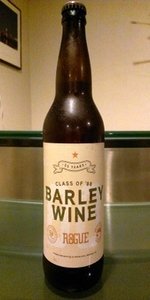 BEER INFO
Brewed by:
Rogue Ales
Oregon
,
United States
rogue.com
Style:
American Barleywine
Alcohol by volume (ABV):
11.50%
Availability:
Limited (brewed once)
Notes / Commercial Description:
75 IBU
Added by watermelonman on 06-26-2013
This beer is retired; no longer brewed.
Reviews: 10 | Ratings: 45

4.26
/5
rDev
+19.3%
look: 4 | smell: 4.25 | taste: 4.25 | feel: 4.5 | overall: 4.25
Bottle says 11.5% abv.
Certainly some similarity to the Old and New crustacean.
A: Deep copper with a slightly off-white head, thin ring of retention shows a little leg. (A bit darker than Deschutes version).
S: Lots of orange & grapefruit rind with some underlying pine.
T: Piny resin and marmalade, some sponge toffee & biscuit, hints of nuts, solid bitterness, warming alcohol.
M: Moderate to full body has a light acidity.
O: I think they're yeast is tamer than Deschutes, so although it is stronger, it comes across as a bit cleaner. It's actually not as much of a brute and it's a very pleasant sipper.
I've been enjoying Rogue for at least 10 years (whenever the LCBO first had them in). I've been to both places in Newport, as well as their Ale house in Portland. Initially, some of their brews seemed fairly crazy, but they've always been great. Sure some of the newer brewers are pushing the envelope further, but they continue to focus on making great beer!
Happy Anniversary!
(I'm looking forward to MANY more).
1,033 characters

4.19
/5
rDev
+17.4%
look: 4 | smell: 4.25 | taste: 4.25 | feel: 3.75 | overall: 4.25
Class of '88 opens to a sugary, hoppy nose that still bears plenty of balancing breads and malts. Hops take the lead by a slim margin, bringing grapefruit rind, pine, lemon oil, and small touches of grass and anise. These are followed by a good sugary body, with orange, berry, and apricot fruit esters, as well as scads of caramel and brown sugar, with touches of vanilla for extra nuance. The base is a bready blend of toast, wheat dough, biscuit, and Grape Nuts cereal. Overall, the aromas are nice, and for Rogue, surprisingly tame—there's no overwhelming smack of hops, or strange fruitiness or spiciness that overtakes everything else. Instead, this simply tastes like a nicely made IPA, full on hops, yes, but also well-balanced and mature, lacking only perhaps in strength.
On the tongue, the beer's maturation and balance continues, with a smooth blend of hops, sugars, and breads. Much like on the nose, the hops are out in front, but only by a small margin, with grapefruit rind, pine, and here, bits of bitter dandelion stem and grass, as well as smidgens of lemon oil, pepper, and anise. The sugars add orange, white grape, berry, and even fig fruit esters, providing a nice light-dark profile that mixes well with caramel, brown sugar, and faint touches of heavily caramelized brown sugar. There's also a layer of toast crust, biscuit, and Grape Nuts cereal that mixes with bits of toasted nut, forming a mild cola taste that blends well with the darker fruit esters, combining with the pepper and anise in the hops to somewhat imitate a light spiced rum. The 10% ABV adds to this spiced rum feel, adding a mild alcohol burn that, toward the end of the mouthful, can become a bit heavy and vodka-like. The aftertaste is a continuation of the main mouthful, with slightly more emphasis on bitter hops and alcohol vapors. Mouthfeel is medium, and carbonation is medium-high, approaching champagne status.
Overall, this is in many ways a very nicely balanced beer, and a surprisingly mature entry from a company that brings us such experiments as Voodoo Chocolate, Peanut Butter & Banana Ale, and such hop bombs as Double Dead Guy Ale. The hops are perhaps a bit strong here, but not by much, and the sugars could perhaps use a better fruit ester profile, but for the most part this is a fine beverage. The only detractors are the heavy alcohol presence, especially late in the mouthful, and the nose-burning carbonation. Still, this is worth trying.
2,473 characters
4.07
/5
rDev
+14%
look: 4.5 | smell: 4.25 | taste: 4 | feel: 3.75 | overall: 4
Large initial head. Settles quickly but in a rocky fashion. Plenty of ring lace after each sip. The liquid is crystal clear with a light amber/dark gold color.
Sweet caramel aroma. There's a touch of raisin and almond in background. Mild alcohol warmth to the nose.
Stronger alcohol burn on the tongue. The malty caramel is far more muted in the taste. I'm surprised by the sudden appearance of some hop bitterness. Smooth, nearly oily, body with a low carbonation even for a Barleywine. Other flavors include some nuttiness (closer to hazelnut than almond this time) and stone fruit, like apricot.
600 characters
4
/5
rDev
+12%
look: 4 | smell: 4 | taste: 4 | feel: 4 | overall: 4
Brilliant amber with a light almond skin tint. 1" off white foam cap. Medium to medium full body, big alcohol punch on the end. Medium low carbonation, fruit, caramel, bourbon, alcohol. Good hop accent on the end that goes well with the alcohol, the fruit and the malt.
271 characters

3.77
/5
rDev
+5.6%
look: 3.25 | smell: 3.75 | taste: 4 | feel: 3.25 | overall: 3.75
A - Pours an amber color and not the darker color you would expect from a traditional barley wine. It produces 1 finger of white head that slowly fades and leaves a little lacing.
S- Smell is quite hoppy, almost resembles an IPA more than a barley wine, but that malt backbone is definitely there. Slightly bready/biscuity. Nice scents of caramel and possibly apricot to accent it.
T- Still that strong hop presence. Resin, pine and a good malt balance. It has that sweetness that you would expect, but not excessively. The hop bitterness sticks around at the end and the alcohol also become a bit more prevalent.
M- It is a little heavy on the Alcohol, which I myself don't mind, but some people might not like. The carbonation is on the high side and it feels strange in a Barley wine.
O - I do like this beer, but it is very different from what I expected. I had the Descutes version on tap at the brewery and it was was more in line from what I would expect from a Barley Wine. I have had this bottle for a couple of months now and it would have been interesting to see what it was like fresh. It must have been a hop bomb. I have a second bottle that I am going to hang on to for a year or two and see how it goes. It will be interesting to see how this ages and what other favors come out when the hops mellow. I would saw it is worth trying, but I would not expect a traditional Barley Wine. I had read in a thread that it resembled a Pils, which I could remotely appreciate.
1,490 characters

3.69
/5
rDev
+3.4%
look: 3.75 | smell: 3.5 | taste: 3.75 | feel: 3.75 | overall: 3.75
Poured into an Elysian snifter. Part of horizontal tasting of all three versions (North Coast, Deschutes and Rogue) of this interesting project to revisit a classic 1980s recipe. Pours a hazy orange amber with a thin white head that dissipates to a thick ring with slippery lacing. Mild aroma of piney hops, light biscuit and bready malt, light fruit and moderate ethanol. Flavor is neutral stone fruit, fairly intense grassy hops, citrus rind. Finishes with a somewhat stark grassy hop bitterness combined with an unidentifiable root herbal bitterness. The strong ethanol detectable in the aroma is muted, but noticeable in the dry, hoppy finish. Medium bodied with light creaminess. Like the others in this series, seems to take the basic form of an English barleywine, but without the dark fruit elements and adding an almost Belgian fruit component, without the Belgian yeast and also the more intense hopping of the American style. This Rogue '88 had the most hopping and was most similar to an American barleywine, but the lighter fruit flavors caused it to be somewhat unbalanced with a starker bitter finish.This one was in third place among the '88s. Pleasant enough to drink, but lighter in flavor and not quite as interesting. Like the others, I think the lighter flavors do not promise a long, successful aging. It was almost impossible to get a bottle of this, probably one of the most poorly distributed beers of this type I've ever seen. Forgiveable in a "rare" release, but not very understandable for a highly hyped release extolling the joint release of the same historical recipe by three breweries that openly invites comparision. If a local beer store owner hadn't personally driven across the lake to pick some of this up directly from Deschutes' Issaquah pub, I don't think any would have seen the light of day in Seattle, a big Rogue market. Glad it doesn't look like a candidate for aging, because the chance of finding another bottle is zero. Still glad to have participated in this walk down memory lane.
2,031 characters
3.59
/5
rDev
+0.6%
look: 4 | smell: 3.75 | taste: 3.5 | feel: 3.5 | overall: 3.5
A - Pours a murky copper, low off white head, leaves fast to disk. Some spotty lace.
S - Candy and oranges. Malt in the back.
T - Sweet, thick malt center, probably not enough bitter to balance. The end had a very bitter feel but the segue is not smooth. Something about it reminds me of Christmas.
M - Medium carb, medium to full body, fair balance finish at first cloying then super bitter.
D - Nice beer to try.
418 characters
3.13
/5
rDev
-12.3%
look: 3.5 | smell: 3 | taste: 3 | feel: 3.5 | overall: 3.25
Corked and caged brown 750ml bottle into shaker pint.
A: a pillowy cream colored head fell into a substantial cap with a thick ring around the glass. The beer is very cleclear amber with lots of tiny bubbles floating to the top.
S: slighty citric hops as though it has a good bit of the northwest standby, cascade, in it. A sweeter backbone of malt hides just beneath the hops. Smelling like a DIPA almost.
T: hoppy hoppy hoppy. First drink all I get is heavy floral hops. Not overwhelmingly bitter up front but the malt is VERY downplayed. It follows up with a whiskey like burn and some hop bitter. Second drink found a bit of the malt I wanted in a BARLEYWINE but it was tangeled in hop vines as it were. An almost astringent wash of hops in that second drink.
M: rich just like should be. No complaints on the mouthfeel.
O: maybe I should have let it age a year. But I am too impatient for that. So I dive face first into young northwest barleywines and expect something other than a DIPA-like beer. It is a bit harsh on the hops to counter the sweetness inherent in such a high abv beer. Age would do it well. As a young barleywine I would say it isn't bad but nothing to write home about. I had Deschutes' class of 88 and foufound it to be less of a hop tea than Rogues. I need toeget my hands on a bottle of the North Coast batch.
1,342 characters

2.86
/5
rDev
-19.9%
look: 3.5 | smell: 2.5 | taste: 3 | feel: 2.5 | overall: 3
My pint arrived in deep amber with a small head that stuck around nicely.
I am not certain that there was a smell. There definitely were no off oders, but whatever came to my nose was so wimpy that the entire flavor profile came out as lacking. Malt was the strongest of the flavors in taste, followed by a faint touch of hops and alcohol, but I was searching for flavor instead of struck with them, and strong beers should have striking strong flavors. The mouthfeel may have been the low point, washing away more like a light ale or macro lager.
No bad flavors, but what was there seriously needed to be pumped up.
622 characters
1.93
/5
rDev
-45.9%
look: 3 | smell: 2.5 | taste: 1.5 | feel: 1.5 | overall: 2
Mom and Dad got this one in North Carolina this past winter. Cheers guys!
From a cork and caged 750 into a sinfter
OG: 1.093
FG: 1.022
IBU: 75
APPEARANCE: Pours a one finger, slightly looser, foamy, off-white head with half decent retention. Perfectly clear burnt orange in color with medium levels of carbonation. Head fades to a thin wisp with lots of carbonation decorating the top of the glass. A good wisp remains but leaves no real lacing.
SMELL: Sweet malts, pale malts, some melon notes, grain aromas, as well as some light floral hops on the nose. A strain of perfume-like alcohol runs though the whole thing as well. Medium strength.
TASTE: Some pale malts and perfume-like alcohol up front. Melon sweetness accompanies the perfume flavors through the middle into a grainy, floral bitter and perfume boozy aftertaste that's bold and lingers. A little too much hair spray here, and the bitterness is somewhat harsh. Way worse than the nose had led on.
PALATE: Medium-thin body and higher levels of carbonation. Lighter on the palate, goes down okay with a scratch after the swallow and finishes slightly astringent. Too light and carbonated for the style, and the astringency is off-putting.
OVERALL: Pretty lousy. Definitely not the sum of its parts. The feel was well off, while the perfume, hair spray-like alcohol flavors really made this a chore. The harsh, challenging bitterness didn't help either. Didn't bother finishing this; glad drain is a good sport. These guys do fantastic stuff on their own, so I'll assume this was a teenage wild night out. Thanks again mom and dad!
1,603 characters
Class Of 88 from Rogue Ales
3.57
out of
5
based on
45
ratings.