XS Dead Guy Ale

Rogue Ales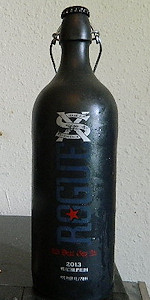 Rate It
Beer Geek Stats
| Print Shelf Talker
Style:

ABV:

9%

Score:

Avg:

3.85

| pDev:

10.13%

Reviews:

11

Ratings:

From:

Avail:

Rotating/Seasonal

Wants

Gots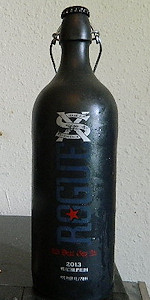 kitch from Hong Kong
3.25
/5
rDev
-15.6%
look: 3.5 | smell: 3.5 | taste: 3 | feel: 4 | overall: 3
A 750ml ceramic and wingtop bottle with no bottled on or best by date. Poured into a Mikkeller pint glass.
Appearance: It poured a cloudy dark amber colour with a one finger off white head that dissipated fairly quickly but left some spotty lacing.
Aroma: Apple juice (very juicy), caramel, biscuit malt, grape and a hint of orange.
Taste: Caramel malt sweetness, apple juice, tea, grape, raisins and dark berries.
Mouthfeel: Medium to full bodied with light carbonation.
Overall: This was ok. Not bad, but just ok. A little bit too caramel-ly sweet for my taste buds.
Apr 20, 2016
jmasher85 from Maryland
3.96
/5
rDev
+2.9%
look: 4 | smell: 4.25 | taste: 3.75 | feel: 4 | overall: 4
Wow - Dead Guy Ale takes a trip to flavor country! Pours a reddish brown with nice head out of the bottle, but let's face it, the bottle is the best part of the appearance.
The smell is bold and mighty with bready malts and yeasty fruits. Banana, some mildly sweet baking spices, and that heavy malt profile really win out here, with a slightly barnyard, old latrine sort of funk to it (but in a good way!). Taste is the same up front, but finishes dryer and more bitter when the hops finally manage to take hold. Body is medium and just a bit sticky from that creamy, mild foam. Not particularly smooth, and it definitely feels as harsh as the ABV would suggest.
This bottle almost reminds of a beer on the cusp of going bad, like a bock that's been sitting on a warm shelf too long, but something about it has that "so bad, it's good" quality to it - like how a fruit is best before it goes bad. This has some strong malt flavors, not unlike a bock, and I can almost already predict the headache coming on after just a few sips, but this is still an interesting, mighty brew that I'm glad to try.
Mar 02, 2016
q33jeff from New Jersey
3.51
/5
rDev
-8.8%
look: 3.75 | smell: 3.25 | taste: 3.5 | feel: 4 | overall: 3.5
Bright orange color. Small white head. Lasting lacing. Love the wingtop bottle, very sleek and useful. Aroma is Light hops, coriander, cumin. Taste is hoppy, with metallic aftertaste. Feel is bubbly, medium thick body.
Nov 29, 2015

Miccal from Vermont
4.42
/5
rDev
+14.8%
look: 4.5 | smell: 4.25 | taste: 4.5 | feel: 4.25 | overall: 4.5
This is a nice strong ale and a great alternative to those who want a little hops, but aren't on the IPA band wagon.
Look: nice dark amber color with lacy white head.
Smell: fresh malty, spicy, touch of a hop undertone like a good beer bread.
Taste: light caramel and malt, a little citrus with a drying hop finish.
Feel: full body, but not thick feeling almost creamy.
Overall this is a good dark ale. next to the Arrogant Bastard this is a drinker, it goes down easy and is very enjoyable. I like an Bastard every once in a while, but can only take so much arrogance ....
Is it worth the price, I would purchase it again. The ceramic bottle in nice with the ability to reseal if drinking it alone or don't want to polish of a 9% in one sitting.
Nov 11, 2015

KGilmour from Vermont
4.25
/5
rDev
+10.4%
look: 4.25 | smell: 4.25 | taste: 4.25 | feel: 4.25 | overall: 4.25
Smooth, strong and flavorful, the hops are well balanced with notes of fruit, malt, and alcohol, so they don't stand out too much. A fine strong ale. Amber color, one finger head. Toasty caramel scent. The ceramic bottle is a nice touch.
Nov 11, 2015

Brutaltruth from Ohio
3.83
/5
rDev
-0.5%
look: 3.75 | smell: 3.75 | taste: 4 | feel: 3.5 | overall: 3.75
Enjoyed from the stoneware bottle in a snifter, this nice aged ale pours a rich hazy brownish orange with a moderate off white head of foam that dissipates to a thin ring and little lacing. Nose of sweet bread, heavy citrus, and rich caramel malts. Flavors follow the nose with rich caramel malts and rich bread flavors instantly followed by citrus flavors of grapefruit and orange zest. Smooth and lightly creamy mouth feel finishes moderately dry and sticky with the hop flavors that come through. A very good aged Rogue product.
Cheers
Jun 19, 2015

SHODriver from North Carolina
3.75
/5
rDev
-2.6%
2013 release...
A: poured into a snifter to a nice shade of bronze with a two finger dense off white head that retains well and leaves decent lacing
S: smells of toasty and bready malt with a little caramel and a slight pine hop aroma. a little dark fruit as well.
T: taste is toasted malts, spicy hops, a little fruitiness and a slight caramel sweetness. finish is a bittersweet mix of caramel and grapefruit
M: fairly full in the mouth with slightly prickly carbonation and a drying finish
O: Not bad but disappointing for the price point. I'd rather drink an Arrogant Bastard. Decent complexity but it doesn't seem to age well.
Nov 22, 2014

SonnyBoyRussell from Oregon
4.03
/5
rDev
+4.7%
look: 4 | smell: 4 | taste: 4 | feel: 4.25 | overall: 4
A good friend from work bought a half barrel the other day and brought me a growler. I'm not a huge Dead Guy Fan, but, I was struck by the overall taste, texture, and aroma of this beer. First I liked the almost burnt orange color and creamy head. It has a slight citrus orange type flavor with a pleasant caramel tone, like those chocolate orange slices I love to eat at Christmas. A definite quick bitter hop finish. A nice Brew.
Jun 07, 2014
Strix from Wisconsin
3.94
/5
rDev
+2.3%
look: 3.75 | smell: 4 | taste: 4 | feel: 4 | overall: 3.75
Cloudy pale orange, nice frothy head that leaves a curtain of lace.
Honey, orange, and caramel the predominant smells I'm getting.
Big caramel malt and honey note with a deep grainy bread note and grapefruit hop kick at the end. A slight warming aftertaste.
Medium carbonation, creamy and slick mouthfeel.
Nicely done although I think I like the original just as well (and the bottle is less expensive).
Mar 26, 2014
Judman from Massachusetts
4.38
/5
rDev
+13.8%
look: 4.25 | smell: 4.25 | taste: 4.5 | feel: 4.5 | overall: 4.25
I'm shocked by the so-far low score for this beer . I had it on tap immediately after a glass of Sculpin. The smoothness hit me right away. Like liquid butter, yet very flavorful. Fills the mouth with flavor with a nice lingering malty aftertaste. This beer belongs in the upper echelon IMHO.
Jan 09, 2014

Bitterbill from Wyoming
3.6
/5
rDev
-6.5%
look: 3.5 | smell: 4 | taste: 3.5 | feel: 3.25 | overall: 3.5
A- pours an orange gold with a 1 finger head of foam, lacing is spotty.
S- very strong notes of caramel malt with some light bitter hops mixed in but quite overwhelmed.
T- slight malt sweetness up front that gets eaten up by a pretty bitter hop barrage. Ok, the second and third sips in and the malt is not as meek as I was led to believe after the first sip. I can't decide whether the hops or malts are in control here; I guess that means this brew is on the balanced side.
Anywho, balanced or not, I don't actually enjoy drinking it as much as I hoped for. Especially considering I paid +$16 for the 750.
M- the carbonation is just right but damn...I find the body very thin for the style.
O- a miss in my book. 1 and definitely done.
Aug 03, 2013
XS Dead Guy Ale from Rogue Ales
Beer rating:
86
out of
100
with
105
ratings