Dismiss Notice
Wig And Pen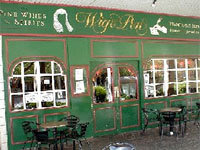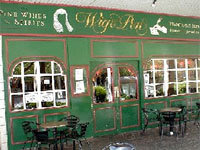 PLACE INFO
Type:
Brewery, Bar, Eatery
Canberra House Arcade, Alinga Street
Canberra City
, 2600
Australia
(02) 6248 0171 |
map
wigandpen.com.au
Notes:
No notes at this time.
Added by BeerAdvocate
HISTOGRAM
Ratings: 11 | Reviews: 10
Reviews by dgilks:
4.15
/5
rDev
+0.2%
vibe: 4 | quality: 4 | service: 4 | selection: 5 | food: 3
The Wig & Pen is a real gem in Canberra. They have 8 draught and 3 cask offerings in their regular line up, as well as up to 3 seasonals at any time. If you are in Canberra you should make sure to hit this centrally located watering hole.
The atmosphere is supposed to be like an English pub and they do a reasonable job. It isn't kitsch and obviously fake like a number of pubs and it is somewhat intimate, but it is obviously not authentic to me.
The quality of the brews at the brew pub is anywhere between average and excellent. Recommended are the Wig & Pen Pale Ale (Cask Conditioned), Velvet Cream Stout (nitro-tap) and Ballyraggett Irish Red. I also like the Autumn seasonal Venom when it is available. They also have a number of bottled Belgians available at price which are not bad by local standards.
The service is generally good when I am there during the day, but their night staff can be a bit surly at times when it is busy. The bottom line is, go at lunch or during the afternoon.
The food is fairly average and nothing inspiring. They have a reasonably confused set of menu items and could do better. I know that they are not aiming for anything special but it leaves a lot to be desired.
Valuewise, the Wig & Pen is reasonable. The pints are $7.50 which is not the best pricing around but it is worth the premium over what you pay for standard Australian and Import macros at other places.
1,413 characters
More User Reviews:

4.1
/5
rDev
-1%
vibe: 4.5 | quality: 4.5 | service: 3.5 | selection: 4.5 | food: 3
Ye Olde Wig & Pen, an award winning micro-brewery and pub, has many years of my (well spent!) youth and recently moved to a new bigger/better/brighter venue at ANU (Australian National University). I am not reviewing said venue. I am reviewing the old now demolished pub. A pointless review? Perhaps, but not really as most of this review will no doubt apply to the new location.
V: As a bespoke "ye olde English" pub (with ye olde furniture and decor) the atmosphere feels very at home to me, having spent my 21st year living in Scotland and a good portion of that time working in pubs if not frequenting them. Wig & Pen, as craft beer has become hip, has also been overrun by hipsters but as a (mildly) self-professed hipster I don't believe the vibe has been damaged at all. 9/10.
Q: The quality of the beers on top is exceptional, rarely have I had a brew of theirs that I've found lacking, the occasion "meh" yes, but every micro-brewer has a mediocre beer somewhere in the range. 9/10.
S: Service is decent, the tenders have a reasonable knowledge of the craft. The bar however is frankly too small to allow enough servers behind it and consequentially the service can be slow at times (that said I've been informed by the manager that the new bar area will be much bigger and the tenders plentiful). 7/10.
R: The range of tap beers is exclusively stuff micro-brewed on site and as such is subject to seasonal variability (so lighter Ales in summer and heavy Stouts, seems obvious I mention this but sometimes, dammit, I want a Russian Imperial Stout in summer!). There are bottles in the fridges behind the bar with other beers and ciders but TBH I've never ventured away from the tap beers (that's how good they are!). 9/10.
F: Disclaimer - I have never tried any of the food at Wig & Pen. However I've seen friends eat there and stole the odd chip or three and the food fits the English pub vibe well, but there is no reason I would ever visit for the food alone. 6/10.
VFM: I would say the value for money is average. The beers on tap are excellent but can be a little bit pricier than at a regular craft bar (they have bigger overheads being a micro-brewery I imagine). Still if you're in Canberra and you love craft beer - you NEED to visit the Wig & Pen.
2,273 characters

4.15
/5
rDev
+0.2%
vibe: 4 | quality: 4.25 | service: 4 | selection: 4.25
Pub is located in central Canberra near the university. It is not much to look at from the outside but inside looks more like a Engish pub with low ceilings. It is fairly small but never seems crowded. In the back is where the beer is produced. The bartender is very knowledgeable about the beers on tap and will provide a sample if you are not sure about a particular beer. There is a small menu of pub grub, but everyone is here for the beer and good company. Too bad that Canberra is so far off the beaten track. Worth checking out if you are ever in the area.
563 characters

4.14
/5
rDev 0%
vibe: 4 | quality: 4 | service: 4.5 | selection: 4
Nice old English style pub really well located in Civic (the centre of the City of Canberra).
It has some outdoor seating that is generally out of the breeze and in the shade and those tables enjoy outdoor heating in winter. Lots of timber inside, timber bench seats along the walls and timber and iron chairs and tables as well. Old school carpet completes the look and probably are the original ones from when it opened in 1994. The walls are adorned with framed certificates of awards won, plus beer signs and there's a cool cabinet inside with pump clips. The clientele is a mix of older folk, beer geeks and university students from the nearby Australian National University.
Service is quite good, the staffer knew about the Gueuze on and happy to explain it and talk about what was coming up as well as what's on at the moment.
Beers are all brewed in house. 11 regular taps for beer plus 1 house brewed cider and 4 handpumps. One Gueuze, a few British ales an India Red Ale, Brown Ale, Imperial Pale Ale, all in all a good selection to choose from. Prices are reasonable for Australia and particularly for the quality. $10 for 20oz pints and $6 for 10oz servings of most things. The Gueuze was still worth trying at $7 for 200ml. Not much they don't do, have a good mix of beers, a Randall, nonic pint glasses used for the 20oz pours, basic glasses for the 10oz servings and snifters for the brewer's stash beers (currently the Gueuze and a Tripel) is a nice touch.
No food on Sundays, but have had food previously and would not recommend as its pretty basic, however its a place where that is a minor inconvenience as their beer is up there and is one of the best, if not the best, brewed in Australia.
A must visit if in Canberra, but I've also made the 6 hour return drive from Sydney about a handful of times and always thought it was worth it, particularly in winter when the Imperial Stout is on.
1,916 characters

4.22
/5
rDev
+1.9%
vibe: 5 | quality: 4 | service: 4 | selection: 4.5 | food: 4
I had heard a lot about the Wig and Pen, and seemingly Mrs heygeebee had heard an equal amount about the 'Pig and Pen' so on our recent recent to Floriade in the Nations fine capital we decided to head across from our hotel to have some pre dinner drinks.
The place is indeed in an odd setting. Right next to a four lane road amongst old-style concrete office buildings, that gives that part of Canberra a Blade-Runner look. This adds to the surreal 'walk under concrete structures, open door, enter English village' moment.
It gets my award for most English pub in Aus, why doesn't NSW have more like these? Old-style wooden bench seats, low ceiling, hops around wooden bar, the only thing that's missing is brass ornaments on the walls.
Service is good at 4:30 on a Saturday arvo, samples offered happily, and advice given. Beers (15 plus 1 cider) are an excellent assortment and reviewed elsewhere, off handpumps as well. No RIS on hand tho this time round, as it's winter only. Being two of us ordering halves we got round the lack of samples paddles. Point to note - most brews were not overly-hopped - a nice touch to this palate.
We hadn't planned to stay for dinner, but enjoyed ourselves so much we stayed. Our first choice of curry was not available on weekends(!), but we had a burger and fish and chips, and even that seemed English-pub-style.
Wonderful vibe, and as the night progressed, the Uni students all walked in (and walked out again while we sat entrenched) and all was good. Ended up baling around 10pm or so - quite a session.
Current pricing? Food around $12 bucks and worth it. Beers around $5 a half, up to $9 a half for specials.
Wonderful.
1,676 characters
4.14
/5
rDev 0%
vibe: 4 | quality: 4 | service: 4 | selection: 4.5
My favorite haunt during my recent three-week trip to Australia. Unfortunately, the ANZAC Day/Easter Weekend kept me from visiting the Wig as much as I'd have liked, I was able to visit the pub twice, once for a great BA beer trade and afternoon drinking session (cheers dgilks!), the second to raise a couple up on ANZAC Day afternoon.
The place is a real anomaly in the neighborhood, tucked away in a generic shopping building near nowhere in particular and surrounded by office buildings of an officious and governmental nature. Not where you'd expect to find a brewpub, at any rate, but fortunately, it was only two blocks from my apartment so it was a real treat.
Lovely green English pub exterior with patio seating for about 20, and a small, cozy interior for about 80-100. The kind of pub feel I like: simple seating arrangement, wood-paneled bar area, friendly beer-loving patrons. No TV that I could see - this was a social spot to be sure. I went both times in the afternoon and it only really felt crowded around 5ish, which is understandable. Brewing equipment is visible from your table if you sit near the back, as we did.
The bartending staff were quite friendly (a bit of an anomaly in Australia as well), and were quite willing to let you think your selection over without feeling slowed down. Handled an uncooperative cask tap with equal patience. The day bartender was quite affable, and enjoyed talking brews and footy with me. I met the brewmaster, Richard, for a quick moment, and found him to be the pinnacle of Australian modesty and self-deprecation, as he only hoped that I was able to find "something in the lineup I could drink." I assured him I certainly had.
The lineup is quite diverse, ranging from English real ale, Koelsch, wild ale and oatmeal stout. Not a pedestrian brew in the bunch, and generally speaking all of which are very well-brewed. 3-4 cask ales at any given moment, a cider, and about 8 regular offerings. Three high ABV one-offs were also available, which I thoroughly enjoyed. I personally recommend their Lazy Days cask ale, Velvet Cream Stout, Bob's Armpit (a lambic-wild ale one-off concoction) and the Kamberra Koelsch. Tucked away I could see a fine little Australian and Belgian bottled collection as well.
Certainly the place to hit up in Canberra, the Wig and Pen was one of the real highlights of my trip. Great home-brewed selection, friendly atmosphere, the Wig and Pen is a real exception from the general city-wide trend of crowded pubs full of Australian macros and Guinness. A real refuge for those who love craft brews. A bit pricey, but only slightly more so than the other places around town and consider what you're getting quality-wise on tap. My only suggestion is that there be a sampler option for folks like yours truly who just want to dive right in and try everything on the menu.
A great brewpub indeed, and an absolute must if you find yourself in the nation's capital.
2,956 characters
4.16
/5
rDev
+0.5%
vibe: 4 | quality: 4.5 | service: 3.5 | selection: 4.5
A-- reminded me more of an English Style pub. Kind of tacky but it works. Small place at that. Only seats 100 inside and at best 25 outside. Only one main bar so waits can get a little long.
Q-- Good beer and a lot more creativity than a lot of other Australian breweries do.
S-- Nothing to get too excited about. Got samples of what I wanted to order and was warned that one of their beers was BIG at 7%. Staff can be a bit slow and unresponsive on busier periods.
S-- Great selection of beers. Not often you can find a bitter, pale ale, IPA and some seasonals around. Basically drank their Obama Black IPA. Very solid offering. Had 4 beers on hand pumps and it was good to see somebody doing hand pumps.
F-- Basic, generic pub food. Kitchen closes early and is not open on Sunday. Much better options in Canberra for food than there and in walking distance from there.
V-- Beers were decently priced for the area. the seasonals were at $11 for an imperial pint, that is good, the rest were at $8 dollar range and down. No sampling platter hurts a bit but if not busy the bar staff will give samples. Food menu is cheap but very unispiring. Good for drinks before or after dinner.
1,191 characters
4.08
/5
rDev
-1.4%
vibe: 4.5 | quality: 4.5 | service: 3 | selection: 4.5 | food: 4
I found out about this place from a person from Melbourne who I met at a home brewers convention in Denver. Had he not recommended it I might never have found it. I mentioned the place to a person who lived in the area and he had never heard of it. The food is mostly your basic pub food. My wife loved her soup, my daughter didn't care for her burger, and my curry chicken dish was very good.
The beers seemed to be much better than most of the beers I had at James Squire and Lord Nelson in Sydney. The only downside is that they don't sell samplers. That was tough as they have a lot of beers on tap and I was only able to sample about 5 or 6 since I had two other people with me drinking beer. My favorite was an imperial stout. The styles were those from the UK, Germany and a Czech Pilsner, although the Pale Ale supposedly had Cascade hops from the US.
While the woman who was tending bar was cordial she was not overtly friendly. Another thing to be aware of is the place got very noisy the night we had dinner there. Some of the tables with children had unruly and noisy kids.
Definitely worth the visit, but bring friends so you can sample more of the beers at one sitting.
1,192 characters
4.06
/5
rDev
-1.9%
vibe: 4.5 | quality: 4 | service: 3 | selection: 5
When I die I want to be buried here or at least die drinking the hefeweizen here. I LOVE this pub. I drove down from Newcastle to Canberra with Goatherder specifically to drink the beers here. We started with the hefeweizen and it was all banana and well balanced clove. I could have stayed all night on this but the Goatherder insisted on some English bitter. Flat as a tack but hoppy and bitter and yummy. Next was the Irish Red which was good and there was a great porter too. I lost track as I was very drunk. Its the hefeweizen that did it for me and I will return and drink this a lot. There was English pub food on the menu but next door is a sensational Vietnamese restaurant which we enjoyed at half-time. The pub is small and English, a bit grungy and full of government employees and uni students but I loved it. I had my kids there and that was OK but it's not set up for them. My wife got smashed on a mighty Framboise. This brewpub has 5 x 600 litre fermentation tanks and we got to talk to the brewer which was great for the Goatherder who brews but I was barely conscious at this point. The brewer specialises in Irish reds but most of his wares are pretty polished. Did I mention the hefeweizen? Even if you live in the Andes or darkest Africa stop what you're doing and spend the afternoon in this pub.
1,320 characters
4.34
/5
rDev
+4.8%
vibe: 4.5 | quality: 4 | service: 4 | selection: 5
Finally got to drag the family down to the nation's capital, and managed a leave-pass for an evening.
So much has been written & read about this place; I needed to get there myself, having only enjoyed small samples at beer festivals in Sydney & Brisbane.
A rather inconspicuous hole in an urban wall, not enhanced in anyway by the aluminium outdoor seating. But once inside, I flashed quickly back to the UK. Dark, wooden, smokey.... tables of blokes-in-the-know (well they seemed to know the barman)...awards on the wall, a brewery operating at the rear....
After drawing my eyes away from the long garland of hop bines adorning the top of the bar, I quickly espied unfamiliar taps: Wig & Pen Pale Ale, Brewers IPA, Bulldog Best Bitter, Aviator Doppel Bock, Wobbly Boot Smokey Weizen... to name a few.
Twelve beers on tap, 10 regulars & 2 seasonal (being the Aviator and the Wobbly Boot). There was also a small selection of commercial beers, including some Inbev Belgians (Chimay etc.).
The barman was keen to help, and gave me a printed list of the available beers. Priced from $4.20 middy/half, to $7.50 pint, you're paying a premium. Depending on the beer, this is either way too expensive, or great value.
On this visit I tasted six different beers:
Amber Hefeweizen - recommended
Bulldog Best Bitter (cask conditioned, served 8-10C)
Wig & Pen Pale Ale (ditto) - recommended
Brewers IPA (ditto)
Velvet Cream Stout (nitrogenated) - highly recommended
Wobbly Boot Smokey Weizen
Their "overall" ratings ranged fom 3.0 to 4.5. More detail available on the relevant BA beer pages.
The menu looked reasonable, albeit untried on this visit. Nothing over $11.90, including Ploughman's, Bangers & Mash, Butter Chicken, Vindaloo, Cheese Platter, Fish & Chips.
Cetainly the beer-lovers' spot in ACT. Well worth a visit or two (I regret no being able to return and finish the list)...maybe next time.
1,930 characters
Wig And Pen in Canberra City, Australia
Brewery rating:
3.7
out of
5
with
98
ratings