Supreme Liquors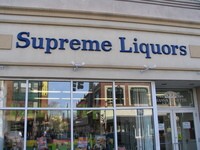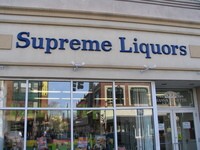 PLACE INFO
Type:
Store
600 Massachusetts Ave
Cambridge
,
Massachusetts
, 02139-3307
United States
(617) 661-8629 |
map
Notes:
No notes at this time.
Added by akahn on 02-19-2006
PLACE STATS
Reviews:

8

Ratings:

pDev:

8.33%
HISTOGRAM
View: Place Reviews
Ratings: 13 | Reviews: 8
Reviews by Hibernator:
3.65
/5
rDev
-4.9%
Decided to stop by Supreme Liquors this afternoon and was pleasantly surprised at the selection of craft beers. You clearly wouldn't come here for the atmosphere. On the other hand, the location is very accessible on Mass Ave and right near the T. With that being said, this store has made significant improvements since the last time I was here a few years ago. It's much cleaner, brighter and better organized.
Beers are located at the very back of the store with coolers that wrap around the sides. There are also a few shelves that showcase room temperature beer gems.
Some beer highlights included Ayinger Celebrator Doppelbock, Trappistes Rochefort 10, Rodenbach Red & Grand Cru, Orval and the Samuel Smith's line-up.
Domestic craft beers - Smuttynose Big Beer Series (Imperial Stout & Farmhouse Ale), Victory V-Twelve, Sam Adams Triple Bock, Concord, Rogue, Ommegang, Allagash, Dogfish Head and Stone.
I was really pumped to find the Smuttynose Imperial Stout and some nice Belgians to bring back home with me. Prices were reasonable and service interaction was minimal, but cordial. Worth checking out if you're in Central Square and you need to pick up some good beers.
1,195 characters
More User Reviews:

3.84
/5
rDev 0%
vibe: 2 | quality: 4.5 | service: 3.25 | selection: 4.5

3.85
/5
rDev
+0.3%
vibe: 4 | quality: 3.75 | service: 3.75 | selection: 4

3.68
/5
rDev
-4.2%
vibe: 3.75 | quality: 3.75 | service: 3.75 | selection: 3.5

3.52
/5
rDev
-8.3%
vibe: 3 | quality: 3.75 | service: 3.75 | selection: 3.25
I stop in here once on my way home from work because my roommate had recommended it to me and was pretty impressed. The first few times I had gone in I had noticed that behind the register there were a few Collabs and other random leftovers from probably months ago. After going there a few weeks in a row I sort of ran out of different beers to get. It's definitely a great place to grab something quick but for the beer nerd I'd recommend MARTYS DISCOUNT LIQUORS or Craft Beer Cellar in Belmont. Overall, not to bad but I think they need to get a better rotating selection. This may not even be possible because I don't run a store or know how shipments go but just my opinion.
679 characters
4.7
/5
rDev
+22.4%
Supreme Liquors is my go to store for beer. On the outside, it looks like some run of the mill run down liqour store. Go in though and walk all the way to the back and you will find a huge beer section and a very impressive selection of well known and hard to find craft beers.
The best part about this store is that EVERY beer is sold as singles. Yes, you read that right. The shelves are stocked with your normal 4-6packs and priced as such. However, on closer inspection you will notice many of the packs have beers missing. You can freely grab any beers you want, and they will just charge you the 6 pack price divided by 6. Feel free to just grab one 12oz beer and you won't be judged. This worked out to be a good business strategy, at least on me, as I find myself stopping by almost every night to buy just 1 or 2 beers, and I always end up getting some rare, more expensive beer since I only have to commit to one of it. Of course they also have a large selection of 22ozs, both warm and cold.
As far as the stocking problems other reviewers refer to, I think this may have improved in the past few months. For the last few weeks, the same stocker has been in the beer dept every night, working very diligently to stock and organize the section. I grabbed a 2 beers out of 4pk then when I was at the register realized I had grabbed the wrong one. I went back and he had already replaced the missing beers from the 4pk. If you spend more then a few minutes looking at beers he will come up and offer some suggestions. He definitely was far from a beer expert, but did seem to know which craft beers were flying off the shelf and had some good finds. They also have more beer in the back, so definitely ask if you can't find what you are looking find.
If anyone is in the area and looking to try new beers, or pick up something specific, I would highly recommending checking this store out.
1,900 characters
4.15
/5
rDev
+8.1%
This is my local, and I'm kind of surprised it hasn't been reviewed more and better.
Yes, it can be more expensive than other local places in the neighborhood. Probably $1-2 more per sixer or bomber than Harvest (directly across the street, but very limited selection, and sometimes sparse) or Whole Foods (a good trek from the T, and not nearly as wide a selection).
As others have noted, the selection is very broad. Plenty of regional breweries represented in their entirety (notable exceptions are BBC, Pretty Things, and Mayflower) and what I take to be a decent import selection (I'm not a very good judge).
There are a few things that I think make this a worthwhile stop: they let you mix sixers, the person who orders beer will actually order anything you want provided she can get it, and their Thirsty Thursday specials. Basically, every Thursday there are random specials throughout the store. A couple of weeks ago, all Stone bombers were on sale for $3.99. It can be hit or miss with what's on sale, but worth checking out and stocking up if it happens to be a good week.
The staff are friendly and helpful and as I mentioned, the lady who manages their beer will order things for you specially.
IMHO Supreme Liquors is the best shop in the MIT/Central/Harvard/Inman area, by a very big margin.
1,315 characters
3.65
/5
rDev
-4.9%
This place loses a few marks on quality because it's excessively expensive. Yes, it's a stone's throw from Central T, but honestly, when most of your decent six packs are $11+ and you charge over $10 for local, seasonal 22s, I tend to get offended.
That being said, the selection at Supreme Liquors is fairly encyclopedic. I've never seen a place -- with the possible exception of Downtown Wine and Spirits in Davis or stores like BevMo on the West Coast -- with as comprehensive a beer selection from the breweries they represent, especially in six and four packs. Example: In addition to carrying the usual Sierra Nevada sixes -- Pale Ale, Porter, Stout -- on a recent visit they had Anniversary, Celebration, Wheat Ale, Bigfoot, and 24s of the Wet Hop Harvest Ale (which is delicious if you haven't tried it yet). Also, from Victory, not only can you find Golden Monkey, Storm King, and Prima Pils, but they also had the elusive Moonglow Weizenbock in six packs.
How much did the Moonglow cost? $13, as I remember. Supreme Liquors, as I mentioned, isn't cheap. A 22 of Southern Tier's recently released Jahva Coffee Stout cost nearly $11. (I found it at Gordon's Watertown for $7 a few days later, and was very glad I waited to buy it even though Gordon's isn't exactly T convenient.) Thankfully non-seasonal 22s are more reasonable -- and you can find many of them already refrigerated -- but Supreme Liquors isn't afraid to flaunt their excellent location and selection in the form of high prices.
Another annoyance: Although their shelves are very well labeled, they don't appear very well stocked. It's unclear if this is because business is just that good, or if the store just doesn't restock their shelves with regularity.
If you really need that random six pack or want to browse a given brewery's entire catalog of beer, Supreme Liquors isn't a bad place to go. Just remember to cash your latest paycheck first.
1,927 characters
4.05
/5
rDev
+5.5%
Dropped in on a Sunday afternoon. Beer was all the way in the back beyond the wines. Big cooler against the back wall and then three or four long shelves on the floor.
I was in search of some Smuttynose to go with dinner and found some but the area had definitely been picked through. Not sure if there is always stocking problems or if it was just the end of the weekend. Picked up a mixed sixer of Smutty Finest Kind IPA, Pale Ale, and Summer Weizen. Also grabbed a bottle of SA Triple Bock.
Noticed a good selection of other stuff as well. Bear Republic, Stone, Chimay, Victory, Dupont, and a fair number of other regional breweries. Also had some Port Brewing stuff but I didnt see any Lost Abbey.
No help in the back but they were very friendly up front when I checked out. This is the only beer store I have been to in MA so I dont know how the prices compare, but they seemed very reasonable to me.
908 characters
3.5
/5
rDev
-8.9%
Ran in here quickly on my way home the other day and was actually pleasantly surprised. Beer is located in the back and when I mean the back, I mean it's like half a city block. The place is pretty clean on the inside. Employees weren't overly helpful, but a guy did ask I had found everything I was looking for.
Beer selection is pretty standard with some nice offerings here and there--they had more than I thought they would at least. Many local brews to Massachusetts and New England in general a la Long Trail, Ipswich, Magic hat, etc. Nice selection of German and English brews. Belgian selection was a bit sparse, but they were some trappist ales--westmalle, chimay, rochefort, orval, delirium, Unibroue, Ommegang, La Chouffe, etc. American craft section was highlighted by Stone, Bear Republic, Allagash, Stoudt's, and Victory. A good selection of bombers, mix packs, and 12 packs.
Prices were a bit high and it being just down the road from the Whole Foods, I would probably go there if I lived in the area. Not a bad place to stop in if you're looking for something quick.
1,089 characters
3.55
/5
rDev
-7.6%
This store is located conveniently right in Central Square, Cambridge. It is literally right off red line, near Prospect Street. For those familiar with Central Square and its recent history, this store's story should also be familiar. This used to be sort of a hole-in-the-wall store until a year or two ago when they renovated and expanded their store, increasing their floor space by about 50%. This extra space made room for a lot more good beer and just recently the shelves have been filling up.
In coolers in the back you fill find a lot of the more popular micros, such as DFH, some Anderson Valley, some Southampton, several choices from Sam Adams, and so on. Local breweries are well-represented, with Wachusett, Concord, Shipyard and others making appearances. On shelves nearby there is a good selection of Belgian imports (and of course Ommegang and Allagash), Ayinger and other German beers, several Rogue offerings, a few Stone brews, some from Bear Republic and Avery, as well as a good selection of Samuel Smith beers. This is a good selection, not a great selection. They use their space well, and compared to this place two years ago, this is extremely impressive. One thing I'd like to see from this store is an increase in seasonal brews. I went in recently and the only barley wine I saw was Avery Hog Heaven.
Though the cashiers are usually friendly here, I've never been asked if I needed help here, and I'm not sure if many of the employees would be able to help me out if I wanted some. This isn't really that kind of store... yet -- this store is a popular stop for local homeless alcoholics, etc. But if it continues its upward path, it may be a great beer store someday soon. Still, it is probably the best store in Central Square.
1,767 characters
Supreme Liquors in Cambridge, MA
Place rating:
3.84
out of
5
with
13
ratings