Drop Off Service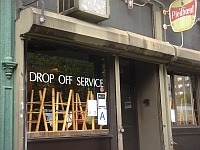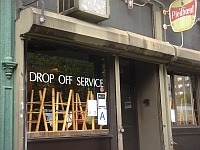 Bar
211 Ave. A
New York
,
New York
, 10009
United States
(212) 260-2914 |
map
dropoffservicenyc.com
Notes:
Recent ratings and reviews.
| Log in to view more ratings + sorting options.
Ratings by PEBKAC:
Reviewed by PEBKAC from North Carolina
3.86
/5
rDev
-0.8%
vibe: 4 | quality: 4 | service: 4 | selection: 3.5
Interesting place hidden in the East Village, & within walking distance to the HDG. We made it a point to hit here first for the much touted value, & because it was the farthest point from the subway.

Old murky wooden planks line the floor with a bar seating close to fifteen on the right side. There are a few tables in the back put together from different odds & ends, a couple booths running along the left brick wall, a couple extra stools near the front windows, & even a cute little school desk for the vertically &/or humorously challenged. Lighting was low even for the late afternoon, as the neon fixtures on the ceiling looked strangely out of place, even in this makeshift bar.

The crowd is mostly your typical faux Village pedestrian, but a little more realistic. Some good honest working class here too, along with a couple fannypack tourists just in to escape the rain. Hmmm, might as well have a beer. :) The girl at the bar was down to earth & easy to order from, so she probably doesn't live in the area. Good for her. :P

The chalkboard facing the entrance listed a fair amount of local beers, with two from Sixpoint, Bluepoint, & a Brooklyn. A few macros, a couple German hefs, Arrogant Bastard(which is always nice to see), my first choice that afternoon: Radeberger Pils, & even Delirium Tremens(two bucks more). All imperial pours were half priced that afternoon(& every afternoon) from 3-8, with Saturdays boasting a seven hour "happy hour". :) Sipping on $3 pints while watching the steam rise off the cracking asphalt; Just taking it easy. I could think of worse things to do on a lazy drizzly afternoon.

I made the mistake of ordering up one of their meat pies(minced), which were advertised as locally baked & delivered daily. Five dollars & a pull of the little oven in the back got me what looked like a .99c Banquet pot pie from your local supermarket's frozen foods section, only not as tasty. Very, very dry, & very salty. Do not want. ... It's the only thing available, & they don't even make it, so I'll leave off rating the food for now. Friend grabbed some pizza around the corner & said it was decent.

The good walk from the train will probably keep this a mostly local joint. That was probably their intention. :)
Jun 26, 2008
More User Ratings:
Reviewed by dbrauneis from North Carolina
3.86
/5
rDev
-0.8%
vibe: 4 | quality: 4 | service: 3.5 | selection: 4
This is a pretty low key place that is a former laundrymat that was converted to a bar. The place has a nice decor with the exposed beams, hard wood floors, exposed brick, and interesting light fixtures. There are a lot of windows along the street so it gets nice natural light during the day.

The beer selection was pretty good and you cannot beat the price at happy hour (7 days a week until 8:00 PM) - take $3 off the price of the beer and they pour 20 oz pints. The selection has local stuff as well as other craft beers from inside and outside he US, grouped on the menu by country.

Beers are poured in imperial pint glass and well poured. The staff is friendly enough and as we only got some beers, did not have a lot of interaction (we knew what we wanted and didn't ask for any help or recommendations).
Mar 19, 2012
Reviewed by StJamesGate from New York
4
/5
rDev
+2.8%
vibe: 4 | quality: 4 | service: 3.5 | selection: 4.5
Former laundry made mellow with exposed brick, creaky wooden floors, booths, tin signs and ceiling fans. Nicely mixed crowd for the area; no attitude on display.

Taps are a good range - locals like Chelsea, reliables like Arrogant Bastard and even Delirium Tremens. A cask, too. Staff didn't seem one way or the other, but didn't really interact with them much. I hear there's a solid happy hour deal, so that de-fangs the price.

This places seems like something of a dark horse, I never hear it mentioned along with the other locals like the East Village Tavern. Nice little hideaway with some solid options.
Dec 01, 2009
Reviewed by NeroFiddled from Pennsylvania
3.86
/5
rDev
-0.8%
vibe: 4 | quality: 4 | service: 3.5 | selection: 4
I stopped here on a late night headed home (well it was only like 10pm but it seemed late after a long day out).

Nice looking place. Nice crowd. Subdued, not the college crowd that you sometimes run into. Of course I've only been there once (18 October 2008).

I love the red lamps above the bar and the exposed brick walls, the wooden plank floor, and the clean bathrooms! I took some photos and got a few odd looks from the other patrons at the bar but that's probably because they thought I was taking pictures of them. Anyway...

The bar service was kind of slow, but not too bad. I grabbed a Six Points Apollo Wheat and settled in at a comfy seating area across from the bar.

The selection is pretty good, and it appears they've got a fairly impressive array of other spirits as well. For beer there are 20 taps, all of which are more than serviceable with lots of locals (Brooklyn, Six Point, Coney Island, Chelsea). The least impressive beer was Yuengling Lager. Decent imports, but nothing really fancy, and they've included Guinness, Bass, and Stella as a kind of safety net I guess. Who knows, maybe they sell. But on the other hand, that's really the kind of place this is. It's not cutting edge, just good. Did I say serviceable? Yeah. Stella Artois. ... ... They do have a hand-pump though, although I'm not sure if they're serving cask or keg-via-handpump.

I didn't see any food and I didn't ask as I'd just come from a great Italian dinner. I think it's pretty much beer though.

Overall, a pretty decent hang. My friends and I were totally content to relax and chat for a bit before heading back out. It's worth trying, but it's certainly not a mecca.
Oct 22, 2008
Reviewed by slander from New York
3.86
/5
rDev
-0.8%
vibe: 4 | quality: 4 | service: 3.5 | selection: 4
Some senseless heading south only to hook to move north again, go figure with this crowd of voices in my head. Randy says he knows and actually likes this place, which earns him "the look". No scrutiny or debate, I'll just store Randy liking something away for another day. Well, we could either call ahead, or just...

Off to the right, an "L" shaped wood beaten bar seating a dozen on non-backed stools, much to Randy's displeasure. The barback a large wood unit with a pair of 4 x 4 mirrors, tiered booze on the counter, and all varieties of glassware shelved boxed below, including a dirty dirty Hoegallon. Blackboards above the overhang to the rear list scotch, bourbon & wine selections, plus the tap and bottled choices.

Brick walls to both sides with mounted twin red bulb lampage; some posts and the front and rear in yellow, decorated with 8 x 10 paintings of horned people and a larger metal piece of the same inlayed, similar but different. Fat wide floorboards front to back, red bulb beer ball lamps over the bar, and spinning ceiling fans above. Bar counters below the large strung glow lighting lined front windows, offering views of a scene across the street where a guy is picking up his chair and leaving after having words in animated fashion with a guy who looks exactly like him but older. I explained "I think he just encountered himself from the future, something I know a little bit about as I've experienced time travel twice before", which surprisingly, earned me "the look". Thinking back on it now, one of those times was with Al at Katz's Deli one Sunday morning back in '99. I was looking to get my snack on, having just been seated with my pastrami on rye, all sours, fries, and a Dr. Brown's black cherry soda, when I looked up and saw future me, eating with people I don't even know (yet). And then when I came up to pay, I didn't even make eye contact with me. How rude (I'll become in the future, anyway), or maybe I was just being very careful. I won't know which it was for a number of years, yet. Hmmmn. So, what I'm thinking is, Katz's is only like a dozen blocks from here, so what's the chance that I would experience time travel phenom twice in the same neighborhood, right? What? No, the other time was in New Haven, late night, Wednesday, December 10th, 1986. I went 4 days into the future with Kup and brought back the Sunday comics to prove it. We'd eaten paper, driven to NY for a warm 8 pack, and then up to northern CT on the MA line to wake up his friend just before sunrise for a smoke and cookies, but that doesn't have anything to do with anything. What were we talking about again?

A pair of booths rests quietly beyond the bar in a rear area against windows overlooking a small courtyard of nowhere, and 3 crescent booths sit adjacent to the bar below a large projection screen on the far wall. A step up area curtained to the far side rear holds another booth and some seating back near the bathrooms.

20 taps, each on their own curved pipe extending out from the bar in groups of 10 and 10, plus a solo Delirium pink elephant tower on one end, and a single hand pump (Chelsea Henry Hudson IPA) on the other. Roughly half the taps are American craft beer (Goose Island 312, Shmaltz Coney Island Sword Swallower, Rogue Juniper, Sixpoint Apollo Wheat, Brooklyn Lager, Magic Hat #9, Stone Arrogant Bastard, Chelsea Checker Cab Blonde, Yuengling), the rest a mix of good to eh imports (Fullers London Pride, Erdinger Weisse, Radeberger Pils, Old Speckled Hen, Schneider Weisse, DT, Guinness, Bass, Stella, Hoegaarden, Boddingtons) and a cider (Blackthorn). 9 bottles displayed on a shelf above the barback, including Goose Island Matilda (I wish I'd seen that before ordering the 312), Chimay Blue, La Fin Du Monde & Omme 3 Philosophers. The guy next to me asked the bartender to wash out his 3 philosophers bottle so he could take it home to display it on his bookcase. Ooookay, although I'm really no one to talk, if you've seen my other room, you'd know of what I speak.

Took in a beer and sat listening, wondering what Bowie's saying in the background of that first verse in Ashes to Ashes ("Songs that pleases the ear and make the mind blow", maybe?). A better than average crowd, they seem to be douche a-bag free. Impy pints (hooray!), the beers fresh and not too pricey. Good open space on "A".
Sep 10, 2008
Reviewed by RblWthACoz from Pennsylvania
3.94
/5
rDev
+1.3%
vibe: 3.5 | quality: 4 | service: 4 | selection: 4
Hands down the best beer bar in New York as far as craft beer and value goes. They must own the building or something to be selling the beers at some of these prices. Whatever the reason may be, I don't care as long as they keep the inexpensive quality stuff flowing. Pretty much your run of the mill East Village joint with a lot of taps. Really it's just a place to chill and have a few, or more. Service has always seemed to be on top of things and chill. This is more of a locals spot instead of a big destination for the tourists really.
May 19, 2008
Reviewed by sleazo from New York
3.73
/5
rDev
-4.1%
vibe: 4 | quality: 4 | service: 3.5 | selection: 3.5
This place is open and airy which can be a good thing in the summer. There are some booths to one side and a nice big bar to the other. A solid lineup of taps which makes this a good stop if in the neighbourhood. The selection isnt spectacular so I dont know if this would be a destination place. I had a Gaffel Kolsch for $3 at happy hour which was nice. Other notables were Arrogant bastard, Delerium Tremens, a sixpoint offering, Brooklyn lager, Schneider-Weisse, some organic ale(not sure which one) and then the bass/guiness heineken set.


Oh and they let me bring in some tacos from the ebodega next door. Not the best tacos but at $2 they pair well with a $3 beer.
Jul 21, 2007

Reviewed by Hibernator from Massachusetts
3.73
/5
rDev
-4.1%
vibe: 4 | quality: 4 | service: 3.5 | selection: 3.5
We decided to conclude a NYC visit by stopping at Drop Off Service for some Sunday evening pints. The bar area itself is a large square room with some smaller rooms toward the back.

The atmosphere is pretty chill with dark wood and candles on the tables. There is also a decent jukebox. Walls are decorated with cool beers signs and mirrors.

You can expect about 20 taps including a cask beer. Most of the selection are your typical draft beers like Stella Artois, Guinness, Bass, Boddingtons, Brooklyn Lager, Magic Hat #9 & Yuengling. Some highlights were Erdinger Hefe-Weizen, Stone Arrogant Bastard, Sixpoint Righteous Rye & Delirium Tremens. The bottle selection is rather limited with Chimay Blue & Lindemans Framboise being the standouts.

Beers are served in 20 oz imperial pints, which you gotta love. Most beers are $6 with the Delirium Tremens at $8. Tap lines are clean and service was solid. Drop Off Service is a legtitmate bar within the ever-growing East Village beer scene.
Mar 19, 2007

Reviewed by Billolick from New York
3.93
/5
rDev
+1%
vibe: 4.5 | quality: 4 | service: 4 | selection: 3.5
This is a north east village spot that has a decent amount of character, and a dark, cool feel to it. Worth a visit if your'e in the area or as part of a village crawl. 18 taps with about 1/2 being worthy, including selections from the ubiquitious Bklyn, Stone, Harpoon, Six point, Magic Hat then the usual range of Guiness, Stella, etc etc. Good juke box, friendly bar keeps, comfortable square room, with large windows out onto the NYC street. Wide- board wooden floor, lots of exposed bick. Booths along the wall and in the rear smaller room. Older, non tourist crowd. lots less pretense then some other places in the nabe...
Jul 01, 2006
Reviewed by bultrey from New York
3.63
/5
rDev
-6.7%
vibe: 3 | quality: 4.5 | service: 3 | selection: 3.5
Ended up over here with some buddies on the recommendation of a non-BA friend who nevertheless knows I like a good beer selection. This strikes me as one of those places to go if you are with a group who are not necessarily interested in beer, but just want a happenin' bar in which to hang. But for the beer lover, there are a few things going on, but not enought to make a special trip.
We went on a Sat. night, so predicatbly, the place was mega-crowded. Consequently, the bartenders were a bit overwhelmed, but were friendly enough and did their best. They have about 20 taps here, but unfortunately, no beer list, and it is not written on the wall anywhere... so you kind of have muscle your way toward the bar and squint real hard. I was able to pick out two tap handles I know and love -- Sixpoint (Brownstone) and Stone (Arrogant Bastard). These are the two pints I had, and both were actually quite fresh and tasty, so they get points there. I got a chance to check out some of the other taps later, and there is nothing too exciting .. sort of that better-than-macro-crap-but-not-really-"craft"-beer selection, the two aforementioned choices notwithstanding. We're talking Stella, Boddingtons, Spaten Pilsner, Harpoon IPA, Brooklyn Lager, etc. They did have a Fuller's, which looked to be on handpump, but was'nt. One of those fake jobbers. But it did have a little sign saying that they would have real cask ale soon, so maybe that's a plus.

If I go again, I'll surely stick to the Brooklyn Lager, Sixpoint whatever, and Stone.
$6 for imperial pints is a bit pricey, but when it's a pint of Arrogant Bastard or Sixpoint Brownstone, that's not so bad. I understand there is a two-for-one happy hour, 4-8 on weekdays, as well.
Apr 10, 2006

Reviewed by GreatPondBrewer from California
4.06
/5
rDev
+4.4%
vibe: 4.5 | quality: 4 | service: 4.5 | selection: 3.5
Besides the HopDevil grill this place is where I want to go in the east village. It doesn't have the greatest selection although there are some good mainstays i.e. arrogant bastard a couple different IPAs and always some Fullers on cask. They serve beer in Imperial Pints and during happy hour they are only 4 bucks which is great. The place is quiet, the music is never too loud, the bartender let me friend and I put his ipod in because there was no one around, the bartender was awesome and basically hung out with us the whole night (shots of Jamesons were on the house). This place is great if you want a little less pretension in the Village and still have a good time and get in a little people watching in what used to be a laundrymat.
Feb 22, 2006
Drop Off Service in New York, NY
Place rating:
3.89
out of
5
with
13
ratings