Shiga Kogen IPA

Tamamura Honten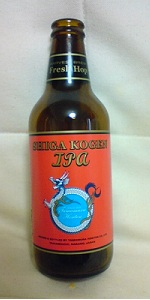 Write a Review
Beer Geek Stats:
| Print Shelf Talker
Style:

ABV:

6%

Score:

Avg:

3.75

| pDev:

10.4%

Reviews:

13

Ratings:

From:

Avail:

Year-round

Wants

Gots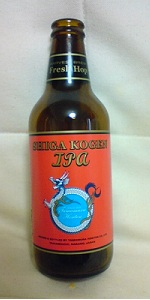 Notes:
flyingpig from Scotland
3.51
/5
rDev
-6.4%
look: 4 | smell: 3.5 | taste: 3.25 | feel: 3.75 | overall: 3.75
473ml on Keg at Two Dogs Taproom, Roppongi, Tokyo (¥950):
This one was a decent first beer from the brewery for me & one that got off to a good start with a solid pine & grapefruit bitterness. Things remained balanced thanks to the earthy malts & touches of sweetness that appeared further on which made it an easy beer to drink.
Oct 11, 2017

The_Beergery from Singapore
3.75
/5
rDev 0%
look: 3.75 | smell: 3.75 | taste: 3.75 | feel: 3.75 | overall: 3.75
Poured from a bottle, appearance is hazy, with an amber-orange colour topped with a thin head of white froth, with moderate retention and lacing on the glass. Aroma is hoppy, mainly floral, pine, resin, and some fruit, though not citrus or grapefruit in nature. Taste-wise comes across as balanced, some sweetness, again not a fruity sort of sweetness, with pine and floral notes, and helps to balance off the bitterness, which only comes back sharply in the short finish. Carbonation is average, giving it is lively mouthfeel and buzz.
May 03, 2017

Stevedore from Oregon
3.8
/5
rDev
+1.3%
look: 3.5 | smell: 4 | taste: 3.75 | feel: 3.75 | overall: 3.75
On tap at Craftheads in Shibuya in Tokyo, Japan. Served in a pint glass.
Essentially, the hops bring out the grapefruit and pine. Solid caramel backbone. Finishes with rind and pine bitterness. Reminds me of a west coast style IPA and done reasonably well with a good balance.
Oct 18, 2015

dar482 from New York
4.1
/5
rDev
+9.3%
look: 4 | smell: 4.5 | taste: 4 | feel: 3.75 | overall: 4
The beer comes in a dark caramel orange.
The aroma has lots of pine and floral notes with some sweet malt.
The flavor follows with front bitterness, then sweet bready malt. Lots of pine and grapefruit with a light body and carbonation.
Reminds me a bit of Sierra Nevada Pale Ale. Well made beer.
Aug 11, 2013
John_Henry from Japan
3.2
/5
rDev
-14.7%
look: 2.75 | smell: 2.75 | taste: 3.5 | feel: 3.25 | overall: 3.25
A: Fairly lite golden colour, with very slight clouding which may have been chill haze. Pretty small head which fades, but leaves fair lacing.
S: The hops come threw a little, but we're not talking big nose hear, only slight.
T: Tastes good, very drinkable, with a little hop bight in the finish. Quite light for an IPA, but definite hops as well.
M: A little lite. But nothing to complain about, could be smoother for my personal preference.
O: Quite a nice surprise. Having tried most of Tamamura Hontens beers, I was imaging an over hoped monster, but this is quite the opposite. If anything more in line with an american Pale Ale, but ever so slightly more hops. Definitely nothing like an English IPA. Some Cascade there for sure.
This is by no means a bad beer, and certainly worth a try, but don't expect to be blown away.
Mar 05, 2013

Pohlcat from Hawaii
4.6
/5
rDev
+22.7%
look: 4 | smell: 4 | taste: 5 | feel: 4.5 | overall: 4.75
Just an outstanding IPA . Brewed near some of the most spectacular mountains in Japan.
Tamamura Honten has done an impressive job getting its range of craft beers to be offered in virtually every establishment that serves food on this massive Japanese ski resort , and cheaper 430-450 jpy (Usd 4.78 ay 92 ) than a Sapporo draft at 500 jpy !
A must try while in Japan , if you can find it .
Feb 04, 2013

womencantsail from California
3.78
/5
rDev
+0.8%
look: 4 | smell: 3.5 | taste: 4 | feel: 4 | overall: 3.5
Pours an orange color with a white head. Nose is quite catty and grassy. Some floral notes, light citrus character, and biscuit malt. A little bit of green melon, too. Taste is a bit cleaner. Grass, citrus peel, and melon. Some bread malt flavor, moderate bitterness on the back end with mild malt flavor and sweetness.
Aug 07, 2012
dgilks from Australia
3.53
/5
rDev
-5.9%
look: 4 | smell: 3.5 | taste: 3.5 | feel: 3.5 | overall: 3.5
Slightly hazy golden-amber colour with a small, off-white head. Poor head retention but still good.
Moderately earthy aroma with light pine and citrus notes. A touch of malt. Interesting and understated. Certainly more British than American.
Quite malty and rich with a light lemon note. Moderate earthy hops. Mostly British IPA with nice citrus notes that round it out.
Medium body with moderate carbonation. Good.
A quite reasonable British IPA with plenty of earthy hops and nice malt. Somewhat understated but still tasty.
Apr 01, 2012
jeranbrews from Oklahoma
3.23
/5
rDev
-13.9%
look: 3.5 | smell: 3 | taste: 3.5 | feel: 2 | overall: 3.5
Purchased 12-'09. Consumed 2-'10 in a ice tea glass.
A - This beer has a mostly clear varnished cedar chest color. A quickly receding head with sheaths of lacing that look like a sandy beach when the tide is going out. Almost no continued carbonation, flat like a draft beer.
S - IPA sharp, hoppy but in a very subdued all too common style here in Japan. It's weak. Malt and yeast hard to find.
T - Hoppyness of a IPA is there and some citric notes too. A bit of a sweetly cool minty aftertaste. For an IPA, it's not very hoppy.
M - Watery. Boring.
D - This is an IPA for people that don't like IPAs. It's very drinkable but in terms of hoppyness this is much much closer to an American Pale Ale. Don't expect amazing things.
Feb 11, 2010
Shakujin from Japan
3.65
/5
rDev
-2.7%
look: 3.5 | smell: 3.5 | taste: 4 | feel: 3 | overall: 3.5
Appearance: Small but pleasant head around the thickness of a quarter, which fades after a minute, does not leave much lacing, light amber blending into orange at the edges and when held up to the light.
Smell: Light malts, that slight sweetness apparent, but smells mostly of citrus and floral hop goodness. Not overpowering or a strong smell but there and possessing some complexity.
Taste: First taste is bittering hops, then a quick dash of slightly sweet malts, followed by some flower like bitterness and finishing the same. Perhaps a cleaner finish than other examples of the J-IPA, but not as clean as say yukidoki IPA. After a few sips I am loosing the malts as the two hop flavors are blending together. The hops have citrus notes, and some of that delicious resin like, dank ness.
Mouthfeel: No particularly heavy carbonation, and nothing heavy in the style, medium bodied
Drinkability: There is nothing absolutely fantastic about this beer. However its a true IPA bitter, and hop highlighting, without being over the top. Add to that that its quite cheap and I would say this could be a nice little drinker especially if your in the nippon and can find it on tap.
Jan 19, 2010
Sammy from Canada (ON)
3.57
/5
rDev
-4.8%
look: 3.5 | smell: 4 | taste: 3.5 | feel: 3 | overall: 3.5
Mondial 2009. In-your face aggressive, astringent, grapefruit IPA..with some malting. A little hop aroma. Grapefruit colour. Hophead delivery, not something I would go out of my way for again. STill impressed with the brewery, particular their other offerings.
Jun 10, 2009
toweringpoo from Japan
4
/5
rDev
+6.7%
look: 4 | smell: 4 | taste: 4 | feel: 4 | overall: 4
Had this on tap at Sal's in Saginuma, near my neck of the woods
One of my first forays into Japanese micros and I wasn't disappointed. A bit weak yet on hop aroma and taste but I was told that this brew is only 2 years old and and they're still working on it, so taking that in mind it was a very enjoyable beer. Very promising. Will gladly drink again.
May 19, 2008
nouseforotacon from Connecticut
3.24
/5
rDev
-13.6%
look: 4.5 | smell: 3 | taste: 3 | feel: 2.5 | overall: 4
This one poured out a rich, reddish amber color with a decent-sized, off-white head. Bottom shimmers beautifully and the puffy head maintains itself for a while.
The aroma was strong floral/citrus, very sweet, with traces of candy and honey. Also present was a slightly rough and muddy malt smell, hints of yeast.
Strong, bitter hops rush quickly into the mouth, but fade quietly in the aftertaste. The head felt creamy in the mouthfeel, but this one was overall crisp and light. Definite citrus notes resurfaced in the taste, some light honey, but this one is a little muddled flavor-wise.
Decent, refreshing brew, nice for drinking, but somehow not quite as balanced as I would've liked.
Mar 07, 2006
Shiga Kogen IPA from Tamamura Honten
Beer rating:
85
out of
100
with
42
ratings