Sammy's Neighborhood Pub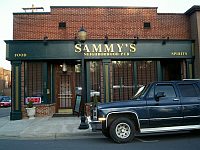 PLACE INFO
Type:
Bar, Eatery
25 S Main St
Belmont
,
North Carolina
, 28012-3851
United States
(704) 825-4266 |
map
sammyspub.com
Notes:
No notes at this time.
Added by rodrot on 02-28-2006
Ratings: 10 | Reviews: 7
Reviews by rodrot:
4.28
/5
rDev
+7%
vibe: 4 | quality: 4.5 | service: 4.5 | selection: 4 | food: 4
A friend of mine, who only drinks cheap macros just to get drunk, took me to this place the other night knowing that I would enjoy it as a BA. He was very secretive about what kind of pub this was. After all, you wouldn't expect much from a pub in Gaston county, which is infamous for being the redneck capital of the Charlotte metro area. Boy was I surprised! The place has plenty of wood and a few TV's for sports fans just like most bars in this area, but when I sat down at a table the waitress handed me a beer menu that shocked me. 90 minute, Maudite and Victory Hopdevil were on tap! Maudite!! They also had a wide selection of bottled beers including Sam Smith Imperial, SS oatmeal stout, Victory Golden Monkey and Hopdevil, SN pale ale and Celebration, Unibroue's La Fin Du Monde and Maudite and many others. Craft beers outnumbered macros 3 to 1. The food was good. I had a Reuben with fries that was quite tasty. I also had a pint of Maudite and a pint of 90 minute and was feeling quite good after that. Service was also very good. Our waitress was checking on us regularly to make sure our glasses were full and that we were happy. This is a gem of a place located in downtown Belmont. Check it out if you're in the area. BTW, I convinced my friend to try the Hoegaarden on tap and he liked it. Maybe there's hope for him.
1,335 characters
More User Reviews:
4
/5
rDev 0%
vibe: 4 | quality: 4 | service: 4 | selection: 4 | food: 4
4.88
/5
rDev
+22%
vibe: 4 | quality: 5 | service: 5 | selection: 5 | food: 4.75
4.13
/5
rDev
+3.3%
vibe: 4 | quality: 4 | service: 4.5 | selection: 4 | food: 4
Visited this location as Sammy allowed quite a few BAs to have an Upland tasting here. Thanks Sammy! Located right on Main St. in downtown Belmont this place is truly worth the trip off the interstate to visit. With a nice large sign at the front of the location it is quite hard to miss even when driving by. Upon walking in you are greeted by the hostess who is kind of tucked back into a corner on your left as you walk in. The walls are painted a deep red with hardwood floors. There is tons of seating around the location with booths along the left wall. There are a few low-top tables scattered around throughout the place. There are also quite a few high-top tables as well if that is more your thing. The bar is located along the right side with the draft board posted on the back wall. There was also a sort of 'surfboard table' near the bar as well toward the back. There was a pretty good selection here as well. I ordered a Founders Breakfast Stout (as did just about every other person in our group) as a pre-gamer. The shocking thing was it was only $5 AND it was served into a snifter! Not too shabby... If I remember correctly there were 12 taps available. Most of them were from North Carolina breweries such as NoDa, OMB, and Foothills. The food here was quite good as well. I ended up getting the Pimento Bacon Burger myself as I felt like being fat that day. The service was nothing short of great. The bartenders were very attentive as was our server. This was also despite the fact that we basically brought in our own beer, so we were just holding up space from our server. Usually this doesn't blow over to well in past experiences. Defintely a diamond in the rough. I plan to go back here in the future without a doubt. I suggest you do as well.
1,770 characters

4.3
/5
rDev
+7.5%
vibe: 4 | quality: 4 | service: 4.5 | selection: 4.5 | food: 4.5
Sammy's is my local pub, hit it for $3 pint night yesterday and here's what they had available on draft:
Sierra Nevada Harvest (small batch)
Foothill's Peoples Porter
Old Mecklenburg Copper
Highland Gaelic
Sam Adams Seasonal Keller Lager
Natty Greene Buckshot
Olde Hickory Death By Hops
Old Mecklenburg Seasonal Dunkel
Sam Adams Cherry Chocolate Bock
Bell's Two Hearted
Sweetwater 420
Rogue John John Dead Guy
They do a nice job of it, always something worth checking out even for serious beer geeks. Their bottle selection is great, but with a consistent rotation of nice drafts I rarely venture that way.
The food is really good and the portions are big. My faves: wings, the neighborhood special, burgers, bbq.
The place does have some issues with noise, it gets crowded in primetime bar hours and could seriously use some sound buffering on the ceiling. If there's a band there you won't see me.
All in all: nice selection of brews in an area where 99% of the patrons couldn't care less about quality draft - big portions of good food for reasonable prices - super cool owner & staff, great friendly service. Look around, you may see me there (unless there's a band).
1,177 characters
4.2
/5
rDev
+5%
vibe: 4 | quality: 4.5 | service: 4 | selection: 4 | food: 4.5
The place is very lively and always very busy. They are very hospitable and the wait staff is pretty knowledgeable about the products. The quality is really good. They always have a ton of locals on tap as well as various other crafts. They have a few BMC beers but it is necessary to remain competitive in an area not too known for their craft beer friendliness. Selection is pretty good. They have a ton of craft taps and even more craft bottles. Food is excellent and the value is really good for what they have.
515 characters
4.14
/5
rDev
+3.5%
vibe: 4 | quality: 4 | service: 4 | selection: 4.5
This was a delightful little surprise. This area of NC is not known for its beer culture but this place definitely stood out.
Located in the quaint, downtown area, and right across the street from a decetn looking park. Parking was easy as I parked on the street in front of the bar.
Rather small bar area with about 10 stools. Booths along the left side with tables in the middle of the restaurant. Shag carpet rugs and 1940's looking pictures adorn the left wall while the bar is on the right and includes a miniature English phone booth; you know, the red one.
Selection is pretty amazing for this area. Draft selection leaves much to be desired. They had 8 drafts and the only notable one was Spaten. Also had Yuengling, Guinness, Bass, Newcastle, and Blue Moon. The bottles are where its at. DFH 60min and Raison D'etre, Sam Smith Imp Stout, Chimay Red and White, Don De Diwu Wheat, Golden Monkey, Flying Dog, Terrapin, Rogue Anchor Steam, etc. About 50 in total.
Pruces were quite reasonable. DFH 60min was $3 and the Golden Mondkey was only $5. This is the only place to go in Belmont and I recommend this place to anyone.
1,136 characters

3.75
/5
rDev
-6.3%
vibe: 4 | quality: 3 | service: 5 | selection: 3 | food: 4.5
I finally made it to Sammy's today for some beer and football with a couple of friends. I was quite suprised with what I found.
Upon entering I was greeted and asked if I needed a seat, I didn't because I was meeting friends. The bar was small but set up just perfect. By no means was it a beer destination but I couldn't complain, they had about eight taps and probably 70 bottles. The standard American macro swill mixed with some nice imports and good American craft brew selections.
The food was very tasty and quite reasonable, as were the beer prices. Well worth a stop if you're in the area.
605 characters
4.2
/5
rDev
+5%
vibe: 4.5 | quality: 4.5 | service: 4 | selection: 4 | food: 4
Sammy's is definitely the best bar in Gaston County, no doubt aabout it (sorry Johnny B's, I still love your food and service). My wife and I try to make it here about once a month and every time we go here, it's a great atmosphere of respectable Gaston County citizens and surprisingly not Belmont Abbey College students.
Great selection of high gravity beers, I'll never forget that this is where I had my first Bigfoot barleywine. Check out the board for new arrivals vs. just wants on the menu. Very good burgers, nachos, appetizers.
Love this place - - the best kept secret within ten miles of Charlotte. Worth the stop.
632 characters
Sammy's Neighborhood Pub in Belmont, NC
4
out of
5
based on
10
ratings.