Mikkeller / Three Floyds Hvedegoop BA Malaga Wine Edition
| Mikkeller ApS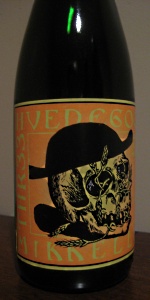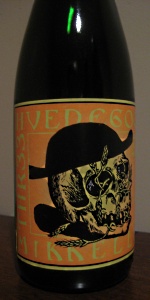 BEER INFO
Brewed by:
Mikkeller ApS
Denmark
mikkeller.dk
Style:
Wheatwine
Alcohol by volume (ABV):
10.40%
Availability:
Limited (brewed once)
Notes / Commercial Description:
No notes at this time.
Added by ADZA on 10-07-2013
This beer is retired; no longer brewed.
HISTOGRAM
Ratings: 12 | Reviews: 5
Reviews by wordemupg:

3.94
/5
rDev
+3.7%
look: 4 | smell: 3.75 | taste: 4 | feel: 4 | overall: 4
375ml bottle poured into tulip 5/1/13
A murky brownish amber, a few bubbles are visible but I know there in there because there's a massive beige that hangs around for a while ending up as a low island leaving a couple partial rings of lace
S caramel, a little orange peel and pine, has a little mustiness that's hard to place, dried dish cloth maybe? herbal notes and cereal, candied pineapple, lots of brown sugar and some apple pie filling, some woodiness but I wouldn't guess this was barrel aged, I would guess Proef yeast though
T some sweet berries and I'm getting more barrel then the nose but still not a whole lot, the orange is a little sweeter as is everything else, lots of caramel and some berries I can't place, no dish cloth, and the booze has been hidden very well
M silky and almost creams up, feels fairly full but soft, not much booze and its somehow slick on my palate at first and leaves a little grit afterwards, fruity caramel finish lingers for ages
O interesting take on the style, the barrel doesn't play a big part but has its role, well concealed booze and other then some strange mustiness on the nose everything seems in place
good beer but way overpriced like many Mikkellers I've had, some are well worth it but the 16$ I paid for this one was a little too much.
1,305 characters
More User Reviews:
3.84
/5
rDev
+1.1%
look: 4.25 | smell: 4 | taste: 3.75 | feel: 3.75 | overall: 3.75
375ml bottle. More creepy hop vines as worms, crawling through a withered skull imagery. Not up to trying to figure what the fuck they're trying to get at here.
This beer pours a mostly clear, dark ruby amber hue, with a towering column of puffy, out of control, thinly foamy, yet aggressive beige head, which leaves some pleasant layered sudsy lace around the glass as it evenly subsides.
It smells of pungent caramel and biscuity toffee malt, a touch of spicy wheatiness, candi sugar, resinous pine needles, concentrated citrus cream, a subtle red wine fruitiness, and a mildly grainy booze-tinted woodiness. The taste is more heavily saturated grainy caramel and biscuity caramel malt, gritty brown sugar, sidling acrid pine needles, a still understated Sherry barrel woodiness, with the attendant flor mustiness, a dusty cavern dryness, and a lurking, somewhat metallic alcohol essence.
The carbonation is damned-near imperceptible, the body a heady medium-heavy weight, and generally smooth, the alcohol really the only perp here guilty of stealing children's dreams. It finishes off-dry, really, the big-ass malt, wheat and barley-borne alike still facing an acrid hop and woody barrel offset.
An agreeable enough wheatwine, though this one has more caramelized barley malt going on than is the norm, making for a bit of a confusing affair in that respect. Thankfully that issue is overshadowed by the otherwise underwhelming barrel character - weakly woody, and fading in its yeasty astringency, which all makes for a middling, booze tinged mess of things. Which, as we all duly know, isn't always such a bad way to go, now, is it?
1,642 characters
3.92
/5
rDev
+3.2%
look: 4 | smell: 4.5 | taste: 4 | feel: 2 | overall: 4
Pours dark amber with a small head.
Nose shows sweet caramel and figs, sultanas and sherry notes.
Flavours include sultanas, fortified wine, caramel and oxidised sherry notes.
Carbonation seems a bit full on for the flavours.
225 characters


4.23
/5
rDev
+11.3%
look: 4.75 | smell: 4.25 | taste: 4.25 | feel: 4.25 | overall: 4
3.91
/5
rDev
+2.9%
look: 3.75 | smell: 4 | taste: 4 | feel: 3.75 | overall: 3.75
Poured into Chilled flute pours a dirty dark amber hue with a frothy rather creamy two finger head and lacing everywhere quite a looker,the smell is piney resinous hops,candied wheat,booze and Malaga with sweet sweet malts,the mouthfeel is full bodied with moderate carbonation and the tastes are piney hops,candied wheat,ripe fruits,a nice warmth from the Malaga wine barrels and finished with a fruit cake/toffee bittersweetness and overall it's quite nice and the barrel ageing is a nice addition to this brew and would drink again cheers.
542 characters

3.85
/5
rDev
+1.3%
look: 4 | smell: 4 | taste: 3.75 | feel: 4 | overall: 3.75
3.86
/5
rDev
+1.6%
look: 3.5 | smell: 3.75 | taste: 4 | feel: 4 | overall: 3.75
Bottle like the one pictured here poured into a tulip glass. A cloudy reddish brown amber brew with an initially billowing, semi-foamy, sudsy beige head that (fortunately) settled down fairly quickly. Aroma rather IPA-like, after a fashion, full of toffee-like sweet malts and mixed citrus/pineapple hops, but with a low key damp mustiness as well, gotta be Belgian yeast. Palate is rich and skewed towards sweet wheat elements but the hops are almost as assertive. The barrel flavor is very mild, a slight tannic vinous note is all I am getting here. Not much wood per se. Graham cracker, shortbread, and earthy tea vie for attention with grapes, orange, grapefruit, and lemon peels, and pine needles (although nothing off the chain resinous, at least intially) ... The resins are more pronounced in the finish, which stands in stark relief from the sugary beginning and middle sections. I am enjoying the biscuit character and the fact that the hop resins gather power over the course of several sips. The body ought to be thicker than it is, perhaps, but still weighs in somewhere around medium-viscous and the mouth feel is ultra smooth and near-creamy. If one gets past the expectation of more woody character, this is a pleasing enough heavyweight brew. On the pricy side but satisfies a malty sweet tooth admirably.
1,322 characters
Mikkeller / Three Floyds Hvedegoop BA Malaga Wine Edition from Mikkeller ApS
Beer rating:
3.8
out of
5
with
12
ratings