Santa's Little Helper 2013
| Mikkeller ApS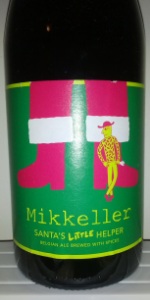 BEER INFO
Brewed by:
Mikkeller ApS
Denmark
mikkeller.dk
Style:
Belgian Strong Dark Ale
Alcohol by volume (ABV):
10.90%
Availability:
Limited (brewed once)
Notes / Commercial Description:
No notes at this time.
Added by Evil_Pidde on 11-29-2013
This beer is retired; no longer brewed.
Reviews: 8 | Ratings: 43
3.76
/5
rDev 0%
look: 4.25 | smell: 3.75 | taste: 3.75 | feel: 3.5 | overall: 3.75
A: The beer is clear but very dark brownish red in color and has a light amount of visible carbonation. It poured with a finger and a half high beige colored head that died down but has good retention properties and consistently left a short head covering the surface and some lacing down the sides of the glass.
S: Moderate aromas of Belgian and earthy yeast are present in the nose.
T: Much like the smell, the taste is quite yeast and has additional notes of spices and slight hints of dark fruits.
M: It feels medium-bodied on the palate and has a moderate amount of carbonation.
O: This beer is very yeasty for the style and has the type of earthiness you would expect from a Bière de Garde.
701 characters
3.99
/5
rDev
+6.1%
look: 4.25 | smell: 4 | taste: 4 | feel: 3.75 | overall: 4
Always one of the most anticipated beers of the winter season rears its handsome little head with the familiar taste, texture and warmth that keeps me coming back year after year. Though its not your prototypical Belgian-style stronger, darker ale- it borrows a little from porter, a little from barleywine and a lot from Belgium to achieve such wintry taste.
Dark brown in its appearance, the ale is easily mistaken for porter. Especially once its slowly separating froth extends from its dense body beneath, the porter-esque appearance is further propelled. Highly persistent in its retention and trailing with well-defined rings to denote each sip, the ale is as sturdy as they come.
Its aromas are somewhat muted because of its dense blanket of froth that prohibits such popping of aromas from reaching the nose. But a deep and slow draw from the snifter reveals a toasty, chocolate and light coffee note that hides just behind the aromas of tangy and toasted dark fruit: everything from grapes and figs to apples and cherries are all represented in a drunken, rum-soaked portrayal.
Its taste is just as dense and savory with slightly scorched brown sugar and toffee for "brittle" like sweetness. Dry cocoa and medium-strength coffee bring out a more robust and earthen taste to ride along side of sweeter flavors of hard candies. That's when its fruity middle palate pulls ahead and shares flavors of plumbs, blackberries, currant, cherry, dried apple, roasted pear and grapes. Wrapping up with a notion of spiced rum, the taste of both coffee cake and fruit cake are alive and well in the beer's aftertaste.
Full bodied from start to finish, the ale doesn't spring off the palate like most Belgian ales do. Instead, its creamy carbonation keeps the taste savory, succulent and rich for full palate appreciation. Its deep bready-sweet textures temper its powerful alcohol spice for a balanced session and a deep coffee-sweet linger.
Perhaps the perfect "Winter Warmer", the ale has a lot of Belgian and Belgian flavor but with high experimentation and impeccable balance. Its the epitome of winter ales!
2,113 characters

3.5
/5
rDev
-6.9%
look: 3.5 | smell: 3.5 | taste: 3.5 | feel: 3.5 | overall: 3.5
Served chilled into a Guinness goblet. 2013 vintage. Reviewed live as a Christmas ale.
Brief impressions below:
A: ~1.5 inch wide head. Pale khaki colour. Nicely creamy. Looks appealingly soft. Leaves inconsistent lacing as it recedes. 5 minute retention.
Body is a deep amber of nice vibrance.
Sm: Deep amber malts. Crystal malts. Caramel. Hints of dark fruit - plums, dates, fig. Malty sweetness is high, but the attenuation seems great. Cream. Treacle. Candi sugar.
T: Follows the aroma, with hints of biscuity Belgian malt. Sweetness is nicely dialed in. Well balanced. This might be the best beer/vintage in this series.
Mf: Smooth, wet, well-carbonated, medium-bodied, slightly sticky, a biteen syrupy.
O: A well constructed offering for its style. Aged well over 2 years. One of the better Christmas ales I've tried from Mikkeller.
High B- / WORTHY
863 characters
3.87
/5
rDev
+2.9%
look: 3.25 | smell: 3.75 | taste: 4 | feel: 3.75 | overall: 4
Pours a ruby tinged/orange with a thumb of tan head. Above average lacing & head retention
S: Coffee & plums, carob
T: Coffee, a little molasses & charred grain up front. A touch of plumb, more coffee, a touch of booze & a whisper of vanilla as this warms. Finishes dry, some char, coffee & faint smokeyness & Baker's Chocolate. Almost pulled a 4.25
MF: Medium bodied, firm carbonation
I enjoy this beer, not sure I consider it a Belgian Dark, but won't hold it against it rating-wise
488 characters
2.84
/5
rDev
-24.5%
look: 3 | smell: 2.75 | taste: 3 | feel: 2.5 | overall: 2.75
My bottle was 9.1 % ABV.
The colour is red brown-red, the liquid is clear. The finger thick head quickly sinks down to a thick lid. No lacing occurs.
The smell is dry and bitter with some hints of stale pale lager and red wine. Phenolic yeasty-spicy-plastic flavours (allspice), brown sugar and hints of alcohol.
The taste is smoother than expected. Some yeasty notes, molasses and brown sugar. Bitter hops and herbs. Semi-roasted caramel flavours. Light to medium body. Growing notes of alcohol in the aftertaste as well as molding leaves, green plants and a touch of milk chocolate. Green hoppy notes and brown sugar in the finish.
The carbonation is strong, the many small bubbles are long-lived. The liquid is thin, especially considering the strength.
An unbalanced beer, reminding a bit of a too young/green english strong ale.
839 characters
4.02
/5
rDev
+6.9%
look: 4.25 | smell: 4 | taste: 4 | feel: 4 | overall: 4
Pours a deep garnet color with a tight, tan head that leaves chunks of lacing.
Smells of dark fruits and a little spice.
Tastes of the dark fruits, roasted malts, and touches of spice. Figs, raisins, and cherries come through with a bit of sweetness. This leads to some coffee, semi-sweet chocolate, and molasses type flavors. Everything is supported by a breadiness. Touches of clove and pepper come on the end along with some earthy bitterness. Finishes fairly dry with a little alcohol warmth.
Mouthfeel is full with a slightly assertive amount of carbonation.
Overall, this is tasty and worth a look.
608 characters

4.28
/5
rDev
+13.8%
look: 4 | smell: 4 | taste: 4.5 | feel: 4.25 | overall: 4.25
Poured from 750 mL bottle into snifter.
A: Pours an extremely dark brown with almost no light emerging from backlighting. 2-3 inch light tan head with good retention.
S: Brown sugar, dark dried fruit, lightly burnt caramel malt, molasses, and dry chocolate.
T: Mild tobacco and leather, moderately strong brown sugar and sweet bourbon, sweet dark dried fruit (fig, prune, and raisin), cinnamon and clove, cola, and maybe a hint of nutmeg. Surprisingly good! An interesting side note is the spice component here really comes through when tasting the head alone.
M: Medium-heavy body. Sweet, dense, and fairly oily. The wonderfully dark-sweet notes linger and mature nicely on the palate. ABV is extremely well hidden. Very well balanced.
D: I think letting this one sit in the cellar for over a year did the trick! Still strong, dark, and sweet, but it seems to have mellowed a bit which perhaps allowed this beer to come together better. Seek it out if you can!
969 characters
3.79
/5
rDev
+0.8%
look: 4 | smell: 3.75 | taste: 3.75 | feel: 4 | overall: 3.75
Garnet color that has facets of sparkle in a deep, rich color. Off white/light tan thin head with short retention.
Feels like winter warmer, Belgian dark strong ale and a holiday table in the glass all at once. Date, fig, raisins, brown sugar, white pepper, cardamon and coriander.
Bold sweet entry to the palate with a dry finish. The alcohol in this beer is big, but not clumsy. Dark candy sugar, raisins, molasses and spice. A warming of low heat from the alcohol manages to keep it clean. The finish is polished with the beer being rich and the carbonation soft.
Definitely a sipper. The large bottle format demands that this bottle be shared with friends.
663 characters
Santa's Little Helper 2013 from Mikkeller ApS
3.76
out of
5
based on
43
ratings.