Green Gold (Chardonnay Barrel Aged)
| Mikkeller ApS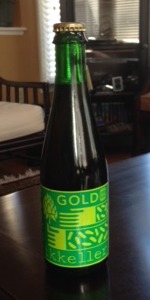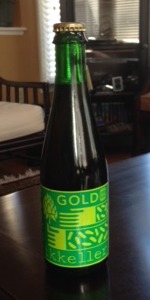 BEER INFO
Brewed by:
Mikkeller ApS
Denmark
mikkeller.dk
Style:
American Wild Ale
Alcohol by volume (ABV):
7.00%
Availability:
Limited (brewed once)
Notes / Commercial Description:
No notes at this time.
Added by biboergosum on 12-18-2013
This beer is retired; no longer brewed.
HISTOGRAM
Ratings: 14 | Reviews: 7
Reviews by popery:

4.21
/5
rDev
-0.7%
look: 4 | smell: 4.25 | taste: 4.25 | feel: 4 | overall: 4.25
Pours a dark amber color. Fairly cloudy. Good-sized head, light beige. The head is very sticky and bubbles remain on top of the beer and stuck to the sides of the glass for some time. Nice looking bottle art, too - I like the recent direction that Mikkeller has taken with their labels. The aroma and taste show off an interesting combination of hops, barrel and brett funk. In the aroma, there's white wine, oak, floral/pine/grapefruit hops, funk and a delicately sweet caramel backbone. The barrel is pretty strong, and there's a lot of oak and sweet white wine. Hops are definitely still present and have managed to hang on to some complexity. The taste starts with some wine and sweet hop flavor but gets fairly bitter quickly. It's a mix of hop and oak bitterness. Some funk runs throughout but particularly comes out in the finish as the beer dries out. The mouthfeel is light with a bit of oiliness. Fairly effervescent at first, but the bubbles left pretty quickly and I kinda preferred it a bit less prickly. The combination of bittering elements is a bit bracing in the aftertaste - that's not meant negatively, to be clear. Interesting beer. I have really enjoyed Mikkeller's recent work with barrel-aged beers.
1,222 characters
More User Reviews:

3.92
/5
rDev
-7.5%
look: 4 | smell: 3.75 | taste: 4 | feel: 3.75 | overall: 4
32oz howler from Keg & Cork's growler bar, happily procured after a way too long day of Christmas shopping. Purportedly Brett-touched, but nothing indicative of that at the point of purchase.
This beer pours a hazy medium bronzed amber hue, with two fingers of puffy, loosely foamy, and fairly bubbly dirty white head, which leaves some nice cobwebbed lace around the glass as it slowly and evenly bleeds away.
It smells of bitter blended citrus rind, weak onions, tropical fruit in the form of understated mango and pineapple, bready, grainy pale and caramel malt, a hint of buttered toast, white pepper, middling Brett funk, musty earthy hops, and a suggestion of metallic alcohol. The taste is more malty up front, with the grainy pale and biscuity caramel versions doing well to blend, joined by some subtle white wine fruit and barrel notes, moderately dusty funk, earthy yeast, a bit of white vinegar, musty cobwebbed cellar, leafy and straw-like hops, and a softly bristling warming booziness.
The carbonation is mildly aggressive at first, the edge quickly dulling to a subtle hum, the body medium-light in weight, plainly smooth, and a bit flinty, the yeast still seemingly looking for a place to happen. It finishes off-dry, the thin malt persisting amongst the lingering generic fruity hop esters and brooding sour yeastiness.
Much more wild ale than the original IPA, as the wine barrel treatment and yeast infection create a prominent transformation away from any sort of hoppy brew. Hardly overbearing, though, as this settles nicely into a weirdly sippable affair, especially as I've another full pint yet to go, and seem quite fit to enjoy it.
1,663 characters

4.21
/5
rDev
-0.7%
look: 5 | smell: 4 | taste: 4 | feel: 4 | overall: 4.75
Been eating nothing but rice and bananas for the past few days. So, as you'd expect, I was feeling a little, "backed up." Now, usually when I need to blow out the ol' Brown Cannon, my go to has always been Pliny the Elder. (great for polishing up my 48" chrome rims, as well.) But alas, my usual Go-To-Specialty-The-Guys-Know-Me-By-My-Instagram-Handle liquor store was fresh out of the ol' tried and true. fair enough. but they did get in a fresh shipment of this, "green Gold." Something they described as, "super rare," and "very desirable." Just those two statements alone is enough to warrant me to purchase an entire case. So, with a fresh case in hand, i went home and proceeded to edema about three bottles directly into my rectum. (btw, a kegerator doubles just as well as an In-Home edema kit.) the Butt-Feel was amazing. Very effervescent, great for dislodging hard spots in your intestines. And the smell, oh my. very musky, with a tad bit of hoppy crispness and old stale farts. (the last being from my ass, btw.) Now, within no time, the ale was working it's magic, and within minutes i was shitting uncontrollably on the floor of my kitchen. In closing, let's just say that i think i've found a new, "tried and true" for all my gastric needs.
1,256 characters
4.24
/5
rDev 0%
look: 4 | smell: 4.25 | taste: 4.25 | feel: 4.25 | overall: 4.25
4.3
/5
rDev
+1.4%
look: 4 | smell: 4.5 | taste: 4.25 | feel: 4.25 | overall: 4.25
Poured from a 12.7 FL OZ wine bottle into a pint glass. Brewed & bottled by Mikkeller at De Proef Brouwerij, Lochristi-Hijfte, Belgium.
Appearance: Pours a dark reddish brown body with a thick, rocky tan head. Excellent lacing.
Smell: The Chardonnay aroma blasted out of this bottle before I even got the top completely pried off. Lovely! Once in the glass, the smell of sweet grapes continues to dominate, complimented by a slight biscuity malt aroma.
Taste: If I closed my eyes, you could convince me I was drinking a (pint) glass of wine. Bold, rich, musty wine flavors dominate the palate. Bready malt backbone makes this a meal of a drink. Delicious!
Mouthfeel: Very full and robust! Carbonated like sparkling wine.
Overall: Wow, this different...and very nice!
784 characters
3.59
/5
rDev
-15.3%
look: 4 | smell: 3.75 | taste: 3.5 | feel: 3.5 | overall: 3.5
4.05
/5
rDev
-4.5%
look: 4.5 | smell: 3.75 | taste: 4.25 | feel: 3.75 | overall: 4
Pours out an orange/gold, with a nice, inch and a half head. Excellent lace retention.
The smell is overwhelmed by the barrel, with some herbal and citrus hop notes hidden a bit.
Great taste, plenty of grassy, floral and citrus with a nice moderate funk and sourness from the yeast, followed by oak and some Chardonnay grape. A little heavy on the carbonation.
I really enjoyed sharing this with friends. Might have to grab another!
441 characters
4.3
/5
rDev
+1.4%
look: 4 | smell: 4.5 | taste: 4.25 | feel: 4.25 | overall: 4.25
gawd! what is that smell??? it's beautiful, but I can not place it.... some kind of commercial soft drink?
super dark honey color. minor head showing; tan in color.
beautiful aroma. simply CANNOT place it, though. vinegar. red vinegar. sour. red sour. ipa?
yep! brett and ipa. the first gulp yields an emptiness. thick bitter emptiness. like air. but . . . . very interesting.... I like this. I like the brett on ipa twist. is it by design, or by WTF, let's try it?
465 characters
4.57
/5
rDev
+7.8%
look: 5 | smell: 4.25 | taste: 4.5 | feel: 5 | overall: 4.75
Mikkeller at its finest with this beer. The lactobacillus and Chardonnay work well together in this beer. The hop character is suddle but adds a nice bit of bitterness to compliment the lactobacillus and Chardonnay.
215 characters
Green Gold (Chardonnay Barrel Aged) from Mikkeller ApS
Beer rating:
4.24
out of
5
with
14
ratings