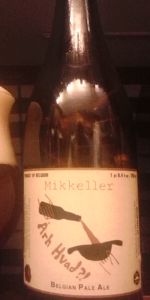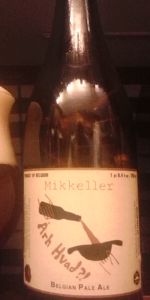 BEER INFO
Brewed by:
Mikkeller ApS
Denmark
mikkeller.dk
Style:
Belgian Pale Ale
Alcohol by volume (ABV):
6.80%
Availability:
Rotating
Notes / Commercial Description:
Årh Hvad?! is Danish for 'Say What?' However, when pronounced in proper Danish, it also sounds a lot like the word 'Orval', a Trappist brewery I'm sure you guys have heard of.
It is hopped four times with Styrian Goldings hops. The fermentation is done with two yeast strains, one of which is brettanomyces.
Sometimes barrel aged versions of this are released, they have included: Chardonnay, Grand Marnier, Sauterne, & St. Emilion. This version is not barrel aged.
Added by imbibehour on 08-09-2016
HISTOGRAM
Ratings: 10 | Reviews: 6

4.13
/5
rDev
+1.7%
look: 4.25 | smell: 4.25 | taste: 4 | feel: 4 | overall: 4.25
Poured from 0.33 l bottle into tulip.
L: Turbid dark amber with a massive beige foam head.
S: Plums, caramel, banana.
T: Bitter sweet, unexpected saturated taste.
F: Medium body and high carbonation.
O: Unusual belgian style beer. Worth a taste.
245 characters

3.69
/5
rDev
-9.1%
look: 3.75 | smell: 3.5 | taste: 3.75 | feel: 3.75 | overall: 3.75

3.62
/5
rDev
-10.8%
look: 4 | smell: 3.75 | taste: 3.5 | feel: 3.75 | overall: 3.5
A 330ml bottle with a best before date of 23rd October 2023. Poured into a Lost Abbey teku glass.
Appearance: A hazy dark orange, copper, amber colour with a huge two finger fluffy off white head that kept growing out the glass with great retention and lots of sticky lacing.
Aroma: Tart berries, brett, funky, grape with hints of white wine and citrusy mandarin, orange on the back end.
Taste: Lightly sour to start with berries, plum, orange, pine, pepper spice and florally with a lightly bitter finish.
Mouthfeel: Medium to light bodied with low to moderate carbonation.
Overall: This was interesting as it was created as a tribute to Orval, and while there are some similarities, I still preferred Orval (which I had side by side) and which I felt had a smoother and better flavour profile.
800 characters

3.84
/5
rDev
-5.4%
look: 4 | smell: 3.75 | taste: 3.75 | feel: 4 | overall: 4
3.74
/5
rDev
-7.9%
look: 3.5 | smell: 3.75 | taste: 3.75 | feel: 3.75 | overall: 3.75
On-tap served in a stemmed glass at Mikkeller, Bangkok.
Hazy deep amber copper color, it comes with one and a half finger of frothy off-white head that stands with decent retention before sinking to some bubble film atop and leaving some spotty lace on the glass-side, high visible carbonation.
Nice fruity aroma of grape and berry as well as some tart and winy note, some funky and musty yeast together with sour plum, honey, caramel, biscuit, subtle hint of spicy alcohol, and candy sugar.
The taste is led by sourness and tartness of plum, grape and berry with some good hop quality reflecting by rather bold hop bitterness. Yeast still plays an important role providing funky and musty note while biscuity malt is only in the background. Finish with solid dryness like a wine quality.
Medium body with rather low carbonation and some crisp through the palate, semi-smooth mouthfeel, finish is very dry.
Not that something ground-breaking but still a quality brew.
972 characters

4.48
/5
rDev
+10.3%
look: 4.5 | smell: 4.5 | taste: 4.5 | feel: 4.25 | overall: 4.5
Less than moderate pour yields a huge, slightly off white, fluffy head over an amber body with nice, sticky lacing. This is one gorgeous head! Nose of citrus, slight brett funk, and a little spice. As it warms a blue cheese funk comes out. Taste follows the nose with a spicy dryness. Nice feel and overall, this is one of Mikkel's best!
337 characters
3.74
/5
rDev
-7.9%
look: 2.5 | smell: 3.5 | taste: 4 | feel: 4 | overall: 3.75
4.57
/5
rDev
+12.6%
look: 3 | smell: 4.75 | taste: 4.75 | feel: 5 | overall: 4.25
Colour very ugly, copper brown, turbid. Foam ecru, fine to medium grained, moderately durable. Sweet fruity aroma with dried and fresh fruit, candied sugar, licorice, fried fruit, vanilla. After warming appear Stable flavor notes associated with an orchard full of ripe fruit, slightly rotten fruit. The taste in the foreground a clear stable. is the village with the amazing aromas and flavors, again vanilla, licorice, dried fruit. Bitterness quite intense and long, perfectly here finds, it is a dried fruit.
511 characters

4.32
/5
rDev
+6.4%
look: 4 | smell: 4.5 | taste: 4.5 | feel: 3.5 | overall: 4.25
4.49
/5
rDev
+10.6%
look: 4.25 | smell: 4.5 | taste: 4.5 | feel: 4.5 | overall: 4.5
Poured from the bottle into a tulip glass. Best before March 4th 2025. That's a hell of a wait to drink a beer I say…
Deep chestnut brown body color, and slightly murky, with a touch of ruby highlights. Opaque and cloudy, with a nice middle column of tight carbonation. The head is rocky and thick at and easy three fingers. Big cling and clumpy lace abounds, and a great aggressive appearance. Real nice looking brew.
Fantastic aroma. Small brett but excellent notes of cherry and brown spices. Sort of hints winter warmish, but with a deeper malt and more cherry black forest cake flavors. Flavors of tangerine and Christmas orange also peak out as well. A great sensing flavorful berry and citrus smorgasborg. Delicious.
Palate does not lie about the great tastes hinted on the nose. Cherry and fruit bursting in the mid palate. Funky tones and almost steely grapefruit qualities with excellent sharp dryness on the finish. Thick and rich melting malts of caramel with a dripping cherry juice and cracked pepper aftertaste. Lush. Spicy. Intensely fruit flavored. Perfectly sweet.
Drank this so fast it was gone in seconds. Only complaint the bottle was too small.
1,191 characters
Årh Hvad from Mikkeller ApS
Beer rating:
4.06
out of
5
with
10
ratings