Stateside IPA
| Mikkeller ApS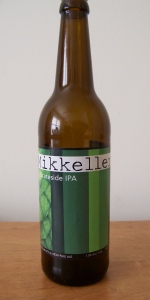 BEER INFO
Brewed by:
Mikkeller ApS
Denmark
|
website
Style:
American IPA
Alcohol by volume (ABV):
7.00%
Availability:
Year-round
Notes / Commercial Description:
Brewed at Ørbæk Bryggeri, Ørbæk, Denmark. Some batches are brewed at De Proef Brouwerij.
Ingredients: Water, malt (pilsner, munich and caramunich), flaked oats, hops (chinook, cascade and amarillo) and ale yeast.
Added by Sammy on 11-12-2006
Reviews: 184 | Ratings: 256
4.5
/5
rDev
+14.2%
look: 4.5 | smell: 4.5 | taste: 4.5 | feel: 4.5 | overall: 4.5
Another stellar offering I was able to snag recently. I really have been running through their lineup very quickly as of late. This was one I was excited to try as I had really heard some good things. Served cold and poured into a large pint glass, this one was consumed on 09/01/2009.  
The pour was just what it should be with a rich and hazy copper tinted amber color. Light carbonation could be seen struggling its way to the top to reinforce what could only be described as a mountainous and rocky head that covered every inch of the glass. Thick lacing dripped down the sides throughout the session, really very nice looking example of the style. Rich citrus hops dominate the profile. Bright mix of grapefruit and sweeter notes that were akin to pineapple are really pushing their way forward here. Warming brings out some sweeter notes but still the deep hop profile easily overcomes all other notions and leaves that fresh aroma clinging to the air. Deep, resin filled flavor floods the mouth on the first sip. Very nicely done here with a medium body that comes across just right. Nice carbonation is lively all the way till the end allowing deep resinous and citrus hops to really explore the palate. Grapefruit is leading the charge here by a mile and really pulls the who thing together quite nicely. No hint of the 7% abv to be found here at all and this went down far too easily for something of its caliber.  
Overall as solid as the day is long. I could enjoy this one over and over again and not tire of it. Score another one for the boys, they are really something else with their IPA's/
★
1,612 characters

4.5
/5
rDev
+14.2%
look: 4.5 | smell: 4.5 | taste: 4.5 | feel: 4.5 | overall: 4.5
I like the label on this bottle, with the Mikkeller guy is wearing a green turbin and the modern simple design.
The pour reveals a slightly turbid glowing orange liquid with a few meandering bubbles noticeable and a sticky, frothy head. The head doesnt last too long but manages to muster up lots of lace patches. The understated aroma is citrus hops mixed with toffee and shortbread. The nose is deceptively balanced. The first sip releases a burst of white grapefruit, under ripe and extremely bitter. Bitterness builds and thick pine resin shows as the beer warms. A vague soapyness described by another reviewer is also noticeable, but not unpleasant. Malt is very minimal throughout. The finish is eminently bitter and lasts for hours, coating my mouth with sweet, sweet lupulin. The mouthfeel is medium and light on carbonation.
A fantastic hop forward IPA. Like concentrated grapefruit extract. Is it worth the hefty price tag? Only one way to find out. I think so.
★
974 characters

4.54
/5
rDev
+15.2%
look: 4 | smell: 5 | taste: 4.5 | feel: 4 | overall: 4.5
The beer pours a dark gold/amber color with a thick creamy white head that slowly fades to lacing. The aroma is perfect. It has a very bitter hop scent that makes a huge initial impact. The malt bill is well balanced with pale, Carapils, and bisquit malts. The taste is great. This is a truely great beer. It's well balanced with excellent malt and hop character. It's creamy and easy drinking. The mouthfeel is good. It is a full bodied beer with adequate carbonation. This is a very good IPA. I'm a huge fan of bisquity beers that are well hopped. This goes there and beyond.
★
577 characters
4.55
/5
rDev
+15.5%
look: 4 | smell: 4 | taste: 5 | feel: 4.5 | overall: 4.5
A - Very deep amber color - quite dark for an IPA. Huge tan head that hangs around for the duration, and leaves copious amounts of sticky lacing behind.
S - Citrus hops aroma is most noticable, but there is a significant caramel malt presence as well. Definitely milder than some of the hop bombs that I've had, with a sweet fruitiness that I found to be really inviting.
T - Bright grassy, citrusy hops on the start, with sweet malt balancing it out very nicely. There is a touch of metallic taste, leading to a dry and mildly bitter finish. This is a hoppy IPA, but not one that assaults your tastebuds.
M - Medium body, moderate carbonation, and a touch of mouth-coating oilyness.
D - This is a wonderful IPA that I could drink all night. I likely won't do that anytime soon because of the ABV and price, but I will buy this one again. If you're a fan of nicely balanced IPAs, you owe it to yourself to try Stateside IPA. If you're an 'all hops and nothing but hops' IPA drinker, you might be better off passing this one over.
★
1,033 characters
4.57
/5
rDev
+16%
look: 4.5 | smell: 5 | taste: 4.5 | feel: 4 | overall: 4.5
poured half a bomber vigoursly into an imperial pint. big suddsy head, good lacing. looks very nice. dark golden. WOW hops galore. super nice.yummy, crisp dry, very dry, hoppy, with a clean finish. it reminds me of alpha king with a kick. I love this beer. kinda pricey, but would buy again.
★
291 characters
4.62
/5
rDev
+17.3%
look: 4 | smell: 4.5 | taste: 4.5 | feel: 5 | overall: 5
Poured from a 16.9oz bottle into an imperial pint glass.
A: The beer is a deep amber color with a large foamy off-white head that fades slowly and leaves a spotty lace on the glass.
S: The aroma is a good blend of piney hops, caramelized malts and fruity citrus.
T: The taste starts out with a strong burst of hops bitterness. Then sweet flavors of citrus and caramel come in. The malt character is hearty but not too heavy and overall there's a very good balance. The after-taste is slightly hoppy and slightly sweet.
M: Very crisp and very smooth, medium body, medium carbonation, finish is clean and dry.
D: Very tasty, goes down quite easily, not too filling, good kick, very good representation of style, this is an excellent beer to drink for a whole evening as it has enough substance, flavor and strength so that you wouldn't need to look for something else.
★
873 characters

4.72
/5
rDev
+19.8%
look: 4.5 | smell: 5 | taste: 5 | feel: 4.5 | overall: 4
Seeing the attractive, [now familiar] bright, green-striped label immediately makes me want to buy it. I know its gonna be piney and resiney as hell...and it is! Its also got notes of spicy pepper [mmm], and citrus...and its boozy!
But the best part is the sharp pine bitterness that lingers on my tongue an impressively long time...this is my favorite characteristic of a classic American piney/resiney/citrusy IPA.
Import price=$13! I am definitely thankful that I have access to Mikkeller beers however.
★
510 characters

4.82
/5
rDev
+22.3%
look: 4 | smell: 4.5 | taste: 5 | feel: 5 | overall: 5
Oh my, one of the best IPA's ive ever had out of a bottle. Such a nice hop balance. Huge citrus, pine, grapefruit notes. Hits every part of your tongue and the best part is burping up this beer an hour later. Hopheads will fall in love with this beer. Props to a brewery in Denmark to hit the nail on the head on an American style brew.
★
336 characters

4.97
/5
rDev
+26.1%
look: 4.5 | smell: 5 | taste: 5 | feel: 5 | overall: 5
Pours a clear golden amber color color with a huge foamy white head. Beautiful aroma dominate by earthy and citrus hops with a sweet caramel malt presence. Perfectly balanced with huge citrus hoppy flavor up front followed by sweet maltiness and a dry, bitter hop finish. Excellent!
★
282 characters
Stateside IPA from Mikkeller ApS
3.94
out of
5
based on
256
ratings.