X Imperial Stout
| Mikkeller ApS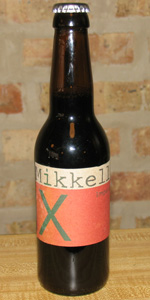 BEER INFO
Brewed by:
Mikkeller ApS
Denmark
mikkeller.dk
Style:
Russian Imperial Stout
Alcohol by volume (ABV):
16.00%
Availability:
Rotating
Notes / Commercial Description:
No notes at this time.
Added by Jredner on 03-29-2007
Reviews: 8 | Ratings: 36

4.05
/5
rDev
-8.8%
look: 3.75 | smell: 4.25 | taste: 4 | feel: 4 | overall: 4
375ml white waxed 2013 bottle poured into tulip 3/1/15, cheers kumatmebrew for the signed bottle
A black liquid, thin dark film leaves no lace but some wide legs and color left behind
S chocolate syrup, molasses, smokey fudge, nutty coffee, vanilla, a little booze but nowhere 16%, no where 10% if you want to dwell, not bad for a monster
T some fruit I didn't really pick up on the nose, still lots of dark malt and chocolate, tobacco, earthy notes, sweet but nothing over the top
M syrupy, sticky, just enough bubbles to give it some life, a little heat but not what you'd expect form a 16% monster, some cigar ash on the finish
O plenty going on and drinkable for such a big ass brew, puts you down gently but kicks your ass nonetheless
Not exactly a first thing in the morning, on a empty stomach, before important life events sorta beer but when exactly is the right time to drink a 16% beer?
913 characters
4
/5
rDev
-9.9%
375 mL bottle poured into a snifter. 2013 bottle.
Appearance - Black body. No head. A few bubbles. Very leggy.
Smell - Fudge. Raisins. Deep roast. Booze.
Taste - Very dynamic stout flavors. Chocolate. Molasses. Fudge. Moves into deep roast. Bitter coffee and some burnt malts.
Mouthfeel - Medium low carbonation. Very heavy and sweet.
Overall - I was surprised by how good this is. More than just an over-sweet monster of a stout.
448 characters

4.86
/5
rDev
+9.5%
look: 4 | smell: 4.75 | taste: 5 | feel: 4.75 | overall: 5
Long time want. Thank you to ygtbsm94 for sharing. Brad, you are still the man.
The beer is dark brown with a broken, bubbly, beige head. Aromas of dark roast, distinctly European. Chocolates and roast. Booze, oak, Euro malt profile. Absolutely fantastic flavor. Instant 5. The best flavor of any Mikkeller beer I have yet had. Oh my. I'll never forget this beer - it's that good.
381 characters
4.75
/5
rDev
+7%
look: 4.5 | smell: 5 | taste: 4.5 | feel: 4.75 | overall: 5
On tap at CBC 2013. For me, the winning beer of the festival!
A: Pours black, opaque, with a thin mocha, leaves some lacings, then a thin collar. Looks like a strong espresso.
S: Smell is on chocolate and vanilla, rich, powerful and decadent. Complex also with aromas reminding of dark cherries cake or a Black Forest gateau, eaten with a pecan pie, with also nuts and hazelnuts aromas. Sweet, with also vanilla sugar. Mind blowing.
T: Taste is on coffee, chocolate and vanilla. Also woody, with cherries and brown sugar, not oxydated but rich and complex. Finishes smooth like a cream cake. Sweet.
M: Velvety, smooth and bright, a bit oliy, slightly sticky after a few sips. The alcohol content is very very well integrated (this beer tastes like a 10% ABV at most).
O: I'm very very glad to have been able to try this. This is far better than the 2007 Bourbon Barrel Aged version I've had from the bottle the previous year. I would have been reluctant to look after such a rare treat then, but this is actually worth the try. Actually, one of the best imperial Stout I've been given the chance to sip.
1,103 characters
4.75
/5
rDev
+7%
look: 4.5 | smell: 4.5 | taste: 5 | feel: 5 | overall: 4.5
Glad to have come across this one even more glad that there was such a cool group of guys that helped me land it.
A: Pours a nice rich deep dark black hue with a nice mocha colored head. Some retention and a bit of lace.
S: Rich and sweet. Notes of chocolate and dark fruits. Hints of roast with rich candy like tones.
T: Rich and earthy. Roast and deep dark fruits. A mild tone of sourness hides beneath chocolate. Hints of mild smoke and a touch of booze.
M: Full bodied, rich and roasty.
D: Great too ad it was most likely the last bottle on earth.
557 characters
4.58
/5
rDev
+3.2%
look: 5 | smell: 4.5 | taste: 4.5 | feel: 5 | overall: 4.5
Bottled at Horsens Beerfestival. It looks as the original sin, topped off by a small brown head. The aroma is just wonderful, with chocolate, black tea, tobacco, alcohol, beef-stock notes and lots of hops. Not unbalanced though. It has a hint of sourness in the flavor, along with alcohol, chocolate, tea, mocha, hops and all things good. Full body with a drying sensation. It finishes off with alcohol, hops and coffee-bitterness. There's also some lactic notes all the way, not to talk of the nice aromas and flavors from the hops. A wonderful beer that deserves a better faith than just beeing an experiment. Thx for the tasting Mikkel & Kristian. (061028)
660 characters
4.27
/5
rDev
-3.8%
look: 4 | smell: 4.5 | taste: 4.5 | feel: 3.5 | overall: 4
12 Oz Bottle shared by Chris. A funk of blue goat cheese, blueberries right from the Canadian shield, and a musk of black malt. I'm loving the lacto cheese character, while it could be construed as stinky. Pours deep black with a tan rim. More roquefort in the flavor, with tannic malt, cream, blackberry reduction and some roasted astringency. Ripe, is one word to use. An astounding 16% is lost amongst the sedimentary layers of inducing one too many angles of an Imperial Stout. Hops seems lost, despite profession from the bottle that the Pacific Northwest had a big influence. It's hard to climb over the mountain of funk that stamps this beer with it's hard to achieve uniqueness. Dark rum clamors with balsamic for a final grapple to dominate a complex flavor profile. A long awaited and pleasantly surprising opportunity to taste the enigmatic beast. Keep bringing it Danes!
885 characters
4.56
/5
rDev
+2.7%
look: 5 | smell: 4 | taste: 5 | feel: 4 | overall: 4.5
The body is deep black and holds a huge; two fingers thick, mocha head that is so thick and lasting it almost looks like it is brooding. The aroma is a alcohol, chocolate and cane sugar. It's kind of muddy and a bit of a let down, but good enough to want to get to drinking it sooner rather than later. The fore is rich chocolate, massive burnt and roast bitterness, stewed dark fruits and a mélange of espresso blueberry liqueur and an oily coffee like acidity. This is a great Imperial Stout from the first sip, but that sip then attacks with a burst of very unusual flavors I have never in this combination…molasses, cane sugar, raisin liqueur, burnt rum and apples and raisins friend in rum. This beer tastes like what Avery Mephistopheles SHOULD have tasted like and the Mephistopheles was very good. The mouthfeel is thick and round. The last sip seemed to have grains of raw cane sugar in it. It was that thick and coarse. I can truly say no beer I have ever had tastes like this. It tastes like a great Imperial Stout with a great experimental Imperial Stout tacked on to it. This beer must be made again for the sake of beer geekdom.
1,145 characters
X Imperial Stout from Mikkeller ApS
4.44
out of
5
based on
36
ratings.