Black (黑)
| Mikkeller ApS
BA SCORE
84
good
260
Reviews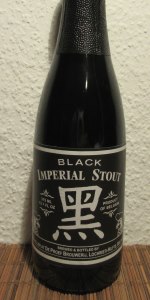 BEER INFO
Brewed by:
Mikkeller ApS
Denmark
mikkeller.dk
Style:
American Double / Imperial Stout
Alcohol by volume (ABV):
17.50%
Availability:
Rotating
Notes / Commercial Description:
Brewed at De Proefbrouwerij.
Ingredients: Water, malt, roasted barley, dark cassonade, ale yeast and champagne yeast.
Added by kkipple on 02-19-2008
Reviews: 260 | Ratings: 551
4.9
/5
rDev
+31.7%
look: 5 | smell: 5 | taste: 5 | feel: 5 | overall: 4.5
So, drinking half of a 12.7-oz bottle of this stuff pretty much renders 99.99 percent of all other beers trifling and insignificant. Just a mind-blowing concoction. This masterpiece takes a spot in my all time Top 5 Beers, maybe Top 2.
There are already 13 reviews for this beer, and between them the attributes are well documented. I won't bother to dissertate. I'll just say that this is an incredibly intense, tasty, huge beer. The only category it doesn't score a 5 in, for me, is drinkability. That said, I enjoyed it immensely, and I don't see anything wrong with being sated by half a bottle. At 17.5% ABV and $17 a bottle, that's a good thing.
★
652 characters
3.51
/5
rDev
-5.6%
look: 4.5 | smell: 3.5 | taste: 3.5 | feel: 4 | overall: 3
I really wanted to love this beer, because I love the idea of this beer: an imperial stout with 18% alcohol. But this is the first time I agree wth critics who call a beer unbalanced -- I love a good alcohol presence, but here it just overwhelms. Still, there's a lot to like about this: pitch black pour with a creamy, khaki head, aromas of raisins initially, followed by lots of alochol -- not boozy, which iwould be good, just straight alcohol. Flavors of raisins, figs, vinous-ness, anise, some chocolate, not as roasty as some, and lots of (you guessed it) alcohol. The mouthfeel is not as thick as many imperial stouts, which I liked. There's a back taste of cough syrup which becomes overpowering in the aftertaste. An interesting experiment, and one that could grow on me. But even though comparisons to DFH WW Stout are obvious and unfair, that beer does a better job of hitting the mark that this beer was aiming for.
★
927 characters
3.24
/5
rDev
-12.9%
look: 4.5 | smell: 3 | taste: 3.5 | feel: 3.5 | overall: 2.5
Well, I always enjoy beers that push the envelope, so I just had to try this..
Pours a beautiful thick black with an impressive 3 finger dark tan head that leaves a ridiculous amount of lacing. Quite impressive, I must say.
Smells of alcohol with a bit of chocolate/coffee and dark fruits hiding way back there. Still, fusel alcohols are extremely dominant.
Taste is most intense. Lots of alcohol. Taste this and you may question the 17.5% on the label. As in, you wonder if it isn't really higher than that. Tons of ash. The previous quotes about this possibly being brewed in hell? Yeah, I wouldn't doubt it. To those that find Abyss ashy...just try this. Seriously. Nothing will taste like an ashtray after this beer. Chocolate and dark fruit sweetness start crossing the line to being sickly sweet. The bitterness here is harsh. This beer is still extremely green. The alcohol is very noticeable upon swallow. Wow. Balanced? Hell no.
Mouthfeel is coating, thick, rich and, well, kind of ridiculous.
Drinkability. How do I even rate that for a beer like this?
I don't quite know what to say. The sadistic part of me enjoys this experience. Let's put it this way - this beer is one of the most alcoholic, ashiest, out of balance beers I have ever had. I am actually quite glad to have tried it - I've never had a beer like it. I don't necessarily like it, so to speak, but I will not forget this beer. I just keep thinking...ashes of hell....ashes of hell...this is either your worst nightmare or your sadistic pleasure.
This far, and I still haven't scored a single category. I will do this, but numbers alone cannot make you understand this beer. For a beer like this, the numbers don't even matter. Have a glass, and you will understand. Thank you Mikkeller...not for brewing some amazing beer...but for providing an experience.
And...for the scores I gave - just ignore them. I can't really properly rate this beer. Rating by style guidelines...and most other guidelines, this would fair quite poorly. But well, sometimes I like an odd experience. Two more left for aging. Will time make this a great beer? Well, this shall most definitely be an experiment.
★
2,173 characters
3.6
/5
rDev
-3.2%
look: 4.5 | smell: 4.5 | taste: 3.5 | feel: 3.5 | overall: 2.5
Pours like tar. Big mocha colored head rises slowly from the murky depths and leaves plenty of generous sticky lace.
Very attractive nose, with a rich sticky caramel smell and dark chocolate, deepened by coffee, burnt wood, molasses, toffee, and some strong but strangely inviting alcohol.
Wow, taste is a strange shock to the mouth on first sip. Somewhat likable, but unexpected. Buzzes from the start with a very bitter earthy burnt wood, deepened by some coffee and bitter cocoa. Some smooth chocolate and other darker more mysterious flavors fight to get out, but ultimately lose to the mouth sucking bitterness and very strong alcohol. I'm thinking this could use some age to mellow a few flavors into a more reasonable balance. For all its depth and intrigue it comes across harsh and sharp instead of smooth and rich.
Feel is difficult, again because of the high abv. Thick in the mouth, it lifts off the tongue and burns a little with the alcohol fumes. A sticky residue is left, but the numbness in the mouth makes it hard to feel out. Carbonation is no match for the body and only mildly notable.
I think the flavor would be great if I could detect more through the sharp bitterness and alcohol. Drinkability suffers because the high (and very obvious) alcohol and difficult balance make it bearable to sip, but difficult to drink overall. An intense experience for sure.
★
1,385 characters
3.85
/5
rDev
+3.5%
look: 4.5 | smell: 2 | taste: 4.5 | feel: 4 | overall: 4.5
A: Black as night. It could possibly have the highest lovibond I have seen, true black. The head was also incredibly dark and unwaivering. It was the color of some chocolate milk on steroids, and the head retained intself the entire time. I was amazed that a beer at 17.5% abv could have that kind of head retention.
S: Cheap vodka. This brew had one of the most potent ethanol smells I have ever smelled, and it pretty much covered up anything else. Perhaps I found a bit of raising or candied plum aromas but alcohol was very predominate.
T: This beer had cellared about a week before I had it (I bought 2 so I could experiment with some aging). How heavily "alcoholed" this beer smelled, the taste was not nearly as evident. I thought it hid it quite well, and customary dark chocolate tastes came through with some very hearty roastiness. For how fresh I had drank it, I was impressed by its taste.
M: It was thick, period. I've had a couple high abv beers and they seemed to be a bit thinner than this one.
D: I really enjoyed this beer. For the abv it presents, I was amazed at its drinkability. I do feel that some cellaring would be a good idea. Mikkeller did a great job with such a big beer, and it would be interesting to see how it matures with a little age. On the downside, it's basically a 12 ounce beer for $16, but it is definitely worth a shot if you are feeling the need for a truly huge stout.
★
1,418 characters

3.15
/5
rDev
-15.3%
look: 4.5 | smell: 4.5 | taste: 2.5 | feel: 3 | overall: 2.5
The head explodes out of my glass on a steady pour. The tan and copper sand took a while to fall, converging into bigger bubbles and slinking back down into my tulip. The beer itself is a mirrored obsidian.
Smells of dry dark chocolate, tart raisins with a fruity mellon zip. There also seems to be a sweet and sour candy to this too, like Smarties. This all seems to be struggling to contain a rampant booziness, but it's succeeding quite well.
Tastes... like stinging? There's a dry cocoa, corn syrup, port and gooey dried dark fruits, reminiscent of World Wide Stout, at first, but a harsh burn comes tearing through sending any resemblance of balance packing. A harsh over-done coffee takes the stage that seems to have a lot of woody elements to it, drying out my palate with a deft sting.
Feels quite light, all things considered, but a carbonation lifts the density away to prepare my mouth for the raw sting.
There are some nice points to this one, but it needs time. Lots of time. You will regret opening this one up fresh. Let it sit.
★
1,051 characters
2.95
/5
rDev
-20.7%
look: 3.5 | smell: 3.5 | taste: 3.5 | feel: 2 | overall: 1.5
Thanks to hopdog for the opportunity...
Appears a pitch black with dark brown edges that slowly fades into a small tan head that seems to hold tight.
Smell is of heavy alcohol that burns like nailpolish remover with some notes of roasty nuts and malty fruitiness that's is outweighed by the huge abv that is overly evident.
Taste is of the same aromas with some molasses and astringent roasty burnt nuts. Notes of berries, sugary coffee, play dough...I dunno. I think this one is in some major need of age.
Mouthfeel is full bodied, chewy, astringent, bitter, huge abv, intense hops, coffee. What the "f" hapened here? To me, this is undrinkable right now. If it is given the proper aging, of say, 10 years, it may be ok.
★
721 characters

3.46
/5
rDev
-7%
look: 4.5 | smell: 3.5 | taste: 3.5 | feel: 4.5 | overall: 2.5
A-Black...duh. With a thick tan head that left mucho lacing.
S-I couldnt tell after it lit my narse on fire and burnt the inside of my nose...but the initial smell was BIG and ROASTY.
T-Like being smacked in the mouth with a charred log! (Thanks for the quote Kegatron!). This is serious roast...holy crap. Then you get the alcohol burn going all the way down to your gut...help me Pepcid!
M-Like swallowing a log...HUGE BIG AND CHUNKY.
D-R U kidding...this stuff is like trying to imbibe molten lava.
I give the above average ratings only due to the fact that this stuff has potential and you can taste it...sort of. I am sure this beer will become very interesting in a decade or two!
I did enjoy getting my 4 oz sample down...but it was a challenge...I had to cleanse my palate with a FFF Dark Lord!
★
810 characters
3.83
/5
rDev
+3%
look: 4.5 | smell: 4 | taste: 4 | feel: 4 | overall: 3
Had at kkipple's house. Thanks for the taste of a beer that won't be released for a while.
A- Almost. Almost black. One of the darkest tan heads I've seen, and retains and laces beautifully.
S- Alcohol, burnt grain, burnt toast, burnt sugar, burnt espresso, burnt molasses, burnt rubber, (a pattern, perhaps?) medicine, did I say alcohol? It comes down to alcohol and burntness. One whif, and you just feel... dark. this beer smells evil. Like all that represents what is devilish, profane, and wicked in the world.
T- Unbelievably sweet. Desperately sugary - not molasses, just bleached white sugar. Burnt espresso, burnt cocoa and alcohol. Followed quickly by the harshest, most intense, most evil burnt ash imaginable. Tastes like the day after the whole world burns. "Black" is the only word to describe the taste, or perhaps "death" or "evil" or "satanic" or "numbing." This is what beer will taste like in hell. This beer should truly be named Ruination - it makes Ruination taste like sweet cream. Black currants and black bread, both burnt to a crisp, of course. Tastes like a glass of liquified Hitler's soul. Utopias, Dark Lord, whatever the most intense flavor you can bring to mind - Think about what it would be like if you dropped it into a volcano and then scooped it out with Stalin's skull. That's what this is like. Nothing tastes anywhere near this strong. Probably never will.
M- Thick, silky, oily, viscous, and ridiculously astringent in the acrid and warming finish.
D- This beer is painful, but you must try it. Your face will fall off, your mind will explode.
★
1,589 characters

3.41
/5
rDev
-8.3%
look: 4.5 | smell: 3.5 | taste: 4 | feel: 4 | overall: 1.5
What an evil surprise! Apparently this wasn't supposed to be released just yet, but a few cases slipped out. In all fairness, the brewer said it "will probably be very young and a little rough". Onward!
Popped the cork out of the 375ml bottle and noted the 12/17/17 printed on the "new" cork. Okay....
Black pours an inky... black. Big surprise. A fat, dirty walnut head caps the beer and doesn't diminish quickly at all. Some lacing, and pretty decent retention...
Hmm. The first thing that came to mind on smelling Black is "burnt tires". Hooray? Other than that, think burnt corpses piled on a burning trash heap comprised of scorched espresso beans, firebombed pepper, burnt coffee sacks, blackened sugar, and charred grain. There's a hint of (burnt) soy and (burnt, again) walnuts. Oh yeah, and an absurd amount of malt sweetness and alcohol.
But how does it taste? If your brewery caught fire and burnt to the ground, and you sat in the ashes and mingled your tears with the decimated fruits of your labor, then drank the resulting sorrow-laden tincture, it might taste like Mikkeller Black. This is aggressive and vile and... burnt. Did I mention it's obscenely sweet and the alcohol is off the scale? No? It's only because I'm still scrubbing the taste of ash out of my mouth. I cannot overemphasize how intense this beer is.
Drinkability? Don't make me laugh. I was lucky to finish my 6 ounces. I don't know what those Insane Danes are smoking up there in Copenhagen (actually, I have a pretty good idea) but regardless, it just ain't right.
Well. This was certainly interesting, time will determine if it transforms into something wonderful. Right now Black is a new-born Dark god, kicking and howling and reducing everything around it to piles of smoldering ash. Taste at your own risk. Three years might take the edge off... or might not.
I'd be remiss if I didn't say that Black is the second most intense beer I've ever tasted. Yeah. If you'll excuse me, I'm going to go drink some milk and lie down. Black has wronged me severely.
★
2,052 characters
Black (黑) from Mikkeller ApS
3.72
out of
5
based on
551
ratings.