Beer Geek Brunch One-for-One
| Mikkeller ApS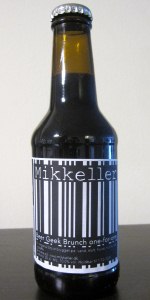 BEER INFO
Brewed by:
Mikkeller ApS
Denmark
mikkeller.dk
Style:
American Double / Imperial Stout
Alcohol by volume (ABV):
10.00%
Availability:
Rotating
Notes / Commercial Description:
Brewed at De Proef Brouwerij, Lochristi-Hijfte, Belgium.
Ingredients: Water, malts, oats, hops, yeast and coffee.
Added by jasonm on 10-09-2008
Ratings: 19 | Reviews: 12
3.88
/5
rDev
-4.7%
look: 4 | smell: 3.5 | taste: 4 | feel: 4 | overall: 4
A: Pours dark black with a small khaki head. Lite retention no lace.
S: Aromas of astringent coffee. Lots of chocolate, and hints of booze, and tobacco.
T: Tons of coffee, seriously burnt. Light ash, dark chocolate, and hints of tobacco juice, and booze.
M: Medium in body, low carbonation, bitter finish.
D: Not the most drinkable, unique and pretty good.
360 characters

4.44
/5
rDev
+9.1%
look: 3.5 | smell: 4.5 | taste: 4.5 | feel: 4.5 | overall: 4.5
Review from notes, 12/13/09 25cl from Bosse.
A: Black, no head, just a few tiny bubbles, very dark and viscous. Very few bubbles, looks thick and evil. A little head would round this out though. 3.5
S: Smoked malts, roasted malts, strong coffee, brown sugar, smells a bit ashy, bitter dark chocolate. Strong and roasty. 4.5
T: Strong roasted malts, and incredibly potent coffee flavor, leaves all of the coffee after taste of drinking a cup of strong dark roasted coffee. Dark chocolate and a strong bitterness. Intense flavors, but everything is balanced nicely. Excellent. 4.5
M: Thick, light carbonation, warm alcohol and incredibly sticky and strong. 4.5
D: Definitely a more intense beer geek brunch/breakfast. Strong flavors, excellent balance. It would be a lot nicer in a little bigger serving size. Great beer!
Thanks Bo!
839 characters

3.63
/5
rDev
-10.8%
look: 4 | smell: 3.5 | taste: 3.5 | feel: 4.5 | overall: 3.5
Thanks bosse! Best before October 1st, 2010. Served in a FoBAB mini-taster glass.
A - A half-finger of late-rising dark reddish-mocha foam. Dissipates to a ring and some haziness. Black body with the faintest glint of red at the bottom of the glass.
S - Not much coffee left in this one. More smoked malt, aged dark fruit and berries, black licorice, char, and some wet wood (even though I'm pretty sure this isn't barrel-aged).
T - Taste is more roasted malts, light vanilla, baker's chocolate, and minimal coffee. The finish is intensely bitter and it lingers into the aftertaste. The 10% is reasonably well hidden.
M - Big chewy viscous body. Low carbonation, and some tannic dryness in the finish with a bit of residual stickiness. Right on for this style of beer.
D - I think this one is past its prime. Joe and I took a while to put down the 25cl bottle. It gets a little better as it warms up.
905 characters
3.95
/5
rDev
-2.9%
look: 4 | smell: 4 | taste: 4 | feel: 3.5 | overall: 4
Bottle from Svend Nyman, who owns a bottle shop in Denmark, sent to Tim kennedy in Buffalo for me, thank you all. Pours opaque black, a little head. Understated carbonation, this is now aged. Above average mouthfeel, much coffee, much over the chocolate.Very pleasant and coffee liquor like, much more bitter than sweet made for the Danish market. Worth the trip over.
368 characters

4.02
/5
rDev
-1.2%
look: 3.5 | smell: 4 | taste: 4 | feel: 4.5 | overall: 4
Big thanks to yespr for this beer (which I got as an extra!)! Small bottle, looks really good. Deep black, almost oily in the glass. Tastes strong, scratchy-malty, but not too much. Oily, prickly finish, a bit woody, notes of liquorice. A beer to enjoy!
253 characters

4.05
/5
rDev
-0.5%
look: 4.5 | smell: 4.5 | taste: 4 | feel: 4 | overall: 3.5
25cl bottle courtesy of fonefan poured into a snifter.
No doubt about the blackness of this one as it pours completely black straight out of the bottle and settles in the glass with no light penetrating. There's a smallish tan head that hangs around for a while and leaves spotty lacing.
The smell is big and dominated by dark burnt malts with some spent coffee grinds and dark chocolate as well. Some licorice and dark fruits creep in as well, but the overall smoky character is what struck me more than anything.
The taste is even more smoky. It's almost like an amped up smoked stout with a huge smoked malt backbone that really dominates throughout. There's some bakers chocolate and hints of vanilla and licorice as well as the aforementioned coffee. But the finish is sooo smoky and leaves a big lingering aftertaste between sips.
The mouthfeel is on the full side, like a dessert with the thick sweetness up front. The finish is altogether different with a dry campfire smokiness, like a cigar aftertaste.
Well, I've definitely been looking forward to this one and I had no idea how smoky and charred this beer was going to be. I actually really like it, but I was definitely caught off guard by the smoke which is much, much more dominant than the coffee. They call this one Beer Geek Breakfasts big brother, but I'm not so sure their more than just distant cousins. Massive thanks to Jan for the opportunity.
1,422 characters
4.47
/5
rDev
+9.8%
look: 4 | smell: 4.5 | taste: 4.5 | feel: 4.5 | overall: 4.5
Poured from a 25cl bottle into a Mikkeller tulip. Thanks to brokenleadedcask for the trade and hook-up!
Holdbar til 1/10-2009
A: Pours a dark, inky, no light getting through this black with a small, creamy, espresso crema colored head that leaves a wide variety of specks and splotches of lace in the glass..
S: Interesting. I found any coffee aromas to be pretty restrained. More like med. roast grounds than espresso. On the other hand, this thing is over flowing with smells like bakers chocolate, dark fruit, roasted nuts, dark chocolate covered cherries, blackened malt, smoke/char, milk chocolate, and whisky.
T: Same as above, as far as the coffee is concerned. Bitter chocolate, smoky char, dark fruit, black pepper, campfire, and more than a hint of spicy tobacco leaf.
M: At first quite full and sweet but as the middle quickly approaches, it becomes drier with excellent spicy, bitter, and smoky overtones. Tons of bitter chocolate and sweet dark fruit in the finish.
D: Fantastic. This was actually the perfect size for this beer. I've enjoyed, immensly, all of the "Beer Geek" beers so far. Hopefully there are more on the horizon.
1,150 characters
4.5
/5
rDev
+10.6%
look: 4.5 | smell: 4.5 | taste: 4.5 | feel: 4.5 | overall: 4.5
not one but two bottles provided by the elusive footy...
the pour is quite black with some brick red at the edges. an expansive cocoa colored head fades slowly to a film.
there is what seems like a mild bourbon note to the nose... brown sugar, vanilla, oak, chocolate, prunes/red wine, super toasty grain, ashy roasted coffee and a spicy alcohol bite.
the flavor is full of coffee, bitter cocoa, vanilla and a load of roast with a dry hoppy kick on the finish. ashiness lingers along with coffee. it's insanely ashy, bitter and roasty... mmm. seemingly medium bodied as the alcohol and ash probably help to lighten it up a bit. a rich silky texture and a slick smooth mouth feel make me want to linger on this one for a while... possibly ponder why everyone blasted past this one? exquisite. 9/4/9/4/19/4.5
812 characters

3.98
/5
rDev
-2.2%
look: 4 | smell: 3.5 | taste: 4.5 | feel: 4 | overall: 3.5
Bottle from Craig. Thanks man!! Pours black as night with a big, creamy brown head. Aroma of burnt malt, tobacco and licorice. Maybe a touch of chocolate. Flavor is rich and creamy chocolate and toast malt. Full mouthfeel and smooth. Good beer. I wouldnt typically drink this by myself, but the size of the bottle makes it tough to share.
338 characters
Beer Geek Brunch One-for-One from Mikkeller ApS
4.07
out of
5
based on
19
ratings.