Drikkeriget DIPA
| Mikkeller ApS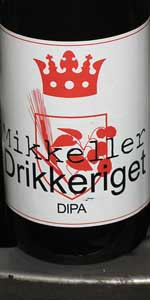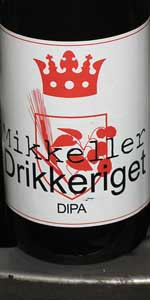 BEER INFO
Brewed by:
Mikkeller ApS
Denmark
mikkeller.dk
Style:
American Double / Imperial IPA
Alcohol by volume (ABV):
10.10%
Availability:
Rotating
Notes / Commercial Description:
Drikkeriget (The Drink Realm) is a Danish beer importer.
Brewed at De Proef Brouwerij, Lochristi-Hijfte, Belgium.
Ingredients: Malt (pilsner, cara-munich, munich), flaked oats, hops (Simcoe, Amarillo, Tomahawk), yeast and water.
Added by BeerAdvocate on 04-13-2009
This beer is retired; no longer brewed.
HISTOGRAM
Ratings: 11 | Reviews: 9
Reviews by CrazyDavros:
4.27
/5
rDev
+6%
look: 4 | smell: 4.5 | taste: 4 | feel: 4.5 | overall: 4.5
Pours a slightly hazy orange with a mid-sized head that shows fair persistence.
Aroma contains lots of citrus, some passionfruit and lychee. Quite grassy and fairly floral as well. A fair amount of sweet cookie dough-like malt is also present. Delightful.
Flavours are first of all the clean sweet malt before the green hoppyness kicks in. The alcohol merges in with the solid bitterness to form quite a hard-hitting finish.
High carbonation works well to cut the upfront sweetness.
482 characters
More User Reviews:
4
/5
rDev
-0.7%
look: 4 | smell: 4 | taste: 4 | feel: 4 | overall: 4
A: Golden orange, slightly hazy. A 2 cm ivory-colored head leaves plenty of lacings.
S: Nice fruity hop aromas - grapefruit, orange, gooseberries, apricots. Decent piny hop aromas as well. A rather fragile smell of malts and white bread. It smells really nice, but I'm not overly impressed.
T: Plenty of grapefruit and general citric notes, Prominent taste of caramel but it doesn't get too sweet. Nice floral hop flavors, resins, grass. Slightly perfumy every now and then. Some tobacco and faint tart notes. Powerful bitterness in the finish, and some herbs, pine-needles and spicy alcohol.
M: Medium body going towards full. Slightly sticky texture. Plenty of carbonation, but the bubbles are small and soft.
D: Since this is Mikkeller's first DIPA, I had high expectations on this one, but they wasn't fully fulfilled. It's a very good and refreshing beer, but since it's a DIPA I expected it to be more powerful and containing, well, more of everything. Still a really good beer though.
998 characters

4.08
/5
rDev
+1.2%
look: 4.5 | smell: 4 | taste: 4 | feel: 4.5 | overall: 4
From the shop at Alvinne.
A: Bright neon orange color with a medium white head that settles quickly to a thin layer; fine lacing...and LEGS!
S: Aroma of citrus, cloves, malt and fresh bread.
T: Flavor begins slowly, with light malt and yeast, then orange peel; then the bitterness builds, and builds. Finish is dry enough to suck your cheeks in.
M: Great body, on the meaty and chewy side.
D: 10.10! Shocking. What an IPA. What an IPA!
435 characters

3.94
/5
rDev
-2.2%
look: 5 | smell: 3.5 | taste: 4 | feel: 4 | overall: 4
Pours an apricot colour, almost opaque from sediment bomb that's detonated in the body. Head is voluminous to the max, irregularly bubbled and beige in colour, leaves a gorgeous Pollock canvas of lace down the glass. Colour? Tick. Cloud? Tick. Head? Tick. Lacing? Tick. Perfect 5? Oh, you better believe that's a paddlin'.
Nose is very pleasantly fruity with a lot of floral hop character, lots of passionfruit, pineapple, and some pudding sweetness. I love all the smells but there's not much more to it that fruit sweetness. Needs maybe a bit more acid. Or maybe I need some acid to enjoy it more.
Taste is pleasantly fruity with a tart edge to begin with, hops come in quite early and are quite resiny, creating a bit of a bitter hang that isn't unpleasant, blends well with a citric hop towards the end, again quite tart, actually almost tartaric. Nice lilt of flavour on the mid, finish isn't quite as potent as the mid, and has a slightly sweet edgeto it, in fact, which is a very slight turnoff.
Mouthfeel is a bit squelchy - full, but not thick, just a bit sticky as well. Pretty decent.
I'm very, very surprised at how high the ABV is here. I wouldn't have guessed it for the world. Very drinkable, dangerously so. If those little kinks in the finish were ironed out, this would be a very smooth, wrinkle-free beer.
1,328 characters
4.35
/5
rDev
+7.9%
look: 4.5 | smell: 4.5 | taste: 4.5 | feel: 4 | overall: 4
Batch 01.01
Pours very nice with a clouded orange color and a thin eggshell head. Nose is citrus and chalky hoppyness. Flavor is striking, though not obnoxious. A firm malt backbone shows from time to time. But the dominant feature is burly hops with a tight pine, citrus, and salty character. It rests heavy with the malts, which makes me wonder how it would age. Guess I'll never know. Bottom line - this is when you truly see the love for American IPAs and DIPAs that has spread throughout the globe.
503 characters

4.35
/5
rDev
+7.9%
look: 4 | smell: 4 | taste: 4.5 | feel: 4.5 | overall: 4.5
The bottle looks simple, but good, the beer in the glass is okay. Starts strong and very complex hoppy, modest sweet. The middle turns much drier, also woody. Finish becomes milder again, well balanced, soft aftertaste. Very, very good! Thanks to HenrikSoegaard for the bottle!
277 characters
4.03
/5
rDev 0%
look: 4.5 | smell: 4 | taste: 4 | feel: 4 | overall: 4
Pours a slightly hazy amber-gold, not particularly bright, but the head is an excellent fine-bubbled frothy head. Lacing is truly excellent. Truly an excellent looking brew.
Lots of American hoppiness on the nose, lots of luscious fruit, citrus and a bit of pine or pepper. There's a vaguely undermining diacetyl character, but not huge, but it is really quite reminiscent of a west coast US IPA. Very nice.
Taste is also pretty true to style. An initial pepper/fruit/sweet hybridisation, which wells through a light acidic note before descending to a raw and very robust bitterness. Quite a high level of bitterness - I have to say it's one of the few beers I've yet had from outside the US that has the balls to bitter hop so heavily. Something for the Danish hopheads, and those of us outside who are lucky enough to get a hold of it. Mouthfeel is a big and sparkling adventure.
Big, bold and exciting - it doesn't quite have the freshness, and the balanced complexity of hop characters as some of my favourite American examples, but this is certainly one to savour and rejoice that we can get here in Australia. Nice.
1,124 characters
4
/5
rDev
-0.7%
look: 4.5 | smell: 4.5 | taste: 4 | feel: 3.5 | overall: 3.5
This beer pours a pale cloudy honey hue with very decent carbonation that leaves a two finger frothy head with heaps of lacing everywhere,the aroma is straight out Hops and lots of them very piney,passionfruity hops,the mouthfeel is above average with a big dose of bitterness that hits u straight away on first sip but after that the mouth is numbed and bitterness isnt as strong on second sip i mean u still can taste the nice resinous,piney hops and a slight touch of alcohol but it does finish with a pale,passionfruit,malty taste,this is one big DIPA and would buy more of if only it didnt have such a high price tag.
622 characters
3.85
/5
rDev
-4.5%
look: 4 | smell: 4 | taste: 4 | feel: 3.5 | overall: 3.5
A - Poured into a tulip glass a hazy light orange colour with about 3 centimetres of dence slightly off white head that takes forever to fall away. Lots of lacing is left down the glass.
S - Smell is full of citrus & tropical fruit hoppiness along with some pine. A light bready malt hint.
T - Hops even more dominant in the taste with quite a full on grassy/green hop flavour coming through as well as lots of citrus & tropical fruit. The taste equivelent of the smell you get when opening a sealed pack of fresh hops.
Sweetish bread maltiness with a caramel hint to balance the massive hop character. Hops still dominate by fa.
M - Light to medium bodied with a fairly high carbonation. Bitterness is there but not as high as I would have thought.
D - I'd drink it again & tell anyone who likes their hops to get this but for the price, $13AUS 330ml bottle, there are others I'd get before this.
897 characters
Drikkeriget DIPA from Mikkeller ApS
Beer rating:
4.03
out of
5
with
11
ratings