Sherry Barrel Aged Black As Hell
| Mikkeller ApS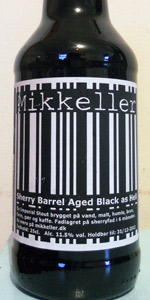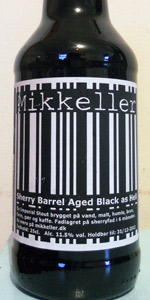 BEER INFO
Brewed by:
Mikkeller ApS
Denmark
mikkeller.dk
Style:
American Double / Imperial Stout
Alcohol by volume (ABV):
11.50%
Availability:
Limited (brewed once)
Notes / Commercial Description:
No notes at this time.
Added by BeerAdvocate on 04-18-2009
This beer is retired; no longer brewed.
HISTOGRAM
Ratings: 12 | Reviews: 8
Reviews by Floydster:
3.86
/5
rDev
+2.7%
look: 4.5 | smell: 3.5 | taste: 4 | feel: 3.5 | overall: 4
Small eight ounce bottle split with Bill yesterday, drank from a very small Scaldis snifter, color is pretty black with some dark red around the edges, thin 1/4 inch creamy light tan head that lasts a few minutes, not much lacing, aroma consists of mild alcohol, cherries, roasted malts, toffee, vanilla, burnt sugar, sweetness, and cream, flavor starts out bitter with earthy and roasted malts, some chocolate in the middle that was on the darker side, finishes strong with rich malts and big woody flavors from the barrel, nice spiciness from the oak, roasted, dry, and rich mouthfeel, full bodied, not much carbonation, taste lingers a long time, could drink this bottle easily but too much after that, pretty heavy stuff, very rich all the way through, nice barrel aged beer from Mikkeller, too bad this stuff is only available overseas, would like to drink again, recommended
880 characters
More User Reviews:

4.27
/5
rDev
+13.6%
look: 4 | smell: 4.5 | taste: 4.5 | feel: 4.5 | overall: 3.5
Little bottle shared by Nick3 at a tasting. Was awesome of Nick to break out this rarity as well as the Whisky barrel version.
Pours, well, black as hell (is hell black?) with a small brown head.
Aroma is excellent - lots of roast, coffee, and a little sherry. Barrel is not too detectable.
Flavor is intense charcoal-like roast, ash, coffee, grain, and a little sherry. Some barrel evident here, but the hugeness of this beer overwhelms most of that. This is awesome.
Brutal, amazing, charcoaly palate. Really dry and rough, almost grainy. Full body with well-hidden ABV.
This is a phenomenal beer overall. Intense and really enjoyable. Not too drinkable, but who cares about that? Would love to smoke a fat stogie with this one.
735 characters
3.4
/5
rDev
-9.6%
look: 3.5 | smell: 3.5 | taste: 3.5 | feel: 3.5 | overall: 3
Ditmier can be an okay guy... but you have to grab him before the sun goes down on days that end in Y.
Pours dark walnut.. definitely not deeeep black....
Dark and chalky... chalkboard... dark char... smokey?? Sooo.. Where is the sherry? ashy... only okay.
Not getting too much sherry.... more big American Porter.. a bit boozy. The woody aspect is verging on charcoal.
Not digging this one at all.. blah. Thanks Eric.. Cool.. but Mikkeller is fuct.
3.5/3.5/3.5/3.5/3
472 characters

3.43
/5
rDev
-8.8%
look: 4 | smell: 3.5 | taste: 3.5 | feel: 3.5 | overall: 3
Tiny 8 oz bottle shared by Nick3. Black in the snifter with a wispy tan crown. Tarry, roasty, faintly oxidized aroma. A bit of chocolate, burnt toast, ash. The barrel doesn't impart a huge character to the aroma, but oxidation is evident. On the tongue there's a lot of smoke, oxidation, tobacco, burnt malt - it's fairly mellow and rounded, dry overall with a big roasty finish. Enjoyable stuff, not exceptional, but I was happy to sip on my small glass.
455 characters
3.73
/5
rDev
-0.8%
look: 4.5 | smell: 4 | taste: 3.5 | feel: 4 | overall: 3.5
Black as shit. Boozy upfront with char and light sherry barreling behind it. Smoke with a touch of soy. The heavily roasted malt aroma is insane.
I didn't think the flavor was as intense as the aroma though. Heavy roasted malts coat the tongue instantly. The extremely roasted quality of this beer sort of masks anything else that is done in this beer. You get tobacco, charred wood, and some smoke. A little soy sauce in the background is evident too.
453 characters


3.97
/5
rDev
+5.6%
look: 3.5 | smell: 4 | taste: 4 | feel: 4 | overall: 4
Thanks to ibrew2or3 for this one.
A: Pours a nice deep shade of black with red tinges showing through. Thin mocha head with no retention or lace.
S: Lot of char, smokey with notes of sherry and oak coming through.
T: Lots of burnt coffee, char, and tobacco. Lightly smokey with faint chocolate and oak.
M: Medium in body, smooth.
D: Pretty good. Not too bad overall.
371 characters

3.68
/5
rDev
-2.1%
look: 4 | smell: 4 | taste: 3.5 | feel: 3.75 | overall: 3.5
Bottle shared by Kristina. Served in a snifter at Zwanze Day.
A - Tan foam settles to a collar, leaving behind a few specks of lace. Very dark brown body with a hint of transparency at the edges of the glass.
S - Roasty and charry, as all Mikkeller stouts are wont to be. Some mild sherry sweetness, big molasses, and some dark fruit oxidation to it. Still some booze presence though. Better than I expected.
T - The taste is quite a bit more burnt, with a mixture of char, fruity oxidation, caramel, burnt sugars, and soy. Aftertaste is reminiscent of smoking a cigar. Soy and umami flavors increase as it warms.
M - Not overly big for the listed 11.5%; somewhere in the medium-full area. Low carbonation, quite tannic, and thankfully restrained alcohol heat.
D - My least favorite in this series, and quite probably over the hill at the stage. I'd be interested in seeing Mikkel re-brew some of these early offerings though as his reputation was created on them. But yeah, at this stage this isn't super drinkable.
1,021 characters
3.58
/5
rDev
-4.8%
look: 4 | smell: 3.5 | taste: 3.5 | feel: 4 | overall: 3.5
Bottle. Pours black with a small tan head. Aroma is rich and malty with alcohol and bitter chocolate. Flavor of roasted malt, vanilla, and sweet malt. Very similar to Black as Coal, maybe a little bit sweeter from the sherry. Again, it was good but it didn't wow me.
266 characters
Sherry Barrel Aged Black As Hell from Mikkeller ApS
Beer rating:
3.76
out of
5
with
12
ratings