Cream Ale
| Mikkeller ApS
BA SCORE
84
good
38
Reviews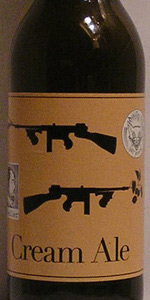 BEER INFO
Brewed by:
Mikkeller ApS
Denmark
|
website
Style:
Cream Ale
Alcohol by volume (ABV):
5.00%
Availability:
Rotating
Notes / Commercial Description:
No notes at this time.
Added by ADZA on 04-17-2010
Reviews: 38 | Ratings: 95
3.82
/5
rDev
+2.1%
look: 3 | smell: 3.5 | taste: 4 | feel: 4 | overall: 4
Drank from my Duvel Tulip
A - Pours a very pale Gold colour with a large White head that reduces clowly to a film. Some lacing.
S - Gentle hop aromas from the bottle. Once poured it becomes slightly more delicate with a citrus aroma.
T - Delicate and sweet citrus hoppy flavour, with a slightly bitter finish , that is a little spritzy.
M - Light to medium body with low to medium carbonation.
O - Definitely different from your average AIPA and a little more refreshing. Worth a shot but wouldn't have another.
★
518 characters

4.33
/5
rDev
+15.8%
look: 5 | smell: 4.5 | taste: 4 | feel: 4.5 | overall: 4.5
330ml bottle served into an Oversized glass.Enjoyed on mar´11
Pours pale yellow.Foggy.White persistent & dense crown.Medium size bubbles.Wheat & yeast aromas,citric notes.Crispy bitterness.Dry piney & gentle hoppy flavor.Very refreshing sensation & easy drinkability.Light body & correct carbonation.Very well balanced flavors & aromas.
★
337 characters
3.74
/5
rDev 0%
look: 3 | smell: 4 | taste: 3.5 | feel: 4 | overall: 4
Bottle from hopduvel in Gent into Chimay chalice, straw gold color, finger of off white head.
Smells piney, a bit floral
Taste is piney bitterness, a little citrus, very smooth, I got some cream soda aftertaste halfway through, but its not overly creamy.
Very sessionable. In belgium I would compare this to a Taras Boulba, its a very similar beer.
★
349 characters
3.6
/5
rDev
-3.7%
look: 3.5 | smell: 3.5 | taste: 3.5 | feel: 3.5 | overall: 4
First had: on tap at Farmers' Cabinet, Philly, PA
Poured into a tulip glass, a hazy golden-yellow with shades of orange. Grainy aroma, with scents of citrus--mainly lemon--and funk. Crisp and light on the tongue, some yeastiness, very grassy, musty and funky, in a good way. Light mouthfeel and rather refreshing; nicely drinkable.
★
332 characters

3.73
/5
rDev
-0.3%
look: 4 | smell: 3.5 | taste: 4 | feel: 3.5 | overall: 3.5
On tap at Burger in Santa Cruz. Pours a light golden color with a firm white froth. Aroma is full of hay and grass with a faint fruit salad note. Flavor is pale malts and minerals with a big noble hop blast. Really nothing like a cream ale, reminds me more of a hop-forward american pilsner with an ambiguous ale-ishness. Slightly tart, maybe a touch of wheat. Great hop character, fresh and spicy. A little astringent and thin on the palate.
★
442 characters
3.3
/5
rDev
-11.8%
look: 3.5 | smell: 3.5 | taste: 3.5 | feel: 3.5 | overall: 2.5
330ml bottle, a collaboration between Mikkeller and Revelation Cat Craft Brewing, an Italian brewer who apparently share the infatuation with the American hop bomb line of thinking. And the tommyguns on the label are sprouting grain stalks and hop leaves - um, ok. Some sort of riff on the flower-in-the-gun-barrel give peace a chance trope?
This beer pours a cloudy golden yellow hue, with a ton of billowy white head, which renders some soap film lace around the glass as it settles. It smells of pale malt, and sweet citrus, like orange and lime candy, with a pine hop bitterness. The taste is bready malt, and strongly bitter citrus/pine hops. The carbonation is fairly fizzy, the body full in weight, somewhat smooth, but not creamy. It finishes sweet, the citrus cream (there it is!) blending with some latent pale malt graininess.
Cream ale, huh? While plowing this recipe with good ol' American bittering hops may make it taste good, if you're a hophead, this is more false advertising, than anything. What this really is, is a pretty hoppy west coast IPA. Minus significant points for not calling it so.
★
1,114 characters
3.84
/5
rDev
+2.7%
look: 3 | smell: 4 | taste: 4 | feel: 4 | overall: 3.5
The beer is clouded deep yellow, a white small head with little lacing.
The smell is sweet citric, orange jam with lime, a spicy note.
Tasting of sweet bread upfront, then oranges and lemons, a herbal bitterness at the end.
Medium high carbonation, small bubbles, rather soft and fresh.
An easy drinkable ale, a bit short on bitterness. Tasted at a beer sampling at De Klomp, Linköping, Sweden.
★
399 characters
3.44
/5
rDev
-8%
look: 3.5 | smell: 4.5 | taste: 3 | feel: 3.5 | overall: 3
A - I like the way that when pouring this bottle the bubbles started collecting on the sides of the glass right away, like tiny frog eggs. The color is a slightly frosty lemon-honey. And the head is a nice clumpy yeasty splotchy cloud white.
S - Some hops, but lots of citrus smells. Sweet crystalline malt smells. Has a clean fresh smell. Like sweet air after a spring rain. Very soothing. Makes me think of lazy walks through a hop field in the Belgian countryside.
T - Initially very hoppy and bitter, much like an amber ale or an IPA. It's a bit too caustic and drying for me. At least when I imagine this style of beer. The bottle says it's all hop but I can't help but feel a little corn blandness.
M - Surprisingly doesn't quite live up to the name. I wish it were a bit creamier. It is a bit effervescent and a bit smooth, but bitterness takes away from the "cream"
D - Not quite what I had dreamed it would be, but pleasant none-the-less. This isn't one that I will reach for again anytime soon.
★
1,009 characters

3.59
/5
rDev
-4%
look: 3 | smell: 4 | taste: 3.5 | feel: 3.5 | overall: 3.5
Pours a pale straw colour, quite opaque and cloudy with decent white head being fed from below by steady carbonation. Leaves some specks of lace but not a lot. Acceptable, not amazing.
Nose is quite grainy. Hints of rice and corn on that with some light fruit notes, maybe citrus and pear. Yeah, sweet with a bit of a tang. Quite nice, really.
Taste is...curious. Fairly fruit on the front with some apple and pear characters and a lemon zest edge to it. Gets quite earthy on the mid-palate with a slight starchy character and a hint of soil. Develops a phenolic edge towards the back with a hint of aspirin and that attenuated-lager character. Fruit happily returns on the back, but is met by that medicinal bitterness. Quite good, I appreciate the oddness, but it doesn't amaze me.
Fairly thin body with some carbonation sizzle. Finish is quite smooth though, I guess that's the "creamy" aspect maybe? What the hell is it called a cream ale for anyway?
Yeah, not an offensive beer, some good flavours, a bit off-balance but fairly enjoyable.
★
1,047 characters
4.11
/5
rDev
+9.9%
look: 3 | smell: 4.5 | taste: 4 | feel: 3.5 | overall: 4.5
What's with the machine guns on the label? Sorry, I felt that was an obligatory part of any review of this beer.
Pours a cloudy dull straw colour, very opaque with fine impurities. Head is fine bubbled but a little filmy, and the body is particularly watery, so there's certainly not a lot of lacing. Not bad, looks like it could be refreshing at least.
Nose is absolutely redolent with huge hoppy goodness, big fruity notes. Big tropical characters, with some musty phenols sneaking in to give some depth. Wow, that's quite incredible. Big and round and fruity, but also sharp and crisp. Delicious.
Taste is very pure and clean -- obviously the lager yeast makes an appearance here. Some grain sweetness on the front, before some musty cellar characters come through with a big punch of phenolic bitterness to cleanse it all away. Finish is lightly touched with almond essence. Feel is crisp and light, leaving excellent refreshment.
Wow, I was so underwhelmed by the look of this beer that it actually blew me away from my expectations. Very drinkable and extremely enjoyable.
★
1,082 characters
3.76
/5
rDev
+0.5%
look: 4.5 | smell: 3.5 | taste: 4 | feel: 3.5 | overall: 3.5
Pours a hazy, pale golden color. 1/4 inch head of a white color. Great retention and great lacing. Smells of sweet malt, slight hops, slight citrus, and slight earthiness. Fits the style of a Cream Ale. Mouth feel is sharp and crisp, with an average carbonation level. Tastes of sweet malt, slight citrus, slight pale hops, slight earthy malt, and hint of wheat. Overall, good, but the 'creaminess' is quite hard to discern.
★
424 characters
3.87
/5
rDev
+3.5%
look: 3.5 | smell: 4 | taste: 4 | feel: 4 | overall: 3.5
Mine poured a hazy golden amber with a transient carbonated head that dissipated very quickly and didn't lace at all - I poured into a Maredsous goblet for want of the house glass.
On the nose I get hops, citrus and a touch of malt with a deep inhale.
On the palate it is not at all what I was expecting. A real bitter fest. I get hops and citrus peel - lime and grapefruit, even angostura. The finish doesn't let up and there is an almost quinine bitter quality to the finish.
I am a fan of bitter hopped beers but this is an extreme example. So, while I enjoyed it, I imagine it is probably not to everyone's taste.
To add to the first review, while the label has two machine guns counterposed, one emits hops and the other barley emitting from the barrel.
★
763 characters
4.01
/5
rDev
+7.2%
look: 4.5 | smell: 3.5 | taste: 4 | feel: 4 | overall: 4.5
This is definately not a brew from Mikkeller that i have heard of before but looks most interesting it comes a creamy coloured label with two machine guns on the front label and it is a collabaration between Mikkeller and Revelation Craft Brewing,it pours a pale honey hue with nice carbonation that leaves a creamy two finger head and frothy lacing everywhere that sticks to the sides of the glass,the smell is quite subtle for a Mikkeller brew but still nice with hints of creaming soda(in a good way) and a tinge of fruity hops,it has a full creamy smooth mouthfeel with tastes of very smooth pale malts and some bitter hops that is smoothed out right at the finish to take away a little of the bitterness but its still there which i like,overall a nice brew that would buy again and would like to see some more examples of this style but i have had better brews from Mikkeller.
★
881 characters
Cream Ale from Mikkeller ApS
84
out of
100
based on
38
ratings.