Vesterbro Wit
| Mikkeller ApS
BA SCORE
84
good
11
Reviews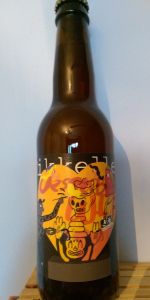 BEER INFO
Brewed by:
Mikkeller ApS
Denmark
|
website
Style:
Witbier
Alcohol by volume (ABV):
4.50%
Availability:
Rotating
Notes / Commercial Description:
No notes at this time.
Added by jrallen34 on 07-11-2010
Reviews: 11 | Ratings: 25
4.02
/5
rDev
+9.2%
look: 3.75 | smell: 4.25 | taste: 4 | feel: 3.75 | overall: 4
Pours hazy amber into a glass from a bottle. White head is two fingers high, sparse, puffy and poorly retained.
Aroma is botanic, herbal and heady with cream, citrus peel and spices. There is an aromatic base of wheat which gives a cloveyness and mustiness.
Flavours are very muted compared to what was expected - going off the nose. There's watery clementine, a little candied rind, some earthy spices and wheat. This is very herbal and aromatic with some nice tangy citrus.
Mouthfeel is light bodied, some carbonation, with a little drying on the back.
Overall I'm really enjoying this; it's crisp and refreshing while retaining some nice heady flavours.
★
660 characters

3.37
/5
rDev
-8.4%
look: 4 | smell: 3.25 | taste: 3.25 | feel: 4 | overall: 3.25
Cloudy yellow with puffy white head.
Possibly centennial hops?
Boring at first but grows into character. Coriander comes out more so than the hops, honestly. Not so much on the orange peel.
Thickness is right for a whit.
★
224 characters

3.92
/5
rDev
+6.5%
look: 3 | smell: 3.5 | taste: 4 | feel: 5 | overall: 4
Poured to a pokal glass.
A: The body is cristalline yellow with a faint whit head that has some interesting lacing.
S: The aroma is malty, yeasty, citrusy but minimal.
T: The taste is mostly malty and bready.
M: The bitterness is really smooth, body is au point (high) although visible carbonation is really low.
O: Just your regular Mikkeller, always amazing beers.
★
367 characters
3.68
/5
rDev 0%
look: 3.5 | smell: 3.5 | taste: 3.5 | feel: 4.25 | overall: 4
40cl on-tap at Mikkeller Bar, Vesterbro, Copenhagen (55 Danish Krone):
Quite an enjoyable beer from Mikkeller with a pleasantly fresh & balanced taste that had some nice bitterness towards the end as well. It wasn't exactly what I'd been expecting from a witbier & I felt it was stretching it to call it one at times but it was a nice beer that was fresh, crisp & highly drinkable without it being overly complex; another winner from Mikkeller.
★
444 characters

3.79
/5
rDev
+3%
look: 4 | smell: 4.25 | taste: 3.5 | feel: 3.75 | overall: 3.75
A murky gold yellow color. The taste is very floral mild hops, with high carbonation coriander, thick yeast body, thick banana and cigares.Taste is spiced bread, orange and caramel. Bitter, texture is thin, carbonation is mild. Light wheaty and mild spicy with very dry bitter finish. Refreshing but not sensational.
★
317 characters
3.1
/5
rDev
-15.8%
look: 3.5 | smell: 3.5 | taste: 3 | feel: 2.5 | overall: 3
Pours a hazy pale yellow which leaves a wispy one finger head and no lacing,the smell is pineapple,candied wheat and orange peel,the mouthfeel is really lightbodied abit too light for me but the its very sessionable and easy drinking with tastes of pineapple,lychee,candied wheat,barley sugar and finished with a crisp finish of citrus and overall its average but good for drinking in the summer cheers.
★
403 characters

3.42
/5
rDev
-7.1%
look: 2.5 | smell: 3 | taste: 4 | feel: 3.5 | overall: 3
Served on-draught into 20cl Mikkeller stemware at the Mikkeller bar in Copenhagen. Note that their blackboard said it was 4.6%. Reviewed from notes.
A: Pours a one finger head of fair cream, fair thickness, and average retention. Colour is a cloudy yellow.
Sm: Lemon esters, cream, assorted citrus esters, and full barley. No malt, thankfully.
T: Heavy orange peel, some lemon - actually citrusy - notes, refreshing cream, and a pleasant barley foundation. Complex for the style. Well built and balanced.
Mf: Coarse, sharp, and wet. Enough smoothness to stay refreshing, however. Complementary of the flavour for the most part.
Dr: Average ABV and great drinkability, but it comes at a high price (25 DKK for 20cl).
★
725 characters

3.79
/5
rDev
+3%
look: 3 | smell: 4 | taste: 4 | feel: 2.5 | overall: 4
Pours a very pale straw colour with light haze. Head is a whispy cloud of white bubbles. Thin lace. Looks thin but OK.
Smell is nearly all hops. Hint of candied orange peel with some tangy wheat but mostly citric, with mildly resinous hoppiness. Wood, sap and lemon zest. Quite enjoyable.
Taste is fruity, light and pleasant; and yet complex. Orange/lemon compete on the front, with some tart wheat notes and light vinous character drying up. Touch of sweet white wine and then finish is all hops but lightly so, they just pop up at the end to cleanse with floral citric bitterness. No hang. Light, but very enjoyable.
Light, uninteresting body. Doesn't need much since the flavour is all there, but really there's not much at all.
Good wit, good beer.
★
756 characters
3.53
/5
rDev
-4.1%
look: 2 | smell: 4 | taste: 3.5 | feel: 3.5 | overall: 3.5
On-tap at the Local Taphouse in Sydney's Mikkeller Tap Takeover.
Pours very clear, and quite dark for a wit, with very minimal head, just a ring of suds around the edge of the glass. Body looks very light, but it holds what little carbonation is there very heavily contained in the body. Looks pretty poor, to be honest.
Nose is an entirely different story, and a rather bizarre experience. Ripping sharp fruit character right from the start, with preserved lemon and green peach coming through strongly. Quite floral, sharp and rather sweet. It smells like wandering through the tropical fruit section of the market.
Taste is clear and crisp, with a good dose of that sharp fruitiness through the centre. Body is certainly lacking, and there's not enough to support very much, but the fragrance of the peach and lemon comes through nicely enough.
Very decent beer. Very light and refreshing, with some fragrant characters that don't overwhelm the palate. Not bad.
★
969 characters
4.22
/5
rDev
+14.7%
look: 4 | smell: 4.5 | taste: 4 | feel: 4 | overall: 4.5
On-tap at the Mikkeller pub in Copenhagen.
Pours a very hazy lemon-yellow color with a 1.5-finger bright white head. The head recedes into a thin layer on top leaving solid lacing.
Smells of light malts and wheat with large amounts of lemon peel and floral hops.
Tastes similar to how it smells. Light malt flavors with good amounts of wheat twang kick things off. Mild lemon and orange rind flavors come into play shortly thereafter. Light nondescript spices make an appearance midway through the sip, carrying through to a crisp ending.
Mouthfeel is very good. It's got a smooth thickness with grainy carbonation.
Drinkability is also very good. I finished my glass quickly and could easily have a few more.
Overall this was an easy-drinking beer with loads of flavor. Well worth a shot.
★
795 characters
3.92
/5
rDev
+6.5%
look: 4 | smell: 4.5 | taste: 3.5 | feel: 4 | overall: 4
I drank this at Mikkeller in Copenhagen. This like the Vesterbro Pilsner are ONLY available at the brew pub, named after the local Copenhangen neighborhood that it is located in...The ber pours a medium gold with a light white head, good retention and lacing...The aroma is super light and fresh grass, fresh hops, its really clean and new. Makes you want to drink this on a summer day...The taste is a little of a let down, flat pretty much until the end when some floral hops finally arrive, not super crisp as I was hoping for...Good feel and easy to drink.
If your at Mikkeller give it a shot as its a rare one. A pretty good summer beer needs a little more taste and a touch crisper and this would be awesome.
★
717 characters
Vesterbro Wit from Mikkeller ApS
3.68
out of
5
based on
25
ratings.