George! Bourbon Edition
| Mikkeller ApS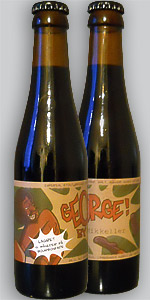 BEER INFO
Brewed by:
Mikkeller ApS
Denmark
mikkeller.dk
Style:
Russian Imperial Stout
Alcohol by volume (ABV):
12.12%
Availability:
Rotating
Notes / Commercial Description:
No notes at this time.
Added by crnipeter on 01-08-2011
Reviews: 54 | Ratings: 105

4.97
/5
rDev
+14.5%
look: 4.5 | smell: 5 | taste: 5 | feel: 5 | overall: 5
A massive thanks to digita6793 for sending this beer among many others from across the pond.
I had no idea what to expect from this tiny (25cl) little bottle. Wow was I in for a surprise.
A: Pours as thick and black as motor oil. No head, and no lacing. Hints of burgundy are slightly visible if you tilt your glass in the light.
S: Large amounts of bourbon, followed by hints of dark fruits and rich chocolate.
T: Absolutely phenomenal. The flavors of bourbon, dark fruit and chocolate blend so perfectly it's astonishing. Not even a hint of alcohol burn.
M: Perfection here. This beer is like drinking liquid silk. The carbonation is a bit low, but I wouldn't change a thing.
O: Simply put. This is the best imperial stout that I have ever tasted, hands down. I don't know what more I can add after that. I will definitely be seeking out more of this. I don't think that's very likely to happen though. Thanks again Don.
★
928 characters
4.63
/5
rDev
+6.7%
look: 4.5 | smell: 4 | taste: 5 | feel: 5 | overall: 4.5
Poured from the smallest bottle of beer I have ever seen into a tulip.
A: Thick motor oil color. The pours drops a beautiful tan head that receeds to a thin rim.
A: HUGE buorbon up front. The smell actually took me back at first, but a second whiff uncovered dark friuts, molasses, and roasted malts.
T: big buorbon, toasty malts, chocolate, vanilla, caramel, and grassy hops. The barrel just accentuates the base brew. Finishes rather sweet with an alcohol burn.
M: Creamy, thick, and smooth. Heavy body, perfect carbonation.
O: This is the smoothest BA stout I've ever had. Couldn't drink too many of these due to the high ABV, but this really is a world class brew. Skal.
★
680 characters
4.85
/5
rDev
+11.8%
look: 4.5 | smell: 4.5 | taste: 5 | feel: 5 | overall: 5
A huge thanks to digita6793 for sending this rare gem to me. A 25 CL bottle.
A- pours a thick vicious motor oil. This beast stains my glass. A thin reddish hue rings my glass.
A- A huge barrel in the nose. Deep rich chocolate and dark fruits. A touch of sweetness is present also.
T- Maybe the smoothest BA beer I have ever had. The bourbon is blended extermely well with chocolate and malts. Oak is present on the back end with some dark fruit.
M- again just perfect. Nice and creamy. With a amazing finish that makes me want another pour.
D- it's not often that I would give a beer of this magnitude a 5 for drinkability. However, this beer is just insanely good. The 12.12 abv isn't detected at all. If u have the chance to land this one, do it. Thanks again Don!!!
★
773 characters
4.35
/5
rDev
+0.2%
look: 4 | smell: 4 | taste: 4.5 | feel: 4.5 | overall: 4.5
Served at fridge temperature fails to create any head apart from thin collar that quiickly dissipates, leaving only circum peripheral ring. As the beer warms, the
consecutive pours do much better job in terms of head, giving birth to an inch thick persistent crown atop of pitch-black body impenetrable to light, that seems thick and viscous by merely watching how it pours.
Nose is sweet and has strong mint component, something I couldn't found in regular George, as well as pleasant bourbon presence, with cocoa and dark fruits in the background.
Flavor reflects the aroma with prominent minty notes; starts sweet but the stage is soon taken by alcohol warmth (low alcohol presence considering the ABV), wood with slight tanninic astringency, leafy hops, burnt malt, red wine and salty soy sauce.
Richer, lacking sharp edges of regular George, with reduced alcohol warmth and burnt qualities when compared to its predecessor. Thick and velvety smooth in the mouth.
George! Bourbonfadlagret is an excellent example of what barrel aging can do to a beer.
★
1,060 characters
George! Bourbon Edition from Mikkeller ApS
4.34
out of
5
based on
105
ratings.