Big Worse (Bourbon Edition)
| Mikkeller ApS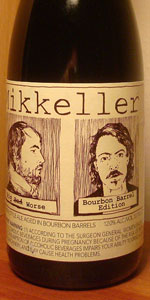 BEER INFO
Brewed by:
Mikkeller ApS
Denmark
|
website
Style:
American Barleywine
Alcohol by volume (ABV):
12.00%
Availability:
Limited (brewed once)
Notes / Commercial Description:
Brewed at De Proefbrouwerij.
Aged for 8 months in Bourbon barrels.
Added by vfgccp on 02-03-2011
This beer is retired; no longer brewed.
Reviews: 29 | Ratings: 64

3.23
/5
rDev
-15.2%
look: 3.5 | smell: 3 | taste: 3 | feel: 4 | overall: 3.5
Green bottle (375ml?) into a Weyerbacher tulip. Thanks to Tony for sharing.
A: Hazy red-orange body with healthy wisps of off-white bubbles. Light, spotty lacing. Not a bad-looking BA barleywine.
S: Pretty single-minded with the solventy fusel alcohols. Light, fresh fruitiness comes in, surprisingly (not dark candied fruits as might be expected), but there really isn't any discernible barrel character. Mediocre.
T: Very sweet and fruity with nail-polish remover alcohol dominating throughout. Not great, but I kind of enjoy it.
M: Medium-bodied with a surprisingly lively body. Pretty good.
D: Weirdly drinkable with its sweet fruitiness. Not great, but not as bad as could be expected with such thorough booziness.
Notes: Maybe I'm too demanding, but I really want some bourbon in a bourbon-barrel barleywine. Perhaps bourbon barrels, which do so well in Scotland, lose all of their magic by the time they reach Denmark, since both this and the bourbon Beer Geek Breakfast were rather disappointing. Oh well, it's the thought that counts.
Cheers!
★
1,058 characters

3.1
/5
rDev
-18.6%
look: 4 | smell: 4 | taste: 2.5 | feel: 3 | overall: 3
375 ml pour into a Blue Point 10th anniversary tulip.
Pours a dark amber color with a one inch head that dies down to a nice froth that seems to stick around forever.
Smells of sweet alcohol, a little caramel maybe, but mostly sweet alcohol, this wont be a let down in the heat department. As it warms i get a little bread in the smell.
Just like the smell, sweet bready caramel alcohol, BUT there is also some oxidation that didnt show up that much in the smell until I tasted it and knew it was there. Definately some bourbon/vanilla and an oaky finish
Mouthfeel was a little thin and unexpected, and it was a little too sweet and oxodized, not a good combo. I liked the dry finish tho.
Overall I definately wouldnt by this again, especially at about 15 bucks. A little sweeter than I like, the oxidation didnt help either. I always say its worth a shot because I like to experience everything.
★
902 characters
2.26
/5
rDev
-40.7%
look: 3 | smell: 2 | taste: 2 | feel: 4 | overall: 2
Appearance: There's a slight haze to the amber-brown body that pours out. Small, light beige head.
Smell: Slightly phenolic, somewhat solventy nose with diminutive notes of caramel, toasted grains, and fruit. It certainly has a firm level of harshness and unacceptability.
Taste: A sweetish glug of simple syrup with a slight caramel taste to it. Sprinkling of raisins. Hint of spiciness. A lightly tannic, though significantly harsh bourbon character scuttling the already lacking quality of the base beer and hanging on like grim death through the finish.
Mouthfeel: Medium-plus body. Medium-plus carbonation.
Overall: I was never taken by the standard Big Worse and I'd even say the bourbon treatment is even a further hindrance not a benefiting boost.
★
759 characters
1.44
/5
rDev
-62.2%
look: 3 | smell: 1.5 | taste: 1.5 | feel: 1 | overall: 1
Chilled bottle into a glass. Thanks, Craig.
A: Pours a clear amber-ruby with light beige head.
S: Sherry oxidation (much stronger than the non-BA version); it's even muscat-like on the nose. It smells like a mead, really. Quite nice. Caramelly, spicy bourbon.
T: Very bourbony (almost like a rye spiciness to it) with a caramel bent. Strong bitterness, just as in the base beer, but the aging seems to have taken the edge off of it.
M: This beer is thinner than the base beer; the flavor falls off quickly. Oak leaves a lingering astringency, while the jarring hops produce bitterness.
O: Mikkeller gives me hope that I can someday brew terrible beers and charge a lot for them and laugh all the way to the bank. This is substantially worse than the base beer. I applaud the trainwreck.
★
796 characters
Big Worse (Bourbon Edition) from Mikkeller ApS
3.81
out of
5
based on
64
ratings.