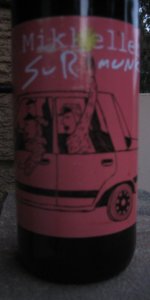 BEER INFO
Brewed by:
Mikkeller ApS
Denmark
mikkeller.dk
Style:
American Wild Ale
Alcohol by volume (ABV):
9.99%
Availability:
Limited (brewed once)
Notes / Commercial Description:
Brewed at Amager Bryghus.
Added by BeerAdvocate on 04-11-2011
This beer is retired; no longer brewed.
Ratings: 88 | Reviews: 37


3.23
/5
rDev
-11.5%
look: 4 | smell: 3.5 | taste: 3 | feel: 3.5 | overall: 3
Bottle shared by Jason. A blend of quad and sour ale. Serve in a Jester King tulip.
A - Finger of white foam settles to a thin collar, partial cap, and a few splotches of lace. Hazy orange-brown body.
S - Sweet tarts and other candy, savory notes, balsamic vinegar, oak. Very Flanders Red-esque with the combination of sweet caramel and candy malts and the moderate sourness - a bit BBQ sauce-esque.
T- Taste is less sour with more honey glaze and BBQ sauce flavors. Actually, it's surprisingly bland and understated in comparison to the aroma.
M - Zesty carbonation, extremely dry candy-like texture, medium-light body, and shockingly little alcohol. I would have guessed this was closer to 6%.
D - Very strange beer based on the aroma, but the flavor is ultimately quite dull. Not terrible, but not something I'd feel the need to revisit either.
852 characters
3.87
/5
rDev
+6%
look: 3.5 | smell: 4 | taste: 4 | feel: 4 | overall: 3.5
I'll never say no to a new sour. Nice pour, typical of a flemish brown or red. Smell is monsterously confrontational. Similar to Victinar, but more like a potent combination of duck sauce and balsamic vinegar strained though a dirty sweat soak. Woof. It is strong and sweet smelling in an almost rotten way. Kind of like raw meat a day or two past expiration. Taste is sweet sour, somewhat similar to Duchesse, but with that weird, almost unpleasant, leftover chinese food aftertaste. Still, I have to rate the taste and smell highly, because, what the hell, there is nothing else like it.
Drinkability is awesome for a nearly 10% beer, and right on target for a flemish red or brown - Which, by the way, is much more on target a description for this beer than "american wild."
Recommended with reservations. Scary good stuff. Like, really scary.
849 characters
3.15
/5
rDev
-13.7%
look: 4 | smell: 4 | taste: 2.5 | feel: 4.5 | overall: 2.5
I had this on-tap at Max's. Served in a sample glass.
Appearance: Pours a very cloudy dark amber color with some red showing up as well. There is a layer of fluffy off white head that leaves tons of lacing on the glass.
Smell: Smells like very sweet vinegar. Fruity notes and some caramel like malt.
Taste: This is the sweetest sour beer I have ever tried. I know it is a blend of a Quad and a sour, but I feel like the flavors remain parallel to each other and don't really mix well. I'm picking up some dark fruit and cherry along with the caramel and a vinegar sourness and acidity. Too much going on here.
Mouthfeel: The body is on the thick side of medium with delicate carbonation and a dry finish.
Overall: This one is too sweet for me. The tastes just don't mix well with each other. I'd pass on trying this beer again.
833 characters

3.63
/5
rDev
-0.5%
look: 4 | smell: 3.5 | taste: 3.5 | feel: 3.5 | overall: 4
500ml bottle.
It pours a nice color. It is a reddish caramel brown with a slight murkiness and a nice creamy off-white head.
The smell is surprising. It has elements of lunch meat and strawberry yogurt. There is also a big hit of processed caramel. It is pretty funky, not too sour on the nose.
The flavor is a bit more sour. It is also sweet. It really has a tangy yogurty taste to it with berries. The caramel "quad" base comes through as well.
This one grows on you as you drink it. I was initially skeptical but it is pretty good.
538 characters

4
/5
rDev
+9.6%
look: 4 | smell: 4 | taste: 4 | feel: 4 | overall: 4
A-Murky dirty brown/orangish hue which leaves a one finger head and sporadic lacing.
S-Prunes,cranberry juice,sweaty socks and pungent alcoholic fruit.
T-Starts off sweet/sour with hints of cranberries,lemons,pommegranates,bready malts,sherbet and finished with a barnyard funky sourness.
M-Light to medium bodied.
O-Now this is more like it Mikkeller a nice sour that i could drink alot of and its high ABV is very well hidden.
432 characters

3.95
/5
rDev
+8.2%
look: 4 | smell: 4 | taste: 4 | feel: 3.5 | overall: 4
Poured into a pilsner glass. Browny, coppery, red, with a creamy head, low carbonation. Rich sour cherries on the nose. Heavy on the funky deep malty/sour smell. Wow. Somewhat scary... Almost worried about how big and sour this baby is going to be.
Into the mouth – bang – devilishly sour & funky up front, but to my surprise smooths out on the palate -certainly not harsh or puckering. Bit of cherry sweetness comes through with a quick and sharp finish with the sweetness lingering. Rather light mouthfeel. Not detecting any alcohol in the flavour, despite the abv of 10%. I can appreciate how the cherries are used to balance out the high ABV, in the same way malt would in another beer. Very nice and not overbearing like I was expecting. However maybe missing that middle palate complexity that would make it great.
825 characters
3.8
/5
rDev
+4.1%
look: 3.5 | smell: 3.5 | taste: 4 | feel: 3.5 | overall: 4
1/3 pint served in a Teku glass in the BrewDog bar in Edinburgh. From notes. Reviewed 7 June 2011.
A: Opaque at some angles, translucent at others. The beer is an orange-tinted brown. Blackcurrantish? Yellowish as well; ochre? No head.
S: Sour. Fruity. It smells like a relish. A bit of vinegar or fermented grapes. Acerbic and harsh, yes, but perversely pleasant.
T: Initially I thought it was terrible; I could barely swallow. But, bracing myself, I rallied for a second sip. It was surprisingly palatable. Over time, it really grows on me. The taste is somewhat indescribable. It's like...eating chutney. Grapey, alcoholic, chutney. It's incredibly tart. Sourly super-acidic. Why do I like this beer? I don't know, but I really do.
M: Thin, sharp, biting, and bitter. Barely carbonated.
O: It's an odd sort of beer, I imagine it would be quite divisive, such that I can't recommend it. Paired with cheese and red onion chutney.
935 characters
Sur Munk from Mikkeller ApS
3.65
out of
5
based on
88
ratings.