Citra Single Hop IPA
| Mikkeller ApS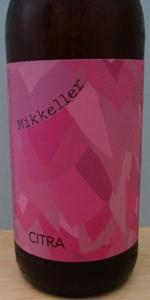 BEER INFO
Brewed by:
Mikkeller ApS
Denmark
mikkeller.dk
Style:
American IPA
Alcohol by volume (ABV):
6.90%
Availability:
Rotating
Notes / Commercial Description:
No notes at this time.
Added by gford217 on 06-10-2011
Reviews: 82 | Ratings: 201

4.11
/5
rDev
+7.6%
look: 5 | smell: 4 | taste: 4 | feel: 3.5 | overall: 4.5
Bottle shared by Chris (spycow). Some random code on the bottlecap doesn't particularly clarify freshness. Served in a Struise cervoise.
A - Giant orange-tinged foam with great retention and glass-coating lace. Transparent golden orange body. Looks exactly like a Citra Single Hop IPA should!
S - Smells like Citra hops, but lacks the potency found in American single hop offerings like Zombie Dust. Plenty of orange, but without the chive and dank notes I often get from Citra. The malt backdrop is fairly unobtrusive icing sugar flavor.
T - Taste is again quite orange-heavy, but with notes of chive and herbal zest this time. Sugary malt backbone, and fairy mild bitterness in the aftertaste.
M - Grainy medium body, pleasant medium-low carbonation, and a super resinous residual texture.
D - I had no problem putting down 6oz of this one, and I'd actually have it again if these weren't so damn expensive. Perhaps this will show up on-tap at Local Option in the near future. Probably the best thing I've had from this series.
1,034 characters
3.98
/5
rDev
+4.2%
look: 4.5 | smell: 4 | taste: 4 | feel: 3.5 | overall: 4
Once again I'll say how much I love the idea for this series. Citra, being a relatively newly used hop as a predominant component in beers particularly interested me (along with Sorachi Ace). I'll agree with gford here that although the nose has quite a bit of citrus, I was surprised at the level of resinous, piney hop flavors in the taste. Pours a slightly cloudy orange, probably just chill haze. A big, grainy head settles down to a cap and leaves copious lacing. Nice lemon and orange citrus aromas along with a whiff of pine and a bit of slightly bready malt. The taste has a blast of pine and bitter orange with some lemon oil and orange zest notes folded into the bitter finish. The bitterness is quite intense and really sticks around. Almost relentless. This makes the mouthfeel quite intense, I'm a hophead but this is almost too much. Really good showcase for the hop itself, but after having this, I'd say this hop would either work best in a blend or with a sweeter malt profile.
994 characters
3.5
/5
rDev
-8.4%
look: 3.5 | smell: 3.5 | taste: 3.5 | feel: 3.5 | overall: 3.5
A reddish copper hue, not light, not too dark. A definite sweet passion fruit aroma. This is a very sweet smelling beer. A nice amount of carbonation provides a good mouthfeel and keeps what is an otherwise sweet tasting beer from being too syrupy. This is a sweet beer, with less carbonation the sweetness could be overwhelming but proper carbonation keeps this interesting. Overall this is not the best representation of the cira hop that I've had. This is a decent IPA but nothing I would go out of my way for. I would get it again if I saw it on draft but I don't know that I would go out of my way for it.
610 characters

3.8
/5
rDev
-0.5%
look: 4 | smell: 4 | taste: 3.5 | feel: 4 | overall: 4
Don't let me down Citra hop. Surely you'll be good.
Beer is red to orange and clear with a nice white head, lots of lacing, low carbonation. Looks like beer.
Very obvious aroma of papaya and mango, very nice aroma. Too much alcohol and malt in there though. Almost makes it smell like mango candy.
Beer is sweet but there are definitely hops in there. Lots of tropical fruits on the midpalate and the finish is pretty bitter. I liked this one, probably one of the best of the bunch and it is actually an IPA.
511 characters

4.23
/5
rDev
+10.7%
look: 4.5 | smell: 4 | taste: 4.5 | feel: 4 | overall: 4
A: A hazy amber pour with a huge foamy off-white head that sticks around and leaves nice lacing when it finally settles down.
S: Smell is great, especially for a single hop IPA. Nice citrus aroma punctuated maybe with a little caramel.
T: Surprisingly good and complex for such a simple beer. It's easy to see why everyone loves Citra nowadays. Lots of citrus like the nose, with some resinous pine too. A little bready malt follows it up to balance it out.
M: Not bad. A little mouth-coating oil sensation that sticks around for a bit. Bitterness is not too harsh.
O: As mentioned, surprisingly complex and well-balanced given the simple recipe. Most of the single hop IPAs are just experiments and are intriguing to try but tend to lack depth. This one is that and more - it's also quite good and easy to drink at the same time. I think this is the best single hop I've tried thus far.
891 characters

4.03
/5
rDev
+5.5%
look: 4.5 | smell: 4 | taste: 4 | feel: 4 | overall: 4
A-The beer pours a burnt orange hue. The liquid is quite hazy. An aggressive pour creates a large, tight off-white head with a slight yellow undertone. The head is pretty huge, and it retains excellently. Wondering how I am going to get my lips past the head. The beer laces very well.
S-The aroma is rather light. Lively citrus scent is the main attraction. A bit floral as well. The sweet maltiness balances out the nose. The aroma is attractive but not very bold.
T-The flavor is also not exceptionally powerful but it is quite tasty. This beer tastes like fresh clementines in my opinion. I can see why, when paired with other hop varieties of hops, the citra would add an absolutely delicious dimension to the overall flavor. This beer is mildly bitter and leaves a decent aftertaste. The sweetness from the malt balances this beer out quite well.
M-The feel is very creamy and a bit sticky. I enjoy the oily mouthfeel here. The carbonation is smooth and mellow. The feel is one of the best parts of the beer.
O/D-Overall, I am a fan of this beer. I do not love it but I do love how this beer exemplifies the potential of the Citra hop. The flavor is mostly mild but definitely enoyable. At about $5.75 for a 12 oz. bottle, I would be cautious to try another one of these single hop bottles. Pretty good, but not exeptional.
1,333 characters

4.22
/5
rDev
+10.5%
look: 4 | smell: 4.5 | taste: 4 | feel: 4 | overall: 4.5
11.2oz bottle side by side with Galena and Super Galena versions.
Pour is much, much different than the other two version. It pours with an enormous fluffy white head, three inches thick, that sits on top a darker amber body. Color is closer to the Super Galena and darker than the Galena. Sheets of lacing and three times the head of the others.
Aroma is, by far, the best of the three versions I'm sampling. It's got that distinctive Citra character of massive citrus with hints of wood and herbal hops.
The taste isn't as nice as the aroma as the blast of citrus in the nose only translates to a milder pineapple and apricot presence up front. There is more in the way of pine than I got in the aroma and the finish is actually smoother with less bitterness than the Galenas.
The mouthfeel is smoother than the other two with softer carbonation.
This is the clear winner of the three I tried tonight. It shows why Citra is all the rage these days as it brings a really distinctive and flavorful character to a beer. This is one of the Mikkeller single hops that could stand alone as a really solid IPA with no other hop additions.
1,138 characters
Citra Single Hop IPA from Mikkeller ApS
3.82
out of
5
based on
201
ratings.