Sorachi Ace Single Hop IPA
| Mikkeller ApS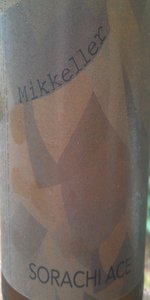 BEER INFO
Brewed by:
Mikkeller ApS
Denmark
mikkeller.dk
Style:
American IPA
Alcohol by volume (ABV):
6.80%
Availability:
Rotating
Notes / Commercial Description:
No notes at this time.
Added by Dope on 06-14-2011
This beer is retired; no longer brewed.
Reviews: 59 | Ratings: 142
3.49
/5
rDev
-8.9%
look: 4 | smell: 2.5 | taste: 4 | feel: 3.5 | overall: 3.5
Poured from a 12 oz bottle into a pint glass
A: pours a dark orangish brown with 3 fingers of thick white head fluffy like a cumulus cloud
S: not much hoppy/piney character. Very subtle maltiness but all in all very underwhelming.
T: very nice; beginning with malty caramel and ending with a nice mild hoppy bitterness.
M: very smooth with a pleasant bitterness that lingers.
O: very nice brew. I think sorachi ace must be a subtle hop both in aroma and flavor, but it really has a great hoppy character albeit unusually mellow.
534 characters
4
/5
rDev
+4.4%
look: 4 | smell: 4 | taste: 4 | feel: 4 | overall: 4
12 ounce pour on tap at Bar Great Harry, Brooklyn, into a Chimay Goblet.
A: Cloudy amber orange hazy, little to no head, might be due to keg
S: Sweet cotton candy , coconut, very clean, sweet, unusual smelling. Enticing , somewhat confusing, but pleasant.
T: Lemongrass, herbal, sweet cotton candy, very unusual and interesting tasting. I don't LOVE the way this tastes, yet I am thoroughly enjoying the experience.
M: Slightly syrupy, which I usually dislike in an IPA under 8 %, but it works, this drink has an almost desert-like quality to it, and the syrupy mouthfeel works.
O: Overall, an unforgettable beer experience. The beer tastes disciplined, purposeful, and intense. I wouldn't call this beer a masterpiece, yet I will always remember its unique single hop flavor. A great beer-nerd experience! I look forward to trying some others out in the series.
867 characters

4
/5
rDev
+4.4%
look: 4.5 | smell: 4.5 | taste: 4 | feel: 3.5 | overall: 3.5
Poured from a bottle into a perfect pint
A- pours a cloudy shade of amber with a crazy four finger offwhite head. The head is amazing. Lacing is awesome. Yep.
S- awesome smell of lemongrass coming strongly out of this one. Love it.
T- that spicy Mikkeller yeast is the dominating flavor. Finish is slightly sweet lemongrass. Not bad
M- bordering on syrupy, but it's not quite there. Thank god
O- I wish the yeast flavor wasn't so prominent, and I could taste more of the hops...seems like every Mikkeller single hop has the same base flavor
545 characters

3.98
/5
rDev
+3.9%
look: 4.5 | smell: 4 | taste: 4 | feel: 3.5 | overall: 4
First of three Mikkeller Single Hop varieties I tried.I followed this with the Bravo and Simcoe.
A-Hazy,deep,rusted orange with a two inch creamy,solid,off-white crown that showed great endurance and left full sheets of lace.
S-Jammy and slightly vegetal.There was a faint hint of earthy,almost whiskey-like scents on the nose.There was also some tangy citrus and a slightly antiseptic note of pine resin.
T-Spicy and once again vegetal.I'm picking up flavors of white pepper,green onion and bitter greens,some pine,rough fresh hops and tart citrus.
M-Light to medium bodied.Slightly dy with an odd lasting tang and burn of what can only be likened to a bourbon and water.
O-Overall,this was an odd beer.Quirky even.I did,however,enjoy it and took it for what it was.Nice introduction to this hop.I could definitely see this being used as a foil for some sweeter hops.
873 characters
4.12
/5
rDev
+7.6%
look: 4 | smell: 4.5 | taste: 4 | feel: 4 | overall: 4
On-tap at the Brick Store.
Pours a clear copper color with a white head leaving decent lacing.
Smells of pale malts with good amounts of light citrus – lemon rind more than anything – and lighter amounts of apricots and tropical fruits.
Tastes similar to how it smells, though the hops are less robust. Pale malt flavors up front are joined by smooth lemon and grapefruit rind. Midway through the flavors sweeten with hints of nectarines and apricots, carrying through to a moderately bitter finish. Mouthfeel is good, with solid carbonation.
Overall I thought this was one of the better and more interesting beers in the series. Well worth a shot.
656 characters
4.2
/5
rDev
+9.7%
look: 4 | smell: 4 | taste: 4.5 | feel: 4 | overall: 4
I love the idea of this series- nothing else educates the palate like isolating flavor components, in this case hops. Also, I think Sorachi Ace is just a neat hop. Really interesting flavors, and much different in profile than any other hop. Depending how its used, you tend to get a lot of lemon, and sometimes lemongrass notes. What's a revelation here (for me) is the wonderful notes of coconut milk that are revealed. Creamy and nutty, with a slick milky flavor that I just love. There are some spice and lemongrass notes, and some bitterness up front, buts it's the coconut in the midpalate that really does it for me. A fairly long bitter finish, with more nuttiness wrapped around the bitter core. A hop I'd like to see more of. Nice.
741 characters

3.97
/5
rDev
+3.7%
look: 3.5 | smell: 4 | taste: 4 | feel: 4 | overall: 4
11.2oz bottle alongside Bravo and Cluster versions.
Pour is very similar on all 3 with a clear orange body with uniform off-white heads and decent lacing.
This definitely has the most distinctive aroma with some light sweet fruits, candied pears comes to mind. It's definitely not as citrusy, wi even a little bit of grape and white wine character.
Taste has the same sweet fruit notes, with apricots this time maybe. Definitely finishes more vinous than any in the series.
The mouthfeel is consistent across the three with strong carbonation and a medium to light body. But this one is definitely drier than most of the others.
I enjoyed this one and I'd put this one up with the Bravo version though it's a much more unique beer than the Bravo. Good stuff.
763 characters

3.8
/5
rDev
-0.8%
look: 4 | smell: 4 | taste: 3.5 | feel: 4 | overall: 4
Wow! There was actually an IPA mixed into this bunch of low hopped ales. Sorachi ace IPA with 102 IBUs.
Beer is red to orange and clear with low carbonation and a thin head that leaves a little lacing on the glass.
Aroma is lemony and grassy and bright / sweet. Very nice.
Beer is medium to light in body and dryer than the rest of them. There is an odd, earthiness to this beer that I don't get with the others, there is also almost the taste of coconut in there. Most complex one to date and perhaps my favorite of the night even if I don't like that coconut flavor.
571 characters

3.68
/5
rDev
-3.9%
look: 4 | smell: 3.5 | taste: 3.5 | feel: 4 | overall: 4
A: A hazy amber pour that is almost red. Decent, fizzy white head that fades fast. Middle of the pack lacing.
S: Not a super strong aroma like some IPAs. It's barely there when it's cold and then when it warms up it starts coming out. Smells mostly like a little pine and lemons (kinda like pinesol but not in a bad way) and maybe a little bread from the malts.
T: Very unusual bite right up front. I'm having a hard time thinking of the words to describe it. It's a bit lemony and then after two seconds it transitions to ....mint? Almost like hard peppermint candy without the sweetness. Never had a beer like this. The bitterness is very apparent and sticks around in the aftertaste, almost like you just drank a sip of peppermint extract. It has a double bite, up front with the lemony citrus bite and then resurges on the backside with the mint.
M: Nice carbonation and a typical medium body. The mint flavor really sticks around on your tongue with a tingly sort of bitterness.
O: Overall not bad but the mint taste is very strange and I'm not used to it. I didn't rate this beer as low as I wanted to because this is the first time I've had Sorachi Ace hops and it may be par for the course. But it was almost hard to drink except for the fact that I was so confused and intrigued by such odd characteristics - I had to keep trying to try to make sense of it. I am interested to see more reviews and see what others make of this beer.
1,446 characters
Sorachi Ace Single Hop IPA from Mikkeller ApS
3.83
out of
5
based on
142
ratings.