Sorachi Ace Single Hop IPA
| Mikkeller ApS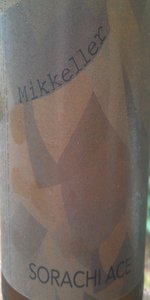 BEER INFO
Brewed by:
Mikkeller ApS
Denmark
mikkeller.dk
Style:
American IPA
Alcohol by volume (ABV):
6.80%
Availability:
Rotating
Notes / Commercial Description:
No notes at this time.
Added by Dope on 06-14-2011
This beer is retired; no longer brewed.
Reviews: 59 | Ratings: 142
3.99
/5
rDev
+4.2%
look: 4 | smell: 2.5 | taste: 4.5 | feel: 4.5 | overall: 4.5
Presentation: Poured into a pint glass.
A: Orange amber color. Clear with a nice off-white head. Moderate lacing.
S: Very mild aromas. Some citrus, papaya or mango and mild pine.
T&M: Definitely some pepper, very mild. Hop bitterness. Great! Mild citrus and heavy pine. Medium bodied. Well balanced. Very smooth and tasty.
This is much tastier than I expected after an odd aroma. The 102 IBU rating gives it a great hop bitterness.
★
438 characters

4.42
/5
rDev
+15.4%
look: 4 | smell: 4.5 | taste: 4.5 | feel: 4 | overall: 4.5
12oz bottle into a tumbler glass
$5.99 at Dicicco's in Brewster
A- Pours a nice golden honey orange with a finger off white head that doesn't stick around like the rest of them. Decent retention though.
S- Very fruity peach or mango like nose with a definitely caramel sweet maltiness to back it up. Very interesting smelling, this hop is very distinct compared to the rest of them that I've had.
T- Got damn it's just like the aroma! Very fruity with tons of peach and mango that makes you ponder the hundreds of tropical fruits this reminds you of. Aside from the fruity flavors the hops also give off a really nice grassy earthy flavor like most hops. The malts are there but not like the aroma, hops pretty much dominate letting the malts only create a nice body.
M- Medium bodied with moderate carbonation and a nice bitter finish.
Overall probably my favorite of the series, the hops dominate and are very prominent in the flavor. It's crazy to think a plant can give off these flavors.
SkÅL!
★
1,011 characters
3.49
/5
rDev
-8.9%
look: 4 | smell: 2.5 | taste: 4 | feel: 3.5 | overall: 3.5
Poured from a 12 oz bottle into a pint glass
A: pours a dark orangish brown with 3 fingers of thick white head fluffy like a cumulus cloud
S: not much hoppy/piney character. Very subtle maltiness but all in all very underwhelming.
T: very nice; beginning with malty caramel and ending with a nice mild hoppy bitterness.
M: very smooth with a pleasant bitterness that lingers.
O: very nice brew. I think sorachi ace must be a subtle hop both in aroma and flavor, but it really has a great hoppy character albeit unusually mellow.
★
534 characters
3.74
/5
rDev
-2.3%
look: 4.5 | smell: 3 | taste: 4 | feel: 4.5 | overall: 3.5
Pours a clear penny copper with a fluffy two fingers of foam that becomes rocky and leaves nice lacing over time. The nose is a muted citrus with light tropical notes and a solid bready malt character. The taste is alot less malty than the citra version, with delicate key lime pudding, papaya, lichee and almost a white pepper note on the finish. Somewhat creamy with nice carbonation and a light hoppy bite. The hops provide a delicate and unique taste to this ipa though still not fully impressed by mikkels efforts.
★
519 characters
4.12
/5
rDev
+7.6%
look: 4 | smell: 4.5 | taste: 4 | feel: 4 | overall: 4
Best before: 11/04/2014
A dark amber beer with a slightly off white head. Hazy.
Smells of fruity hops; tropical fruits and resin but different than IPA's with American hop variaties that are know for their fruitiness (Casacade and such).
Interesting flavours imparted by the Sorachi Ace hops.
Light citrus flavours (lemon zest, grapefruit), white grape and quite alot of drying bitterness. It is fruity but not really fruity like the famous American hops, I can understand where the dill references come from, this is a tad more savoury and spicey than the American hops.
Quite nice although I probably prefer the really fruity hop varieties.
Other than that it has some sweet malts in it.
Mouthfeel is medium with low/medium carbonation.
My first beer with Sorachi Ace, as far as I know, enjoyable. I will be trying more of this series when I get the chance.
★
866 characters
4.5
/5
rDev
+17.5%
look: 4.5 | smell: 4.5 | taste: 4.5 | feel: 4.5 | overall: 4.5
A: Orange amber in color with a large beige head that subsides in about two minutes and remains as a thin layer of foam on top of the brew. Mildly hazy. Very good lacing.
S: Grassy/lemony hops that verge on being lemon tart-like. Mild background spiciness shows the Saaz roots of this variety. Pale malts show themselves waaay in the background, but add robustness to the aroma.
T: Grassy/herbal hop flavor is most prominent in the beginning before it gets pushed aside by a prominent yet complimentary (i.e. not too powerful) bitterness. The citrusy lemon flavors (more lemon zest than lemon juice, in my opinion) emerge towards the end, mixing beautifully with the lightly toasted malts. A faint warming sensation hits the throat as the beer goes down. The bitterness lingers on the back and sides of the tongue for quite a while, complimenting the lemon "freshness", if you will.
M: Medium-bodied with the faintest hint of dryness. Except for the warming sensation in the finish, the alcohol is well hidden. A good, vibrant carbonation keeps the beer refreshing and almost gives the impression of a citrusy "bite" that isn't unwelcome.
O: To be honest, I don't know if I've ever given a beer such a high score before. This is far from the best beer I've ever had, but when I consider what the goal of the brewer was in making this beer (to show off the citrus flavor and pronounced bitterness of the Sorachi Ace hop), it'd be totally wrong of me to say that he failed. On the contrary, the strong lemon and herbal flavors as well as the assertive bitterness present in this brew show that Mikkeller has succeeded in creating a nearly perfect single hop beer. If you're afraid of lemons, stay away from this brew, but if you're willing to try something that's different but incredibly well-made, this is a great place to start.
★
1,834 characters
4
/5
rDev
+4.4%
look: 4 | smell: 4 | taste: 4 | feel: 4 | overall: 4
12 ounce pour on tap at Bar Great Harry, Brooklyn, into a Chimay Goblet.
A: Cloudy amber orange hazy, little to no head, might be due to keg
S: Sweet cotton candy , coconut, very clean, sweet, unusual smelling. Enticing , somewhat confusing, but pleasant.
T: Lemongrass, herbal, sweet cotton candy, very unusual and interesting tasting. I don't LOVE the way this tastes, yet I am thoroughly enjoying the experience.
M: Slightly syrupy, which I usually dislike in an IPA under 8 %, but it works, this drink has an almost desert-like quality to it, and the syrupy mouthfeel works.
O: Overall, an unforgettable beer experience. The beer tastes disciplined, purposeful, and intense. I wouldn't call this beer a masterpiece, yet I will always remember its unique single hop flavor. A great beer-nerd experience! I look forward to trying some others out in the series.
★
867 characters
4.2
/5
rDev
+9.7%
look: 4 | smell: 4 | taste: 4.5 | feel: 4 | overall: 4
80 oz growler into a Founders tulip:
A- Clean golder amber with good head
S - Lemon, malt, and slight pine
T - Refined with nice lemon, citrus, and pine character. Incredibly smooth and immensely sessionable and enjoyable.
M - Good carbonation and mouthfeel
O - A wonderfully mellow IPA that flows over the palate like butter.
★
331 characters

4.01
/5
rDev
+4.7%
look: 4 | smell: 3 | taste: 4.5 | feel: 4.5 | overall: 4
Love the subtlety of this hop profile! The mouthfeel and taste is superb but I think the aroma lags behind. I prefer a piney spice or pungent citrus aroma kick but the Sorachi Ace is much softer and almost bready. Love the lingering hop taste, very complex and thought provoking.
★
279 characters
Sorachi Ace Single Hop IPA from Mikkeller ApS
3.83
out of
5
based on
142
ratings.