Drink'in The Sun 11
| Mikkeller ApS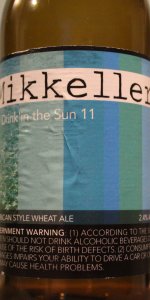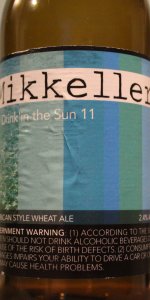 BEER INFO
Brewed by:
Mikkeller ApS
Denmark
mikkeller.dk
Style:
American Pale Wheat Ale
Alcohol by volume (ABV):
2.40%
Availability:
Summer
Notes / Commercial Description:
No notes at this time.
Added by 7ways on 07-04-2011
This beer is retired; no longer brewed.
HISTOGRAM
Ratings: 32 | Reviews: 22
3.22
/5
rDev
-10.6%
look: 3.5 | smell: 4 | taste: 3 | feel: 2.5 | overall: 3
First beer of the day for the Mikkeller Tap Takeover of the Local Taphouse in Sydney.
A 2.4% beer from Mikkeller? It's an interesting concept.
Pours a clear and slightly hazed light yellow colour, with a frothy, but large-bubbled head of white. Very light body, almost watery and insipid. Lacing is anarchic and sticky at least. Not a bad looking brew all up, really.
Nose is great. Really fresh and bright tropical hop notes, with an underlying round wheat sweetness and a touch of butterscotch. With a swirl, it gains a slightly astringent greenness to it, sharper than the other characters, and biting through nicely.
Taste is a lot worse, but that's probably to be expected. It has very little to the body at all, meaning it sinks meaninglessly on the palate, and doesn't leave much of an impression. Some hop bitterness springs up on the back to try to revive it, but by this stage the grainy, watery thinness hasn't done much.
Not bad for a light beer, but the excess of hops just means that it feels unbalanced without any body. I know you have to do something to give a light beer some flavour, but better yet is to not brew a light beer at all.
1,158 characters

3.53
/5
rDev
-1.9%
look: 4 | smell: 3.5 | taste: 3.5 | feel: 3.5 | overall: 3.5
11.2oz bottle.
The beer pours a bright hazy straw with an enormous fluffy white head that fizzes a bit on its way down to a hefty cap.
Aroma has citrus elements, especially lemon zest, with a lot of grainy notes. There is light sweet pale wheat, grass and a Sprite-like lemon-lime thing going on.
The taste has more of a sour wheat flavor than the aroma and definitely has more pale malts and grains. The citrus seems to be dialed down a bit up front, but comes back in the finish, which leaves a lemony tartness on the tongue.
The mouthfeel is light bodied and very spritzy.
This is a solid summer beer and very drinkable though it doesn't measure up to the best pale wheats out there, largely because of the substantially different ABV. As a low alcohol beer, it's actually quite good.
792 characters

4
/5
rDev
+11.1%
look: 4 | smell: 4 | taste: 4 | feel: 4 | overall: 4
A - Pours a slightly hazy golden-yellow color with a finger of crisp white head atop. The head fades fairly quickly leaving behind lots of lace.
S - The aroma is a mix of lemon and other citrus elements, some grainy malt, and a bit of herbal hops as well.
T - Starts off with a kick of slightly tart lemon flavor balanced by some grainy malts. Through the middle, a bit of yeast and some herbal hop flavors mix in. The finish is a mix of grainy malt and yeast that linger.
M - Light bodied with moderate carbonation. Super smooth and crisp without feeling watery or empty at all.
D - Super drinkable. It is a bit remarkable how light and low abv (2.4%) this beer is, and the fact that it still tastes like beer and has substance to it.
739 characters

3.3
/5
rDev
-8.3%
look: 4 | smell: 4 | taste: 3 | feel: 3 | overall: 3
11.2oz bottle from Argonaut in Denver for $6. Into a Michelob Celebrate snifter.
A: Pale gold with a dense white head that is a good three fingers thick. Quite turbid. Excellent spots of lacing as it recedes. Pretty darn nice looking wheat beer.
S: Bright, citrusy hops with some lemon, and grainy malts. Smells slightly herbal and a bit resinous. I get a fair amount of lemon that stands out the most.
T: Light flavors of lemon and some resinous hops. Surprising amount of bitterness on the end. Really light and watery. Doesn't really taste like much, maybe some lemon peel and hops steeped in water, with enough faint maltiness to make you realize it is still a beer. Decently flavorful for what it is, but it isn't incredible or mind blowing.
M: Incredibly light and watery, I think this is the thinnest beer I've ever tried. Prickly carbonation and really dry.
O: Mid afternoon session beer on a hot day is exactly what this is. Really well done for a low alcohol beer, but it isn't mind boggling. Pretty decent, but way too expensive at $6 a bottle.
1,065 characters

4
/5
rDev
+11.1%
look: 4 | smell: 4 | taste: 4 | feel: 4 | overall: 4
Poured a light pale gold that is seethru and the head dies quick but there's some lace patches. A spicy, sharp corriander like smell as well as touches of sweet wheat and touches of citric make up the aroma. The sweetness is a little more dominant than the sharp flavors, but still a good amount of that fluffy wheatiness, as I call it, and an easy to drink beer that has a minor crispy finish thanks to citric fruit flavors (lemon, orange, touch of banana) and moderate spicing (clove and pepper). A good summer sipper that isn't overly sweet or bitter.
554 characters
4.22
/5
rDev
+17.2%
look: 4 | smell: 4.5 | taste: 4 | feel: 4 | overall: 4.5
Bottle purchased from Green's on Ponce in Atlanta.
Pours a hazy golden-straw color with a white head that leaves decent lacing.
Smells of light malts with good amounts of tangy wheat and citrus peel. Also present are light amounts of leafy hops.
Tastes similar to how it smells, though not as robust. Crisp light malts up front are joined quickly by lemon and grapefruit rind. Midway through moderate amounts of grassy wheat and earthy hops come into play, carrying through to a moderately bitter ending. Mouthfeel is good, with smooth carbonation.
Overall this is another very good iteration of this beer, I just wish I could buy a six-pack for a reasonable price. Still, despite the price, it's well worth a shot.
723 characters
2.84
/5
rDev
-21.1%
look: 3 | smell: 4 | taste: 2 | feel: 3 | overall: 3
Pours a pale sickly yellow/straw color, similar to Berliner Weisses I've had. Nice rocky, stark white head.
I don't know about sunshine, but nice aromas of lemongrass, pine and wheat. A little catty.
Nothing overly positive to write about the taste other than it's thirst quenching and low impact. It tastes kind of like it smells; like grass and pine needles. I like bitter, and I like tart. But not together. The mild malt sweetness on the finish never surfaces enough to round it out...
...instead, my mouth is left very dry. The flavor and acidity don't really match. Body, texture, and carbonation are ample but uninspired.
I thought I was seeing things when I read 2.4% abv the first time I saw this. I had to try it for that reason alone. I'm disappointed. It is not a "bad" beer, but it sure wasn't worth $5 for one bottle.
835 characters
Drink'in The Sun 11 from Mikkeller ApS
Beer rating:
3.6
out of
5
with
32
ratings