Black Buffalo (黑牛)
| Mikkeller ApS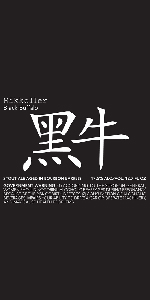 BEER INFO
Brewed by:
Mikkeller ApS
Denmark
mikkeller.dk
Style:
American Double / Imperial Stout
Alcohol by volume (ABV):
19.30%
Availability:
Limited (brewed once)
Notes / Commercial Description:
Aged in Buffalo Trace bourbon barrels.
Added by bark on 07-18-2011
This beer is retired; no longer brewed.
Reviews: 32 | Ratings: 73

4.32
/5
rDev
+12.8%
look: 4 | smell: 4.5 | taste: 4 | feel: 5 | overall: 4.5
From a 12.7oz green bottle.
Pours a beautiful thick pitch black that is topped by medium dark tan head that is frothy and very slow to recede. Smells of bitter sweet chocolate, booze, chalk, with a ton of heavy bourbon notes present. First sip is creamy, then bitter, with a strong dark chocolate super bitter finish. The creamy mouthfeel really stands out as the complexity of this beer happily greets me. WoW – so many great things happening here. The 19.3% ABV is present but not in your face. As it warms, the bourbon shines to the front of the class and dominates this wonderful beer. The bitter finish lingers long after every amazing sip. Very nice brew!
664 characters

4.32
/5
rDev
+12.8%
look: 4 | smell: 4.5 | taste: 4.5 | feel: 4 | overall: 4
A - Dark brown-black with a finger of frothy chocolate colored head. Fades at a normal pace.
S - Dark chocolate and dark caramel malts, roasted coffee, lots of oak, bourbon and vanilla, molasses, black licorice, some dark fruit, and some booze.
T - Dark chocolate and sweet dark caramel malts, roasted coffee, lots of oak, vanilla, and Bourbon, black licorice, molasses, and dark fruit, some citrus and pine hops and a bit of bitterness, and booze.
M - Full bodied with moderate carbonation. Smooth with a warming and sweet finish.
D - Nicely balanced big imperial Stout. Nice body and mouthfeel. The Bourbon is a nice and bold, but well balanced.
651 characters
4.45
/5
rDev
+16.2%
look: 4.5 | smell: 4.5 | taste: 4.5 | feel: 4 | overall: 4.5
A- Pours a black, black, browm topped with a one finger, espresso colored head that disappated quickly.
S- WOW! Bourbon, chocolate, vanilla, leather and dark fruit. Awesome scent!
T- Right out of the park. Exceptional. Very similar to FW Parabola.
M- Slick and oily. Very, very warm. Burns on the way down.
O- I rank this way up there. Very similar to Firestone Walker Parabola...only a tad harsher due to ABV. Frantically searching for another!
( Massachusetts somehow missed out on Parabola this year...supposedly a pretty lame story as to how the stuff did not make it here)!....but this review is about Black Buffalo...GO GET SOME!
(scariest part of this beer is that it was in a friggin' green bottle)
711 characters

4.5
/5
rDev
+17.5%
look: 4.5 | smell: 4.5 | taste: 4.5 | feel: 4.5 | overall: 4.5
Reviewed from notes. Split 4 ways into snifters.
A: Deep, dark black with a little brown head. Lacing is minimally sticky with no sign of carbonation.
S: Black coffee spiked with bourbon, bitter chocolate, vanilla beans. Smells awesome.
T: Huge gush of dark chocolate coffee awesomeness with a very prominent vanilla extract taste. Very bourbon forward and surprisingly not sweet at all for such a high gravity stout (which is a huge plus in my books.) Flavors are intense and balanced.
M: Not super heavy at all, but not thin in the slightest. Lots of warming alcohol that lets you know you're drinking a serious brew. Low (if any) carbonation.
O: I never wanted to jump the gun and buy a Mikkeller beer because they always seemed so ridiculously priced, but after hearing how much everyone at my local beer place liked it I figured I had to give it a shot. Well worth the $16 price tag. The bourbon flavors are so nice and it definitely hits the spot for when you're in the mood for a sipping beer. Would happily buy again if I had the chance.
1,052 characters
4.53
/5
rDev
+18.3%
look: 5 | smell: 4.5 | taste: 4.5 | feel: 4.5 | overall: 4.5
A - Pitch black, one finger thick and creamy khaki head, light lacing.
S - Chocolate fudge, walnuts, roasted malts, coffee, oak, heavy cream, vanilla.
T - Oak, coffee beans, anise, char, dark chocolate, bitter roasted malts, light smoke, salt peanuts, light bourbon.
M - Full bodied, smooth, low-moderate carbonation.
O - The most intense beer I have ever had! Pretty bitter. No where near as sugary/sweet as I would have expected. As far as I know this beer was aged in the Buffalo Trace barrels for about one full year!
525 characters
4.8
/5
rDev
+25.3%
look: 5 | smell: 5 | taste: 4.5 | feel: 5 | overall: 5
A. Beautiful black with small tan head.
S. Some people wont like it, but I love it. Amazing bourbon alcohol stench up front and in your face.
T. Bourbon then alcohol, its not to much if your a liquor kinda guy, if not your going to hate it. I love it, when you sip it, it bites you back, nothing better then a good liquor, wait is this beer?
M. Perfect balance between thin and thick but the whole time you feel the presence of the ABV it is so great.
O. This is my second time with this one, and I will be posting an ISO as soon as I am done with this post. I love it, great liquor, if you are thinking just another strong stout then ship to me you will hate it, otherwise sip with a buddy because doing this one by myself after a few regular beers is a mean bitch. Try it with friends or as the only one of the night, it is the only from this brewer that deserves an amazing rating!
888 characters
4.93
/5
rDev
+28.7%
look: 4.75 | smell: 4.75 | taste: 5 | feel: 5 | overall: 5
12. 7 oz green bottle poured into a Duvel Tulip style glass. Comes out of the glass dark brown but (appropriately) black as it fills up the glass. Nice slightly darker thank kaki colored head, various sized bubbles that stick around a while. There's a skim at the top that states the entire time and a ring of small bubbles that stay at the edge of the glass. Decent lacing, but the lacing from the head goes away after a little while, there's still the syrup like coating on the glass. the whole session.
Smell is outstanding. Aromas of bourbon, vanilla, and maybe some cinnamon/cocoa blend. There's a slight sweet nutty aroma too not quite a hazelnut, but a nutty aroma. A little roast, but not quite smokey.
Taste is amazing! Tons of sweet roasted malt, some slightly bored caramel almost charred, vanilla, bitter-sweet chocolate and of course bourbon. Some nuttiness and maybe a little bit of molasses on the back end. Everything about the flavors are absolutely huge and are perfectly balanced.
Mouthfeel is perfect for the style. Full bodied with lots of lingering flavors after each sip. It starts sweet and maintains smooth throughout and has a bittersweet warm finish. Crazy drinkable, it makes absolutely no sense that this beer is 19.3% it drinks more like a 12% beer, it's so good.
1,312 characters
Black Buffalo (黑牛) from Mikkeller ApS
3.83
out of
5
based on
73
ratings.