Black Buffalo (黑牛)
| Mikkeller ApS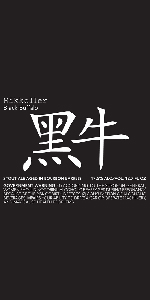 BEER INFO
Brewed by:
Mikkeller ApS
Denmark
mikkeller.dk
Style:
American Double / Imperial Stout
Alcohol by volume (ABV):
19.30%
Availability:
Limited (brewed once)
Notes / Commercial Description:
Aged in Buffalo Trace bourbon barrels.
Added by bark on 07-18-2011
This beer is retired; no longer brewed.
Reviews: 32 | Ratings: 73
4.45
/5
rDev
+16.2%
look: 4.5 | smell: 4.5 | taste: 4.5 | feel: 4 | overall: 4.5
A- Pours a black, black, browm topped with a one finger, espresso colored head that disappated quickly.
S- WOW! Bourbon, chocolate, vanilla, leather and dark fruit. Awesome scent!
T- Right out of the park. Exceptional. Very similar to FW Parabola.
M- Slick and oily. Very, very warm. Burns on the way down.
O- I rank this way up there. Very similar to Firestone Walker Parabola...only a tad harsher due to ABV. Frantically searching for another!
( Massachusetts somehow missed out on Parabola this year...supposedly a pretty lame story as to how the stuff did not make it here)!....but this review is about Black Buffalo...GO GET SOME!
(scariest part of this beer is that it was in a friggin' green bottle)
711 characters

4.5
/5
rDev
+17.5%
look: 4.5 | smell: 4.5 | taste: 4.5 | feel: 4.5 | overall: 4.5
Reviewed from notes. Split 4 ways into snifters.
A: Deep, dark black with a little brown head. Lacing is minimally sticky with no sign of carbonation.
S: Black coffee spiked with bourbon, bitter chocolate, vanilla beans. Smells awesome.
T: Huge gush of dark chocolate coffee awesomeness with a very prominent vanilla extract taste. Very bourbon forward and surprisingly not sweet at all for such a high gravity stout (which is a huge plus in my books.) Flavors are intense and balanced.
M: Not super heavy at all, but not thin in the slightest. Lots of warming alcohol that lets you know you're drinking a serious brew. Low (if any) carbonation.
O: I never wanted to jump the gun and buy a Mikkeller beer because they always seemed so ridiculously priced, but after hearing how much everyone at my local beer place liked it I figured I had to give it a shot. Well worth the $16 price tag. The bourbon flavors are so nice and it definitely hits the spot for when you're in the mood for a sipping beer. Would happily buy again if I had the chance.
1,052 characters

3.69
/5
rDev
-3.7%
look: 5 | smell: 3.5 | taste: 3.5 | feel: 3.5 | overall: 4
12.7 oz. bottle served in a snifter. Let this beer warm up a bit for, best results. Let it decant....gets way better
Very very dark and opaque. Suprisingly log lingering head (medium tan) Not sure how you have a19.3 % beer and keep a head like that.
Smells like vanilla, bourbon and alcohol.
Taste is bourbon...with caramel/vanilla then warm alcohol and a lingering bitterness.
Medium mouthfeel...warm
Overall good for what it is....share it with friends. I like this alot better than Mikkeller Black
505 characters
2.83
/5
rDev
-26.1%
look: 4.5 | smell: 4 | taste: 2 | feel: 3 | overall: 2.5
It poured almost black. When held up to the light, it is almost opaque. It had a thick light brown head that took a fair amount of time to dissipate. It has a very smooth, almost creamy mouth feel.
I can't taste the complexity I would expect from an Imperial stout. It tastes chocolaty and malty with a lot of molasses, that reminds me of Bell's Black Note, but I don't get much bourbon. In addition, the heaviness and extremely high ABV makes it hard to drink a whole bottle.
477 characters
4.32
/5
rDev
+12.8%
look: 4 | smell: 4.5 | taste: 4.5 | feel: 4 | overall: 4
Split a bottle with Rickythejeweler.
Poured dark black with a one finger tan head. There was good lacing throughout which surprised me for a 19.3% beer.
Smelled really good, dark chocolate, nuts, oak, bourbon, anise, vanilla, and had some char going on in the nose as well.
The taste was just like the smell but with a surprising bitterness. I thought this was going to be pretty sweet given the abv, but it wasn't at all.
The mouthfeel was heavy but there was no getting around the boozeness on the back end.
Overall I enjoyed this beer it's probably my favorite brew above 18%.
586 characters

1.06
/5
rDev
-72.3%
look: 2 | smell: 1 | taste: 1 | feel: 1 | overall: 1
This is by far the most disappointing beer of my entire life. I have had black hole cognac edition ( 13%) and it was a decent offering. I have heard very mixed reviews about black tokyo and variants of that sort, but I came into this experience with a positive attitude. I opened the bottle and took a whiff and almost gagged. Huge pungent burning alcohol sensation with big big whiskey notes and maybe some heavy chocolate. Its one thing to open a bottle of say 151 and expect a huge boozy smell, its quite another to expect something delicious and be instantly thrown backwards by how horrible it smelled. Well you can imagine the rest. It wasn't so much that is was boozy, it tasted so strong that it burned like I was drinking everclear and had no redeemable quality to it whatsoever. On top of the fact that it was almost 18 dollars for a 15 ounce bottle, and it is aged in top notch whiskey, is a travesty for the beer world. I almost threw up after the first sip and immediately drain poured it. I feel bad saying this because I love beer geek brunch and a few other mikkeller offerings , but this is truly disgusting and I would like to slap mikkeller for putting this on the market. Maybe age it for 25 years and try again. He should be paying me the bottle price to even try something so horrid. It also ruined my taste buds for imperial stouts for 3 days, because everytime i smelled something ( barrel aged old rasputin) i was almost afraid to try it for fear of the abomination that was black buffalo. Stay away !!!!
1,529 characters
3.96
/5
rDev
+3.4%
look: 5 | smell: 4 | taste: 3.5 | feel: 5 | overall: 4
I first enjoyed this lovely brew at my job in a standard wine stem at cellar temperatures.
A:With an ultra thick completely obscure appearance this beer could blot out the sun, so so very opaque there is no question to where this will lead other than a rich stout.
S: Thick heavy aroma of bourbon immediately emanates out of the glass followed by subtle hints of chocolate and red berries; for many I can see this being off putting but Mikkeller has never been one to appeal to the masses or go for true subtlety. The alcoholic character of this ale to me is something that is not all together a detractor but an indicator of potential. The hints of what is to come being far greater than what is at the moment.
T: Splash of bourbon followed by warm rich dark chocolate overtones and hearty wood beneath the massive layers above it. Definitely needs many years of cellar attention for the those nuances of flavor to fully develop and expose the true nature of what this beast has inside of its dark depths.
M: Thick, heavy, and a brutal alcoholic tang. This beer delivered all I could have ever hoped for and more out of such an exposed mingling of Buffalo Trace and Mikkeller Black. I do expect a mellowing to occur down the line.
O: This was a remarkable brew, but as with many of these extreme beers they do require a bit of cellaring for a true appreciation. I look at this as a piece of art that will slowly reveal itself over the passage of time. I have two and am thinking of maybe even grabbing a third as the years will do this kindly. A reunion with this in about a decade will do the trick as far as I am concerned; it has the balls to dominate that long I am sure.
1,682 characters
Black Buffalo (黑牛) from Mikkeller ApS
3.83
out of
5
based on
73
ratings.