Beer Geek Brunch Weasel - Cognac Edition
| Mikkeller ApS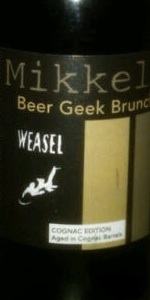 BEER INFO
Brewed by:
Mikkeller ApS
Denmark
mikkeller.dk
Style:
American Double / Imperial Stout
Alcohol by volume (ABV):
10.90%
Availability:
Rotating
Notes / Commercial Description:
No notes at this time.
Added by bark on 09-28-2011
Reviews: 90 | Ratings: 271
4
/5
rDev
-1.5%
look: 4 | smell: 4 | taste: 4 | feel: 4 | overall: 4
Pours a pitch black color. Head is dark brown and half an inch. Head retention and lacing are good for such a strong beer.
Smell is of rich, roasted strong coffee. There is also some chocolate mixed with alcohol/brandy. Oak and smoke are in the mix also, not much in the hops area.
Taste is of strong, bitter, acidic coffee. Chalky, burnt malts come in next. Alcohol is definitely a major flavor along with dark fruits like prune. Hops arent very much in there.
Mouthfeel is on the thicker side but not too much. Carbonation levels were ok and head added some texture to body.
Overall, this beer was good but really expensive. 16 bucks for an 8.5 ounce bottle, dont know if I'd shell out that much money for one again. I love coffee beers but this one didnt really stand out from the other many ones I've had.
816 characters

4.1
/5
rDev
+1%
look: 4.5 | smell: 4.5 | taste: 4 | feel: 4.5 | overall: 3.5
Given to me for free by my local beer store guy. Thanks Chris!
Appearance – Pours into a tulip with a dark viscosity and about a half finger of tan head that dissipates relatively fast leaving slight lacing.
Smell – Cognac notes, slight coffee, nice roasted malts, dark fruits such as plums and prunes. A bit of licorice.
Taste – Char up front giving a dry flavor. This then fades to bittersweet cocoa and then black sweet molasses. Sweet licorice comes through at the end along with the dark fruits. Starts bittersweet and dry and ends on a sweeter note.
Mouthfeel – Medium bodied, lower carbonation, finishes nice and dry.
Overall – A pretty good beer…though one I would have never tried had it not been given to me. Honestly, not worth the price tag in my opinion, though again not a bad beer.
813 characters

3.87
/5
rDev
-4.7%
look: 4 | smell: 4.5 | taste: 3.5 | feel: 3.5 | overall: 4
poured a dark as night black in color with a thin dark brown head which left a little lacing sticking to the glass. The aroma was filled with the cognac barrel notes, but with chocolate roasted malts, slight brown sugar, and some booze as well. The flavor was big on the chocolate roasted malts with cognac barrel accents, coffee, woody, and earthy brown sugar notes. The brew was medium in body with a moderate amount of carbonation which had a woody, cognac barrel, boozy, roasty, slight sweet, and silky finish. It was a solid brew but liked the regular weasal better.
571 characters

4.53
/5
rDev
+11.6%
look: 5 | smell: 4.5 | taste: 4.5 | feel: 4.5 | overall: 4.5
Pitch black with all the amenities of the style. I see nothing but perfection.
Aroma is earthy, acrid with a nice hint of cream. You wouldn't believe where it comes from. The cognac barrels add their own stamp.
Speaking of which, the softness of the cognac helps to slow the pace of intoxication in this ale. The intoxication you get is that of the full flavor spectrum of Beer Geek Weasel and not the alcohol itself.
I love this beer. Absolutely love it! A personal favorite that I'd stock often if possible.
512 characters

4.32
/5
rDev
+6.4%
look: 4 | smell: 4.5 | taste: 4.5 | feel: 4 | overall: 4
Poured into snifter
A: Thin mocha head that disappears fairly quickly, black color, light carbonation
S: Coffee and Cognac, dark chocolate, dark fruits, oak, molasses, toffee
T: Same as nose, plus more roasted/dark malts, bit of vanilla
M: Smooth and creamy, little carbonation, medium-bodied
O: Good stuff, good idea to try aging in Cognac barrels, probably not a good idea to charge $16+ for 8.5oz
407 characters

3.53
/5
rDev
-13.1%
look: 4 | smell: 3.5 | taste: 3.5 | feel: 3.5 | overall: 3.5
25cl bottle purchased from Beers of Europe, Kings Cliffe, UK.
A: It pours very dark brown and thick with a slowly forming small brown head.
S: The aroma is very boozy, some dark chocolate, roasted coffee with some hints of oak.
F: Again the alcohol is very strong, surprising for 10.9% ABV. Like the aroma, hints of chocolate, massive coffee and a nice mild hint of notes of roasted wood and a nice warming alcohol. Extremely sharp and focused flavor.
M: The body is thick but not too sweet or syrupy.
O: Actually a very nice barrel aged stout, but I think this beer will only improve with a couple years of aging.
622 characters
3.04
/5
rDev
-25.1%
look: 4.5 | smell: 3 | taste: 3 | feel: 3.5 | overall: 2.5
25 cl bottle poured into a snifter.
A-Nice thick black body with a one finger chocolatey brown head. Fluffy head that fades into a frothy lacing.
S-stinks like stale coffee. This beer smells like two day old grounds in my coffee maker with a hint of dark rum.
T-Tastes like old coffee. Very little comes through besides this. The coffee is over dominating with a bit of a smoky tastes. The cognac barrels do not shine through very well.
M-Very thick with and a sipper. This is normally a good thing except when you do not want enjoy the taste. This beer has a giant burn going down and is super boozy for what it is. The alcohol is not hidden.
O-Not worth twelve dollars for such a small bottle. The original version is much better. This might be better in a few years once all the coffee has faded and most of the burn is gone. Avoid.
841 characters

4.1
/5
rDev
+1%
look: 4.5 | smell: 4.5 | taste: 4 | feel: 4.5 | overall: 3.5
Bottle from West Lakeview Liquors. Served in a Darkness tulip.
A - Late-rising half-finger of dark mocha foam settles to a wispy near-complete cap and thick collar, leaving behind tiny dots of lace. Body is a very dark brown, with some bubbles visibly adhering to the sides of the glass.
S - Smells like a Danish stout alright, but with some nice fruity cognac notes. Coffee is a bit understated, with more roasted malts, light char, melted chocolate, and some mild oak. As it warms up it gets a tad more vinous and earthy.
T - The taste has a bit more in the way of coffee, with some biscuit, caramel, and milk chocolate flavors. There's also a slightly meaty note that works reasonably well with the smoke and char flavors. Less cognac and barrel presence, although it gets a bit fruitier as it warms up. Finishes with espresso and roast bitterness.
M - Medium-full body, moderate-to-low carbonation, smooth texture, some tannic dryness in the finish, and a hint of warming alcohol near the end of the glass.
D - A nice beer, but it's hard to justify the $2/oz price tag (although I suppose I spent that much on BA Dark Lords). Still, it's a pretty good beer, and probably the best barrel-aged version of Beer Geek Brunch Weasel that I've had.
1,250 characters

3.58
/5
rDev
-11.8%
look: 4 | smell: 3.5 | taste: 3.5 | feel: 4 | overall: 3.5
3/25/2012
$14 for 8.5 ounces. Ouch. This had better be good.
A: Black as pitch with a substantial dark brown head that rises an inch and a half above the body. Good retention and scattered lacing.
S: The aroma lacks the punch I desire. It's pretty mellow and it takes a lot of swirling and coaxing to get a good feel for what's going on. There's a lot of dark chocolate with a faint nutty note. Dark fruits are restrained, bringing to mind plum and grape. There's not a lot of heat on the nose. Malt is very roasty and a little acrid. Earthy notes waft from the glass with each swirl. Licorice blends with molasses, wood, and cocoa. Coffee has faded quite a bit from the time in the barrel, and the beer has picked up a very low level of oxidation.
T: The taste has a lot of dark chocolate and dark malts with a roast bordering on char. The chocolate profile is pretty nice. I get a lot of licorice and blackstrap molasses but just a little coffee. Cognac has made a soft impression on the base beer. The beer picked up more of the wood notes than those of the cognac. This is moderately bitter and pretty damn boozy. The finish is somewhat acrid.
M: Full body with a chewy, sticky mouthfeel and a lot of warming. Carbonation is at a medium level.
Overall: This is pretty solid, but definitely not worth the asking price. I'd recommend passing on this if you see it. This was a poor use of $14.
1,400 characters
4.8
/5
rDev
+18.2%
look: 5 | smell: 5 | taste: 4.5 | feel: 5 | overall: 5
This beer poured jet black with sticky, black lacing into a chalice from a bottle. The smell was of coffee, dark roasted malts, booze, and fruity estery brandy. The mouthfeel was thick and unctuous with depth. Starting with a strong pop of coffee, the flavor shifts from roasts to dark malts to fruity esters to a bit of an alcohol burn, and leaves a strong roasted finish.
This is a wonderful beverage. The cognac and coffee accompany each other wonderfully in this strong stout.
481 characters

4.45
/5
rDev
+9.6%
look: 4 | smell: 4 | taste: 5 | feel: 4.5 | overall: 4
8.5 fl oz brown glass bottle (quite small) with standard pressure cap served into a Guinness goblet in me gaff in low altitude Los Angeles, California. Reviewed live. Expectations are sky high given the brewery - which is me favourite worldwide - and my high opinion of Beer Geek Brunch Weasel.
Bottle acquired at Wally's Wine in Westwood, California in early March 2012. I've also seen it at Hi-Time Liquor in Costa Mesa. No bottling or best before date is listed on the label.
Served refrigerator cold and allowed to warm over the course of consumption. Side-poured with standard vigor as no carbonation issues are anticipated.
Label confirms the ABV at 10.9%. Brewed and Bottled by Mikkeller at Nogne O in Grimstad, Norway. Aged in Calavados Barrels.
A: Pours a half finger head of beautiful rich tan colour, fantastic cream, amazing thickness, and great retention given the high ABV. The head gives way to lacing about the circle of the head's shape after about a minute, and the lacing holds for quite some time. Colour is a solid nontransparent black - obfuscating any potential ability to see yeast particles if they're present. Very inviting. I can't wait to drink it.
It's not a perfect appearance; better retention, more cream, and a bubble show are the only elements that could be improved.
Sm: Cognac, woody barrel tones, chocolate, coffee, vanilla, and cream. The coffee is refined and rich, dueling the subdued chocolate. Cognac and coffee dominate. A subtle mild strength aroma. Quite appealing, though I would like more strength.
T: Delightfully creamy on the open, with a slight reduction over the course of the body and a reemergence just on the finish. The coffee is incredibly rich and refined, lending the mouthfeel no dryness or coarseness but instead delivering a pure delightful flavour. Slight biscuity yeast in the third act and on the finish. Dark malts lend it a full body without intruding on the more lively notes. Some vanilla bean on the finish. More and more notes come out as it warms up. Truly lovely. The chocolate is subdued and subtle without being timid. Cognac is present as a subtle tone and doesn't harm the balance. Perfectly balanced. A dazzingly well-built beer. I'm blown away. A truly exquisite brew, indeed one of Mikkel's best.
Mf: Creamy, silky smooth, delicate, fragile, and nicely wet. Just thick enough whilst maintaining its cool fragility. Complements the flavours beautifully. Supports the complex flavours without burdening the flavour profile. A touch of dryness is present on the finish to encourage the next sip of the creamy open, which is a wonderful effect. It could maybe use a touch more dryness in the body.
Dr: Hides its ABV absurdly well. Very drinkable - I could down this all night if me wallet could take it. A new favourite, and another home-run from Mikkeller. Every beer lover - fan of the style or not - should try this. Very high quality. I'd love to try this aged or on-draught/nitro-draught. Wonderful. I'd like to try it side-by-side with the other versions (including the regular Beer Geek Brunch Weasel). I'm not sure the Cognac adds a truly significant element to the already great beer, but I do know that this is fantastic.
Drank just fine out of me Guinness goblet, but I imagine a snifter would do just as well.
Serve warmer than refrigerator-cold; it drinks better somewhere between there and room temperature.
Don't pair with food; it's insulting to the quality of the beer. If you must, go with a fine chocolate.
A great candidate for aging, but it will really test your fortitude.
A
3,600 characters
4.45
/5
rDev
+9.6%
look: 3.5 | smell: 3.5 | taste: 5 | feel: 5 | overall: 4.5
Posting a review to give it a shot at a rating.
I like the 250 ml bottle. This size bottle is perfect for a 10.9% abv brew.
Pours black with no head but for a slight "almost" layer of small bubbles.
Nose is a bit more closed than expected with only minor and simple (although very nice) notes of sweet black chocolate. (Served at room temperature and swirled repeatedly to bring out the nose. It never really arrived).
Mouthfeel is rich, silky, lightly oily and creamy - nice, with a very light and delicate carbonation that's "almost there." I liked it.
Flavor profile is what this one is all about! Very rich, bold, luscious and inviting. Front palate of rich black chocolate that goes to rich bitter chocolate to a mocha coffee chocolate to an espresso chocolate malt character. I get only a hint of cognac in the mid palate and I suspect only because I'm looking for it. Otherwise, I get a rich and desireable almost perfect after dinner/dessert/sipping stout.
Finish is rich chocolate coffee to bitter and lasts forever. I like this a great deal.
This is my "perfect chocolate, coffee rich and bold after dinner drink."
1,138 characters

3.68
/5
rDev
-9.4%
look: 4 | smell: 3.5 | taste: 3.5 | feel: 4 | overall: 4
Thanks, Craig.
Appearance: Burnt black and viscous with low carbonation, little head formation.
Smell: A lot of cognac without much heat, which lends a nice fruitiness and toffee note. Plenty of char and tar, but it's mellowed a bit by the cognac barrel. Coffee is subdued on the nose.
Taste & mouthfeel: Big fruity cognac flavors, warming but not hot. The coffee has faded from the base beer, lending a spicy/peppery note to it that's not terribly impressive, but the charred, tar-like malt flavor the beer has fresh has mellowed here and become more chocolatey. The finish is pretty strong, a combination of the barrel, ashy malts and dark fruit.
Overall: Pretty damn good, much better than most of Mikkeller's barrel aged disasers.
738 characters
4.2
/5
rDev
+3.4%
look: 4 | smell: 4 | taste: 4.5 | feel: 4 | overall: 4
250 ml bottle. Served in a snifter, the beer pours dark brown/black with about a half inch brown head that went away quickly. There's a small amount of lacing. The brew smells like roasted malt, cognac, chocolate, coffee and some dark fruit. Taste is similar to the aroma, it tastes like roasted and burnt/charred malt, cognac, bittersweet chocolate, coffee, and some oak. Mouthfeel/body is medium/full, it's creamy and coating with moderate carbonation. I think this is a good overall brew. It was nice to try once, but it's pricey at $12.99 a bottle. I'm not sure if I'd buy it again at that price.
600 characters
4.23
/5
rDev
+4.2%
look: 4.5 | smell: 4 | taste: 4.5 | feel: 4 | overall: 4
Poured from an 8.5 oz btl into a duvel tulip.
A: pours jet black with a film of a dark brown chocolate head that recedes quickly, with a touch of sticky lacing, looks delicious.
S: a bit of smoke, right up front, but not overwhelimg the other aromas, boozy raisin, touch of plum, and almost a creamy note from the weasel, the coffe stands through, slight chocolatyness. A bit of oak
T: slightly smoky creamy coffe and chocolate, I feel as though the barrels contribute a nice boozy dark fruit nuance to the regular bruch flavors, very nice, well rounded... Touches of caramel and vanilla, hints of toasted oak.
M- creamy and slick with very little carbonation, which I love for the style, very nice.
O: delicious, i read that this spent three months on the barrel, and that seems to have worked perfectly, as all the flavors meld so nice, another amazing beer from mikkeller!
882 characters
Beer Geek Brunch Weasel - Cognac Edition from Mikkeller ApS
4.06
out of
5
based on
271
ratings.