Dismiss Notice
K:rlek Vår Sommar 2012
| Mikkeller ApS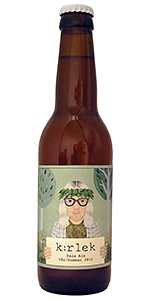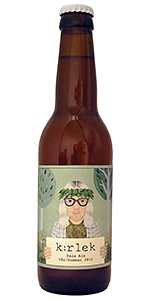 BEER INFO
Brewed by:
Mikkeller ApS
Denmark
mikkeller.dk
Style:
American Pale Ale (APA)
Alcohol by volume (ABV):
5.50%
Availability:
Limited (brewed once)
Notes / Commercial Description:
Brewed in collaboration with Swedish beer distributor Brill & Co.
Pale, Cara-hell and Pilsner malt, oat flakes, wheat malt. Hops: Columbus, Centennial, Nelson Sauvin, Citra och Simcoe.
Introduced in April 2012.
Added by bark on 03-29-2012
This beer is retired; no longer brewed.
HISTOGRAM
Ratings: 15 | Reviews: 8
3.58
/5
rDev
-10.5%
look: 4 | smell: 3.5 | taste: 3.5 | feel: 4 | overall: 3.5
330ml bottle. Have given up trying to pronounce the name. Also, why does a 'Summer 2012' pale ale have a BB of early 2014? Just sayin'.
This beer pours a hazy dark golden hue, with three hefty fingers of dense foamy ecru head, which leaves some nice hoar frost lace patterns around the glass as it slowly ebbs away.
It smells of bitter grapefruit and lemon rind, semi-sweet cupcake tin residue, sharp herbal tincture, and leafy, earthy hops. The taste is more bitter citrus rind, kind of muddled though, with a nice even, slightly crackery bready maltiness, faint yeasty character, settled herbal notes, and sharp leafy green hops.
The bubbles are fairly sedate, laying low for the most part, the body a sturdy medium weight, with a soft, appealing smoothness. It finishes pretty dry, the leafy, herbal hops closing things down, with very little lingering malt feedback.
A drinkable enough hoppy pale ale, but a bit too astringent to warrant more than a couple, maybe, as the hops indeed have punch, but no unifying force, one that lifts, rather than spreads (the individual hop essences, I mean...)
1,103 characters

4.07
/5
rDev
+1.8%
look: 4 | smell: 4.5 | taste: 4 | feel: 3.5 | overall: 4
On tap at the Dupont Paradiso yesterday. What an excellent beer.
Pouring a mildly hazy orange with a dense, white head with good retention and some lacing, this looks good. The nose is just an explosion of hop aroma. An incredible amount of tropical fruit flavor is present with mango, papaya, peach, pineapple and citrus. The malt character is reserved, at least on the nose, with some dough and a little bit of honey. A little yeasty, this just smells like summer. The palate is similar in that it still does lean very heavily on the flavor hops, and with a relatively tame and clean bitterness. Plenty of fruit, including some passionfruit, peach, mango and pine are present. While not really malty, the oats do contribute to a larger (and smoother) than expected mouthfeel. While I do enjoy the heft, I'm not sure the smoothness really does work here. There's also a yeasty frothiness to the palate that does detract from the feel. Medium-light in body with moderate carbonation, this beer is very, very good.
1,014 characters
4.15
/5
rDev
+3.8%
look: 4.25 | smell: 4.25 | taste: 4 | feel: 4.25 | overall: 4.25
Amber color with a thick abundant head with good retention and leaving laces. Gets hazy in the last pour.
Sweet citrusy aroma, notes of grapefruit, lemon and bread. Hints of pine, pineapple and slightly toasted malts.
Bitter, citrusy and floral flavor. Notes of pepper, grapefruit, pine, white wine and peaches. Dry with a long lasting bitter aftertaste.
Light to medium body with good carbonation.
Definitely an original APA, more peppery, yeasty and less sweet than average. The Nelson Sauvin hops gave it a further nice twist.
529 characters

3.62
/5
rDev
-9.5%
look: 3.5 | smell: 4 | taste: 3.5 | feel: 3.5 | overall: 3.5
The beer pours a relatively clear, medium amber crowned by a thin, pocky, white head. There is no lacing and terrible head retention. The nose is semi-sweet with a modest amount of tropical fruitiness from the hop profile. The beer's aromatics are pleasing, but not as intense as i had hoped. I'm underwhelmed. The taste falls short as well with modest, fruity hops and a weak malt base. The mouthfeel is proabably the worst part about this beer because it's far too thin and isn't nearly as sweet as I prefer (just my preference). However, I understand this is only an APA and not an IPA or DIPA, soI can't expect them to go over the top with body, sweetness, and hops...but I think zombie dust is leagues ahead of this beer. For the price I will never try this again. A half-growler of victory ranch R @ premier is half the price and twice as tasty.
851 characters

3.13
/5
rDev
-21.8%
look: 3.5 | smell: 3 | taste: 3 | feel: 4 | overall: 3
Thanks to Jim at Sherbrooke for the sample. From a 330 ml brown bottle. Pours out a cloudy apricot hue, with a tall frothy ivory head with a great deal of retention, and drops very slowly.
Sweet bready, almost cakey malt on the nose, orange, light lemon citrus, earthy herbs, and spicy, leafy greens.
Leafy, herbal hops dominate the flavour up front, and pretty much steal the show. Mild citrus in the background that gain more momentum towards the finish. Sharp astringent character on the finish and into the aftertaste that dries out. Malt remains shy....
Probably the most impressive aspect of this Pale Ale is the mouthfeel, it has some depth to it. Medium-full body, smooth yet dense texture, dry, with a moderate carbonation.
The wheat and oats do their part with the big fluffy head and and in enhancing the mouthfeel, however in the end the flavour turns out to be a mish-mash of hops that lack cohesion and offer more bitterness in the end than flavour. The Columbus dominates, followed closely by the Simcoe, but once again, in the bittering aspect rather than providing flavour. In the end it seems more like an experiment rather than a finished product.
1,170 characters
4.5
/5
rDev
+12.5%
look: 4.5 | smell: 4.5 | taste: 4.5 | feel: 4.5 | overall: 4.5
Fresh growler, Filled 09/01/2012
Growler was primed with CO2 to maintain freshness.
A- Slightly hazy sunrise coloured pour. Finger width off white, soapy head. Lacing is excellent.
S- Mandarin oranges, grapefruit, lemon zest, some bitter pine and a touch of caramel. It almost smells as if it had rye in it instead of oat. Seems a touch on the spicy side on the nose. It compliments very well.
T- Bitter pine, sweet mandarin, grapefruit juice and some honey. Slightly spicy. The Citra and the Nelson Sauvin hops are definitely noticeable and seem to POP.
M- Light to medium body, nice chewiness and a touch of carbonation zing on the tongue.
645 characters


4.38
/5
rDev
+9.5%
look: 4.5 | smell: 4 | taste: 4.5 | feel: 4.5 | overall: 4.5
Had this one on-tap at Mellow Mushroom, 16-ounce pour in a shaker pint.
Appearance was a very clear straw to golden, nice and bubbly with a firm white head and good lacing. Something about the color hinted at the dryness, perhaps the bubbles lent it a champagne character.
The aroma was clean, fresh, and on the light side, with malt, grain, a bit floral, and a hint of fruit/citrus. Aroma could have been a bit more present, but it's very good as-is.
Taste was fairly fantastic and yet understated. I found the balance of this beer to be exceptional. I confess a bias toward this exact type of IPA - moderate alcohol, very balanced, not over-hopped, floral, and dry. On the front there is a bit of grain and malt, then the floral hops come in, but it's the finish where this beer really shines.
Mouth feel is in line with the aroma and flavor; just the right amount of body and sparkle to match the taste perfectly.
Overall the more I think about this beer the more I want to have it again. There is just a caring, well-crafted character to this beer on the whole, where each characteristic compliments all of the other in perfect harmony.
1,146 characters


3.77
/5
rDev
-5.8%
look: 4 | smell: 2 | taste: 4.5 | feel: 4.5 | overall: 4
A: Light orange-yellow color with an opaque hazy body. The beer pours with a white head, tiny bubbles and good retention. Should have a more clear body.
S: Faint smell of malt and floral hops. This area needs a lot of work.
T: Nice strong hoppy bitterness that smacks you right at the start. The beer has a great citrus and floral hoppy flavors along with a lingering malty sweetness. Could use a bit more character.
M: The beer rolls over the palette with a nice light to medium body and sharp carbonation that accentuates the hop flavors. Could use a bit more body.
Overall I really liked this Pale Ale and I think the Mikkeller brothers have hit another style on the head... minus the smell/aroma.
704 characters
K:rlek Vår Sommar 2012 from Mikkeller ApS
Beer rating:
4
out of
5
with
15
ratings