Ricemarket
| Mikkeller ApS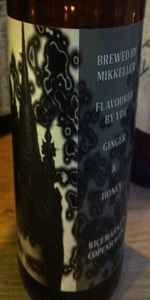 BEER INFO
Brewed by:
Mikkeller ApS
Denmark
mikkeller.dk
Style:
Herbed / Spiced Beer
Alcohol by volume (ABV):
6.00%
Availability:
Rotating
Notes / Commercial Description:
No notes at this time.
Added by Huhzubendah on 06-09-2012
Reviews: 9 | Ratings: 21

1.76
/5
rDev
-50.1%
look: 3 | smell: 2 | taste: 1.5 | feel: 2 | overall: 1.5
Thanks to Travlr for the bottle. Served in a taster glass. Pours a clear golden color with a short head. Nose has a bit of rice and a very light grainy character. Flavor has slight rice and just a bit of grain. Light body and good carbonation. Not a huge fan.
259 characters
3.17
/5
rDev
-10.2%
look: 3.5 | smell: 4 | taste: 3 | feel: 2.5 | overall: 2.75
A: clear light orange colour, nice fluffy head, little carbonation
S: very strong smell, honey, some herbs, some ginger and even some jasmin
T: a bit bland, rice, not a lot of herbs or honey, slightly bitter finish, something off too
M: thin, undercarbonated, almost no alcohol
O: very mediocre beer, nothing interesting
325 characters

3.36
/5
rDev
-4.8%
look: 3.5 | smell: 3 | taste: 3.5 | feel: 3.25 | overall: 3.5
Misty golden with a small foamy head that lasts just for a bit.
Smell of ginger soda, fruit syrup, honey with big floral notes, yeasts.
Honey sweetness with quite a lot of stone fruit, but some clear malty sweetness too. Spicy yeasts, feeling like the Belgian variety, hinting some coriander and clove, some crunchy herbs too. Grassy hop, but mild, with a not too bitter finish. Ginger brings a rooty-herbal hint and a really light pinch in the end, sadly.
Medium body and carbonation. Finishes almost crisp, with some honey sweetness lingering, but not entirely "clean".
A decent refreshing beer, but doesn't surprise in any way. Pretty boring, actually.
655 characters

3.75
/5
rDev
+6.2%
look: 4 | smell: 4 | taste: 3.5 | feel: 3.5 | overall: 4
Shared by Brad I think, thanks, served in a snifter. Beer is yellow and mostly clear, darker yellow, soft white head.
Aroma is honey and sort of tea-like bitterness.
Beer is light in body and sweet on the front, dry on the back, there is some sweetness / floral character probably from honey on the midpalate and a nice finish. Not sure this is a repeat for me but it isn't a bad beer.
388 characters
3.79
/5
rDev
+7.4%
look: 4 | smell: 3.75 | taste: 3.75 | feel: 4 | overall: 3.75
330ml bottle - a ginger and honey-flavored offering, for, or by, um, somebody, I suppose.
This beer pours a slightly hazy, medium golden amber colour, with a teeming tower of puffy, rocky, and chunky off-white head, which leaves some patchy Mercator Projection lace around the glass as it slowly seeps away.
It smells of bready and doughy caramel malt, earthy yeast, not so spicy ginger root, plain honey, rice pudding, and some leafy and floral green hop bitters. The taste is gritty and grainy pale malt, a lesser caramelized honey sweetness, ethereal ginger notes, some subtle yeastiness, generic store-brand rice, and more bland earthy and weedy hoppiness.
The carbonation is fairly tame in its barely-there frothiness, the body a decent middleweight, and mostly smooth, with a wee airy creaminess arising as things warm up a bit after some time out of the fridge. It finishes well off-dry, the honey worming its way into the lingering malt, and an APB being put out for the so-called ginger 'character'.
Overall, this comes across well enough, however lacking one of the guest ingredients may be. Easy to drink, if a tad sweet, but agreeable, I imagine, if served with some spicy-ass ethnic food, or the like (sorry, the rice component engendered that comment - any spicy food would certainly do the trick!).
1,320 characters

3.83
/5
rDev
+8.5%
look: 4 | smell: 3.5 | taste: 4 | feel: 3.5 | overall: 4
Beer brewed with ginger & honey.
Brewed by Mikkeller
Flavored by YDE
Ricemarket, Copenhagen
The beer is golden colored with a small white head. The aroma brings some honey sweetness. The flavor is smooth with a touch of floral hops in the finish. Nice honey and ginger flavors - they really come through. Light bodied with moderate carbonation and a touch of bitterness in the finish. Pretty good.
405 characters

4.03
/5
rDev
+14.2%
look: 4.5 | smell: 4 | taste: 3.75 | feel: 4.5 | overall: 4.25
Poured to a Duvel glass.
A: The body looks really great. It's yellow coloured with a crystalline body. The head is one finger thick with both a LOT of retention and a LOT of lacing.
S: The aroma is interesting with two distinct profiles of yeast and ginger. I was waiting to find some honey here but I can't seem to.
T: The taste continues with the profiles of yeast and ginger but currently there's two more profiles that don't want anything to do with spotlight. There's just small tones of hoppy flavor and honey. Strangely, I believe the honey is almost hiding the alcohol here.
M: The mouthfeel is just great being really really smooth with a very small bitterness coming from the mix of the minor hoppy profile and the yeasty taste. Great!
O: It's a Mikkeller, do I need to say anything else? In general, great. Just waiting to find a bit more honey on this beer.
870 characters
4.16
/5
rDev
+17.8%
look: 4.25 | smell: 3.75 | taste: 4.25 | feel: 4.5 | overall: 4.25
Golden amber color with lots of thick head and great retention and laces all over it. Got hazy at last pour.
Predominant sour aroma with hints of pineapple and Belgian yeast and maybe some Brettanomyces.
Taste follows nose, a pleasant sourness with an acid pineapple and lemon flavor with a long lasting Belgian and Breta yeast note. Strong hints of pine and non-sweet berries or juniper. Ginger is really very soft, this is good news. And you just get some honey just half way there. Dry aftertaste, not really bitter.
Light body with low carbonation.
Delicious beer, with its very own specific character. Refreshing and flavorful, making you beg for another sip.
You may get disappointed if you were expecting a herbed-vegetable beer (I almost did not buy this for saying ginger and honey), but this is so much better.
820 characters
4.25
/5
rDev
+20.4%
A: Medium honey with lots of carbonation, a light haze and a finger of ginger tinged foamy head.
S: Light floral and sweet jasmine rice notes, apples, Chinese pears, canned fruit.
T: Floral jasmine, canned fruit, canned peaches in particular, pears, rice but most likely the jasmine notes.
M: Medium light body with sweet and dry qualities. Dryness likely due to the honey being eaten up by the yeast, the sweetness, perhaps candy sugar.
O: Well done brew. The dry almost acidic lactic qualities remind me of Barbar, the Belgian ale brewed with honey, though not nearly as potent in alcohol. Out of the box brewing, with unique name, idea and label.
662 characters
Ricemarket from Mikkeller ApS
3.53
out of
5
based on
21
ratings.