Spontankoppi
| Mikkeller ApS
BA SCORE
80
good
13
Reviews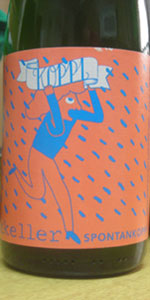 BEER INFO
Brewed by:
Mikkeller ApS
Denmark
mikkeller.dk
Style:
American Wild Ale
Alcohol by volume (ABV):
5.30%
Availability:
Limited (brewed once)
Notes / Commercial Description:
No notes at this time.
Added by MasterSki on 07-15-2012
This beer is retired; no longer brewed.
Reviews: 13 | Ratings: 60

4
/5
rDev
+19.4%
look: 4 | smell: 4 | taste: 4 | feel: 4 | overall: 4
12.7 fl oz. bottle, with no apparent bottled on date present. I got this bottle on sale at my local Binny's for $9.99. My second beer from Mikkeller's spontan series of beers. "Sour ale brewed with coffee & aged in wine barrels". Expecting very different results than the Mikkeller Spontanwildstrawberry.
Poured into a clear balloon snifter glass.
A - Pours a bright orange colored body with three to four fingers of fluffy doughy off-white suds for a head. Some yeast presence visible in the glass. Looks very nice.
S - Smell is kind of subdued. Bretty funk was the first thing that hit me, and then it levels off to a light yeasty smell with some malt roast in there also. I can definitely smell the koppi coffee in there when I look for it. A sour apple / white grape smell is in there also, presumably from the wine barrel aging.
T - The strange combination works better together than I would have expected. Sour, cheesy brettanomyces. Crisp carbonation. Yeast. And then the bitter coffee roast creeps up in the middle. Finishes with a sour white wine flavor. Reminds me of a much more sour tart version of Argus California Style Steam, which I just tried recently.
M - Feel ends tart and sour with some tingling carbonation dancing on the tongue. Some bitterness lingering on the palate.
Overall, I definitely enjoyed it. A strange beer indeed, and I'm glad to have tried it, especially at the sale price I caught it at. I'd say this was a success for Mikkeller with the koppi and the wine barrel aging. While it probably isn't a beer I would seek out again, I highly recommend trying it at least once.
Mikkeller Spontankoppi ---4/5.
1,645 characters

4
/5
rDev
+19.4%
look: 4 | smell: 4 | taste: 4 | feel: 4 | overall: 4
A - Cloudy golden-orange with a finger of frothy white head. Fades normal.
S - Wheat, lemon zest, tart green fruit, funky yeast, sourness, roasted coffee, barnyard funk, acidity, funky yeasts.
T - Sourness, tart green fruits, lemon zest, wheat, funky barnyard flavors and yeast, roasted lightly bitter coffee, acidity, lactic acid, oak, vanilla.
M - Medium bodied with moderate carbonation. Smooth with a tart, funky, and sour finish.
D - Very tart and acidic. The coffee is a very interesting flavor.
505 characters

3.82
/5
rDev
+14%
look: 4 | smell: 4.5 | taste: 3.5 | feel: 3 | overall: 4
375ml bottle into snifter.
A - Light orange hue with one inch head that fades out rather quickly. Full of carbonation bubbles.
S - Sour grapes, brett, green apples, lemon, grass, very floral.
T - Starts out very fruitty with green apples and sour funk up front with some lemon. Mid palate the coffee kicks in and finishes quite dry.
M - Bubbly and carbonated up front and very dry on the finish.
O - Very interesing take on this wild ale. Not sure if I'm digging the addition to the coffee but I knew from the label what I was getting into. Coffee is very bitter and this beer dries out the mouth like no other! Priced at over a dollar an ounce I'm glad to try this beer but won't be one I re-visit.
704 characters
3.8
/5
rDev
+13.4%
look: 4 | smell: 4 | taste: 3.5 | feel: 4 | overall: 4
Thanks to wethorseblanket for sharing this one at Wowcoolman's tasting.
Pours a hazy honey orange with a foamy bone colored head that settles to a film on top of the beer. Foamy streaks of lace form around the glass on the drink down. Smell is sour and tart with some acidic, slight coffee, and jalapeno aromas. Taste is much the same with the jalapeno coming through on the flavor as well and a very acidic finish. This beer has a good level of carbonation with a crisp mouthfeel. Overall, this is a pretty good beer with some very interesting aromas and flavors.
568 characters
3.8
/5
rDev
+13.4%
look: 4 | smell: 4 | taste: 3.75 | feel: 3.5 | overall: 3.75
375ml
$5.99 (Sale)
Binny's - Bolingbrook
A pale golden liquid fills the glass and rambunctious carbonation immediately rush to the surface. A soft pour yields a fingers worth of pure white head, even silky, with respectable staying power. Though it eventually fades it leaves a chunky ring and some sticky lace. An excellent looking beer.
I have to say, a spontaneously fermented coffee beer aged in wine barrels doesn't sound like the most appetizing of beverages yet somehow, the nose is very inviting. Off the bat is the bugs and barrel; attic wood that's become damp with time, forest floor, and wet stone minerality. A splash of white vinegar makes me salivate. The wine is very soft and only picked up on deep pulls way in the backend. I have no idea how old this beer is but the coffee is soft and well integrated adding a touch of fruity acidity and faint roast, very faint. Pleasently surprised isn't strong enough sentiment.
The flavor profile is where it all derails a bit, not in a totally bad way, just.... unique. The barrel notes have softened up quite a bit along with that mouthwatering minerality. They're both still present but have fallen to the background. Coffee picks up much more than the nose led on. There's a splash of vinegar followed by stale coffee that, while it plays a big role overall, manages to stay soft enough to not totally dominate. A touch of fruity acidity adds balance. I like this beer but it throws me as well. I could certainly see it being polarizing. Knock that score up a notch...
The carbonation is spot on, active and softly tingly but the body runs a touch thin. It drinks quick and leaves no impression behind, slightly watery. There's a slight acetic acid pucker but I would personally like the finish to be a bit drier. These are minor gripes, it's close to what I feel is proper. I'd honestly have to say the drinkability is respectable.
Mikkeller does a lot of off the wall beer and this is certainly a good example. A touch of light roast, some fruity acidity which helps the overall balance, and barrel notes on the backend make for an enjoyable experience, if not a great beer. With that said I would probably purchase this again. It puts me on the fence, do I like it or not? I'm having a hard time telling but at the moment I seem to be leaning toward the prior.
2,330 characters
3.62
/5
rDev
+8.1%
look: 3.5 | smell: 4 | taste: 3.5 | feel: 3.5 | overall: 3.5
Just when you thought you've tasted it all... this: a sour coffee ale. Not even a stout, rather a wild ale with coffee infusion. I've buckled in all 10,000 of my taste buds because they're in for a wild ride!
With no evidence of coffee in sight, the beer decants with an even glow of burnt orange behind a veil of suspended yeast. Releasing its creamy stark-white foam, the beer retains its froth well despite its low pH and adorns the glass with broken rings of lace.
A super briny and somewhat meaty aroma delivers both sharpness and sultry notes that evokes mouth whetting and almost-sweating sensations with its very first whiff. Limes, sea air, cork, and the brine of steamed mussels give an earthy and acidic tone to the beer while the nutty elements of coffee offers savory chocolate and toasted almond notes.
Strangely apetizing as the flavors of coffee and earthen tartness seem disjointed, yet take turns in putting on a full-frontal display to the palate. First, the sourness of limes accompany the taste of straw, grass, salt water, mushroom, and shellfish. But next, the taste of nutty and buttery coffees like kona and columbian blends play lightly on the mouth; careful not to disrupt its sourness with those otherwise powerful coffee notes. As strange as the combination is, the balance of these totally separate elements live harmonious in one glass. Berry-like tartness, wine-like tannin, and coffee bitterness do, however, combine in its finish for one of the most unusual finishes that I have ever encountered.
And with certain dryness from start to finish, the sourness plays out in dominant fashion and rehashes the notion of grape skin astringency and woodish powder texture. But the light creamy malt textures that introduce the initial flavors are quickly fading and allows the coffee thinness to prevail in closure. With little display of alcohol, the moderate strength of 5.3 hides well behind the tartness and bitterness.
Where awards go to this beer because of its sheer unusualness, I'm not sure that the flavors of sour and coffee have much promise. The varying tastes balance well kinda like the yin and yang effect but I expect a bit more harmony that these flavor combinations cannot likely provide.
2,238 characters

3.55
/5
rDev
+6%
look: 3.5 | smell: 3.5 | taste: 3.5 | feel: 4 | overall: 3.5
Served in a Duvel tulip glass.
A coffee "lambic"? I've gotta try this... It pours a lightly hazy bronze topped by a finger of off-white foam. The nose comprises of acidic lemon surrounding nutty coffee, all covering a general mineral-ness, a brininess. It's odd, but it kinda works. The taste begins with a straight tart lemon, like any sharp lambic, then somehow transitions seamlessly into sweet, lightly nutty coffee. By the time the finish hits, there's only a trace of the early sourness, and now it's closer to a brine than anything. Again, very odd, but not quite bad. I'm so continuously intrigued that I keep going back for another sip, perhaps expecting something new, some added insight, but the exact same experience happens. I'm not even sure what to think, but most of the thoughts seem to lean positively. The body is a light medium, with a light moderate carbonation and a dry, slightly sticky finish. Overall, this Janus of a beer confuses me in the right way, but still confounds me. Honestly, I can't sum it up with anything else...
1,052 characters

3.48
/5
rDev
+3.9%
look: 4 | smell: 3.5 | taste: 3.5 | feel: 4 | overall: 3
Pours a hazy golden color with a white head. Coffee aroma is not all that pronounced (thankfully). A bit of sweet malt and caramel, but still decently tart, some vinegar and lemon. The coffee is also subdued on the palate. Some citrus notes, tart lemon, a hint of vinegar, green apple, and a light sweetness. Really quite strange, but not as bad as I anticipated.
363 characters
3.41
/5
rDev
+1.8%
look: 4 | smell: 3 | taste: 3.5 | feel: 3.5 | overall: 3.5
375ml bottle. Good gravy, what the hell will this mad-ass brewer come up with next, within the realm of 'edible' or 'drinkable' permutation?
This beer pours a hazy medium golden amber hue, with three fingers of thinly puffy, foamy off-white head, which leaves some broad bubbly swaths of lace around the glass as it lazily, but evenly, subsides.
It smells of dry, bitter coffee beans, dipped in sour, fruity, grainy somewhat oakey, Belgian-esque lambic. I can't really describe it any other way, at least not eloquently or sensibly. The taste is more agreeable, as the coffee essences are more sedate, and more or less integrated, into the sour, vinegary, tart lemonade, leathery, woody, and altogether rather pleasant pale graininess.
The bubbles are average in their peppiness, the body a hovering, underachieving middleweight, whose smoothness is cut off at the knees by the inherent tartness. It finishes mostly dry, even though a struggling grainy malt forces its way upwards, in a last ditch effort to balance the still pungent musty, earthy, and sour notes, amidst a serious waning of the heretofore heady coffee markers.
One somewhat fucked up idea for a beer, on par with that maple bacon doughnut affair a while back. However, like that one now remaindered to the ol' memory banks, this settles down quite quickly after the initial dissonance shock, and becomes yet another fairly enjoyable, but one-and-done offering from this brewer.
1,449 characters
3.33
/5
rDev
-0.6%
look: 4 | smell: 3.5 | taste: 3 | feel: 3.5 | overall: 3.5
A: Pours a hazy gold with a thin, quickly receding white head.
S: Aromas of oak, coffee, unripened grapes, sea salt, and vinegar are present on the nose.
T: Notes of minerals, coffee, oak, must, pickle brine, cider vinegar, unripened grapes, and sea salt assault the palate. The finish is dry and tart with notes of coffee, sea salt, oak, and vinegar in abundance.
M: Fairly light in body compared to most lambics. Very dry and chalky. Carbonation is active.
O: This is an interesting experimental brew that is not nearly as bad as it sounds. Really, the only time the coffee and musty, vinegary lambic flavors become overpowering is on the finish. Even though the flavor is a bit awkward and is destined to divide critical opinion, Spontankoppi gets some serious points from me for one reason: not only is it the only coffee lambic I've ever seen, but it also somehow manages to not be entirely disgusting. In the end, this is an interesting effort, but it leaves a little room for improvement. I'll definitely be sampling any future batches of this that I run across.
1,073 characters

2.42
/5
rDev
-27.8%
look: 3.5 | smell: 1.5 | taste: 2.5 | feel: 3.5 | overall: 2.5
12.7 green glass bottle with standard pressure cap acquired for $14.99 at KnB wines near San Diego, and served into a Uinta pilsner glass in me gaff in low altitude Los Feliz, Los Angeles, California. Reviewed live. Expectations are high; I love the brewery and the style, and I really enjoyed Spontanframboos. The green glass is a bit off-putting. Come on, Mikkel. Clean that up.
Imported by the Shelton Bastards.
Served straight from the refrigerator and allowed to warm over the course of consumption. Side-poured with standard vigor as no carbonation issues are anticipated.
A: Pours a five-ish fingerbeige colour head of smooth rolling thickness and nice cream, and good retention. Colour is a hazy dark yellow with tinges of orange or perhaps copper. No yeast particles are visible, but it's nontransparent. Non-opaque. I wouldn't call it vibrant, but it's appealing.
Sm: Sour pear and apple - as though straight from an orchard. Biscuity perfumey yeast and clean biting malts. White wine. A bit cidery, but definitely perfumey above all else. Very fragrant, with some mild spice. A bit too bacterial, evoking the funk of an old shoe. There's definitely something there I don't like - at all. But it's piqued my interested. The sourness is nice, but the funk is different than the funk I'm used to; it's not brett funky, but gym locker room funky. Bleh. An overly strong aroma. Turns me off.
T: White wine, wretched coffee-like bitter funk, clean malts, and perfumey esters. No real sourness - at least none that pays off. Imbalanced as all hell. The coffee comes way too early, and it tastes a bit foul. Really gym sock funky, which mixes wretchedly with the overly bitter coffee. It's official: coffee does not belong in a sour. Quite bacterial, to its detriment. Some pear and apple is mixed in there, but can't save it. Complex, but to ill effect. Not what I'd call subtle. The lightly sour and lactic finish is a nice touch. I wish the whole beer was like that - with some amped up sour apple.
I do gain an appreciation for it as it warms, but the key flaw remains: the coffee is just too damn much.
Mf: Smooth and wet. Clean and enjoyable - aside from most of the flavours. Light presence on the palate. Good carbonation.
Dr: One of Mikkel's worst beers I've tried. I definitely wouldn't touch this again. Horridly overpriced. Not hard to drink, but then few beers are for me. I'll of course finish it, but I'd honestly prefer something like a Sam Adam's. I can't say that about many Mikkeller brews. The blend of coffee and sour notes is probably about as good as it could be, in fairness. But it's just a terrible concept. I'd hoped Mikkel - if anyone - could pull this off, and I applaud the experimentation, but please don't do it again. There are some nice things about it, but even they don't add up to a beer worth trying. A huge disappointment from my favourite brewer.
Gets substantially better as it warms.
High D+
2,954 characters
1.71
/5
rDev
-49%
look: 5 | smell: 1.5 | taste: 1.5 | feel: 1.5 | overall: 1.5
Served from bottle into tulip
A - Burnt orange in color with nice carbonation
S - I get coffee, oranges and baby vomit.
T - Nasty burnt coffee and rotten fruit is all that I can pull from this one. This beer is just undrinkable.
M - Sharp tartness up front with burnt coffee and rotten fruit following that.
O - A horrible offering from Mikkeller. I wish I knew why he approved bottling it. Because he is so popular, he knew we would buy it? I felt like this one was a sellout beer. He dolled it up and those of us who have found many of his other beers to be amazing would stupidly buy it. Do not purchase, it would be an unwise investment.
648 characters
1.6
/5
rDev
-52.2%
look: 3.5 | smell: 1.5 | taste: 1.5 | feel: 1.25 | overall: 1.5
Bottle: Poured a bright yellow color lambic with a medium size foamy head with light retention and minimal lacing. Aroma consists of strong dry coffee notes with some barnyard and funky notes. Taste is also a weird mix between some dry coffee notes with funky barnyard notes with some acidic notes. Body is about average with good carbonation. Weird funky mix that I hope I will not have to re-visit in the future.
414 characters
Spontankoppi from Mikkeller ApS
3.35
out of
5
based on
60
ratings.