Swinging Harry Tropical Quad
| Mikkeller ApS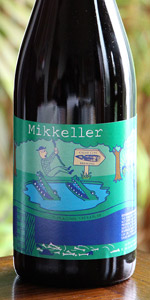 BEER INFO
Brewed by:
Mikkeller ApS
Denmark
mikkeller.dk
Style:
Quadrupel (Quad)
Alcohol by volume (ABV):
11.40%
Availability:
Limited (brewed once)
Notes / Commercial Description:
A collaboration between Mikkeller and Cigar City, bottled by Mikkeller. This is described as a Belgian style ale brewed with Papaya and Mango and aged in Grand Marnier barrels. It's ingredients include water, malts, brewing sugar, Citra and Simcoe hops, papaya, mango, and brettanomyces claussii yeast.
Added by Jsenay on 07-31-2012
This beer is retired; no longer brewed.
Reviews: 19 | Ratings: 87

4.2
/5
rDev
+2.4%
look: 4.5 | smell: 4.5 | taste: 4 | feel: 3.5 | overall: 4.5
750ml bottle poured into tulip 4/12/12
A dark brown with red highlights when held to the light, nice large tan head starts off three fingers high and slowly falls to an island leaving lots of soapy lace, pretty sexy looking brew
S lots going on in this department, the tropical fruits work well, more papaya then mango and a little some caramel apple and faint citrus, loads of caramel, brown sugar and not the funk I was expecting after reading Brett on the bottle but there's some faint funky fruity notes. There's some woody notes from the barrel that mingle with all the other aspects, my only complaint is the booze needs too mellow
T more fruit and the caramel comes out heavy, a little more barrel and the booze that comes with it, fairly sweet and the booze is holding this one back
M thick and syrupy with good carbonation and its pretty sticky on the lips, the booze goes right to my chest, shes a little hot
O perhaps a little high here but I really liked this beer its really only the booze holding this one back, its an original concept and the fruit and barrel just compliment each other so well this was a good idea
I'm pretty pissed at myself for opening this one young, I could really see this becoming something absolutely amazing down the road. Oh well I enjoyed it today but I had my chance to stock up but at 30$ a bottle I only had the balls to buy one blind, oh well.
1,396 characters
4.29
/5
rDev
+4.6%
look: 4.25 | smell: 4.5 | taste: 4.25 | feel: 4 | overall: 4.25
Pours a reddish dark brown, cloudy and complex, big brownish head.
Smells super sweet, cognac barrel is very noticeable, lots of complex sweet fruit, sugar. Smells awesome.
Taste is pretty similar! Complex blend of very sweet flavors, lots of tropical fruit, grape and lovely cognac character, this is extremely sweet but damn tasty.
Booze is pretty noticeable, but nice creamy and very rich mouthfeel, good carbonation, really nice overall.
I love this beer!
8.8/10
471 characters
4.31
/5
rDev
+5.1%
look: 4.5 | smell: 4 | taste: 4.5 | feel: 4.25 | overall: 4.25
Shared with rudzud from a big tasting party a while back.
Pours a creamy brownish 1 finger head that fades slowly, with sticky lacing, mostly opaque mahogany copper brown color.
Nose is quite quad like, sweet malts, candi sugar, brown molasses and malts, plenty of cognac too, light vanilla oak barrel, light dank wood, an interesting tropical fruit aroma maybe the papaya but not really mango, fluffy biscuit caramel malts.
Taste starts with sweet brown malts, molasses, candi sugar, toffee, etc. Then Big Belgian brown malts, quad like for sure, plenty of warming and slightly tingly booze. Cognac come through with some booze as well but nice fruity cognac, sweet fruits, etc, and some vanilla and light woody barrel. Bitterness comes through with light spicy and tropical hops, and light tropical fruit again, very slightly mango and some papaya, and a light dankness. Just a hint of bready funk on the back end. Finish is still light, sweetness dries with some lingering booze, lots of chewy candi sugar, molasses candies, plenty of cognac and barrel, then finally mango, papaya, citrus poking through.
Mouth is big and complex, thick and rich, boozy but still drinks well with a little cognac heat, good carb all in all too.
Overall very complex, great, tasty, hides the booze well, nice malts, sweet flavors, barrel, cognac, tropical fruits as well. The wild Brett doesn't really come out yet, but I bet aging this will make it phenomenal.
1,451 characters
4.33
/5
rDev
+5.6%
look: 4.5 | smell: 4 | taste: 4.5 | feel: 4 | overall: 4.5
Split a 750 ml poured into a duvel glass
A: pours a very nice slightly murky ruby brown with two finger of tan head, head dissapates nicley leaving a ton of sticky lacing, this is a really move lookig beer.
S: brown sugar coates rasin, oak, booze, caramel, the booze is not overwhelimg, and blend very nicley into the aroma, tropical fruit notes are evident too, very inticing nose.
T: beautiful blend of tropical fruit and quad character, loads of caramel and a bit of oak and raisin, some deffinat brown sugar notes on there as well, the oak plays a very nice role, combined with the delicious hops choices here of rounding out the sweetness... But not crushing the malt complexities or other flavors going on... Deffinatly a tropical quad.... Very nice.
M: creamy with a medium to heavy body and medium carbonation, this brew is beautful rounded and very drinkable for the abv.
O: this is a really great brew, the barrel aging is done spectacularly, again deffinatly a tropical fruit quad which IMO. Works very very well, really impressed with this one.
1,063 characters

4.35
/5
rDev
+6.1%
look: 4 | smell: 4 | taste: 4.5 | feel: 4.5 | overall: 4.5
750ml capped bottle. Served in a tulip.
Pours a cloudy birch beer brown with two fingers of tan foam. Tight bubbles. Settles to creamy ring. Moderate bits of lacing left in the glass.
Aroma of tropical fruit, although more musty than bright, blends with sweet malt. Perfumy floral notes. Some funky yeast. Some dry oak barrel notes.
Flavor is very sweet at the start, blossoms through the middle with tartness on the side of the tongue, tropical fruity notes with a bit of sourness, ends with light roasted malts, some sugar, orange cognac, and mild bitterness. A bit of toasty oak/coconut that I assume comes from the barrel. Although I got some funky yeast in the nose, I'm not really getting any in the flavor, it must be subtle. Overall I can't believe this is an 11.4% beer, but I suppose the sweetness is masking that. Only a slight hint of alcohol in the finish.
Medium-full bodied with moderate and very soft carbonation. Luscious feel.
If you don't like sweet beers, you probably won't like this. However, I think it is in control and I love the blend of flavors. The label is also one of the coolest ever.
1,120 characters

4.35
/5
rDev
+6.1%
look: 4 | smell: 4 | taste: 4.5 | feel: 4.5 | overall: 4.5
750ml bottle 11,4% Abv.
Served lightly chilled in an oversized wine glass.
Best Before: 18/04/2016
I had two bottles of this - one was smashed in transit and this one leaked pretty badly. I hope the beer hasn't been to badly affected by the leaking.
Appearance: Swinging Harry appears dark brown in the glass, but a back light shows it to be a deep red, with beautiful golden edges. A rough pour yields a good sized, creamy, off white head. The head lasts fairly well and leaves some patchy lace, while a swirl coats the glass in light alcohol legs.
Smell: Wow, the paw-paw and mango are immediately noted along with the Grand Marnier. I can't say I can smell the brett or the hops though. The underlying quad notes are fairly restrained to start with, but grow as the beer warms.
Notes include: Dried Paw-paw, dried mango, caramel malt, grand marnier, toasted brown bread, dark fruits (raisins, plums, figs and a little cherry) and a touch of oak. As the beer hits room temperature there is a little sweet, fruity hop character noted.
Taste: Mmmm, this is absolutely delicious - as with the nose, the paw-paw and mango are very well noted. The Grand Marnier is also present along with a hint of hop character in the finish. Other notes include: Dark fruits (figs, plums, raisins and cherries), caramel malt and toasted brown bread. There is some booze noted in flavour, but it is not unpleasant.
Mouthfeel: I think the leaking has actually improved the mouthfeel. I usually find quads over carbonated, but this one is just about perfect - medium-low level and fantastically smooth. The body is almost full and lightly sticky.
Overall: Thankfully I don't think the leaking has affected this one too badly, I just wish I could have had a full bottle!
1,761 characters

4.42
/5
rDev
+7.8%
look: 4 | smell: 4.5 | taste: 4.5 | feel: 4 | overall: 4.5
A - Cloudy red-brown with a finger of frothy off-white head. Fades normal.
S - Sweet dark caramel malts, dark fruit, candi sugar, grapefruit and citrus hops, oak, grand marnier Belgian yeast, clove, pepper, other spices, Brett, papaya, mango, and booze.
T - Sweet dark caramel malts, dark fruits, candi sugars, papaya, mango, grapefruit and citrus hops, some hop bitterness, oak, grand marnier, Belgian yeast, clove, pepper, other spices, some lightly funky Brett, and some booze.
M - Full bodied with moderate carbonation. Smooth with a sweet and warming finish.
D - Excellent balance. Lots of interesting and different flavors that mix together very well.
661 characters
4.57
/5
rDev
+11.5%
look: 4 | smell: 4.5 | taste: 5 | feel: 4.5 | overall: 4
Poured from the bottle into a snifter glass, much thanks Ed, at Churchkey DC.
A real nice wonderful chestnut body, with a creamy tan head. Some see through character but still quite dark off the pour with barely any lacing at all. Real nice color.
Nose is big large, but in control. Expressive notes of dark fruit plum and raisin at first. Woody like tannic heat and very soft mild brett. Round oak character, with everything balanced. Extremely impressive.
Taste is a big kapow of flavor. First is a large mix of licorice, not so much fennel as the thickness brings out more power, then melding to large sticky butterscotch toffee. Rolling salty caramel in the mid palate with a large sweetness, and the finish goes down velvety with tropical mush notes of fruit of real varied character.
This is a very impressive beer, for a style I usually don't care for, with taste profiles that aren't always are my favorite. But this is some seriously well crafted beer here.
970 characters

4.67
/5
rDev
+13.9%
look: 4.5 | smell: 5 | taste: 4.5 | feel: 5 | overall: 4.5
This is a must try based on the description on the label alone.
This beer pours a really soft and full bodied dark hazelnut brown in color with a very creamy, two finger light beige head. It looks fantastic. The nose has to be the most complex nose imaginable for a quad. It features candied sugar, raisins, Belgian yeast, figs, orange peel, cognac, mango, papaya, kiwi, and plum. The flavors are complex as well. There is plent of bready dark malts with the nice fruity mix of papaya, mango, orange peel, kiwi, and slight cherries. Again, the Grand Marnier complements everything very nicely. It drinks exceptionally smooth and has great flavor throughout. For being 11.4% you'd never know it. Overall this was an outstanding beer. I wasn't expecting this to be such a well polished final product so am very happy that the description could match the drinking experience. This is a must try if you have the opportunity. Great collaboration.
943 characters
Swinging Harry Tropical Quad from Mikkeller ApS
4.1
out of
5
based on
87
ratings.