Blondeaux
| Mikkeller ApS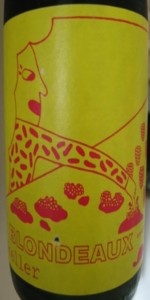 BEER INFO
Brewed by:
Mikkeller ApS
Denmark
mikkeller.dk
Style:
Fruit / Vegetable Beer
Alcohol by volume (ABV):
8.80%
Availability:
Limited (brewed once)
Notes / Commercial Description:
A strong Belgian Blonde with raspberries aged on Sauternes barrels.
Added by MasterSki on 08-15-2012
This beer is retired; no longer brewed.
Reviews: 9 | Ratings: 28
4.6
/5
rDev
+13.6%
look: 4.5 | smell: 4.5 | taste: 4.5 | feel: 4.5 | overall: 5
Poured from bottle into a tulip
A - Dark rose/ burnt orange in color. Nice carbonation that dissipates after a few minutes.
S - Smells sweet with a raspberry/boysenberry jam aspect. Some sweet wood and buttery notes.
T - Taste is of cranberry and raspberry juice. Nice tartness that is carried with the carbonation over the palate followed by a fruity sweetness that brings the flavor full circle.
M - Smooth up front that leads into a juicy tartness. Carbonation helps keep the palate perky to absorb the tart and sweet flavors of this beer. Finishes dry with some residual berry sweetness on the palate.
O - So freaking good. This is an excellent beer. Love the sweetness of the fruit and the tart sour aspect. It reminds me of my grandmothers home cooked pies, in fact, it tastes like a liquidized pie. A must get if you can score one. No need to mix with food unless you have a really bland cheesecake. This beer would make it phenomenal.
950 characters

4.35
/5
rDev
+7.4%
look: 4.5 | smell: 4.5 | taste: 4.5 | feel: 4 | overall: 4
Randomly say this on the menu at The Trappist in Oakland and ended up splitting it with Eric (TurdFurgison). Served in a goblet of some sort.
A - Nice creamy white foam with good retention settles to a thick cap and leaves behind splotchy lace. Lightly hazed red-tinged body. A very attractive beer.
S - Raspberry jam, buttery oak, a bit of lactic yogurt, some brett funk, and a nice Sauternes note (and yes, I know what Sauternes tastes like - I had some the following day at The French Laundry).
T - Taste is also heavy on raspberries and yogurty lactic notes, with some vinous oak present as well. There's a bit of cracker and sugary malt character, but this is largely about the fruit and barrel. Very little alcohol presence, especially compared to Sauternes. I don't get a lot of the base Belgian yeast, but it doesn't matter as the other flavors are plenty ince.
M - Zesty carbonation, dry champagne-like texture, medium body, light acidity, and no alcohol warmth.
D - I really wish we got more beers like this from Mikkel as this was extremely enjoyable stuff. I would happily purchase this again if I saw it at the store for under $15.
1,149 characters

4.32
/5
rDev
+6.7%
look: 4 | smell: 4.5 | taste: 4.5 | feel: 4 | overall: 4
A - Cloudy reddish with a bit of orange and pink with a finger of frothy white-pinkish frothy head. Fades normal.
S - Sweet and tart raspberries, oak, vanilla, sauternes, funky yeasts, grainy malts, Belgian yeasts, lemon zest, some booze.
T - Sweet and tart raspberry jam, other berries, oak, sauternes, vanilla, funky yeasts, grainy malts, Belgian yeasts, mild spices, lemon zest, some booze.
M - Medium bodied, moderate carbonation. Smooth with a tart and sweet finish.
D - Nice fruit beer. Good raspberry flavor and the Sauternes barrel is a nice touch.
560 characters

4.17
/5
rDev
+3%
look: 4 | smell: 4.5 | taste: 4 | feel: 4.5 | overall: 4
A: Poured from a 375ml green bottle into a tulip a hazy, dark reddish with a 2-finger thick pink fluffy head which leaves stringers of lace.
N: Juicy rasberries, white grapes and some mild funky, musty yeast.
T: Jammy rasberries and grapes. Moldy earth and wood. This is nice.
M: Semi-moderate body and moderate carbonation. Some prickles and slightly tart finish.
O: Really nice, fruit forward. Very bright and clean. Well done indeed.
440 characters
4.12
/5
rDev
+1.7%
look: 4 | smell: 4.5 | taste: 4 | feel: 4 | overall: 4
Picked this up at City Beer Store today for $16.99.
Pours a concord grapeskin red with a thin cap of pillowy, well-retained off-white foam. Plenty of lacing clinging to the glass as the head fades away. Raspberry jam in the aroma along with sweet pastry dough, a dash of mint, and bubble gum. Alcohol is noticeable in the nose without overwhelming. Flavor-wise a tart raspberry steps forward first, almost reminiscent of a sour raspberry candy. Sugar cookie maltiness is here as well as a small vanilla/oak component. Just below spritzy carbonation, medium/medium-light in body.
Overall this reminds me of some kind of raspberry dessert. Think shortbread with a hefty spread of raspberry jam and a sprinkling of lemon zest.
727 characters

4.1
/5
rDev
+1.2%
look: 4 | smell: 4 | taste: 4 | feel: 4 | overall: 4.5
Served in a snifter at Local Option.
While heading back to the Option to pick up some swordfish tacos for dinner, I accidentally dropped my bottle o' this. Finding it still entirely intact yet still worried about it, I made the executive decision to open it at the bar and share it with whomever wanted some. Cheers, folks!
This stuff pours a slightly hazy auburn topped by over a finger of light tan foam. The nose comprises light raspberry, Belgian yeast, clove, white grapes, very light oak, light banana peel, and the vaguest possible hint of what may or may not be buttercream. The taste brings in more of the same, though much of the spiciness is eschewed in favor of a pleasant sweetness (which I attribute, wrongly or rightly) to the Sauternes barrel. The body is a lithe medium, with a moderate carbonation and a sorta/kinda drying finish. Overall, a very nice brew, one that shows that sometimes the risky cost investment in a Mikkeller product can indeed be worth it, especially with the tastiness those barrels imparted here.
1,039 characters
3.94
/5
rDev
-2.7%
look: 3 | smell: 4 | taste: 4 | feel: 4 | overall: 4
Thanks to jmgrub for sharing this one at AndrewK's tasting.
Pours a murky red with a foamy beige head that settles to wisps of film on top of the beer. Small dots of lace slowly drip into the remaining beer on the drink down. Smell is of malt, raspberries, honey, and wine. Taste is much the same with a slightly tart and acidic finish. This beer has a good level of carbonation with a crisp mouthfeel. Overall, this is a good beer that is tasty and easy to drink.
467 characters
3.88
/5
rDev
-4.2%
look: 4 | smell: 3.5 | taste: 4 | feel: 4 | overall: 4
Pinkish with a lasting head. Aroma yielding something of a sour berry expectation. It was tart, raspberries and strawberries to balance, tart enough to make it a sipper. Fuller mouthfeel. Tasty concoction, maybe it was the cartoon on the bottle keeping stores from ordering it. Different, nice.
294 characters

3.25
/5
rDev
-19.8%
look: 4.25 | smell: 4.25 | taste: 2.5 | feel: 3.75 | overall: 3
Appearance – A cloudy dirty ruby red color with a thick light pink soapy head and substantial lacing. The head sticks around for quite a while.
Smell – A sour raspberry jam smell, and a hint of red wine. The smell is nice.
Taste – A very dry, sour taste, with no hint of sweetness. Kind of an odd mix of raspberry juice and red wine.
Mouthfeel – Has a very dry taste. I would have preferred some sweetness to complement the sourness. Leaves a somewhat bitter aftertaste. To this beer's credit, I didn't notice the 8.8% whatsoever.
Drinkability – Didn't meet my expectations. I think this beer needs to add some sweetness.
641 characters
Blondeaux from Mikkeller ApS
4.05
out of
5
based on
28
ratings.