Mikkeller / 3 Floyds Hvedegoop

Mikkeller ApS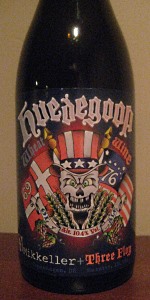 Write a Review
Beer Geek Stats:
| Print Shelf Talker
Style:

ABV:

10.4%

Score:

89

Avg:

4.12

| pDev:

10.92%

Reviews:

8

Ratings:

From:

Avail:

Retired (no longer brewed)

Wants

Gots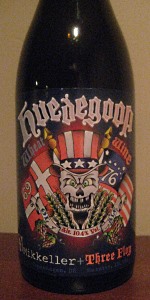 Notes: Brewed at De Proef. Available on-tap and in 750ml bottles.
5
/5
rDev
+21.4%
look: 5 | smell: 5 | taste: 5 | feel: 5 | overall: 5
Very very nice, complex, smooth and tasty. Color, taste and aroma remind me 'Arrogant Bastard Ale', but this one is more delicate, not so thermonuclear :). Really enjoyed it.
174 characters
4
/5
rDev
-2.9%
look: 4 | smell: 4 | taste: 4 | feel: 4 | overall: 4
On-tap served in a stemmed glass at Mikkeller Bangkok.
Hazy deep ruddy amber color, it tops with one finger of foamy off-white head that holds itself for a while before collapsing to long-lasting bubble sheet atop and leaving lots of sticky lacing patch on the glass-side.
Sweet aroma of toffee, bready, sugary, and caramel malt. Fruitiness as apricot, zesty lemon, and suggestion of dried-fruit. Hint of some spice, twang of wheat, and earthiness too. Alcohol slightly reveals when the beer starts to warm.
Sweetness covers through the taste buds. It reminds me of candy sugar, toffee, sweet caramel, together with some fruitiness of apricot and dried fruit in the parallel. Some toasted character too with suggestion of peppery spice and dry bitterness at the end.
Rather full body but has some crisp and moderate carbonation to carry well the palate under the smooth mouthfeel, finish is dry.
This is good sipping beer. Complex and enjoyable sip, alcohol is well concealed underneath its complexity. Let's the beer sit for a while to let it more open and enjoy.
1,069 characters

4.37
/5
rDev
+6.1%
look: 4.25 | smell: 4 | taste: 4.5 | feel: 4.5 | overall: 4.5
Served in a smal pint glass from a 750ml bottle.
Appearance: Hazy Amber cool with deep bubbles coming off pretty heavy, initial pour created a know off-white head rising to maybe a full finger's length..sticky lacing after a few sips. Looks beautiful.
Smell: malts and barley, notes of sweet hops.
Taste: The the brew warms up a bit notes of citrus, hops and malts with an accent of salt. Incredible smooth.
Mouth: Extra bubbly with smooth carbonation. Sticky, and might come off like bread...nutty feel at the end has your palates all over the place.
Overall: Prerry damn good beer, not sure who I give credit to...Mikeller or Three Floyds, at this point doesn't matter..lucky enough to grab it at the airport in Reykavic, Iceland. Enjoy and don't drink too fast!
774 characters
4.09
/5
rDev
-0.7%
look: 4.25 | smell: 4.5 | taste: 4 | feel: 4 | overall: 3.75
Creamy honey-combed French Vanilla over hazy cherry-amber. 4.25
Greasy orange, red grapefruit and lots of red candy/maraschino. 4.5
Red Hots, dark cherry, tangerine rind, some nectarine juice and resin hops. 4
Dried apricot finish and a fair hit of IBUs.
Creamy, medium, hot. 4
Gorgeous amber nose - like Lucky 13! So the lightest is a let down; OK, it doesn't cloy, but it that at the expense of flavor? Some fruit, some hops, and smooth-whipped wheaty mouthfeel. But without, somehow… 3.75
497 characters

3.65
/5
rDev
-11.4%
look: 3.5 | smell: 3.5 | taste: 3.75 | feel: 3.5 | overall: 3.75
Hazy dark orange color with beige head. Aroma has sweet malts, caramel and also some earthy hops. Taste follows with the same notes. Slightly sweet at first but gets bitter on the aftertaste. Body is quite heavy with smooth carbonation. Not bad but not really my favorite style of beer.
286 characters

2.72
/5
rDev
-34%
look: 2.75 | smell: 2.5 | taste: 2.75 | feel: 3 | overall: 2.75
BOTTLE: Silver unbranded pry-off crown cap. Best before: 14/05/19. Brown glass. 750ml. Good label art. Purchased in Zagreb, Croatia for ~150 kuna (i.e. 20 euros).
10.4% ABV. Reviewed live as a wheatwine per the label. Served cold into a pilsner glass in Zagreb (it was all that was available).
No bubble show forms as it's poured.
HEAD: Occupies ~90% of the glass. Off-white colour. Moderate thickness, fullness, and frothiness. Not real creamy. Retention is excellent for the high ABV - ~10+ minutes (incredible). Leaves light even lacing on the sides of the glass as it recedes.
BODY: Transparent translucent copper of average vibrance. Clean, with no visible yeast or sediment.
Overall, it looks decent at best for its style. Appears well (if not over-) carbonated. I'm curious, but it's not a horribly inviting brew to be honest.
AROMA: Cotton candy hop notes immediately suggest I won't care much for this beer. Pale malts, caramalt. Sweet toffee.
There isn't much going on here. This aroma suggests a simple cloying brew with a relatively shallow flavour profile. Those hoping for a bready wheatwine with a restrained but noticeable alcohol presence will be disappointed by the aroma. And where's the wheat?
Of average strength. I find no overt off-notes, yeast notes, or booze.
TASTE: Overhopped, with a repugnant cotton candy hop profile dominating. Elsewise, all the the beer offers is a dull shallow malt backbone comprised of overly sweet (almost cloying) caramalt and pale malts. I honestly can't say I taste any wheat. Cream adds a bit of ornamentation, but the taste remains painfully simplistic and rudimentary, with no evidence of intricacy or subtlety to the execution. Quite plain, and frankly disappointing given the breweries involved.
Imbalanced, with a subpar build. Average duration and intensity of flavour.
TEXTURE: Slightly overcarbonated. Medium to full-bodied, with plenty of heft and weight on the palate - but ill-enough flavour for that heft to support. Why such a heavy mouthfeel when there aren't any flavours to amplify? This texture fails to elevate the beer, or to play to its strengths (which are few). To its credit, it isn't boozy. I suppose the coating feel of the beer does ampify the cotton candy hop notes, but then again the cotton candy is the least attractive note in the build. Smooth and wet, with a generic overall feel. Meh.
OVERALL: A huge let-down given the talented breweries behind it. As much as I wanted to love it, Hvedegoop comes off seeming like a half-baked beer in a still emerging style. I'll finish it with some difficulty, and wouldn't recommend its purchase or consumption to others. Drinkable for its high ABV, but lacking in terms of flavour and quality. I'm not sure what went wrong here, but I'm now far less eager to try the other "goop" series beers. Maybe this was one of those recipes Mikkel just phoned in to De Proef without overseeing the brewing process himself...
High C- (2.72)
2,970 characters

4.44
/5
rDev
+7.8%
look: 3.5 | smell: 4.5 | taste: 4.5 | feel: 4.5 | overall: 4.5
On-tap. ½ pt Pilsner glass. Enjoyed on agt´12. Reddish deep amber color & chill hazy appearance. Tan, creamy & lasting crown. Caramel toasted malt, ripe fig, sugar, alcohol aromas & bready hues. Toasted malts & resiny hops at first sip with brandy notes. Sharp & rough hoppiness. Full body. Soft carbonation. Oily texture. Dry bitter finish with fruity touch. Long woody aftertaste. No harsh but warming ABV.
410 characters
3.9
/5
rDev
-5.3%
look: 4 | smell: 4 | taste: 4 | feel: 3.5 | overall: 3.75
12oz chalice, at the Underground Bar and Grill, apparently the only place in Alberta with this on-tap right now. Served on an Evil Twin coaster, how ironically appropriate as this is apparently a collaboration between Mikkeller and the venerable Three Floyds brewery in Indiana.
This beer appears a very cloudy, dark browned apricot hue, with one thick finger of foamy, bubbly beige head, which leaves a nice randomly dense wall of honeycombed lace around the glass as it evenly peels away.
It smells of sweet, sugary caramel/toffee malt, a touch of grainy astringency, simmering ripe drupe fruit, earthy, leafy hops, and a soft perfumed alcohol twinge. The taste is musty, grainy, and sweet wheat malt, strong subsidiary caramel notes, apple and pear peel, a burgeoning fleshy citrus fruitiness, a bit of black tea tannin, and leafy, weedy hops. A low-key, circling booziness seems poised to strike at any moment.
The bubbles are actually a tad frothy, and well structured, the body a sturdy medium weight, tending to full at times, and a bit too edgy from hop and alcohol alike to be deemed all that smooth. It finishes well off-dry, the grainy, almost dank wheat malt pulling away from most things sweet, a bit of apple mush fruitiness lingering, and the heat does well to only lurk and prick, as opposed to coming out in force.
A decent wheatwine, the caveat being that I have relatively few comparisons to draw for it, especially in Alberta. Not too sweet, and complex enough, with a well-tempered elevated booziness. Nice to have the opportunity to try, though I would prefer the next time be free of 'entry' tickets.
1,627 characters
Mikkeller / 3 Floyds Hvedegoop from Mikkeller ApS
Beer rating:
89
out of
100
with
30
ratings