Mikkeller Rauch Pils
| Mikkeller ApS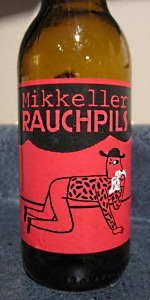 BEER INFO
Brewed by:
Mikkeller ApS
Denmark
mikkeller.dk
Style:
Czech Pilsener
Alcohol by volume (ABV):
4.60%
Availability:
Rotating
Notes / Commercial Description:
No notes at this time.
Added by Huhzubendah on 12-18-2012
Reviews: 14 | Ratings: 47

3.44
/5
rDev
-11.8%
look: 4.5 | smell: 3 | taste: 3.5 | feel: 3.5 | overall: 3.5
330ml bottle. Shaker glass. Enjoyed on mar´13. Gold in color & veiled appearance. White, creamy froth shows fairly good retention. Floral & very subtle smoked aromas. Soft malt upfront followed by increasing smoky touch & clean citric bitterness. Light body. Moderate carbonation gives a touch of fun. Sharp bitter sensation in the middle lasts into a dry bitter finish softened by gentle smoked notes.
403 characters

3.72
/5
rDev
-4.6%
look: 3.25 | smell: 3 | taste: 4 | feel: 4 | overall: 4
First off, I love the label art. That's good humour; it shows a lad on hands and knees with a rag to his mouth - purportedly he's evading smoke in his home. Fantastic! 4.60% ABV confirmed. "Smoked Pilsner Beer." "Product of Belgium." Imported by the Shelton Bastards; who knows how long it's sat out. Acquired at K&L Wine in Hollywood. 11.2 fl oz brown glass bottle with standard unbranded pressure cap served into a Uinta pilsner glass in me gaff in low altitude Los Feliz, Los Angeles, California. Reviewed live. Expectations are average; this sounds like a terrible idea for a beer, but I trust Mikkel. He's my favourite brewer in the world.
Served straight from the fridge. Side-poured with standard vigor as no carbonation issues are anticipated.
Not paired with food.
A: Pours a 5+ finger beige colour head of decent cream and thickness, and good (8+ minute) retention. Little thin yeast as the head slowly recedes. Body colour is a predictable pale yellow. No yeast particles are visible. No bubble show. Translucent and transparent. Generally appealing for a pilsner. Not real vibrant, but I wouldn't call it dull. Average.
Sm: Light light smokey/bacon notes. Pale malts. Light generic floral hopping. An average strength aroma. Not a lot going on here. I don't get any alcohol or yeast off the aroma. Still excited to try it.
T: The smokey notes here are as light as can be; just a touch of smoke and bacon. Pale malts form the refreshing simple body. Light clean barley. Simply built, but the balance is impressive. I doubted smokey notes and a pilsner build could be brought together successfully, but damn - Mikkel's done it. Light floral hops. It's mighty tasty. Very clean and pleasant, but with the added complexity and subtlety of the smokey notes. Really well executed. This could have been a train wreck - I mean, a smoked pilsner? - but once again Mikkel's innovation triumphs. Bravo, sir. This is tasty stuff.
Mf: Smooth, refreshing, wet. Carbonation is perfect. Great body. Good thickness. Perfect presence on the palate.
Dr: One of the tastiest pilsners I've had in a long time, and definitely the most innovative. I love that Mikkel had the balls to pull this off. Few brewers would attempt this, and still fewer would succeed. How they make smokiness so subtle is beyond me. Brilliant. Bravo, Mikkel. I'd buy this by the six pack at the right price. Shockingly good. Hides its ABV well. Sessionable, flavorful stuff. Surprisingly complex for a pilsner. Very drinkable.
Borderline B/B+
2,524 characters

3.74
/5
rDev
-4.1%
look: 3.75 | smell: 4 | taste: 3.5 | feel: 4 | overall: 3.75
Pours a hazy deep gold/pale amber amber producing a short 2 fingers of frothy, off-white, somewhat lasting head that leaves thin rings & strings of frost like lacing. Aroma is grilled meat (hotdog) smokey (beech?), pale & pilsner malt, honey, grain, faint lemon & grassy hops. Taste is smoke & smoked meat, pepper, pilsner malts, lemon & grassy hops. A malty, peppery, meaty smoke filled finish were the hop flavors become subdued. The smoke and bitter increase in the lingering aftertaste. Mouthfeel is moderate bodied with medium carbonation, dry throughout, bright, clean, crisp with a fine prickle. It was good but I was a little disappointed and that may not be the fault of the beer. I did not realized the brew was bottle conditioned and the lack of care during the pour may have altered the flavor & produced the hazy appearance by introducing too much yeast into the glass. Further I purchased this off of a discout shelf (albeit from well respected bottle shop) so it may have been sitting around awhile though I do not believe that was mishandled.
1,061 characters
3.75
/5
rDev
-3.8%
look: 3.75 | smell: 3.75 | taste: 3.75 | feel: 3.75 | overall: 3.75
Golden color with a thick three finger head with good retention and leaving laces.
Nice predominant aroma of smoked malts with hints of bread and bacon.
Flavor of smoked malts, grassy hops, pine, lemon and pepper. Dry aftertaste with a long lasting bitterness.
Light body with good carbonation.
That is a tasty and balanced Pils, initially it was hard to imagine it would work it out, but they did it again.
407 characters
3.84
/5
rDev
-1.5%
look: 4.25 | smell: 4 | taste: 3.75 | feel: 3.75 | overall: 3.75
Pours an opaque orange with one finger's worth of dense, creamy white foam. Sheet down the glass. Smell: wood smoke as in smoked cheese, grainy, mildly grassy. Taste: spicy, citrus, grain husk. Not much of the smoke character here. Drying finish. Interesting.
275 characters
3.91
/5
rDev
+0.3%
look: 4.5 | smell: 3.5 | taste: 4 | feel: 4 | overall: 4
330 ml bottle into lager glass, no bottle dating. Pours crystal clear deep golden amber/light orange color with a 1 finger dense and rocky off white head with great retention, that reduces to a nice cap that lasts. Nice dense soapy lacing clings down the glass, with a moderate amount of streaming carbonation retaining the cap. Fantastic appearance. Aromas of wood smoke, cracker, biscuit, light honey, herbal, light pepper, and floral/grassy earthiness. Nice and pleasant aromas with good balance of pale/smoked malt and light-moderate earthy hop notes; with solid strength. Taste of big wood smoke, cracker, biscuit, light honey, herbal, light pepper, and floral/grassy earthiness. Light-moderate herbal/spicy bitterness on the finish; with lingering notes of wood smoke, cracker, biscuit, light honey, herbal, light pepper, and floral/grassy earthiness on the finish for a good bit. Great robustness and balance of pale/smoked malt and light-moderate earthy hop flavors; with a great malt/bitterness balance, and zero cloying/astringent flavors after the finish. Light dryness from bitterness, lightly increasing through the glass. Very clean on lager flavors, with zero yeast notes presence. Medium carbonation and body; with a very smooth, moderately bready/grainy, and lightly sticky mouthfeel that is nice. Zero warming alcohol as expected of 4.6%. Overall this is a very nice smoked Czech pilsner style. All around nice robustness and balance of pale/smoked malt and light-moderate earthy hop flavors; very smooth, clean, and refreshing to drink. Was expecting more smoke initially; but there is still a nice amount there, while still tasting true to the base style. A very enjoyable offering.
1,702 characters
3.99
/5
rDev
+2.3%
look: 4.25 | smell: 4 | taste: 4 | feel: 3.75 | overall: 4
330ml bottle. Nice stop, drop and wet mask imagery depicted on the typical cartoonish label.
This beer pours a hazy pale golden amber hue, with three fingers of puffy, billowing tarnished white head, which leaves a broadly spanning swath of splayed broccoli floret lace around the glass as it slowly fades away.
It smells of meaty, sweaty caramel malt, middling acrid smoky notes, crackery, bready biscuit malt, and somewhat bitter leafy, grassy hops. The taste is more bready, cereal-like grainy malt, a somewhat faltering gamey smokiness, and some singed dry leafy/wild grass hops.
The bubbles are decently edgy, and well supportive, the body an adequate medium weight, and kind of tacky in their attempt at smoothness. It finishes mostly dry, the crackery malt doing well to keep itself above the promised fray (real and imagined) of smoke.
A smoked beer that allows for the preservation of the underlying, well-rendered sassy Czech Pilsener, as the balance achieved here is quite commendable. Worthy enough for ash connoisseurs and newbies to the style alike.
1,067 characters
3.99
/5
rDev
+2.3%
look: 3.75 | smell: 4 | taste: 4 | feel: 4 | overall: 4
fantastic, you never see smoky malt like this in a lighter beer. its always some massive thing, but this delicate and delicious pils is very impressive. it pours a slightly burn golden color with some haze and a finger or so of off white head. the nose is quite smoky for its color, some vanilla sweetness too, which comes out of nowhere, as well as some nice Czech malts. the flavor is all of the above, with the vanilla element being a real surprise, kind of uniting the dry malt with the rich smoke in a cleverly nuanced way. grainy but refined, bold but subtle, great bitter hoppy finish is also a shocker, and the yeast imparts some nice doughy whole grain flavors too. this is complex and yummy, which is now the mikkeller standard. fine carbonation puffs it up a little, and the body is still on the south side of medium. everything about this is fantastic, and I wish I had a 750ml instead of an 11.2oz. its top quality, the smoke in a lighter beers is genius. the label art is also high headed and hilarious.
1,017 characters

4
/5
rDev
+2.6%
look: 4 | smell: 4 | taste: 4 | feel: 4 | overall: 4
A - Hazy golden-orange with a finger of frothy white head. Fades normal.
S - Smoke, pilsner and sweet grainy malts, dried meats, a bit of vanilla and lager yeast.
T - Smoke, smoked meats, pilsner and sweet grainy malts, lemon zest, mild noble hops, vanilla, and a bit of lager yeast.
M - Medium bodied, moderate carbonation. Smooth with a smokey finish.
D - Good mix of smoke and pilsner flavors.
400 characters

4
/5
rDev
+2.6%
look: 4 | smell: 4 | taste: 4 | feel: 4 | overall: 4
On tap at Max's.
The beer is golden hued with a small white head. The aroma brings citrus, smoke, grain. Smells nice. The taste follows suit, with everything coming together nicely. The smoke character is assertive but not overbearing. Light in body and easy to drink. A hybrid rauchbier / pilsner, this was tasty and enjoyable. I am a fan of both styles, and would drink this again.
386 characters
4.1
/5
rDev
+5.1%
look: 4 | smell: 4 | taste: 4 | feel: 4 | overall: 4.5
330ml brown bottle purchased from Leura Cellars. Bottle conditioned. I left a good inch and a half at the bottom to avoid pouring the sediment.
Pours a deep golden colour, with good clarity. Head is fluffy and persistent, forming a very decent crest of yellowed-white atop the beer. Lacing is streaking and solid. It's a great looking beer.
Nose is a pleasantly quaint mingling of mild beech smoke and green-bottle euro skunk. Once it's swirled a bit the skunk disappears, leaving a deeper, grainier note and a darker smoke character that starts to get a little earthy, with truffle and mushroom coming through. Hops are quite muted, although that pleasant green generic European aroma does waft around in the background for a while. It's very pleasant.
Taste is also very good indeed. For the most part, it's a very well-made pilsner, crisp and clean, with a direct vector of hops through the centre. Later there's a slightly more pronounced bitterness, which blossoms into a strange, smoky back palate bringing a slight cured meat sweetness to the mix as well. Finish is very crisp with a punctuation point of hops making a clean break from the smokiness. The result is the aftertaste is extremely bright and light, without any lingering effects.
Feel just what you want: clean and crisp and light. Perfectly suitable.
Overall, this is an exceptionally drinkable beer with twists to give it interest. While it uses the smoke to interesting effect, at heart it's just a damn good pils, and it manages to stay that way despite the strange places the smoke takes it.
1,570 characters
4.1
/5
rDev
+5.1%
look: 4 | smell: 4 | taste: 4.25 | feel: 4 | overall: 4
Wow, an impressive beer, and one that I think is sadly underrated (though a full bottle may be needed to justify that assessment). Sampled as a bottle shared with 3 friends in small tasting glasses. Pilsners are a style I stay away from by and large, but the smoke adds a nuance here that makes the beer something worth contemplating - and worth coming back too. Adding the smokey elements not to a beer that already has depth and body (like a stout), but to something light like a pilsner creates an engaging dissonance between the light body of the beer and the depth of the smoke profile. Overall, a great beer.
618 characters
4.3
/5
rDev
+10.3%
look: 4 | smell: 4.5 | taste: 4.25 | feel: 4.25 | overall: 4.25
Loved this smoked pilsner. You don't often see such a light varietal as Pilsner getting smoked, but this one really works out well. Definitely more of a campfire-smokebeer than a bacon-smokebeer, it keeps it's crispness and still has nice strong smoke notes. Good execution, and I want more.
291 characters

4.33
/5
rDev
+11%
look: 4.5 | smell: 4 | taste: 4.5 | feel: 4 | overall: 4.5
A: Poured from a bottle to a pilsner glass. Had a yellowish color and a slightly cloudy consistency. There was a 2 1/2 inch head of creamy, long-lasting head. Excellent lacing. A good-looking beer.
S: A solid, if slightly unusual aroma of hops, malt, and a smokiness.
T: Tasted of hops (a moderate amount), a little citrus (lemon), light malt, and the aforementioned smokiness. The smoke isn't overpowering and allows the other ingredients to emerge. A tasty and well-balanced flavor.
M: A decent amount of carbonation with a mostly smooth finish. Light-bodied.
O: Adding smoke to any beer is usually going to divide people, but this beer is much more accessible than most. A drinkable brew.
695 characters
Mikkeller Rauch Pils from Mikkeller ApS
3.9
out of
5
based on
47
ratings.