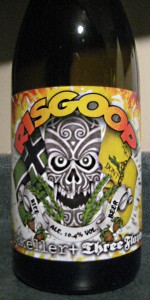 Rate It
Beer Geek Stats
| Print Shelf Talker
Style:

ABV:

10.4%

Score:

90

Avg:

4.11

| pDev:

8.52%

Reviews:

9

Ratings:

From:

Avail:

Retired (no longer brewed)

Wants

Gots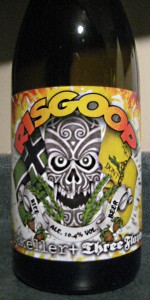 Notes:
Collaboration with 3 Floyds Brewing Company
750ml bottles. Brewed at De Proef.

kitch from Hong Kong
3.83
/5
rDev
-6.8%
look: 4.25 | smell: 3.75 | taste: 3.75 | feel: 4.25 | overall: 3.75
A 750ml bottle with a best before date of 1st April 2020 (drank before that date, I'm just behind in my reviews). Poured into a snifter glass.
Appearance: A hazy amber orange colour with a one finger beige head that had decent retention while leaving only sparse mini spotty lacing.
Aroma: Sweet malt, pineapple juice, orange candy, lime peel, caramel, pine, and dried citrus fruit.
Taste: Bitter, citrus rind, citrus peel, fruit tea, caramel, pine, dates, pineapple juice, and a lightly sweet and boozy finish.
Mouthfeel: Medium to full bodied with soft carbonation.
Overall: Not what I expected as it was more bitter that I expected. That's not to say that it doesn't work or anything, as despite the bitter and sweetness, it was still an enjoyable sipper.
Apr 16, 2020

Dzu from Russian Federation
4.34
/5
rDev
+5.6%
look: 4.25 | smell: 4 | taste: 4.5 | feel: 4.25 | overall: 4.5
Poured from 0.75 l bottle into snifter.
L: Turbid dark amber with a beautiful white foam head.
S: Rice, sourness, sweety, Ferrum )
T: Saturated, sweets, tropical fruits, Caramel.
F: Tight body and high carbonation.
O: Surprising taste. Very unusual.
Sep 20, 2017

ScruffySouthpaw from New York
4.16
/5
rDev
+1.2%
look: 4.25 | smell: 3.75 | taste: 4.25 | feel: 4.5 | overall: 4.25
Served in a snifter glass from the bottle (picked this gem while I was in Iceland).
Appearance: Cloudy cooper colored brew with medium to heavy bubbles on the body. Head I illy is an off-white color rising to about one finger's length. Drops with zero lacing after two or three sips.
Smell: Light hops and malty scent.
Taste: Like the smell but extremely amplified, bitter and floral with a liquor feel to the brew. Has a sour feel which makes you think of citrus (tangy grapefruit).
Mouth: Very sticky brew makes you think of rye bread because of its light sourness. You reminisce lemon plus skin at the end.
Overall: Very good brew, only problem it had is that it is closer to an imperial stout than any Barleywine I have ever tasted. Think of it as a hybrid brew the Barleywine DIPA lovechild. Drink with love...Salud!
May 21, 2016

Dentist666 from Russian Federation
3.86
/5
rDev
-6.1%
look: 4.75 | smell: 3.75 | taste: 3.75 | feel: 3.75 | overall: 4
Poured into pint. Hazy orange/amber beer, 2-finger off-white head, long retention, lots of laces. Smell - citrusy, peach, apricot, resiny, syrupy, creamy/rice hues.
Taste - sweet malts, not so boozy, american hops, rice is not very well detected..
Full body, soft carbonation, sticky. Just very good barleywine, no more.
Apr 16, 2016
patre_tim from Thailand
4.33
/5
rDev
+5.4%
look: 4 | smell: 4 | taste: 4.5 | feel: 4.75 | overall: 4.25
A: Orange brown and moderately cloudy with no carbonation and not a full finger of yellowish head. Random lacing almost like Thai writing, or Hebrew.
S: Boozy, crème brulee, sweet, stinky foot, aged cheese much like the rind of Brie, a light floral essence.
T: Buttery, crème brulee, toffee, light sweetness, little alcohol, a burnt bitter quality on the finish which may be the hops and toasted malts, or both. The brie rind like taste comes through as well.
M: Medium, syrupy body with foamy carbonation. This leaves a light feel to heavy beer.
O: Got this on Wishbeer in Bangkok, drank in Kunming March 29th, 2015. Great feel to it for a barley wine, and the flavours meld together very well. Hugely expensive, but really hard to find anything by 3 Floyds outside of the Chicago area, let alone in ASIA, which was a huge blessing.
Mar 29, 2015

GONZALOYANNA from Spain
4.53
/5
rDev
+10.2%
look: 5 | smell: 4.5 | taste: 4.5 | feel: 4.5 | overall: 4.5
750ml bottle. Bourgogne Wine glass. Cute & orangish color & cloudy appearance. Yellowish off-white creamy foam forms a thick, sticky & lasting crown as well as draws lacing rings on sides. Superb aroma profile: hints of orange, toffee, crystal malt, ripe plum, ripe apricot, herbal hues –caraway- & subtle resinous back. Fruity, malty & creamy upfront. Citric bitterness –orange & tangerine juice notes- follows. Full body. Soft carbonation. Viscous texture & dried palate. Slight resinous & grapefruit flavors in the middle. Sweet/slight bitter finish. Ripe fruit & resins on the aftertaste. ABV is shown as a kind, delicious sugary & warm sensation. A BIG ONE!!
Mar 09, 2014

wordemupg from Canada (AB)
4.27
/5
rDev
+3.9%
look: 4.5 | smell: 4.25 | taste: 4.25 | feel: 4.25 | overall: 4.25
750ml bottle poured into tulip 19/8/13
A slightly hazy amber liquid, a few pieces of sediment and some slow bubbles feeding a solid three fingers of tan foam that has slowly falls to a thin film leaving partial rings deep down the glass
S candied pineapple, grapefruit, pine, and a heavy amount of caramel, so earthy notes I can't quite place and a hint of booze, has some orange marmalade as it warms
T more pine and a little rind, shes a bit of a palate wrecker with loads of hops, shes a little sweet, not sure what the rice malts doing as I don't really taste it, a little Flintstones vitamins
M I want to say its thick but it fluffs up and feels creamy, perhaps this fluffed up feel is the rice? quite sticky on the lips with pine and rind lingering, not sure where the booze is hiding
O not lacking anywhere and if you like hops odds are good you'll like this, I'd like to taste it down the track but I don't mind the hop bomb it is today
rice didn't really play a big part for me anyways, drinking like a DIPA today and I enjoyed it even though it wasn't exactly what I was expecting
Aug 19, 2013
CrazyDavros from Australia
3.54
/5
rDev
-13.9%
look: 3 | smell: 4 | taste: 3.5 | feel: 3 | overall: 3.5
Pours amber with a small head.
Nose shows heavy malt with a fair bit of piny, resinous hops too. Very syrupy-smelling. Also some booze.
Pretty similar flavours. Some sake notes amidst rich sweet malt and piny hops. A little harsh.
Could use more carbonation.
Aug 06, 2013
biboergosum from Canada (AB)
3.89
/5
rDev
-5.4%
look: 4 | smell: 4.25 | taste: 3.75 | feel: 3.75 | overall: 3.75
750ml bottle. Not the one brewed in suburban Chi-town, but rather the Mikkeller-side one made outside of Gent, Belgium at De Proef. A ricewine, technically, from the sounds of it. Does 'goop' mean the same thing colloquially in Danish as it does in English?
This beer pours a hazy medium golden, slightly brassy amber hue, with three fingers of densely foamy, tightly packed, bubbly beige head, which leaves an array of eroded sea column lace around the glass as it slowly abates.
It smells quite prominently of a bitter grapefruit rind and orange peel fruitiness, pine resin, a soft earthy funkiness, hints of rice pudding, but mostly still a solid caramelized barley malt, and an herbal, sort of floral booziness. The taste is more bitter citrus and pine hops, keeping this steadily in American 'barley' wine territory, with a gritty otherly graininess, the rice showing what it can do when rendered in a perceptible dose, but as a guest - the caramel, somewhat toffee-like malt still large and in charge. A persistent, pithy funk hangs about, along with further herbal, almost weedy hops. You can't so much taste the booze, as feel it closing in from all sides.
The carbonation is generally rather soft and innocuous, but not below performing its basic duties, the body a decent medium-heavy weight, but with a strange airiness that I find hard to reconcile, yet which doesn't really interfere with the workaday smoothness. It finishes on the sweet side, the rice pudding and caramel malt kind of nudging each other, while the hops mostly switch over to the fruity, instead of bitter, side of their duality.
An interesting experiment - take rice, that maybe unfairly reviled beer ingredient in craft brewing circles, and make a Yankee-style barleywine with it. Call it something cartoonish, add a corresponding label to a larger-format bottle, and let 'er loose. Yup, it's Mikkeller, all right, and this mostly succeeds, with hops, grain, and booze aplenty. Plenty enough that I can't stress sharing this offering any more.
Jul 26, 2013
Risgoop from Mikkeller ApS
Beer rating:
90
out of
100
with
52
ratings