Dismiss Notice
Orange Yuzu Glad I Said Porter
| Mikkeller ApS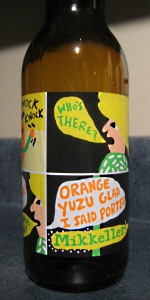 BEER INFO
Brewed by:
Mikkeller ApS
Denmark
|
website
Style:
American Porter
Alcohol by volume (ABV):
6.00%
Availability:
Rotating
Notes / Commercial Description:
No notes at this time.
Added by kojevergas on 01-24-2013
Reviews: 27 | Ratings: 129

3.82
/5
rDev
-4%
look: 4 | smell: 3.75 | taste: 3.75 | feel: 3.75 | overall: 4
Pours a dark reddish brown. The beer isn't quite black in the middle, and there's a fair border of color around the edges. Smallish beige head, lots of small bubbles. The aroma has an interesting blend of citrus bite and chocolate and roasted malt flavors. It's just a bit simple, and the citrus is a little too astringent. The underlying porter is rather gentle and sweet, and the harsher citrus doesn't quite work against it. The same issues exist in the taste, though you get more porter flavor, which is a plus. The beer smells and tastes more like limes than oranges. I can't quite speak to yuzu flavor, which I have tried but not for some time. At any rate, it's actually growing on me quite a bit as the beer warms. However, this is a beer that you really need to smell and taste at the same time. The delicacy of the citrus comes out more in the aroma and the complexity of the porter shines in the taste. Mikkeller makes excellent porters/stouts, and the base beer here is no different. Lots of chocolate, some pleasant coffee notes, solid roast and a sweet caramel background. Finish is all citrus and chocolate, like a chocolate orange slice. Mouthfeel is rather gentle. Soft little bubbles. At first, it seemed a bit crisp and light, but I think that's just the citrus flavor playing tricks on my palate. This is an interesting beer. At first, I was ready to give it a lower rating, but this beer works quite well as a package. On their own, the aroma and taste aren't particularly impressive. It's when the two are allowed to blend that this beer reaches its potential. That said, I would be interested to try a similar combination of flavors in a stronger beer. I would definitely buy an imperial version of this beer.
★
1,732 characters

3.68
/5
rDev
-7.5%
look: 4 | smell: 3.5 | taste: 3.75 | feel: 3.5 | overall: 3.75
11.2 fl oz brown glass bottle with colorful label (depicting a flat knock knock joke) and standard pressure cap served into a New Belgium stem-goblet in me gaff in low altitude Los Feliz, Los Angeles, California. Judging by the mini-label on the neck, this seems to be the recommended vessel. Reviewed live. This is my favourite brewer, and his dark beers tend to be amazing, so I have high expectations. 6% ABV. "Ale brewed with orange and yuzu." I had to google yuzu; apparently it's a hybrid citrus fruit. Bravo, Mikkel. More obscure ingredients that will probably make an interesting if not amazing beer.
Cost was $7.49 USD plus tax at a local SoCal beer store. Brewed at De Proef. Imported by the Shelton Bastards. No wonder it's so damned expensive.
Served straight from the refrigerator and allowed to warm over the course of consumption. Side-poured with standard vigor as no carbonation issues are anticipated.
A: Pours a beautiful tan colour frothy four finger head of incredible smooth rolling cream, fantastic thickness, and amazing (8+ minute) retention. Good lacing as the head recedes (when it finally does recede, that is). Body colour is a solid nontransparent opaque jet black. No yeast particles are visible. No bubble show. Spot-on for a porter. The head is making me crave it already. I can't wait to try it.
Sm: Roasted barley in the background, coffee, coffee roast, cream, milky notes, dark malts, chocolate/cocoa, and yes - strange subtle fruit notes. A bit like a mandarin orange. Orange flavoured chocolate comes to mind as an overall descriptor for the aroma. Caramelized sugars and light floral hops come through. The fruit is light and backgrounded; if I wasn't looking for it I might not catch it. No, scratch that. It becomes more prominent as it warms. No alcohol or yeast is detectable. An intriguing aroma for a porter. I can't wait to try it. Moderate to fairly strong.
T: A delightful if strange blend of Mandarin orange, orange peel, citrus zest, and chocolate. Dark malts form the foundation with near perfect caramel notes lending it more depth of flavour. Floral hops complement the subtle fruit notes - which work well balanced against the chocolate and light coffee. Roast is too buried, but at least it's there; that's more than I find in most porters. A bit of a sour edge from the fruit just on the finish. Well built for a porter; the fruit is not a gimmick (hey, it's not like Brewdog brewed it...Zing!). No yeast character or alcohol comes through. It's nicely executed, but it lacks the complexity I'd expect from a great porter. That said, it is certainly unique - a characteristic I always applaud. The weird orange fruit notes go shockingly well here; at the hands of a lesser brewer this would be a wretched mess. Can you imagine the Karl Strauss version of this? The craft is masterful, and the result is a solid brew that doesn't fit conveniently in the conventions of a porter.
Mf: Strange; it's crisp from the fruit. Smooth and wet with enough coarseness to bring out the flavour but enough smoothness to keep it drinkable and even refreshing. A refreshing Porter? Hm. Who knew fruit would do so well? Perfect carbonation and thickness. Where it suffers is in its palate presence; it's just so brief on the palate. There's hardly any time for the flavours to really impact.
Dr: Very drinkable; I could down it all night. The price is a bit horrid, but I'm glad I tried it. A unique porter that every fan of porters or Mikkeller (or both) should give a go. Another boundary-pushing interesting brew from who I consider to be the best brewer alive. Would I get it again? No, probably not, but only because of the price. I'd pay $5 for this and be satisfied. I'd try it on-draught, I suppose. It's an interesting one, and it stands out in the vast world of porters. That alone says a lot. Hides its ABV well, but that's probably not why you'd buy it.
High B
★
3,928 characters
Orange Yuzu Glad I Said Porter from Mikkeller ApS
88
out of
100
based on
27
ratings.