Yeast Series 2.0: Saison
| Mikkeller ApS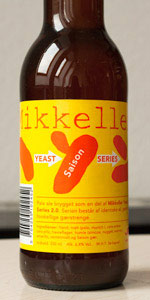 BEER INFO
Brewed by:
Mikkeller ApS
Denmark
mikkeller.dk
Style:
Saison / Farmhouse Ale
Alcohol by volume (ABV):
6.40%
Availability:
Limited (brewed once)
Notes / Commercial Description:
No notes at this time.
Added by kojevergas on 03-10-2013
This beer is retired; no longer brewed.
Reviews: 9 | Ratings: 47
3.85
/5
rDev
+5.5%
look: 3.75 | smell: 3.75 | taste: 4 | feel: 3.75 | overall: 3.75
finally completed the yeast series! a close mate of mine has been saving this one, and honestly, age has not hurt it nearly as much as I expected it would. it has the same hazy pale straw color as the others, with a similar half inch of patch and semi residual white head. it smells hoppy, not decayed at all, and really bright. the yeast is champagne and other grapey tannic funky stuff. not Belgian at all like some are, but wholly different, Americanized, cheapened but refined, hard to qualify in that way. its got a real soapy feel, dishwasher detergent type of mouthfeel, but the girth of this is flattering to the yeast and the hops, its fun and different, and while rugged and uncut, it also feels like a delicacy. there is something about mikkeller that just has that down. I like it less than the English style, but appreciate its nuance. like all of these beers, a little too hoppy to let the yeast be the clear star, but something I would drink regularly if it were available in a acquirable format. thanks mikkeller for this series, fun stuff!
★
1,056 characters
3.77
/5
rDev
+3.3%
look: 4 | smell: 3.75 | taste: 3.75 | feel: 3.75 | overall: 3.75
A: The beer is hazy orange amber in color and has a light amount of visible carbonation. It poured with a half finger high off white head that died down a bit but consistently left a thin head covering the surface and some lacing down the sides of the glass.
S: Light to moderate aromas of yeast are present in the nose along with notes of citrusy hops and hints of caramel malts.
T: The taste has flavors of spicy yeast and citrusy hops along with hints of caramel malts. Bits of spices linger through the finish.
M: It feels light- to medium-bodied on the palate and has a moderate amount of carbonation.
O: I found the citrusy aromas and flavors to be interesting as this seemed like a hybrid between an IPA and a saison.
★
728 characters
3.94
/5
rDev
+7.9%
look: 4.25 | smell: 4 | taste: 4 | feel: 3.75 | overall: 3.75
12oz glass at the Underground, post Mikkeller tap takeover.
This beer appears a slightly hazy, medium bronzed amber hue, with two fingers of puffy, loosely bubbly off-white head, which leaves a solid wall of pockmarked painted lace around the glass as evenly subsides.
It smells of mildly funky yeast, natch, grainy, moderately caramelized pale malt, black pepper, a wee generic citrus twinge, and an earthy dankness. The taste is bready, somewhat doughy pale malt, again with a hint of caramel, a more or less equitable barnyard funkiness, a bit of zingy clove and red pepper, some befuddled orange notes, and some musty, dusty, kind of leafy hops.
The carbonation is a mite bit peppy at times, but mostly just a dull sizzling hum, the body a decent medium-light weight, and smooth with a few zesty yeast interlopers. It finishes off-dry, the malt still quite sturdy, the zingy, mangy yeast continuing its creeping, and a tame fruity hoppiness getting in under the wire.
An agreeable saison, one with a bit more heft than yer standard farmhouse offering, and a pleasantly leavened yeastiness, which seems to soften as we go. I'd have this again, maybe next time on a freakin' patio, especially given the balmy climes right now.
★
1,233 characters

3.42
/5
rDev
-6.3%
look: 3.5 | smell: 3.25 | taste: 3.25 | feel: 3.75 | overall: 3.75
11.2 fl oz brown glass bottle with standard pressure cap and yellow-orange label puchased at K&L wine in Hollywood and served into a Uinta pilsner glass in me gaff in low altitude Los Feliz, Los Angeles, California. Reviewed live. Expectations are high; I love saisons and Mikkel is my favourite brewer in the world. I wasn't sure how to classify this when adding it; yes it uses saison yeast, but I think it's built like a Belgian Pale? Hard to classify.
Imported by the Shelton Bastards.
Served straight from the fridge. Side-poured with standard vigor as no carbonation issues are anticipated.
Not paired with food.
A: Pours a 5+ finger beige colour head of decent cream, decent thickness, and great (8+ minute) retention for the above average ABV. Light soft lacing sticks to the sides of the glass as the head recedes. Body colour is a clear pale copper. Translucent. No yeast particles are visible. No bubble show. Generally appealing, but not at all what I'd look for in a saison. Fairly vibrant. Good for a Belgian Pale.
Sm: Mmm. Delightful grapefruit citrus, fantastic floral hops, a bit of soap, and pale malts. I don't get anything remotely saison-esque, including yeast. Pleasant and inviting. An above average strength aroma.
T: Floral hops, perfumey hops, light acidity, pale malts, and biscuity yeast. Balanced, flavorful, and enjoyable. It isn't real complex, but that's not the point of this series. I wouldn't call it particularly subtle. It's refreshing and easy to drink. I quite like it.
Mf: Soft, lightly crisp, delightfully smooth, and refreshingly wet. Suits the flavour profile damn well. Lovely. Pleasant. Enjoyable. Refreshing. Lemon zest. No soapiness. Little yeast comes through. No alcohol is detectable.
Dr: Very drinkable, especially for the above average ABV. I don't get much off the saison yeast, but it's a tasty beer all around. A solid pale ale; I'm not sure if that's what he was going for. In any case, I like it, and it's very sessionable. I'd get it again at a better price. Tasty stuff. Another solid beer from Mikkeller.
B-
★
2,085 characters
3.48
/5
rDev
-4.7%
look: 4.5 | smell: 4 | taste: 3.25 | feel: 3 | overall: 3.25
330 mL bottle poured into a goblet. My second of this series, after American-Style yeast.
Appearance - Hazy orange with a big off-white head. Great retention. A pillow of foam with some holes remains on the surface and the inside of the glass is coated with rings of lacing.
Smell - Well that is a dramatic difference from the American-Style. Floral notes that weren't there before. Still some citrus from the hops and a slightly sweeter malt note. Earthy funk behind it, too.
Taste - Just a hint of malt sweetness up front followed by a citrus hop flavor, but then the yeast takes over. Earthy notes overpower the malt. The beer dries out considerably. Bitterness combines with the earthiness in the finish, amplifying each other.
Mouthfeel - Well carbonated and dry. Lighter bodied than the American-Style.
Overall - Some of the flavors here are more abrasive. Just doesn't work quite as well with this yeast strain.
★
923 characters

2.8
/5
rDev
-23.3%
A - Not a bad head for a saison; creamy with an off-white color, ok retention, and nice lace. Dark body for a saison, but expected given the base beer.
S - Strange nose. Mildewy hay, Smucker's strawberry jam, raw malt.
T - Disappointing. Thin flavor. Kumquat rinds, light malt, light herbal hop.
M - Thin, light body with low carbonation.
O - Might be my least favorite Mikkeller to date.
------------------------------------------------------------------------
2.81 Yeast Series 2.0: Saison
--- -Jay- -Jon- -Anth- -Vin- -Avg- Weight
A - 4.25 4.00 ------- 3.75 4.00 10%
S - 3.25 3.00 ------- 3.50 3.25 20%
T - 2.75 2.50 ------- 2.50 2.58 40%
M - 3.50 2.00 ------- 1.75 2.42 10%
O - 2.75 2.50 ------- 2.00 2.42 20%
★
747 characters
3.76
/5
rDev
+3%
look: 3.75 | smell: 4.5 | taste: 3.5 | feel: 3.5 | overall: 3.5
330ml bottle purchased from K&L Wine Merchants in Redwood City, CA.
Pours a cloudy dull orange colour, with a mild head of white that eventuates in a mild ring and very solid lacing. Body has some weight behind it and it holds some large-bubbled carbonation when tilted. Overall, it looks pretty decent. Perfectly serviceable in any case.
Nose is powerful: lemony, green, almost skunky in places. It's quite fresh and bright: I wonder if that's truly due to the yeast though, or if this has been heavily late hopped as well. It seems like a shame to mask the yeast characters if so, but if not, this yeast is providing a really exceptional ride. As it settles, there's a danker character like wet cardboard, but it stays still fresh and bright above this. It's a lovely aroma.
Taste is a lot drier, with a clinging lemon bitterness towards the back, and a slightly organic funk that holds on to the finish. But yeah, boy is it dry. It clings with bitterness around the edge of a hollow tunnel, and the yeast tries vainly to provide much structure other than that the hops provide. But then, it's probably the yeast which has made this beer so dry.
Feel is also extremely light. I imagine the FG on this one is very low indeed.
Overall, there's some interest here, and the nose is really excellent, although I don't believe the base beer here is a really good way to show off the yeast. I'll reserve my judgement on the choice overall until I've tried a couple more, but in this one the yeast just makes for a very dry beer whose subtleties are lost amongst the hops.
★
1,571 characters
3.84
/5
rDev
+5.2%
look: 3.5 | smell: 3.75 | taste: 4 | feel: 3.75 | overall: 3.75
Had on-tap at Bulldog Mid-city New Orleans. Served in a goblet.
A- Pours a medium amber color with a 1/8 inch head that's short-lived before becoming a thin ring around the edge of the glass and a small center patch of surface foam.
S- Sweet smell of cereal grain malt with a bit of hop fume. Actually smells more like one of Mikkeller's IPAs than a saison.
T- Taste mirrors the aroma with more sweetness and some mild hop bitterness. Once again, this is closer to a hoppy pale ale than a saison. There is a tad of fruitiness from the yeast but the vegetal hops mostly overpower.
M- Slightly sharp from the hops with medium-low carbonation and a body leaning toward the fuller side.
O- Not sure if this is the Saison version or the Lager version since the menu's description says "pale lager" while the style column says French & Belgian saison. Either way, it doesn't taste like either of those styles. Jeez, what if it's the English Pale Ale version and they're wrong on both counts? Wouldn't be surprised with this bar. I guess it doesn't really matter though cuz it's a decent beer no matter what you call it. Just kind of defeats the purpose of the concept of the yeast series if I don't even know what style it is...
★
1,229 characters

4
/5
rDev
+9.6%
look: 4 | smell: 4 | taste: 4 | feel: 4 | overall: 4
Tried with the Brett Brux and Brett Lambicus versions. Pours a medium amber, about on par with the others. They all seem darker than what I remember from my mini-tasting of the American, English and Lager versions. The cloudiest of the bunch, but that could be from my pouring/bottle handling, as the beer is fairly transparent. The English-style version is still easily the cloudiest of the six. The Saison had the best head, though Brett Brux was close. Big puffy, just slightly off-white head. Good lacing and retention. Aroma is hop-forward with little saison character. Kinda surprising. I expected the hops, but this is almost as clean as the American-style yeast. I think there's a touch of saison earthiness in the background, but even that might be just some expectation bias creeping in. At any rate, the hops are lovely. Very nice blend of bright ctirus - tangerine, sweet grapefruit, meyer lemon. Sweet, pale malt. It's a fresh, mouth-watering aroma. Taste is similar, hop-forward and bright. I'm getting a decent yeast character in the finish, but it's mostly hop flavor. The yeast mostly just comes through as a peppery note with a little bit of fresh dough. Still, it's quite tasty. Low hop bitterness. Well-balanced. Lively mouthfeel, though the carbonation escapes the beer relatively quickly. Lots of prickly bubbles at first, but it gets watery if you take your time. This beer shows off the hops well and the yeast adds a nice, though quite restrained, shot of spicey, earthy complexity. I would have liked a bit more yeast character, but it's a tasty beer, and I can't complain too much. I'm not entirely sure how to rate this beer. It's a bit of a disappointment as a learning experience but an enjoyable tipple. I'll take the more generous path.
★
1,768 characters
Yeast Series 2.0: Saison from Mikkeller ApS
3.65
out of
5
based on
47
ratings.