Spontanwhitegrape
| Mikkeller ApS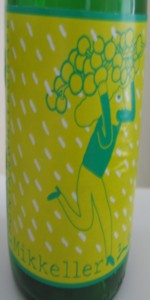 BEER INFO
Brewed by:
Mikkeller ApS
Denmark
mikkeller.dk
Style:
Lambic - Fruit
Alcohol by volume (ABV):
7.70%
Availability:
Limited (brewed once)
Notes / Commercial Description:
No notes at this time.
Added by wethorseblanket on 06-23-2013
This beer is retired; no longer brewed.
Reviews: 7 | Ratings: 26

4.41
/5
rDev
+5%
look: 4 | smell: 4.25 | taste: 4.5 | feel: 4.5 | overall: 4.5
Nice opaque golden color with a thin layer of head that quickly disapates.
Smell is sweet and fruity. Apples and grapes, peach, honey.
Lots of tartness on the tongue. Dry. Not nearly as sweet as the smell suggests. Grape must and oaky favors come through strong. Lingering tartness.
Light to medium bodied with low carbonation.
333 characters
4.24
/5
rDev
+1%
look: 4 | smell: 4.25 | taste: 4.25 | feel: 4.25 | overall: 4.25
white grape is another winner in this series. had it right after noble, which was far older. nice to get to drink them that way, because its obvious the fruit goes away some over time, at least with this fruit. this fresher one is awesome, the fruit is really there, and its not just a white wine flavor (although that is created a little bit with some wheat tannins and the oak profile and acidity), its real fruit, sweet and ripe and bursting summer juicy goodness. its all the way though too, not just early or late, and as the beer moves from farmy brett to lemony lacto, the way the fruit presents itself also evolves. from tangy to sweet, its a nice complete look at the grape in this beer. great acidity, this is a little more sour than many of the others in the series, maybe the lacto likes the grapes more than other fruits. carbonation is pretty robust too, a little more alive than a lot of the others. i think the flavors of the grapes really work in the lambic style, and just like the noble edition, im sure this will age with the best of them. gorgeous beer, a standout from the series.
1,102 characters
4.19
/5
rDev
-0.2%
look: 3.75 | smell: 4 | taste: 4.25 | feel: 4.5 | overall: 4.25
Appearance: pours a pale orange color with a finger of head which quickly dissipated. Cloudy body with minimal active carbonation. No lacing left behind, a very calm lambic.
Smell: once the seal was broken white grapes and oak jumped out of the bottle. One of the most effervescent beer I've had in recent memory. Hearty orange rind and tangerines on the nose. The balance of sweetness and punchy tartness of the white grapes is excellent. The oak profile is dry, with some hints of cedar as well.
Taste: those white grapes captivate the palate immediately with a swift punch of acidity and bright tropical fruit sweetness. The body of this beer really settles down to being a well constructed lambic. Fruity, with plenty of grain and lingering oak. The grapes take on a darker, drier profile on the back end which really lingers on the palate long after drinking.
Mouthfeel: the front really hits the drinker with acidity and oak but gradually settle into a balanced beer with a lingering dry fruit and oak profile. Carbonation is a touch on the bright side which I believe suits this beer perfectly.
Overall: took a shot in the dark on this one and my I'm glad I did. The white grapes play so well in a lambic and the oak is a secondary but vitally important player. Waves of fruit, grain, and oak wash over the palate as you enjoy this slow sipper.
1,370 characters

4.27
/5
rDev
+1.7%
look: 3.75 | smell: 4.25 | taste: 4.25 | feel: 4.25 | overall: 4.5
375ML Bottle
"Mindst holdbar til:
16/09/24"
A – Pours a peachy orange with a red tinge. Head is non existent, but bubbles are quick to rise and body is exceptionally clear and translucent.
S – Grape musty, tart, sweet candied sugar, cherry, plum, grape, light oak.
T – Vinegar, lemon, white wine must and sweetness, oak, cherry.
M – Light-Medium, fizzy, bright, clean.
O – Truly a great beer, wonderful depth of complex flavors, great balance of tart and sweet.
482 characters

4.14
/5
rDev
-1.4%
look: 3.75 | smell: 4 | taste: 4.25 | feel: 4 | overall: 4.25
The beer pours a hazy, pale gold/yellow color with almost-white highlights and a light, tightly packed head of slightly-off-white colored bubbles that fizzle to a scrim/ring. In body the beer is a hazed wonder, nearly opaque with just a faint outline of the other side of the glass reaching the eye. Lazy carbonation bubbles can be seen tracing their way up to the beer's head. On the nose, the beer smells of fruity funk. Cherry fruit leather with light, funky hay and barnyard and even light pineapple notes, tartly sparkle on the nose. The vinous notes don't really come through on the nose, though the beer does smell slightly sweeter than a 'regular' wild ale. On the tongue, the beer tastes tart with acidity and a light sour feel, this is mellowed at the end by a beautiful sweet wheat, and is lightly balanced by just a touch of bitter grass. The beer feels sharper in carbonation, with a medium mouthfeel that has a light crispness to it, alongside a little oiliness. In flavor the beer begins witth tart, fruity green apple with touches of sweet white wine and tannic oak toast that comes more fully on in the finish, right before smooth wheat biscuits wash over the tongue, softening the sharp acidity and letting some nice bread character come to the tongue alongside soft citric pineapple and cherry. As you breathe out the beer gives some lovely oaky wine characters alongside the wheat bread. The finish is very long and complex, morphing from funk to oak to wheat and back again as it lingers in the mouth. Overall I like this beer a lot. The tannic oak adds a great addition to this beer in comparison with the oak I sampled last night in Jolly Pumpkin's La Roja. There is some nice complexity in this beer, yet it holds its funk in restraint and doesn't get crazy wild with the acidity. This is a beer to try.
1,839 characters

4.11
/5
rDev
-2.1%
look: 4 | smell: 4.25 | taste: 4 | feel: 4 | overall: 4.25
Pours pale orange and mildly cloudy. There's not a ton of sediment, but this bottle had been sitting on its side. I just don't really care about clarity. Small white head. It's somewhat fizzy, pretty good for a sour though, and dissipates to nothing after a couple minutes. The aroma has a good dose of those Riesling grapes with a big and fruity grape/wine flavor. Nice array of apples, peaches, apricots, pears, etc. Medium oak strength. There's an acerbicly woody tone. On the downside, there's also a light buttery note that I don't love. It dissipates a bit over time, but I much preferred the barrel character of Spontannoble (Sauternes barrels, I think). Some nice funk is also in the mix. The taste is medium tart. Initially, it's quite dry with good funk, oak and wine/grape fruitiness, but the sweetness picks up a bit in the finish, and the buttery oak flavor makes an appearance. The wine flavor is fairly strong throughout. Good acidity level and character. The mouthfeel is lightly prickly with a medium pucker. For 7.7% abv, it's pretty light on the palate, but I think that this beer would be better bumped down a couple percentage points. I just think it could be brighter, and I suspect that the strength contributes to the flavors that I don't love. However, it's a good to very good sour, overall. I just loved Spontannoble, and after that beer, this one is a tad disappointing. I don't think this one quite justifies the price tag, but it's close, and that's a pretty high bar.
1,498 characters

4.15
/5
rDev
-1.2%
look: 4 | smell: 4 | taste: 4.25 | feel: 4 | overall: 4.25
375ml capped green bottle. 2012.
A: Pours a clear pale yellow with a 1/2" white head forms a cap and leaves spotty and stringy lace.
N: Very vinous, of course, slight sweetness like grape juice, some faint oaky wood, floral and yeasty notes.
T: Tart and slightly astringent, white grapes lead with some prickles and slightly spicy, floral with minerality, some musty skin, oak and earthy funk. Faint lemon and yeast.
M: Semi-medium body and carbonation. Finishes light with tart grape skins.
O: Refreshing and juicy. Give it a try
545 characters
Spontanwhitegrape from Mikkeller ApS
4.2
out of
5
based on
26
ratings.