DrumBAR Black Sap
| Mikkeller ApS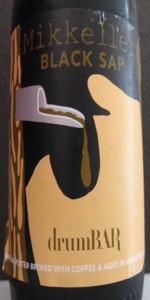 BEER INFO
Brewed by:
Mikkeller ApS
Denmark
mikkeller.dk
Style:
American Porter
Alcohol by volume (ABV):
10.00%
Availability:
Limited (brewed once)
Notes / Commercial Description:
Bourbon Barrel Aged Imperial Porter with Maple Syrup.
Added by ZombiesAteMyDog on 08-20-2013
This beer is retired; no longer brewed.
Reviews: 9 | Ratings: 51
3.9
/5
rDev
+2.4%
look: 3.75 | smell: 4.25 | taste: 3.75 | feel: 4 | overall: 3.75
Thanks to wethorseblanket for sharing this one at drewone's tasting.
Pours an opaque black with a foamy dark khaki head that settles to a partial film on top of the beer. Small swaths of lace form around the glass on the drink down. Smell is of dark roasted malt, cocoa, bourbon, and slight coffee and maple aromas. Taste is much the same with char, cocoa, and coffee flavors on the finish. There is a mild amount of roasty bitterness and an alcohol kick on the palate with each sip. This beer has a good level of carbonation with a crisp and dry mouthfeel. Overall, this is a pretty good beer with a great smell but the flavors are a bit too char forward for my liking.
671 characters
4.08
/5
rDev
+7.1%
look: 3.75 | smell: 3.75 | taste: 4.25 | feel: 4 | overall: 4.25
Poured from a 375 ml bottle into a snifter.
The beer pours pitch black with over an inch of fluffy cocoa head. The head settles down to a rather thick layer on top of the pour. The nose is sweet with an obvious maple sweetness up front. Underneath the maple I'm getting some roast and a hint of dark chocolate. There's more coffee in the taste than there was in the nose. The maple note shows up more towards the end of the sip. The only real roast I'm getting seems to be from the coffee and isn't overly bitter. There's quite a bit going on here. Other than the maple and coffee there are some notes of dark chocolate, warming alcohol, and some mild dark fruit. The finish is warm and full of sweet maple. I'd have this again if it wasn't so expensive.
755 characters
2.97
/5
rDev
-22%
look: 4 | smell: 3.25 | taste: 3 | feel: 2.5 | overall: 2.5
375 mL bottle poured into a snifter.
Appearance - Black with a hint of transparency. Small khaki head with lots of surface wisps.
Smell - Maple is present. Sweet. Roasty and really oaky. Ashy.
Taste - Sweet maple. Really roasty. Coffee. Smokey and ashy. Lots of burnt malt. Minimal bourbon, if any.
Mouthfeel - Harsh. Oaky. Burnt. Well carbonated.
Overall - What a great concept, but not a good beer.
407 characters

4.15
/5
rDev
+8.9%
look: 4.75 | smell: 4 | taste: 4.25 | feel: 4 | overall: 4
Bottle from West Lakeview Liquors. Served in a DryHop taster glass.
A - Giant tan foam slowly settles to a thick cap, leaving behind glass-coating lace. Body is black, with only a glint of brown at the bottom edge of the glass.
S - Huge oak, char, dark roast coffee, and whiskey. Maple is there but understated, mingling with caramel and baker's chocolate. As the beer warms up there's some vanilla and also a faint permanent marker note. Alcohol is well-concealed
T - The taste is signature Mikkeller. Burnt, charry, roasty, and smokey, with a good dose of oak and a whiskey character that is more evocative of whisky than bourbon. The maple sweetness comes out significantly more as the beer warms up. Again, the alcohol is quite well hidden; never would have guessed this was 10%.
M - Active carbonation, but somewhat creamy and smooth. Medium-full bodied, with some tannins that linger into the finish. Mild warming by the end of the 375ml bottle, but again quite restrained. Not overly sticky like some Mikkeller offerings.
D - This is quite good. I enjoyed the bottle and would consider ordering this again on draft. To fully enjoy the maple barrels one should let the beer warm up too room temperature. The maple really blunts the char and smoke character of the base porter.
1,287 characters

3.83
/5
rDev
+0.5%
look: 4.25 | smell: 3.75 | taste: 4 | feel: 3.25 | overall: 3.75
A- Split into five pint glasses at a bottle share. Pours out of the 12.7oz with a pitch black body and a light mocha brown head. Head is much foamier than I expected and builds up to a few fingers in size even with a small pour. Good retention and nice coating of lace.
S- Sweet dark brown sugars and maple sap off the top with a pretty decent Bourbon Barrel age influence. Toasty, caramel, roasted malts, cocoa and coffee beans.
T- Bourbon leads again with some alcohol notes and somewhat boozy. Dark burnt, toasted brown, chocolate and caramel malts. Some vanilla oak feel is nice from the barrels. Brown sugar and maple influence. Overall quite sweet.
MF- Lowly carbonated and pretty thick and oily body. Slight alcohol warmth in the finish.
Sweet stout with a pretty nice Bourbon feel with vanilla and oak.
814 characters

4
/5
rDev
+5%
look: 4 | smell: 4 | taste: 4 | feel: 4 | overall: 4
"Imperial Porter brewed with Coffee & Aged in Maple Syrup Barrels"...Brewed/bottled at De Proef Brouwerij in Belgium.
$13/375ml
A - deep, opaque black in color with a big, fluffy head. It was bottled in a green glass bottle with a foil top wrapper, but I could not tell the glass was green until I poured the beer.
S - Some licorice, coffee, charred wood, bakers' chocolate, and some maple sweetness in the back-end.
T - coffee bitterness upfront with a nice earthy maple sweetness in the finish. The maple is not overpowering at all. The coffee seems to add an acid quality to the beer's aftertaste.
M - Oily and medium bodied... Lower carbonation, but still more than I was expecting.
O - From my first sip of Founders Bett Half, I have been a sucker for syrup-aged beers... However, I was on the fence about pulling the trigger because Mikkeller has been known to be inconsistent. I'm glad I tried this one fresh because I might try to grab another bottle is it's still there. A very interesting beer from an interesting brewer.
1,049 characters

4.74
/5
rDev
+24.4%
look: 4.5 | smell: 4.75 | taste: 4.75 | feel: 4.75 | overall: 4.75
Picked up a 375ML bottle in a trade with a friend in Maryland - poured into a crystal tumbler.
Pours black as midnight with extreme viscosity, fatty tan head with ridiculous retention, lacing coats my glass from start to finish. Wow - tons of barrel on the nose...Single Barrel Jack stylie - no joke - so bomb! Roasted malt, burnt raisins, molasses, dry oak, sweet boozy goodness. Tastes like the nose insinuates - so much barrel, my god this shit is tasty! Fresh brewed espresso, vermont style maple syrup, toasted grains and all that barrel goodness that lingers for days...
Already blown away by the Golden Sap, I was curious to see how the Black Sap compared - a roasty/smoky counterpart to it's blonde brother or sister if you prefer, this one did not disappoint, and we found even more fun barrel characteristics compared to the Golden. So bomb!
Seek and destroy!
872 characters
3.21
/5
rDev
-15.7%
look: 4.75 | smell: 3 | taste: 3.25 | feel: 4 | overall: 2.5
Pours somewhat thin but turns black in the glass and quickly build a head that over flows the glass if you pour too much. Huge head lacing, rather nice looking.
I don't get much on the nose. I can pick up on coffee and caramelized sugars, and some dark roasted/burnt malt under pinning. Still maybe once the head fades I'll get more but kinda light.
Sweet sugary dark water is my first thought. The maple flavor here is a lot better than you get from Founders, who I swear I just adding aspartame to their beer. Still The beer has a somewhat lighter roasted character and a lot of sugar and I don't mean sweetness, but it tastes like a very clean sugar was added to this to give it sweet yet not chalky or linger flavors at first. The finish is round coffee at the back of the tongue that hangs around, but the body of this porter is a bit too light, we need more dark roasted and toasted flavors to really handle this much sugar.
Surprisingly thin and even more surprisingly the clean body makes the over the top sugar flavors not too strong or hard to consumer. I'm rather ok drinking this and would be even more so at a quarter the price.
This is 100x better than the abomination that is black hole, but it isn't brunch weasel either. I wouldn't buy it again and can't recommend to anyone but a ticker at the price.
1,325 characters
3.13
/5
rDev
-17.8%
look: 3.5 | smell: 3 | taste: 3 | feel: 3.5 | overall: 3.25
375ml bottle poured into a snifter.
Appearance is super dark with a fluffy khaki head. Looks good…real good.
Smell is over-the-top roast and barrel; maybe some bitter chocolate; and lots of booze. Astringent and bitter. Tart cherries.
Taste is burnt, roasted oak offset slightly by dark fruit; there is some malt to this one, but no real maple flavor. Baker's chocolate with tart fruit.
Mouthfeel was pretty good: much thicker and more substantial than a typical porter.
Overall = meh. Would've liked to taste more maple. Was hoping for something like Panther Cub that's been aged in bourbon barrels, but that's a problem flowing from my expectations rather than this beer.
681 characters
DrumBAR Black Sap from Mikkeller ApS
3.81
out of
5
based on
51
ratings.