Earth Fare - Turkey Creek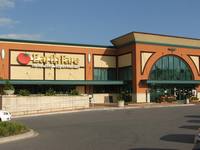 PLACE INFO
Type:
Store
10903 Parkside Dr
Knoxville
,
Tennessee
, 37934-1959
United States
(865) 777-3837 |
map
earthfare.com
Notes:
No notes at this time.
Added by CaskofFlyingDog on 03-05-2006
Ratings: 12 | Reviews: 10
Reviews by kingcrowing:
3.85
/5
rDev
-4%
Came in here just looking to find some beer from Tennessee, and I ended up finding a lot of locals, very surprising. I ended up getting a 6er of Yazoo pale ale - turned out to be a little to belgian for my liking as far as pales go but interesting none the less. Anyways they have mainly american craft with some imports & etc and a handful of bombers/singles but not many. Sadly you can't break up the 6 packs which is too bad because there were a bunch of things I'd never seen before.
Worth checking out if you're not from the area. Only thing is no high abv beer as people have said before but that's due to TN laws so I can't give them crap for it.
655 characters
More User Reviews:
4
/5
rDev
-0.2%
vibe: 4 | quality: 4 | service: 3.75 | selection: 4.25
They have a really nice selection here. I saw at least five or six different beers that appealed to the gluten free crowd, which are hard to find. Large selection of locals including Yazoo and some regional stuff like Foothills as well. Saw the new New Belgium Ben and Jerry's beers, so I had to get a sixer of it. It is the chocolate chip flavor. Cant wait to dive in to that one. A very clean store with friendly associates.
426 characters

3.86
/5
rDev
-3.7%
vibe: 4 | quality: 4 | service: 4 | selection: 3.5

3.95
/5
rDev
-1.5%
I called this place in search of yazoo before I went home... went in expecting yuppy rich white folk, but found extremely helpful people that both knew their selection and the brewers. I was pleasantly surprised. Selection was good, for a supermarket, but they had the yazoo I was looking for, and much cheaper than i ve found it anywhere else. Picked up some terrapin too, cheaper than I've found it... by about 2 dollars. I was very happy.
Overall, pretty good stop. Wish I had one closer to me.
499 characters
4.2
/5
rDev
+4.7%
I end up buying a lot of beer at this particular location as I do a lot of my grocery shopping here as well. Great beer selection for a grocery store. They get a lot of different craft beers and quite a few imports. The store is always willing to get me a case or to split things if needed. Prices seem reasonable for the area, not the cheapest but not the most expensive either. Earth Fare takes a lot of pride in the quality of their products, get some organic food to pair with your brews. Give this store a try, it's a great place to find some fairly rare beer. Enjoy!
572 characters
3.65
/5
rDev
-9%
Dropped in on a Staurday afternoon while I was in town for an event up in Oak Ridge. Pretty cool store, very Whole Foods-esque. Beer is back in the right corner of the store in a big open cooler. Pretty good selection given the ridiculous TN laws of nothing over 6% in grocery stores. Mix of regionals and national beers including Duck Rabbit, Thomas Creek, Left Hand, Sweetwater etc. Also saw bottles of Lindemans Gueuze Cuvee Renee which I have never seen in Nashville. Quality I am a little skeptical on. I didnt check every selection, but about 2/3 of the bottles that had best by dates were already past those dates. Service is tough to rate. Very friendly people in the store eager to help, but nobody knew anything about the beer they had. From what I have seen in East TN, this is defintiely a good stop, but also definitely not worth a special trip or anything.
870 characters
3.55
/5
rDev
-11.5%
Considering the obstacles we have in TN regarding the high gravity beers having to be sold in liquor stores, Earth Fare carries a decent selection. Compared to stores in Atlanta or Nashville, this would rate a 3.0 at best. But this is in Knoxville, and relative to the rest of the beer stores here, this is a solid choice. I think Merlin48 was spot on with his summary. Parking and location is not as bad as other reviews note, in my opinion.
On a side note, this is a great place to pick up a sixer of good beer and check out their variety of sauces, marinades, and such. Decent ethnic food selection.
603 characters
4.3
/5
rDev
+7.2%
This was my second favorite stop in my entire trip. We actually went in here for a snack and I went over to troll around the beer aisle. They had a great selection. Now keep in my everything had to be under 6%, now aside from that, all the Avery, Pyramid, Rogue, Fort Collins, Left Hand, well you get the picture. A really great selection here and I would say well over 100 different six packs with really no macro at all. There is not singles sections to speak of however the prices were pretty reasonable and again the selection was just great especially for the area. I would have to say this is a must stop in the area, and I would defiantly go back here again. This place was great, and so organized. Must stop in here.
724 characters
3.85
/5
rDev
-4%
Best selection of beer in Knoxville, but a sad commentary on the beer scene in Knoxville, that it is. Earth Fare is a wonderful store, certainly, clean and well organized. I love the place, but the location is inconvenient, not that easy to find for an out-of-towner, and traffic can be a pain. The beer selection is excellent, for east Tennesse, but the store is hampered by the state's quirky spirit laws requiring beers over 6% abv to be sold in liquor stores. The Asheville Earth Fare, as a result, has a much more varied selection. Local micros available included New Knoxville, Thomas Creek, Highland, and Duck-Rabbit. Nothing over 6% here, unfortunately. Excellent selection of American microbrews and a passable array of mostly British imports with a few Germans and a couple other countries represented. I would definitely return here next trip to Knoxville, if a trip to Asheville wasn't on the agenda.
912 characters
4.5
/5
rDev
+12.2%
This place is the best in town as far as selection. The previous reviewer hit the highlights well. They carry more West coast breweries now with North Coast and Rogue. They have an excellent choice of single bottles and bombers as well with mostly English ales featured. I haven't had the opportunity to meet the manager, but it sounds like he's on top of things. Highly recommended. The only downside is that it is located in a very busy, ever expanding development in West Knoxville known as Turkey Creek. Parking can be an issue at times, due to the fact that it shares a common and rather small parking lot with several other businesses in the same stripmall complex. That is a small inconvenience to withstand for a quality beer selection.
744 characters
4.15
/5
rDev
+3.5%
First off - the department manager refuses to carry Budweiser. They may now but I doubt it. Quality is great - people who come in here come not just for health food but for oddities like good beer. In knoxville this is an oddity. This means it's well rotated. Service when the manager is here he will tell you EVERYTHING. He is super knowledgeable. There's usually someone else in the cheese/coffee/beer department right next to the beer who is knowledgeable and helpful. Selection - Anchor, Flying Dog, Weihanstaphener (their kristall in singles too for $3), various pint singles like Julius Etcher, Holy Grail ale ect., Highland, Downtown Grill & Brewery ( knoxville), New Knoxville, Left Hand, and Atlantic. Also take note of the kick ass price on more regular beers like Pete's Wicked - $5.99, Bass $7.99. If you can get yourself to go to a health food store and you are a native of Knoxville you should like this place.
924 characters
Earth Fare - Turkey Creek in Knoxville, TN
4.01
out of
5
based on
12
ratings.