Blue Label Ale
| Simonds Farsons Cisk Plc.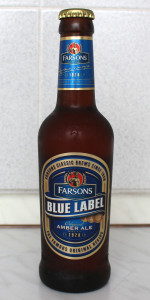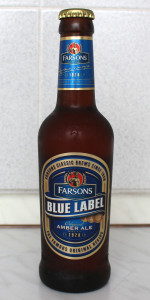 BEER INFO
Brewed by:
Simonds Farsons Cisk Plc.
Malta
farsons.com
Style:
English Pale Mild Ale
Alcohol by volume (ABV):
4.70%
Availability:
Year-round
Notes / Commercial Description:
A dark brown, top-fermented ale yeast, hopped and mixed with a special type of mild malt gives this richly coloured ale a unique, surprisingly smooth and mild taste. Contains distinctive chocolate and caramel notes. The draught version is a smooth and creamy version and is also available in cans, possible through an inbuilt widget technology that releases just the right amount of nitrogen to create the perfect surge and distinct smooth and creamy finish, which has previously only been available on draught in selected outlets across the island.
Added by BeerAdvocate on 07-12-2005
HISTOGRAM
Ratings: 14 | Reviews: 8
None found.
More User Reviews:

4.68
/5
rDev
+32.6%
look: 5 | smell: 4.5 | taste: 4.75 | feel: 4 | overall: 5


4.32
/5
rDev
+22.4%
look: 4 | smell: 4.5 | taste: 4.5 | feel: 4 | overall: 4
A- First non stout I'd had on nitro. Clear and amber with the endless nitro head.
S- Only beer in Malta with notable aroma. Some toffee, caramel, good amount of fruity/berry/earthy UK hops.
T- Same as smell. Nice and malty, toffee/caramel, good hop flavor(fuggles maybe), amazingly full for such a low gravity beer.
M- pretty full for 3.8 percent. Light enough to drink all night.
O- Fantastic session beer. Perfect English character, malty but not sweet, hoppy but not bitter, satifying yet quaffable.
509 characters

4.13
/5
rDev
+17%
look: 4.5 | smell: 4 | taste: 4 | feel: 4 | overall: 4.5
Brown 25cl bottle, best before 10 Sept 2010, drank on a sunny evening early June 2010. Poured into Palm Special tulip.
Amber, clear, yet darker than your average Pale Mild. Off white bubbley head sat on top, the thickness fell away slowly to leave a high collar and wispy, but full covering.
Roasted, toasted malts hit the nose, not over-stated, but there all the same.
The malts carry on into the taste, some hop bitterness is evident, but the malts smooth those away to give an easy drinking beer that is ideal when you're hot and don't want a lager/pilsner based beer. It would/could be easy to knock down its mouthfeel, but at 3.3%ABV I feel it holds its own more than a lot of weaker strenghted Milds.
As far as I know this brewery is the only one in the Med that brews ales, and long may it do so. It is also one of the reasons I've been on holiday to Malta four times!
879 characters
3.25
/5
rDev
-7.9%
look: 3.25 | smell: 3.25 | taste: 3.25 | feel: 3.25 | overall: 3.25
3.15
/5
rDev
-10.8%
look: 3 | smell: 3 | taste: 3 | feel: 3.5 | overall: 3.5
Tasted this while visiting Malta. This brew pours with very little head and the body has a dark amber color. The nose has some faint nuttiness to it along with some malt. The taste is all malt and the mouthfeel is quite light. The finish is also light and leaves little to linger in your mouth.
Overall it is a very mediocre mild but one that is eminently drinkable and something that you can throw back quite a few of. In the heat that Malta can get, a cold lager is probably more refreshing but if you are an ale fan then this one is a good choice.
551 characters
3.48
/5
rDev
-1.4%
look: 3.75 | smell: 3.25 | taste: 3.5 | feel: 3.75 | overall: 3.5
I had this on tap, from bottles and cans during my recent trip to Malta.
Beer pours a clear copper with a decent tan head.
Nose of grains and bit of caramel.
This is a very mild mild, little hops but the malts are slighlty sweet with a bit of apple in the finish.
Not a bad beer by any means.
296 characters
3.19
/5
rDev
-9.6%
look: 3.5 | smell: 2 | taste: 4 | feel: 3 | overall: 3
The colour is pale amber (17 EBC), the liquid clear. The high head slowly sinks down to a firm airy off-white head. No lacing.
The smell is malty. Frowsy sweet biscuit-like flavours. Hints of mint and leather.
The taste is malty and quite fresh. Hints of caramel and rye cookies. The flavours are light and smooth. Fragile bitter hints of almonds and apricots, perhaps even some leather. The aftertaste brings more malty flavours with some more lightly roasted flavours. Cookies and biscuits in the finish.
The carbonation is medium strong; the many small bubbles are fresh. The liquid is semi-smooth.
I am a sucker for English mild ales. This one wasn't one of the best, but still a good brew.
702 characters
3.08
/5
rDev
-12.7%
look: 3.5 | smell: 3 | taste: 3 | feel: 2.5 | overall: 3.5
One of the three Farson's beers I've had on my trip to Malta.
This one is marketed as a creamy ale, ala Boddingtons, and served on nitro-tap into a nonik pint.
Deep golden color with a few medium-sized bubbles sticking to the side of the glass and a creamy, white, nitro induced head.
Very mild aroma, somewhat grainy on the palate, with a slight nuttiness. Quite watery. Not much body to speak of either which detracts from any potential creaminess.
Not one I'd be inclined to have again.
501 characters
3.48
/5
rDev
-1.4%
look: 3 | smell: 2.5 | taste: 3.5 | feel: 4 | overall: 4.5
Poured from a 500mL bottle into a pint glass.
A: A nice head quickly disappears. The beer is copper-clear with light bubbles; rather pretty.
S: Predominantly metallic malts. Disappointing
T: A little tart, a little malty, quite carbonated. Very nice. Aftertaste is clean and light. Incredibly nondescript, but utterly pleasant.
M: Lovely! Carbonated and substantial. Just plain beery.
D: The best Maltese beer I've tried (for what that's worth). Most drinkable. I recommend a half-litre in the Hole in the Wall Pub.
520 characters
3.5
/5
rDev
-0.8%
look: 3.5 | smell: 3.5 | taste: 3.5 | feel: 3.5 | overall: 3.5
3.13
/5
rDev
-11.3%
look: 3.5 | smell: 3 | taste: 3 | feel: 3 | overall: 3.5
Intense copper color. One finger of white foam, quite creamy.
Very english smell, with the domince of the classic english hop.
A mix betwenn orange and earthy.
The taste is more on the orange side, with a light malty base.
Well balanced, if you think at the 3.3 ABV.
Quite thin body, same notes in the aftertaste.
Pleasant and drinkable.
337 characters

3.27
/5
rDev
-7.4%
look: 3.5 | smell: 3.25 | taste: 3.25 | feel: 3.25 | overall: 3.25
Blue Label Ale from Simonds Farsons Cisk Plc.
Beer rating:
3.53
out of
5
with
14
ratings