Lager & Lime Shandy
| Simonds Farsons Cisk Plc.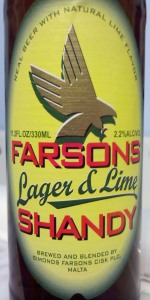 BEER INFO
Brewed by:
Simonds Farsons Cisk Plc.
Malta
farsons.com
Style:
Fruit / Vegetable Beer
Alcohol by volume (ABV):
2.20%
Availability:
Year-round
Notes / Commercial Description:
No notes at this time.
Added by GRPunk on 08-09-2009
Ratings: 4 | Reviews: 4
Reviews by ShogoKawada:

1.84
/5
rDev
-42.7%
look: 2 | smell: 3 | taste: 1.5 | feel: 1 | overall: 1.5
Possibly the best Maltese shandy I've ever had. Big thanks to baconsausage for this one. 12oz gushes a bit, but hey let's get this party started.
A- Pale yellow and a big big white head that rises quick. Settles into a one finger layer of seafoam with some sticky lacing.
S- Nose is very faint.. a bit of lime. Hard to pin down.
T- Hmmm... not *that* bad at first sip. Like a limeade, some sweet slickness that builds in the finish. Ugh, I know it's a lime shandy, but still, it's like chewing on tropical antacid tablets. Chalky, sweet, and shudder-inducing.
M- Slick, sweet, really tiring on the tongue. Leaves behind a sludge on your tongue.
O- Still the best Maltese shandy I've ever had. But that's not saying much. Did not finish.
743 characters
More User Reviews:
3.6
/5
rDev
+12.1%
look: 3.5 | smell: 3.5 | taste: 3.5 | feel: 3.5 | overall: 4
Bottle, with a best by date of May 09, poured into a pilsener glass.
A- It poured with a big, 2+ finger, fluffy, white head. The body was a clean, straw yellow the moderate carbonation. The head dropped to something more like a single finger and left loads of thick rings on the glass.
S- The aroma was definitely a mix of lager and lime. The beer side was a decent, doughy malt scent. The lime flavoring came off as pretty natural smelling, unlike a lot of pre-made shandies or radlers that can have a chemical aspect going on.
T- Again, a pretty good mix of beer and citrus. This time the lime had a slight edge. The beer flavor starts off as a lighter, clean lager with an emphasis on the malts. Then the lime kicks in, making itself known, without overwhelming the overall flavor.
M- It's fairly light bodied. The carbonation and citrus flavor give a slight bite on the tongue.
D- It's a pretty easy drinker. Like Farsons regular shandy, I could drink one or two on a hot day. Anything more might be overdoing it. Of the two, I think this one is just a bit better, being more balanced between beer and lime.
1,126 characters
3.25
/5
rDev
+1.2%
look: 4 | smell: 4 | taste: 3 | feel: 2.5 | overall: 3
Ridiculously pale yellow that is more cider-like than beer-like. That makes sense since this product is slightly less than 50% beer. The eggshell colored head looks great considering how little malt is present. It doesn't lose a thing over time (except height) and is doing a damn good job decorating the glass.
The nose is chock full of fresh lime juiciness. Only a hint of the base lager is noted and isn't bad at all. No nastiness whatsoever. This is shaping up to be the best Simonds Farson Cisk brew yet. The flavor can't possible be this appealing, can it?
No it can't. Still, it isn't too bad if you know what you're getting into when you pop the cap. I'm not sure what comprises slightly *greater than* 50% of Lager & Lime Shandy, but it certainly isn't lime juice or this stuff would be overwhelmingly tart. Maybe they simply added water.
Sweetness is only mild-moderate, as is tanginess, with bitterness being essentially absent. More lime flavor would have been better. In the end, this is an inoffensive, easy drinking lager dressed up with a small splash of lime. Nothing more and nothing less.
All things considered (not much malt, low ABV), the mouthfeel is pretty much as expected. It's extremely light, very slightly slick and doesn't have enough carbonation. A minor gut ache tells me that there's more sugar in here than first thought.
Are there any other shandies that use lime juice instead of lemon juice? I've never heard of any, but then I'd never heard of this one prior to several weeks ago. Lime & Lager is a decent summer quencher that will probably appeal to those who don't like beer more than to those who do.
1,645 characters
4.15
/5
rDev
+29.3%
look: 3 | smell: 3 | taste: 5 | feel: 4.5 | overall: 4
I got these for a reduced price at work. There's no date on the bottle so there's no telling how old this is lol. But they're still fresh and taste great.
Appearance - Pours a clear straw color with almost no head.. Has very thin lacing.
Smell - Smells like lime and Sprite, or like a Smirnoff wine cooler. That's all.
Taste - With such a low ABV it tastes just like soda. Tastes the same as the smell.. I love it though.
Mouthfeel - Very thin body with medium carbonation.
Overall - It's obvious that you wouldn't be drinking this beer to get drunk.. but I've been drinking this with clams and shrimp and it's a great pairing.
632 characters
Lager & Lime Shandy from Simonds Farsons Cisk Plc.
3.21
out of
5
based on
4
ratings.