Santo Viejo
| Old Harbor Brewery Steak & Lobster House
BA SCORE
84
good
12
Reviews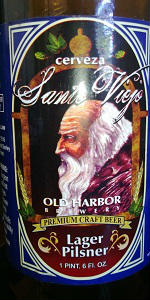 BEER INFO
Brewed by:
Old Harbor Brewery Steak & Lobster House
Puerto Rico
oldharborbrewery.com
Style:
Czech Pilsener
Alcohol by volume (ABV):
5.50%
Availability:
Year-round
Notes / Commercial Description:
No notes at this time.
Added by MTNboy on 07-24-2007
This beer is retired; no longer brewed.
Reviews: 12 | Ratings: 47
3.88
/5
rDev
+4%
look: 4 | smell: 3.5 | taste: 4 | feel: 4 | overall: 4
A: three finger frothy head with decent retention and nice lacing on a golden with crimson hues body.
S: a little pungent and earthy with bland pale malts and slight lemon note.
T: earthy and herbal hop notes, pale malts in the background with a lemon grass note provides a slight bitter finish but less so than other czech pilsners.
M: medium body and moderate carbonation. smooth.
Overall: one of the better beers from this brewery and certainly the best of their year round beers. Not as bitter as many czech pilsners.
525 characters

3.21
/5
rDev
-13.9%
look: 4 | smell: 3 | taste: 3 | feel: 3.5 | overall: 3.5
A - Poured with two and a half fingers of white foam on top of a hazy, dark golden body. The foam settles very slowly and leaves ncie lace on the glass.
S - A light aroma of bready malt with a hint of hops.
T - Light malt up front with a bit of herbal hop character. Some thicker bread notes in the middle and a moderate hop bitterness that lingers on the palate.
M - Medium body, moderate carbonation, and a slightly sweet finish.
D - Not bad, it doesn't live up even remotely to a real Czech Pilsner, but it is a decent tropical lager. Bland, but refreshing.
564 characters

3.19
/5
rDev
-14.5%
look: 3.5 | smell: 2 | taste: 3.5 | feel: 4 | overall: 3.5
Draft at the brewpub in Old San Juan.
Pours a dark golden yellow color with pale yellow hues when held to a light and a one finger frothy white head. Good retention, only slowly fading into a lasting ring that laves sporadic spots of lace behind.
Bland aroma with hints of slightly toasted biscuit malt and toffee. Slightly earthy/grassy with subtle earthy pine hop character.
Medium boded and fuller than expected with a nice crisp hop bitterness up front that lingers throughout over a sweet malty backbone into a long dry finish. Slightly earthy with hints of grass and straw along with some subtle light fruit, mostly apple and pear. This is nicely balanced by a toasted biscuit malt presence making this beer decently quaffable. The best of the three beers I had at Old Harbor.
785 characters
2.7
/5
rDev
-27.6%
look: 3 | smell: 3 | taste: 2.5 | feel: 3 | overall: 2.5
(Served in a American Pint glass)
A- This beer pours a clear slightly dense deep copper body with big bubbles popping to the surface where the head boils away even before it forms.
S- The aroma of sulfur is dry but light with a stale malt aroma to follow. Otherwise the smell is pretty clean.
T- The bitey dry hop bitterness has a hint of sulfur with some faint dry Pils malt with a touch of sweetness to it. The finish has a bitterness that lingers a bit. There is a light banana ester note that comes through when the beer opens. It remains light but it is still odd.
M- The light mouthfeel has no alcohol heat and a tight fizz.
O- The big bitey hop bitterness doesn't really have any malt support except for a slight sweetness and the odd banana ester. The carbonation and bitterness makes it almost astringent. It was a bit hard to get through a bomber of this.
876 characters
4.45
/5
rDev
+19.3%
look: 4 | smell: 4 | taste: 4.5 | feel: 4.5 | overall: 5
Wow! Great beer!! Served here at the pub bar. Has a nice light tan foamy, frothy head that mostly dissipates. No lace. Very malty aroma. Has a lovely polished brass color. Flavor and body is where this beer really shines though. Absolutely a session beer. It's one of the best micro-brewed czech pilsners I've ever had. Yummm. Wish it wasn't so far to go to from Wisconsin. Wah. Good hop character that's right in line with the standard. Excellent hop/malt balance. Perfect finish.
481 characters

3.25
/5
rDev
-12.9%
look: 3 | smell: 3 | taste: 3.5 | feel: 3.5 | overall: 3
22 oz bottle brought back by a friend pours a surprisingly dark golk color with a bit of chill haze. Fluffy off-white head sticks around all right and leaves just a few spots of lace.
Nose is light grains, grape skins and a little bit of floral hops.
Taste has alot of flavor, but not necessarily all that delicious. This bottle might be a little old, it does not have a bottle date on it. Malts are almost chewey with some definite sweetness akin to malted milk. Id prefer a little bit more crispness and hop flavor in a pilsner. Hops are all but gone from the front end but still provide a touch of bitterness on the finish. Overall, I think this would be much better fresh on tap, but it not too tough to power through this bottle.
736 characters
4.35
/5
rDev
+16.6%
look: 4.5 | smell: 4.5 | taste: 4.5 | feel: 4 | overall: 4
I've only tried two OHB beers but this one I liked the best. It had a murky bright yellow color almost orange and a thin white head. Right off the nose I could smell some vanilla, coriander and some pepper which I like a lot in my beers. The taste was amazing very refreshing and filled with spices and very nice balance between the hops and the spices. It left a great after taste that made me want more and more and was also very refreshing. Overall a great beer, I whish I could have it more often.
501 characters
3.68
/5
rDev
-1.3%
look: 3.5 | smell: 3 | taste: 4 | feel: 3.5 | overall: 4
Santo Viejo is a wonderful Pilsner that is very reminiscent of the ones I have had from Germany and Czech. All the major ingredients are imported except for the water. It is an unfiltered beer so it gives it a wonderful taste and color.
Appearance- It is a little more of a brass color than most pilsners you will find. There was a great head with a lot of staying power.
Smell- Decent hops bouquet with a little fruit ester. It was simple but nice.
Taste- Clean and crisp. It tasted authentic as a Pilsner should.
Mouthfeel- Average carbonation and bitterness.
Drinkability- It is another good beer for the climate down there it easy to drink and very refresing.
681 characters
3.9
/5
rDev
+4.6%
look: 3.5 | smell: 3.5 | taste: 4 | feel: 4.5 | overall: 4
Served on tap at the OHB
This one was the most intriguing to me since it was either this or a Kolsch. The appearance was a nice golden color a touch deeper than you would expect for the style, but still nice. The aroma had that distinct bready pilsner smell but not much more than that. The flavor was surprisingly good. There was a robust malty note to the pilsner that you wouldn't expect. It wasn't as dry and crisp as would be traditional as well. There were some light citrus notes that I would have expected only came from the hops, but they all worked for good flavor profile. The mouthfeel was really smooth, something that this brewery seems to do rather well. Overall this was another winner from OHB, they make solid beers.
735 characters
4.24
/5
rDev
+13.7%
look: 3 | smell: 4 | taste: 4.5 | feel: 4 | overall: 4.5
Its murky yellow/orange appearance is the only remotely average thing about Old Harbor's Santo Viejo pilsner. It smells crispy and slightly fruity, perhaps of apples. It tastes absolutely delicious. You'll notice most its wonderful peppery character and utter lack of mustiness. The apple-y smell shows up as a welcome background flavor. Pleasant dry & toasty finish. Spritzy, lively mouthfeel. In this and their Kofresi stout, Old Harbor boasts a couple surprisingly good beers.
479 characters

4.05
/5
rDev
+8.6%
look: 3.75 | smell: 3.75 | taste: 4.5 | feel: 3.75 | overall: 3.75
A pretty decent pilsener brewed to Reinheitsgebot. Refreshing enough for the hot Puerto Rican sun.
Brilliant clarity on tap, some sediment in the bottle.
Nice grainy pils malt aroma.
Mouthfeel is substantial for such a light refreshing beer.
Not the best beer I've had, but the best Puerto Rican beer I've had.
310 characters
4.17
/5
rDev
+11.8%
look: 4 | smell: 4.5 | taste: 4 | feel: 4.5 | overall: 4
Pours a hazy dark golden color, head is lush but doesn't show any lacing due to frozen glass. (I asked them to switch the glass and they gave me a whole new pour without charging me, but still, a frozen mug? really?)
The smell is of earthy hops, lemon, and malt.
The taste is just as good as the smell, with a good bite up front and a full maltly middle leaving a lemon grass malty sticky finish
Overall this is one hell of a pilsner and by far the best year round offering at Old Harbor Brewery.
499 characters
Santo Viejo from Old Harbor Brewery Steak & Lobster House
3.73
out of
5
based on
47
ratings.