Dismiss Notice
Visitante 212
| Old Harbor Brewery Steak & Lobster House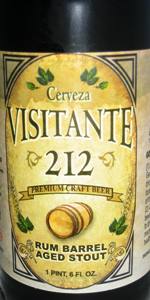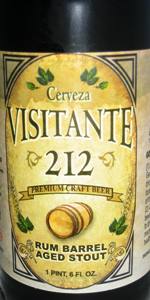 BEER INFO
Brewed by:
Old Harbor Brewery Steak & Lobster House
Puerto Rico
oldharborbrewery.com
Style:
American Double / Imperial Stout
Alcohol by volume (ABV):
not listed
Availability:
Limited (brewed once)
Notes / Commercial Description:
No notes at this time.
Added by JoEBoBpr on 05-16-2011
This beer is retired; no longer brewed.
HISTOGRAM
Ratings: 10 | Reviews: 7
Reviews by Risser09:
3.74
/5
rDev
+8.4%
look: 3 | smell: 4 | taste: 3.5 | feel: 4 | overall: 4
1pint 6oz bottle poured into a snifter · fridge temp · 2012
Appearance: Pours dark brown/black color with a 1/4" light tan head. It recedes quickly and doesn't leave much lace behind.
Smell: Tons of vanilla, raisin, fig, wood, rum and more rum. Very interesting, nice and unique.
Taste: This beer tastes like rum. It has vanilla, wood, cocoa, booziness and a cream taste.
Mouthfeel: Creamy, boozy, slick and warm. It is an easy beer to drink, if you like rum like I do.
Overall: I'm rather impressed with this beer, although it could use more texture in its mouthfeel. A respectable beer from Puerto Rico!
612 characters
More User Reviews:

3.82
/5
rDev
+10.7%
look: 3.5 | smell: 4 | taste: 3.75 | feel: 3 | overall: 4.25
Presentation: 22 oz. brown bottle, served in a snifter.
Appearance: It has a deep dark brown color, almost black. No light shines through it. There's no head to speak of but there's some tan colored lacing on the glass.
Smell: It has a very prominent wood scent, with some roasted malt and coffee notes. There's also a sweet dark chocolate smell and a rum sting in the nose as well.
Taste: It's a very sweet taste, mainly of roasted malts and coffee. There's also a strong note of rum that balances everything out with the correct amount spiciness. The wood presence is very prominent, the flavor of the entire beer could benefit from some time in the bottle or maybe less time in the rum barrels (it's aged for 6 months). Not to say the taste is bad in any way, on the contrary. But it takes away from the rest of the elements.
Mouthfeel: It's extremely smooth and creamy, almost like syrup, with very little carbonation. The syrup like texture could use a bit of softening up. Again, it could be fixed with some more time in the bottle or less time in the barrel.
Overall: A very good and complex beer that needs some time to be appreciated. Best to take it in small quantities like a spirit. It's a very original concept that's very good to have in the Puerto Rican beer scene. It's just wonderful when these concepts actually result in a great product and not some experimental concoction.
1,399 characters
3.12
/5
rDev
-9.6%
look: 3.5 | smell: 4 | taste: 2.5 | feel: 2.5 | overall: 3.5
Appearance,
Dark syrup like pour, decent head which turns quickly soapy and disappears. Understandable for a six months ageing in a rum barrel.
Smell,
Surprisingly bready, boozy like sherry, oaky, slight raison, VERY light chocolate and almost no rum. Inviting
Taste,
Begins malty and sweet which quickly turns to butterscotch and rancid bitterness. Typical stout flavors of chocolate and coffee are followed far behind and instantly covered up by bitterness.
Mouthfeel,
Malty to dry to bitter with like flavor transitions
Overall,
I really appreciate the effort, I am looking forward to this brewery's potential. I've been a customer for over 3 years now and I've seen their beers change vastly (for good and worse) in that time. They just got a new brewmaster who promises to "beef" things up a bit, after meeting the guy I'm very hopeful of the new direction,
Cheers!
875 characters

2.8
/5
rDev
-18.8%
look: 3 | smell: 3 | taste: 2.5 | feel: 3 | overall: 3
Served in a Rogue shaker pint glass.
Big thanks to VDubb86 for sharing this bottle picked up during his recent cruise!
What better way to kick off Super Bowl Sunday than a rum-barreled stout from Puerto Rico? It pours a very murky dark sienna topped by a half-finger of tan foam. The nose comprises graham cracker, light cocoa, toffee, and a touch of some vague berry (I assume this is a combination of wood and spiced rum, but it comes off more berry-like than anything). The taste holds notes of dark rum, light vinyl, bitter roast, light oak, and a light touch of dark chocolate powder. The large amount of rum flavor doesn't meld all that well with the stout qualities, frankly... The body is a stolid medium, with a light moderate carbonation and a kinda languid feel. Overall, I think Mike put it best: For a beer-flavored rum, this ain't that bad, but for a rum-flavored beer it fails.
894 characters
3.62
/5
rDev
+4.9%
look: 3.5 | smell: 4 | taste: 3.5 | feel: 2.5 | overall: 4
Bottle at the brewpub. Pours dark brown with mild off-white head. No lace. Strong boozy rum aroma greets you instantly. Vanilla, sweetly roasted malts, and toffee share the nose.
Taste follows suit: strong rum barrel flavors with vanilla and malts dominate. Finish is moldly sweet with a touch of booze. Weak body detracts from the experience. Overall, I'm glad to see breweries like this experimenting with barrel aging. Love to see where these guys are in a few years.
471 characters
3
/5
rDev
-13%
look: 3.5 | smell: 3.5 | taste: 3 | feel: 2.5 | overall: 2.5
Poured into a snifter from a 22 oz bottle.
Rum Barrel Aged Stout
Bottle states: ABV not less than 6% not more than 9%.
A - Pours a very liquid dark brown with a thin light cream head that dissipates very quickly.
S - Aroma is sweet as expected from the rum barrels. Some slight wood notes, molasses and dates. Slight caramel notes as well. Some cloves are present as well as slight vanilla spice mixed in with the wood notes. Nose has some chocolate cake to it mixed in with some booze.
T & M - Low carbonation sweetness comes up quick. A bit watered down as well. Some molasses and caramel notes are present with a slight grainy and bready middle. The sweetness is present but because of the light body it is not cloying. Definite rum sweetness is perceived as well as some dry wood notes. Flavors are good but its a bit boring. Slightly one dimensional. Mouth feel is too watered down. They should have boiled this longer to make a heftier beer.
O - I'm glad this brewery is bottling and exploring new aveneus but they need to improve the execution of this brew a bit.
1,075 characters
3.92
/5
rDev
+13.6%
look: 3.5 | smell: 4 | taste: 4 | feel: 3.5 | overall: 4
Reviewed from notes from r stay in Puerto Rico.
Appearance dark brown with orange hue and a 1 finger off white / mocha head
Smell: rum, vanilla, booze, vanilla, barley, malts
Taste: rum, vanilla, booze,
Mouthfeel: medium body, mild carbonation
Overall: decent beer overall considering the only thing to drink the cruise ship is BMC. So yes please anything is better then water. :)
Cheers,
TheCPJ
401 characters

Visitante 212 from Old Harbor Brewery Steak & Lobster House
Beer rating:
3.45
out of
5
with
10
ratings