Régence, La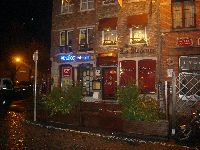 Reviews by TheLongBeachBum:
TheLongBeachBum from California
3.86
/5
rDev
+2.9%
vibe: 4 | quality: 4 | service: 4 | selection: 3.5
After a very busy day out on the road including an interesting Tour of Distillerie De Biercée and a very disappointing Brewery Tour and visit to the Brasse-Temps Brewpub in Mons, our Coach party headed back into Mons for the evening. It was relatively early and even the drizzling rain failed to dampen the collective beer-hunting spirits of a small hardy group of us who fancied yet more touring.
As always, a quick flick through Tim Webb's excellent (5th Edition) Good Beer Guide to Belgium, and we were soon headed for the Gare de Mons. Page 240 offered the perfect opportunity for a relatively quick ~15 minute train ride from Mons to Soignes, the round trip was around €3,50 each as I recall.
The first thing that struck me was the lovely old splendor of the Railway Station in Soignes. From a time past when buildings had character and railways served with pride, the brick building is accentuated with stone and cross-gabled slated roofing. If you get here be sure to spare a little time to look it over, inside and out. The light rain continued as we initially got lost, but from the Station head across the triangle in front and onto the Rue De La Station, head right on this road for about 500 metres, then take a left onto Rue De Mons, head along here and up the hill which curves to your right, just before you see the Grand Place, La Régence is on your immediate right on the corner opposite the large Church.
The exterior has a look of new about it, cleaned up old style brick makes up the three-storey frontage. The doorway is to the left of two large windows which have the full name of the establishment painted on in black & gold gothic lettering; "Restauration Taverne La Régence". Dark purple awnings over the windows and entrance are sponsored by Duvel and Bush. To the left of the entrance a small colorful "BSB" square sign [l'Office Belge du Service de la Bière] is proudly displayed - always a very good sign of quality from my experience.
The interior is clean, simple and neatly laid out, but a little cramped, this isn't the biggest of places. A single-roomed affair, the bars sits midway to the right hand side against the wall, the front and back hosts a handful of tables and chairs whilst opposite the bar much smaller two-seater jobbies seem in the way. Less than a third full when we arrived with people finishing meals and leaving it soon emptied as the filthy English got comfortable at the back of the building.
Beer list was restrained in quantity but far from pedestrian and had depth in quality. A few taps and 50+ bottles are readily deciphered and easily perused in a simply to read gatefold Menu. Bingo! Took me two seconds to choose my first beer, I immediately opted for a Girardin Black Label Gueuze, the first chance I had to sample a traditional lambic during our Easter 2006 tour, not all that easy a style to find in this part of Belgium. After taking a 375cl bottle of this fine Gueuze around the block, for the second brew, our group of Six all opted for the newly released Leffe 9°, well I had to give it whirl didn't I? Far from terrible, but nothing better than I imagined. Prices were a little above the norm, but not by much and this is a little out the way so reasonable. Service was attentive and the chap behind the bar was very interested in our trek out here, whence he expanded further on the bottled beer range and offered a few suggestions. Dupont and Achouffe are available in 750's.
We fancied some beer with our food, but as we arrived just before 8pm, and despite Tim Webb's GBG2B suggesting that they serve food until 9pm here, it seems that they stop serving food at 8pm, and actually close at 9pm, though they let us stay until they turned the lights off!!! So I didn't get to try the much vaunted and regaled food, thwarted again! We did however stop at a damn good Frites place just down the hill on the left and stocked up on Belgium "Chips" plus one of those unrecognizable meat things that comes in a fold out white cardboard tray…..fortunately, I had a bottle of HP Brown Sauce in my backpack, so we finished the night in style before we headed back to the Station for the 22:25 train back to Mons….and, erm, yet more beer!!
La Régence is a lovely and very relaxing single-roomed Café off the beaten track. A stay in Mons makes this easy to get to and from, and a ride out here is recommended, to look at the lovely Soignes Railway Station, to try a Girardin Gueuze and so you can tell me just how great the food really is at La Régence – next time!
Last Visit: Saturday 15th April, 2006.
May 11, 2006
More User Reviews:
Rifugium from North Dakota
3.64
/5
rDev
-2.9%
vibe: 4 | quality: 3.75 | service: 3.5 | selection: 3.5
I found myself in Soignies for a concert (just happened to be a great show in town that I couldn't miss while I was in the country). I had trouble finding any decent beer locations, so I opted for La Regence, as it was pretty close to the venue.
First off, they speak full-blown French here. Like, most places I've been over here, there's at least someone who can work out a little English for tourists, but not here. But regardless, I was able to bumble out an order for myself. The server was a little wifty, just kind of floating around the bar, and serving me and the other couple whenever he felt like it. Took a while to get my check at the end.
The vibe was decent. Very small, but still some breathing room. There was no bar, so I sat at a single table. Beer selection wasn't great. They had a lot of basic stuff that you can pretty much find anywhere. If you're looking for lambic, you'll only find stuff like Bellevue and Lindemans here. I went with the old standard Rochefort 10, that being the best bottle I could see on the menu. Food was good. I got the lasagna (one of the few things I understood on the menu lol), and it came out sizzling and tasty. Prices weren't bad.
Obviously I would not call this a beer destination. But if for some reason, you're in town and need a bite to eat with a decent Belgian beer, this is probably a good bet.
Apr 26, 2015
Régence, La in Soignies, Belgium
Place rating:
3.75
out of
5
with
2
ratings