Au Ropieur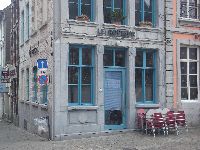 Reviews by TheLongBeachBum:
TheLongBeachBum from California
3.76
/5
rDev
+1.3%
vibe: 4.5 | quality: 3.5 | service: 4 | selection: 3.5
A composite BeerFly for two visits during the 14th Annual Wakefield CAMRA 2006 Belgium Trip when Mons was base camp.
Tucked away in the corner of the Grand Place, the Ropieur has a gray stone façade with tall pastel blue painted windows, all of which rises up three storeys and topped off with a traditional mansard slate roof with inset small windows, which itself seems to accommodate a fourth floor. A few chairs were tied up outside during both of our night-time visits indicating that it may offer a Bière à la Grand Place during warmer times.
The interior seems to have been untouched for some time. A rather grand looking wooden staircase to your immediate right leads up to the overflow room upstairs, this seems to be closed on a night and only reserved for busier times during the day. To the left upholstered bench style seating runs down the wall with three copper-inset surfaced wooden tables, these in turn have a few wooden chairs in front of them. The bar is to the left tucked underneath the staircase and is a simple affair, wooden topped with a handful of taps all located on a stainless T-shaped font, all the taps are the same and it is hard to tell what is one offer without asking. Décor is a throwback, a mixture of 50's solidity with wood paneling and lots of wall mounted mirrors to lend a feeling of space in a reasonably small but comfortable bar area. Toilets are at the back and are a One-In-One-Out affair, so you may have to wait your turn. Plants and some trails of white Christmas type lights add to the ambience on the dark nights.
I noticed, once inside, that the Ropieur is often passed by the tourists, both domestic and international. This is fine by me, for the Ropieur has a very strong following with the locals which was very evident from both my visits here. The Landlady was charming, stern and utilitarian but always helpful and willing to point out a few special Wallonian brews that she had stashed away.
Beer range is somewhere around 40, but with a few bottles not listed on the Menu and the fact that the Tap beers seem to alter it could well be slightly more. Nonetheless, the range was nicely put together, the Grimbergen Blonde and Dubbel on draft was fresh and tasty, think they also had a Wit on draft. A good range of 750ml Bottles including a couple of Abbaye Des Rocs, the Brune & Noël, a spattering of Wallonian brews and the often unseen brew, such as Hughye Villers Blonde, all added to the pleasure of drinking here. Order of the day for the last beer in here was always the stubby bottle of Hapkin, surprisingly good and Duvelian for a SCAM-Union brew I have to say!
Along with the Copenhagen and Centraal, the Ropieur is listed as a "Try Also" for Mons by Tim Webb none of which get full listings but more a 'respectful mention' in his 5th Edition Good Beer Guide to Belgium. But don't let that put you off visiting here! Whilst the other two "Try Also" recommendations for Tim Webb's 5th Edition Good Beer Guide to Belgium may have about the some quantity of beers on offer, Au Ropieur has a few additional and unique brews up its sleeves that sufficiently differentiate it above the Copenhagen and Centraal. And for my money this is by far the most personable bar and welcoming that we frequented during our Easter weekend visit. The Landlady ran the place with ruthless efficiency and kept an eye on the proceedings, always ready to get the next beer when we ran low on the current one. And the Friday Night that I spent in here with the Yorkshire Regional Director of CAMRA was memorable for so many reasons, far too many to go into detail about, but suffice to say that we were made to feel *very* welcome by the locals and shared in many a free beer that we wanted to pay for but simply could not.
Come here for the atmosphere, avoid the tourists and meet the real local characters all set in the flavor of a genuine street corner bar in Mons. Finish with a bottle of Hapkin too!!
Last Visits: Friday 14th and Monday 17th April, 2006.
May 08, 2006
More User Reviews:
BlackHaddock from England
3.66
/5
rDev
-1.3%
vibe: 3.5 | quality: 4 | service: 3.5 | selection: 3.5
Mons on New Years Day 2012; stopped overnight on the way home from Luxembourg and popped into four of the establishments around the Grand Place: this was the first watering hole we tried.
We walked around the whole square that is the Grand Place: the centre being taken up by the Christmas market and temporary Ice Rink, both of which were closed and being dismantled. It was late afternoon and dusk was already closing in. Au Ropieur is the grubbiest looking bar on the square but it drew us in as it looked so 'lived in' and appeared to be the busiest place at that time.
Downstairs was full of locals who stared: the lady behind the counter indicated the stairs, which we dutifully climbed: behind and below us was a very basic bar room with a few old wooden tables and chairs, full and vibrant. The stairs had a dodgy carpet which we managed to negotiate but a member of staff later tripped on, spilling a full bottle of Westmalle Double along with its glass, onto the split carpet.
Upstairs it seemed brighter, airier and tidier, we sat near a window which wouldn't shut properly and let in the cold: all the other windows appeared to suffer from the same aging problem and also allowed the winter air to get into the place.
The beer menu was fine, no real rare goodies that I could see but an on-tap Christmas Affligem caught my eye and that is what I had. No freebie nuts or salty biscuit etc, etc were offered, unusual we thought: didn't notice if the locals downstairs were given any, so might be the norm in here?
Anyway it was pleasant enough bar if in need of a spruce up and some money spent on it: my wife and I enjoyed our beers, she having a Palm, her default Belgian beer when she knows a session is on the cards!
Feb 07, 2012
Au Ropieur in Mons, Belgium
Place rating:
3.71
out of
5
with
2
ratings