Le Central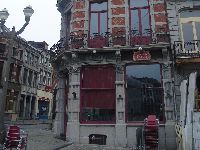 Reviews by TheLongBeachBum:
TheLongBeachBum from California
3.5
/5
rDev 0%
vibe: 3.5 | quality: 3.5 | service: 3.5 | selection: 3.5
The last of three "Try Also" establishments listed in Tim Webb's 5th Edition Good Beer Guide to Belgium, but whilst we had already frequented the Au Ropieur and Copenhagen Tavern several times, Easter Monday night was the first time that I even saw this place open for business, our last night as it happened, either it closed early or I just missed this one the previous nights!
Coinciding with some sort of local Football Club celebration in the Grand Place, the entire population of Mons appeared to have turned out for the celebrations on Easter Monday Night, I never did get to the bottom of what they were about, promotion maybe!? Needless to say it was the only time I came across "Le Central" open for business.
Situated at the same end of the Grand Place as the Copenhagen Tavern and Au Ropieur, in fact you could literally stumble uphill from the latter bar and be inside here within 30 seconds. A corner bar, it has a subdued brick and stone frontage which nevertheless befits the architectural settings of the Grand Place.
The entrance is right on the corner and the oversized door brings you into a high-ceilinged bar that has a modern Metro feel to it. The bar sits off to the left and against the back wall. The rest of the room is filled with a selection of wooden tables & chairs all neatly laid out and each offering an expansive view over the Grand Place thanks to the very large windows that forms the corner frontage.
Beer list did not scream anything special, another one of those flip plastic coated page jobbies all neatly arranged in a brown Leffe embossed binder. Only the Au Ropieur could claim fame to having the better beer list amongst the three 'Try Also' bars that we tried. That said, I went straight for a Karmeliet Tripel and then a Rodenbach Classic, both good, but the latter seemed a little dumbed down. I miss the Kasteel Dark, damn fine beer; they have this fine libation on sale here too – next time. In all, I recall maybe 45 to 50 beers listed, I forget the tap offerings, but it seemed like Jupiler and Grimbergen plus one or tow others from memory. The bottled list is where it is at.
Service was quick but unhurried, yet accurate with a good pour on the beer. Friendly banter failed to reveal the Football Team celebrations, funny thing was that by the time we had our beers, the Football Fans had all gone, neatly packed into a long fleet of waiting Coaches, if only that happened in England eh!?
Definitely a Try Also, but amongst the three listed in Tim Webb's Guide, the Copenhagen Tavern has a class interior and ambience with great food; the Au Ropieur a traditional corner bar setting full of real local Mons drinkers….but the Central seems to fail on both fronts. It has no classy setting, not that many locals, but a beer list that will keep you occupied for an hour or so. Maybe that is why it seems to close early. It lacks soul, but the view of the Grand Place from inside here may just make you stay for another beer. Not a favorite, but worthy of a stop if you have time to "do all the bars" in Mons.
Last Visit: Monday 17th April, 2006.
May 18, 2006
Le Central in Mons, Belgium
Place rating:
3.5
out of
5
with
1
ratings