Les Caves Dupont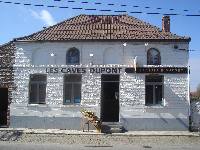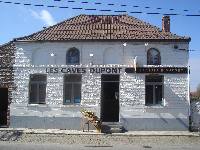 Bar, Eatery
Rue Basse 8
Leuze-en-Hainaut
, 7904
Belgium
+32 477 80 64 07 |
map
Notes:
Reviews by msubulldog25:
msubulldog25 from Oregon
4.33
/5
rDev
+11%
vibe: 4.5 | quality: 4.5 | service: 4.5 | selection: 4 | food: 4
Visited on 13 September, 2006. An afternoon stop on the Global Beer Tour, in lieu of touring the brewery. What was originally disappointing (a canceled tour) turned out to be a great experience, one of the highlights among many great moments on the trip.
La Caves Dupont is an ancient-looking white-washed stone building, opposite the Dupont brewery. We were a group of more than 25, which must have seemed like an army to the unsuspecting barkeeper and handful of patrons at the pub. Inside the place was quite simple; a small bar and fridges, a few taps, a TV, some video games, and scattered advertising on the walls A little hanging smoke haze. On a warm sunny afternoon, our group made a beeline for the outdoor seating area. A few tables and chairs, shadetrees and a rustic lawn. Short fences bisected the lawn with rabbits, a goat, and several cows beyond. The most excited to see us was the owner's pet dog, a scrappy little pug/poodle mutt named "Moinette", that bounced from person to person looking for anyone who'd toss his ratty toy dolphin in a game of fetch. Just a wonderful rustic and relaxed setting...couldn't have asked for much more. Other than beer..
Soon the glasses and bottles came pouring from the bar; trays full of glassware and bottle after bottle of wonderful Dupont beer. Plates of freshly cut Dupont cheeses followed. In succession we tried: the pale and light Biolégère, draft versions of the wonderful Saison Dupont and Moinette Brune, and the 2005 version of Avec Les Bons Voeux. All were excellent, served at the right temperature, etc.
Our time here was fairly short, so as some from the group headed toward the bus, others of us lingered behind awaiting the cheeses we'd requested (someone from the pub ran down the street to get more). Eventually only about a half dozen of us were left at the bar (we'd made our way inside at this point); our host, Regnier, and the barkeeper presented us with a goblet full of Bière De Miel Biologique, Dupont's excellent saison made with honey. As we gathered in a circle and began to pass it around for a taste, a 'colorful' local gentleman from a nearby table decided to join in the fun. Our new 'friend' proceeded to take the beer, which each of us had been sipping rather delicately as it was passed, and pounded it. I mean, he guzzled half the glass in a couple of seconds. Welcome to the Hainaut! With a filthy, half-toothed grin this well-lubricated guy then wiped his dripping lips and chin with his grimy t-shirt and emphatically handed the nearly empty, dirt smeared glass back...as if to say "THAT'S how you drink a beer!". He then laughed and walked away...
I, my wife and our new pals melbatoast93, Metalmonk and a couple others must have looked fairly dumbstruck by what had happened; in fact, we were. Had this been America, words might have been exchanged, things "taken outside". We sort of laughed the experience off uncomfortably and prepared to leave. But where did this stranger go? As we were collecting our cheeses, buying a few bottles and gathering the glasses the pub chipped in for free, this fellow had siddled up to the bar, bought us another full Bière De Miel. In (inebriated) French, he gathered us back together and started passing it around, making sure every one of us took an adequate gulp of that fine liquid this time. His buddies and he shared a good laugh, we all shook hands, took some photos with our new buddy and reveled in one of those great unscripted moments that everyone in our group who was there will cherish for a long time. Thanks for holding off and not going ape-shit on the guy, Metalmonk!
Thank you Mr. Moinette, aka "The Dupont Beer Strangler", for encapsulating what was so terrific about our visit to La Caves Dupont. Wishing all beer travelers a similarly wonderful experience.
Charming and quaint atmosphere, gracious & accommodating service and wonderful beers and fine cheese make this a destination, regardless of a brewery tour.
Nov 16, 2006
More User Reviews:

clintbrimson from Australia
3.31
/5
rDev
-15.1%
vibe: 3 | quality: 3.25 | service: 3.25 | selection: 3.5 | food: 3.5
A decent alternative to Les Caves Dupont, if that venue is closed. We enjoyed some very fresh, very tasty Saison Duponts and croque monsieurs. Service was OK, the interior was nice and the atmosphere felt very local. Would I make the journey again? Probably not.
Nov 12, 2013
TheLongBeachBum from California
4.06
/5
rDev
+4.1%
vibe: 4.5 | quality: 4 | service: 4 | selection: 4
The first stop on the 14th Annual Wakefield CAMRA 2006 Easter Belgium Trip was to be a 10am Brewery Tour around Brasserie Dupont situated in the lovely quiet village of Tourpes in the countryside province of Hainaut.
As is to be expected from its name, La Caves Dupont lies directly opposite the Brasserie Dupont, in fact it is directly opposite the tasting rooms which are the destination at the end of the Brewery Tour and where the Dupont Video is played whilst sampling a few of the Dupont beers, including the lovely brewery made Dupont Cheese.
An immaculate whitewashed brick two-storey exterior is finished off with a brown tiled hip-style roof, all of which complements the cobbled street surface out front. The upper floor appears to take up only a third of the height and has window arches with no windows, whilst the larger ground floor seems to be raised up from the street level. A black lettered sign has the words "La Caves Dupont' neatly arranged above the single entranceway, with a large 'Moinette Glass' sign sitting perpendicular from the frontage to catch the eye of passers by that may be speeding past. A large angled wooden wheelbarrow sporting three flower boxes decorates to the left of the three stone steps which lead inside, one of those lovely Belgian touches that sets off the immaculate clean and tidy exterior.
Inside, the red tiled floor is set off against the orange painted walls, wooden beams and brick roof arches, indicating that this is old farm building of sorts. The interior is a one-roomed rectangular affair that stretches back from the roadside. The bar is to your left, a small free-standing wooden topped brick built affair that sports Four Taps. Behind the bar a cooler is filled with more Dupont brews in 250ml and 750ml bottles, including many of the rarer offerings. Décor is limited to Dupont advertisements and other brewery related items with a smattering of movie and film related pictures in the back area. A small TV sat on top of a little wooden shelf that is wedged up with a pile of beermats provides the only entertainment that I could see at first - though once we took our seats at the back of the Pub there was one of those electronic plastic Dartboards so beloved in Belgium it seems.
I started with a Dupont Redor Pils from the tap, a rarely seen offering which I fancied trying again, but it still seems like nothing special and just a run-of-the-mill offering that Dupont produce for the Jupiler lovers that live in Tourpes. After that disappointment I decided to forego the Saison and Moinette on the other taps and opted to share a 750ml bottle with Tigertops Brewer, the Mad Axeman. We selected a bottle of Dupont La Bière de Beloeil, an 8.5% spicy amber ale that I had never tried before. Good stuff.
The chap behind the bar, I guess he was the Landlord of sorts, seemed surprised to get some 30 or so people invading his establishment on what was a gorgeous sunny Friday morning in April before the Easter weekend, but he dealt with the "rush" admirably and on his own with little trouble.
The view from the back of the Pub includes grass fields and a BBQ with what looks like seats nearby, most likely used in the warmer Summer climes. There is also a door here which leads to the outside toilets; these alone remind you of the very rural setting with a healthy dollop of "out of the way" rural charm for good measure.
A tour of Brasserie Dupont is not complete without having a few beers in here afterwards. But even if you cannot get a tour of the Brewery, La Caves Dupont is well worth a small detour, not least because it serves a great range of bottle and tap Dupont brews, including some of the rarer offerings.
A quiet, small and understated Brewery Tap, but a very charming country stop nonetheless.
Last Visit: Friday 14th April, 2006.
May 07, 2006
Les Caves Dupont in Leuze-en-Hainaut, Belgium
Place rating:
3.9
out of
5
with
3
ratings